The electric car market has grown quite steadily over the last few years. Going back 10 years, if you wanted an electric car, your options were very limited. The options included the Tesla Roadster, the Model S (2012), Nissan Leaf, and the Chevrolet Volt (which was not exactly an electric-only car) and I think that was about it. The two Tesla vehicles were not exactly aimed at the mass market, the Leaf and Volt on the other hand were relatively affordable.
In the year 2021/2022, there are plenty of options to choose from, from the ultra-luxurious (and expensive) Lucid Dream to the affordable Chevrolet Bolt, and everything in between. Pretty much every automaker has brought out or is in the process of bringing an electric car to the market. Even Toyota, a company that has been spending billions in R&D on hydrogen vehicles, has finally announced an array of electric vehicles. Even small manufacturers like Mazda are offering electric vehicles, their first entry into the all-electric category is the Mazda MX-30.
Let me preface by saying, I'm a big fan of Mazda vehicles, I think they look great, they're sporty, and their latest cars can be categorized in the entry-level luxury segment. My wife owns a Mazda6, and is really happy with it.
With that out of the way, let's get to the nitty gritty of Mazda's first attempt at an electric car, my experience with it, and what I thought about it.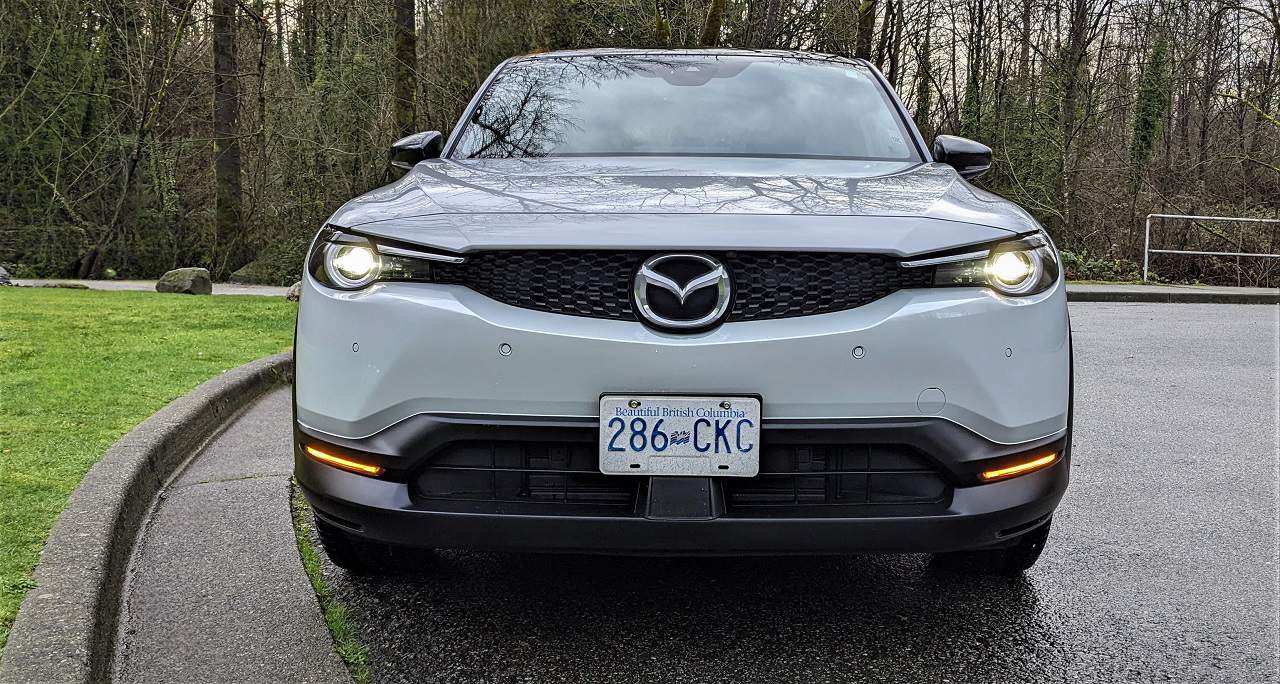 2022 Mazda MX-30 Canadian Prices
The 2022 Mazda MX-30 electric comes in two trims, the MX-30 GS has a starting price of $42,150 and the MX-30 GT has a price of $47,150. The only options available are colors and upgraded wheels. These prices do not include $1,950 for Freight & PDI and other fees/taxes.
Our review 2022 Mazda MX-30 GT had a sticker price of $49,950, which included $650 for multi-tone Ceramic Metallic paint and $200 for Vintage Brown/Dark Grey interior.
Both trims qualify for the $5,000 federal EV rebate and provincial rebates (if available), in BC that's an additional $3,000. So, for me to buy the 2022 Mazda MX-30 GT the price would come down to $41,950. As a side note, when paying GST/PST/HST on this and any electric vehicle, you pay that on the full amount and then subtract the EV credit.
2022 Mazda MX-30 Batteries/Motor
The only difference between the two trims on the MX-30 is the level of equipment. Both trims come with the same battery pack and motor. The MX-30 comes with a 35-kWh lithium-ion battery with 355 V total voltage. The electric motor produces 143 horsepower (107 kW) at 4,500 rpm and 200 pound-feet (270.9 Nm) of torque at 3,243 rpm*. Power is sent to the front wheels via a 1-speed transmission.
*I'm a little confused on the torque figure, I thought electric vehicles provided max torque right from 0 rpm? There is still much to learn about this new form of propulsion.
One of the most important parts of an electric vehicle is its range, at least for now. Mazda claims a range of 161 kilometers in ideal conditions. This may seem like quite a short range for a modern-day electric vehicle, but we'll get to that a bit later.
According to Mazda, the MX-30 is rated at 2.4/2.8 Le/100 kilometers in city/highway driving. According to the definition below, the Mazda MX-30 should consume 21.36/24.92 kWh/100 km in city/highway driving.
To help compare vehicles that use electricity, a conversion factor is used by NRCan to convert electrical energy consumption values, expressed in kilowatt hours per 100 kilometers (kWh/100 km), into gasoline liters equivalent per 100 kilometers (Le/100 km). One liter of gasoline contains the energy equivalent to 8.9 kWh of electricity.
Charging the Mazda MX-30
Another really important part of owning an electric vehicle is the amount of time it takes to charge the batteries. According to Mazda, it takes 13.67 hours to charge the MX-30 from 20 – 80% at home on a 120 V (Level 1) and 15-amps outlet. Step up to 240 V (Level 2) and it takes 2.83 hours to charge from 20 – 80%. At Level 3 (max output 50 KWH), it takes 36 minutes to charge from 20 – 80%.
And to add more confusion to these times, not just for the MX-30 but all electric vehicles, these will vary based on outside temperatures.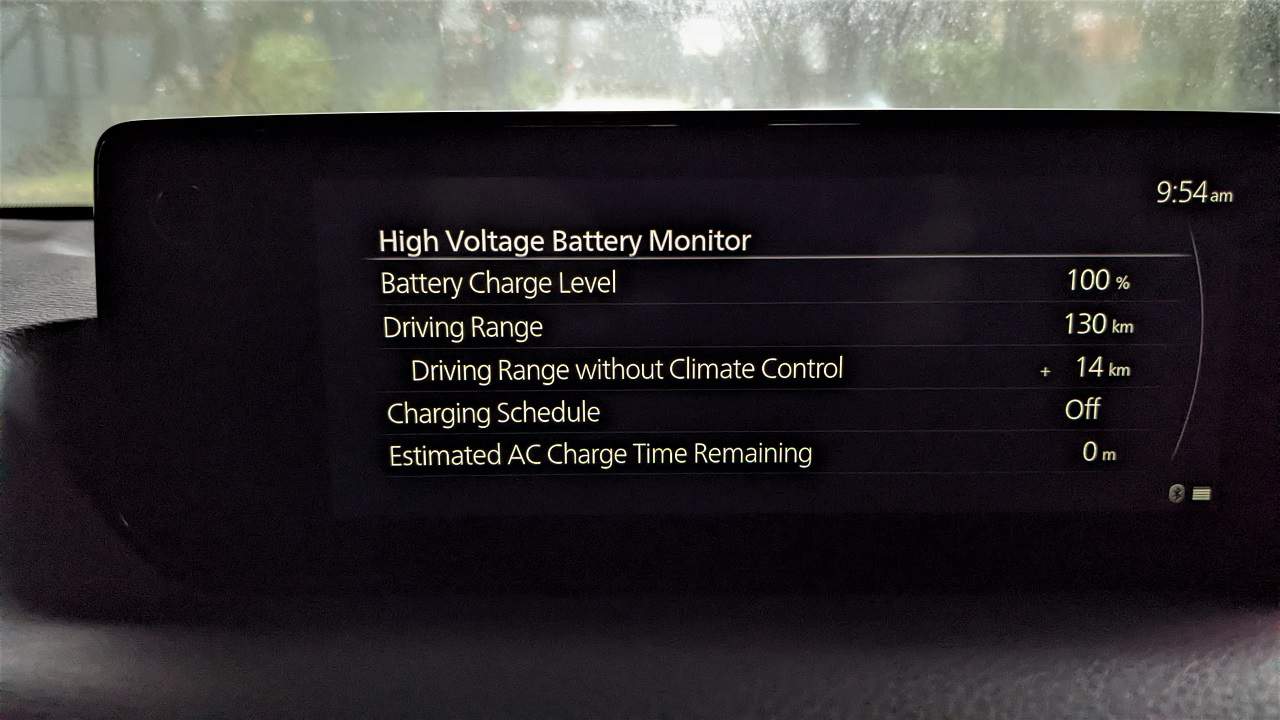 Our driving and charging experience with the Mazda MX-30
The range and charging times are all dependent on weather conditions, so how does the MX-30 perform in the real world. Like with internal combustion engines, there will always be variances between what the manufacturer claims and what you get in real life (in terms of MPG etc.).
We reviewed the 2022 Mazda MX-30 at the end of December, with temperatures in the 0 – 5 Celsius range (32 – 41 Fahrenheit), which is actually warm if you're a Canadian and really cold if you're from California. As a Vancouverite, it was a bit colder than the average December temperatures.
Right off the bat, our fully charged MX-30 showed a range of 141 kilometers, a loss of 20 kilometers due to the cold. Turning on the heater lost an estimated 15 to 20 kilometers, and in cold weather like this, you really need to turn on the heater. After driving for 54 kilometers in about 80/20 city/highway, the battery was at 40% charged, so we used up 60% of the battery to drive 54 kilometers; doing rough math, that equals to 90 kilometers of range on a fully charged battery in the weather conditions we had that day and my driving style. After the drive, I plugged the MX-30 into our 120-volt outlet and it showed a charging time of 16 hours, I believe this outlet charges at 1.2 kW (that's what another vehicle's dashboard showed when I had it plugged in).
Driving the Mazda MX-30 feels quite normal, it isn't particularly powerful and the torque isn't provided right off the line, so it feels a bit more like a gasoline vehicle. The driving dynamics are very close to gasoline Mazda vehicles, which is a good thing. The steering feel and suspension are close in feel to the Mazda CX-30, which this vehicle is based on. Mazda also includes a driving sound, which is supposed to give you a feeling of connectedness to the car, the sound is something like a mix of the normal fake sound associated with electric cars and a gasoline engine, it's not intrusive at all and you wouldn't even notice it normally. The brakes feel quite natural and there are different levels of regenerative braking, but I couldn't find true "one-peddle" driving; even in the most aggressive regenerative braking setting, the MX-30 never came to a full stop.
According to the onboard computer, the MX-30 consumed 25 kWh/100 km of driving, on that day's driving conditions. Our numbers are close enough to the claimed numbers, however, that is quite inefficient, by a large margin. The last EV I reviewed that had this kind of electricity consumption was the Jaguar I-Pace, which is a much bigger and more powerful vehicle (and a lot of fun to drive). So, my question is, where does all this electricity go and why is the Mazda MX-30 so inefficient? The Ford Mustang Mach-E I reviewed a few weeks ago had a consumption of 18.0 kWh/100 km, which is also a bigger and more powerful vehicle.
MX-30 Styling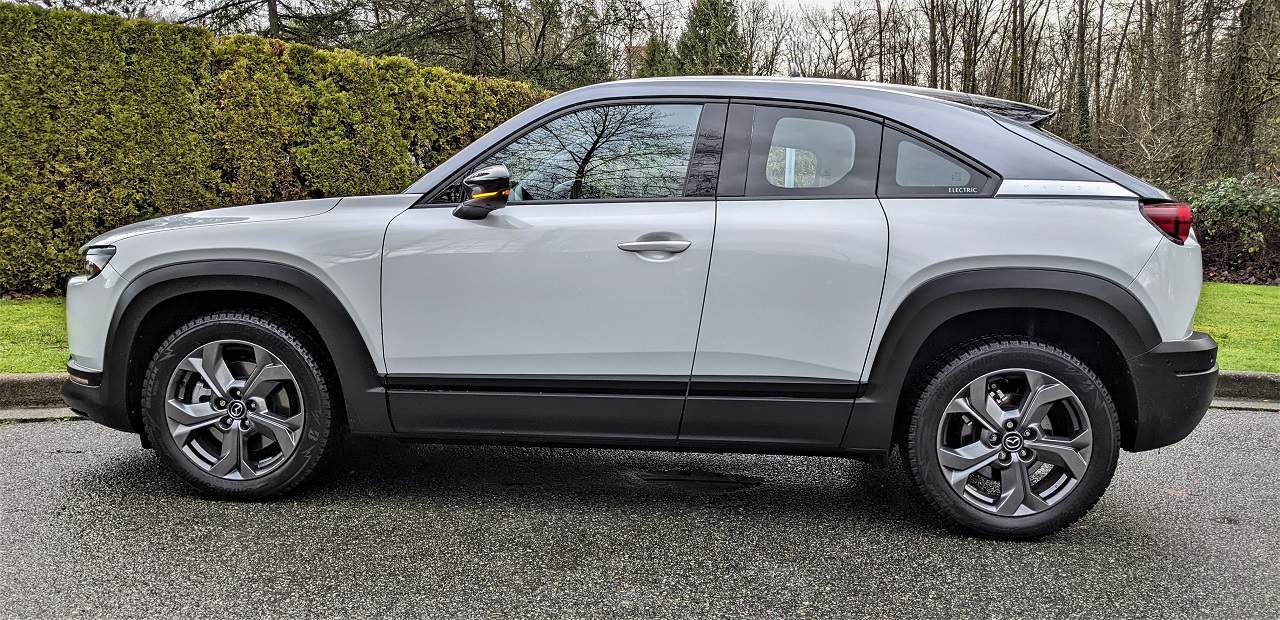 Taste in likes and dislikes of the exterior of a vehicle is subjective. Some people might love the design, some might hate it, or it may be "meh" to some. Personally, I think the MX-30 is a decent looking vehicle, it kind of looks like a toy (in a good way, I said the same thing about the original 2-door Range Rover Evoque). It is certainly better looking than any Tesla vehicle, which feature pretty "meh" exterior styling; but at least they make them look like blobs in the name of aerodynamics. Some of the other new electric vehicles are quite eye catching, like the Mustang Mach-E and the new Ioniq 5 and Kia EV6.
The MX-30 has a nice looking front, it shares design elements with the rest of the Mazda family and the rear is also decent looking, with very distinct taillights, which look quite good in my opinion. I'm not a big fan of the side profile, especially with the weird "suicide" doors, which were found on the RX-8. The b-pillar and the c-pillar are quite large, creating visibility problems. The MX-30 is marketed as a CUV, but it offers none of the utility associated with a CUV.
Interior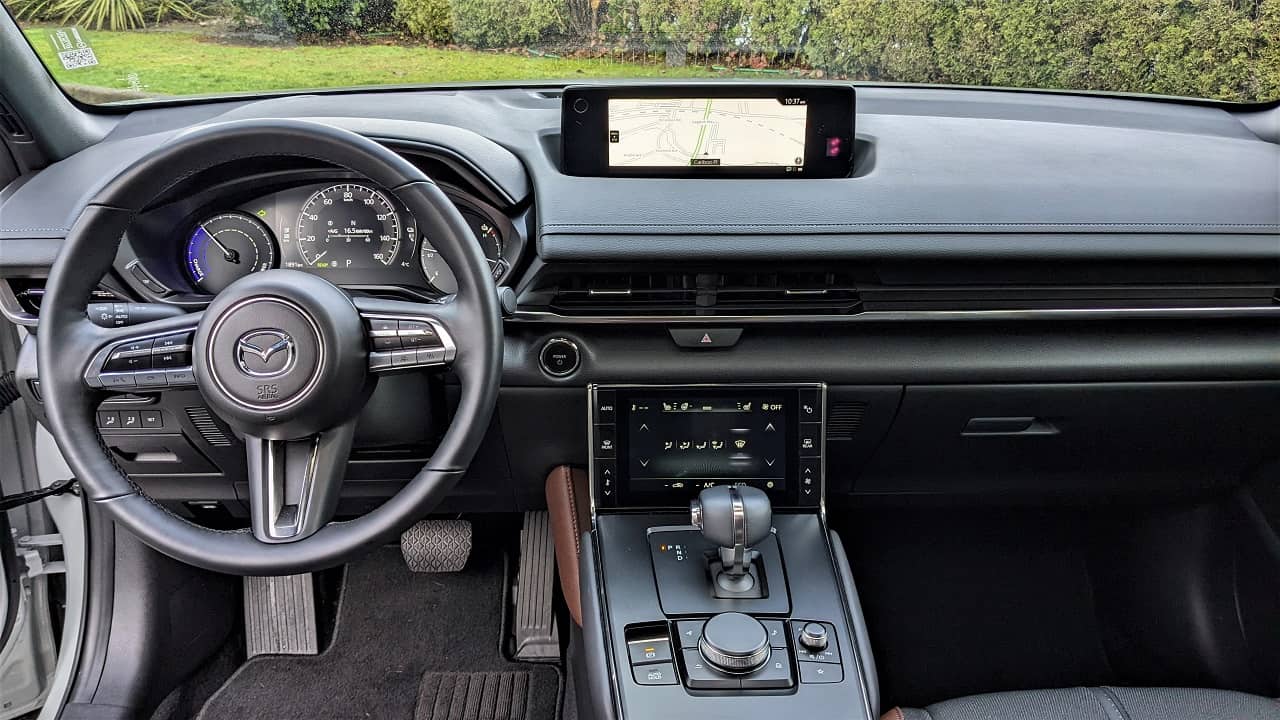 The interior is actually quite attractive, it shares a family resemblance with the rest of the Mazda lineup. The materials used are high quality and the fit and finish is top notch, as we've come to expect from new Mazda vehicles.
The interior comes with the standard stuff we're used to in ICE vehicles, things like a gauge cluster, a normal sized infotainment system and a separate section for the climate control system. The climate control section is a bit of a departure from what we're used on Mazda vehicles, but other manufacturers are also going this route even with their ICE vehicles. This section features a screen to control the airflow, AC, and heated seats and steering wheel. Some people might not like a touchscreen for these functions, however, Mazda has included physical buttons for the more important buttons that are used frequently, like the temperature control, air speed, and front/rear defrost.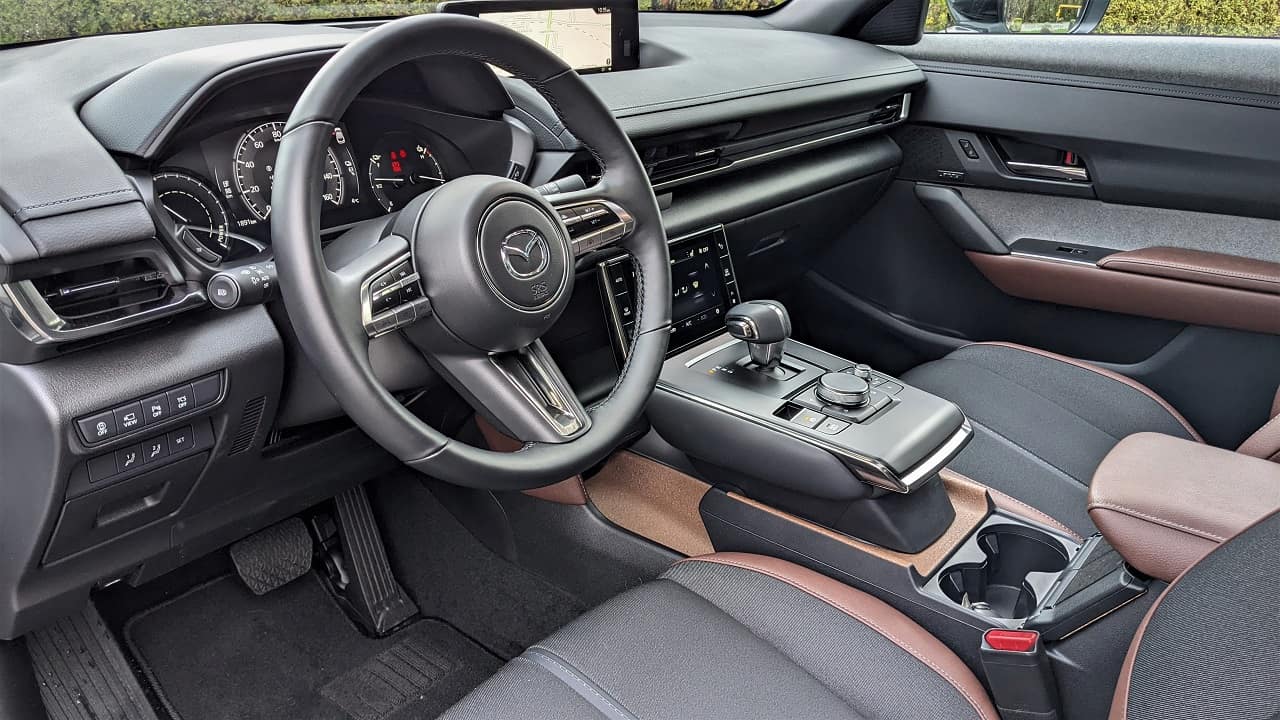 The gear lever is also different, I guess you can call it a figure 7; pull it to the left to put it in park and pull to the right and down for R, N, and D. Below the gear lever are the standard Mazda controls for the radio/navigation system with a rotary knob to move the cursor on the infotainment system, which is actually not a touchscreen.
Our car came with a 3-tone interior, which included black, brown, and grey surfaces. The color combination looks quite attractive in my opinion. Mazda also used cork for some of the trim pieces, an homage to Mazda's old business of cork selling.
The front seats are comfortable and the front outward visibility is good. However, because of Mazda stylizing the MX-30 with the weird doors, the B and C-pillars are really big, which makes shoulder checking almost impossible. Thankfully the MX-30 comes with blind spot monitoring but it's still very hard to see what's besides you. I can forgive a sports car (like the RX-8) for having bad visibility, but a family-CUV shouldn't have to compromise on visibility.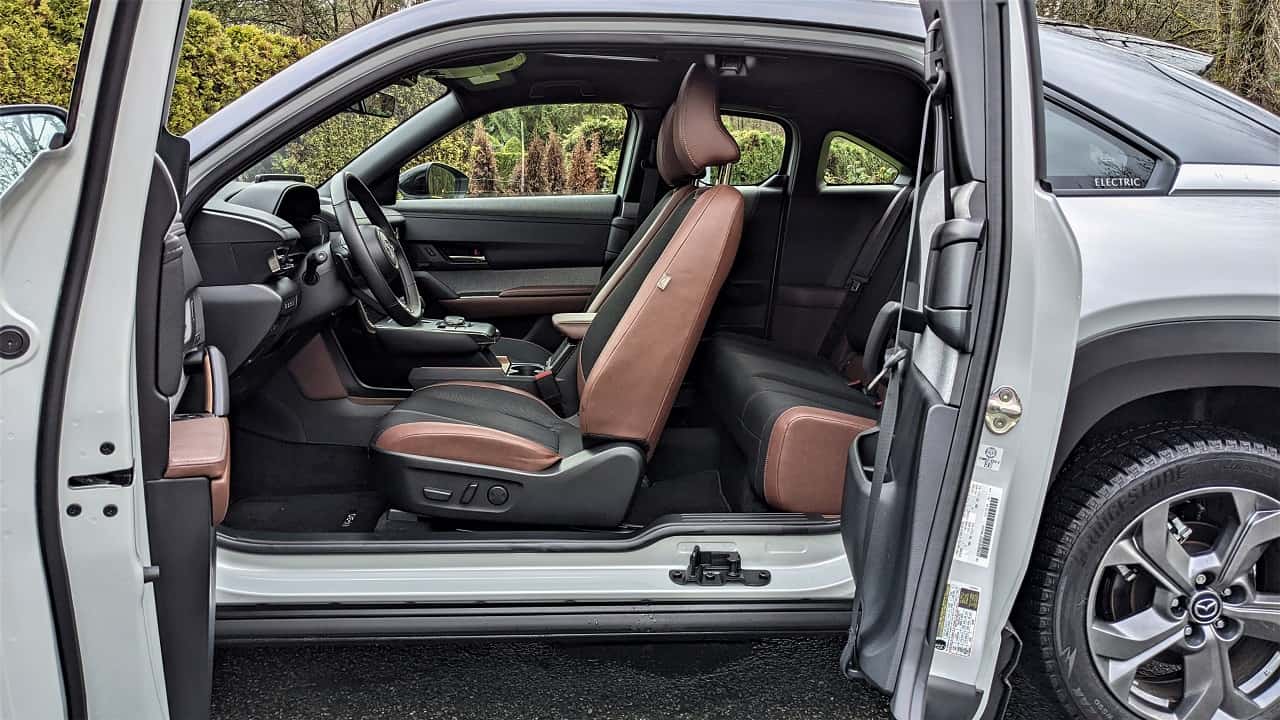 The back seats are also pretty useless for adults, this is supposed to be a CUV, so why give it seats of a sports car? Since the MX-30 is based on the CX-30, I would've liked it to be more like that, which is quite a useful vehicle.
The purpose of the Mazda MX-30 and My Thoughts
According to Mazda, the MX-30 comes with a lower driving range because most peoples' commutes don't require 100s of kilometers of driving. Having a longer range means needing bigger batteries, by limiting the range of the MX-30, it's lighter, which means it's more fun to drive, something Mazda cars are known for. Also, batteries are expensive, so why pay for extra battery capacity when you not going to use the range…
… at least that's a theoretical way of looking at it. I do get this philosophy; it makes sense for city dwellers that don't need too much range. Personally, I rarely drive more than 50 kilometers in a day. So, if I were to buy this car and do my normal commute, I'd have enough time at home to have the batteries fully charged overnight, even using a 120-volt outlet.
My biggest concern is the price and efficiency (rather, inefficiency) of the MX-30. Why is the MX-30 so inefficient? The new Hyundai Ioniq 5 with the 58-kWh battery pack has an estimated range of 386 kilometers, that's a range of 6.65 km/kWh vs the MX-30's 4.6 km/kWh, that's a significant difference. The MX-30 is also smaller and should also be lighter.
The price difference between the base MX-30 and Ioniq 5 is pretty small, with the Ioniq 5 being $2,800 more expensive than the MX-30, and that car is actually useful for a family with loads of passenger and cargo room and it looks stunning. The Model 3 SR+, before the recent price hike was only a few thousand dollars more than the MX-30, and that's a car with a lot more range, is more useful, and comes with the Tesla supercharger network.
I think the MX-30 would make sense at half it's current price, unfortunately at the prices Mazda is selling the MX-30 at, I don't know why anyone would buy it. It's at best a two-seater, sure it has rear seats but they're pretty useless for adults. Like I said at the beginning, I love Mazda cars but I was pretty disappointed with the MX-30, not only as an electric car but as a car in general.
Mazda is planning on offering a PHEV version of the MX-30, which would make sense, however, the price would still need to be considerably lower.
For more information on the Mazda MX-30, visit mazda.ca.
Mazda MX-30 Review Photo Gallery