Last year we reviewed Mazda's latest CUV offering, the 2020 CX-30. For 2021, the Mazda CX-30 gets a 2.5-liter turbocharged engine, which we've seen in other Mazda vehicles like the Mazda6, Mazda3, CX-5, and CX-9.
The turbocharged engine is only offered on the GT trim, you can also get the naturally aspirated 2.5-liter engine with this trim. The 2021 Mazda CX-30 GT has a price tag of $33,850 for the naturally aspirate engine and you pay premium of $2,400 for the turbocharged engine, but you do get more horsepower.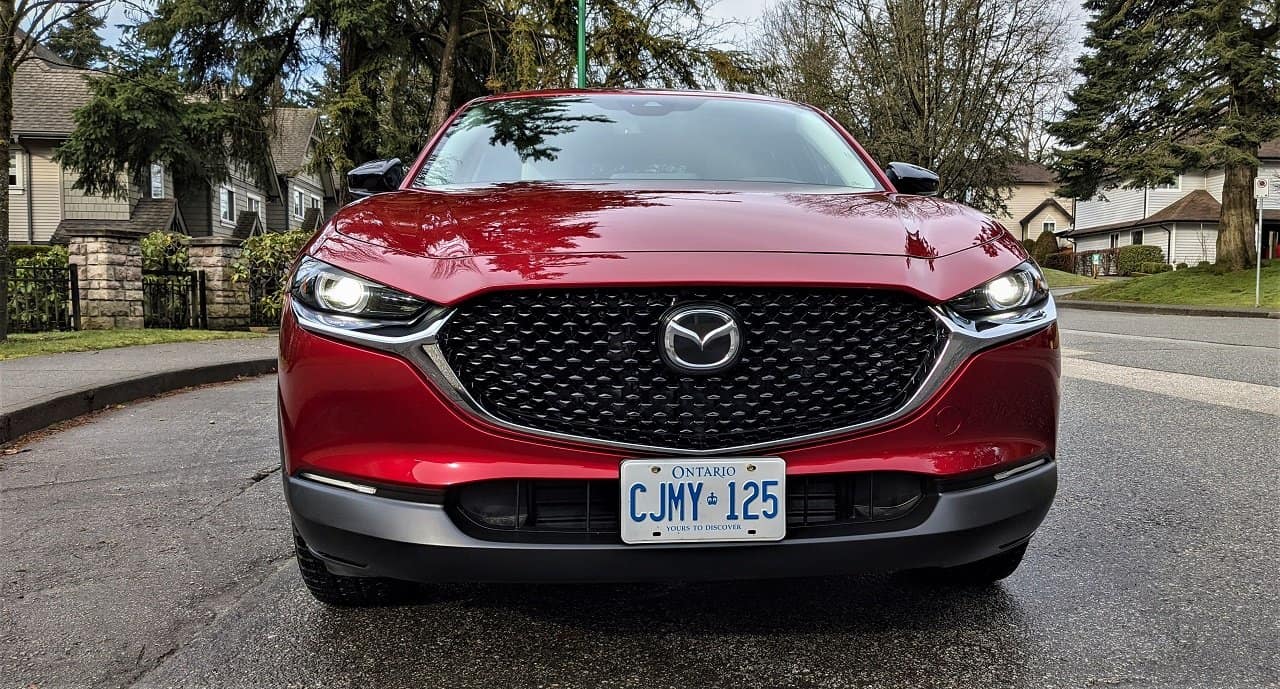 The two naturally aspirated engines offered on the CX-30 include a 2.0-liter and a 2.5-liter SKYACTIV-G. The 2.0-liter engine produces 155 horsepower at 6,000 rpm and 150 pound-feet of torque at 4,000 rpm. The 2.5-liter engine produces 186 horsepower at 6,000 rpm and 186 pound-feet of torque at 4,000 rpm. Both of these engines come with direct injection and are mated to 6-speed automatic transmissions.
The 2.5-liter turbocharged SKYACTIV-G engine produces 227 horsepower at 5,000 rpm on 87 octane gasoline and 250 horsepower at 5,000 rpm on 93 octane gas. The engine produces 310 pound-feet of torque at 2,000 rpm on regular gas and 320 lb.-ft of torque on premium gas. This engine comes with the same 6-speed automatic transmission offered with the other two engines.
I highly doubt anyone will put premium gasoline in the CX-30 for a few reasons. First and foremost, the price difference between a liter of regular (87) and premium (93) gasoline is significant, at least in Vancouver. I don't think anyone is going to pay an extra 30% (+/- 5%) to get the additional 23 horsepower on a crossover. If this was a sports car, then maybe some people would pay the added price for a bit more performance. Another reason is, a lot of people I know with cars that require premium fuel don't even put the recommended fuel, maybe I know too many cheap people? And last but not least, the extra 23 HP isn't really needed. The jump from 186 to 227 is significant enough, people that wanted more horsepower on their CX-30 should be satisfied with this increase.
According to Mazda, the turbocharged 2.5-liter engine should consume 10.5/7.9 liters/100 kilometers in city/highway driving. The non-turbo 2.5-liter engine is rated at 9.9/7.7 L/100 km.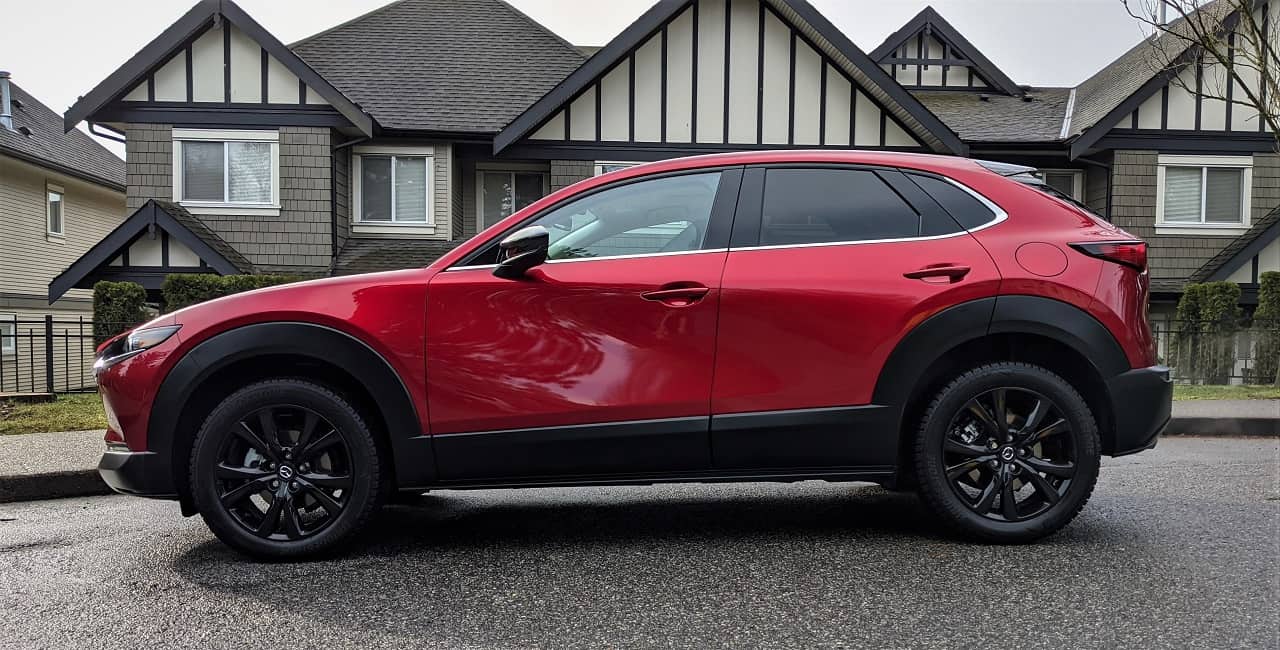 Personally, I didn't think the CX-30 was lacking power for everyday driving. I treated it like a crossover and didn't expect sports car level performance. However, the added HP does make things more interesting. It doesn't suddenly turn the CX-30 into some sort of a hot-hatch, but you can feel the added torque and horsepower. The power seems to be spread out across the rev range, rather than being peaky at high rpm. The car feels ready to accelerate in a hurry at any speed/rpm. The power delivery is smooth and max torque is available at pretty low rpm, which makes it feel quick and is great for highway passing. The ride is smooth and sporty enough for a CUV. It feels like a taller Mazda3.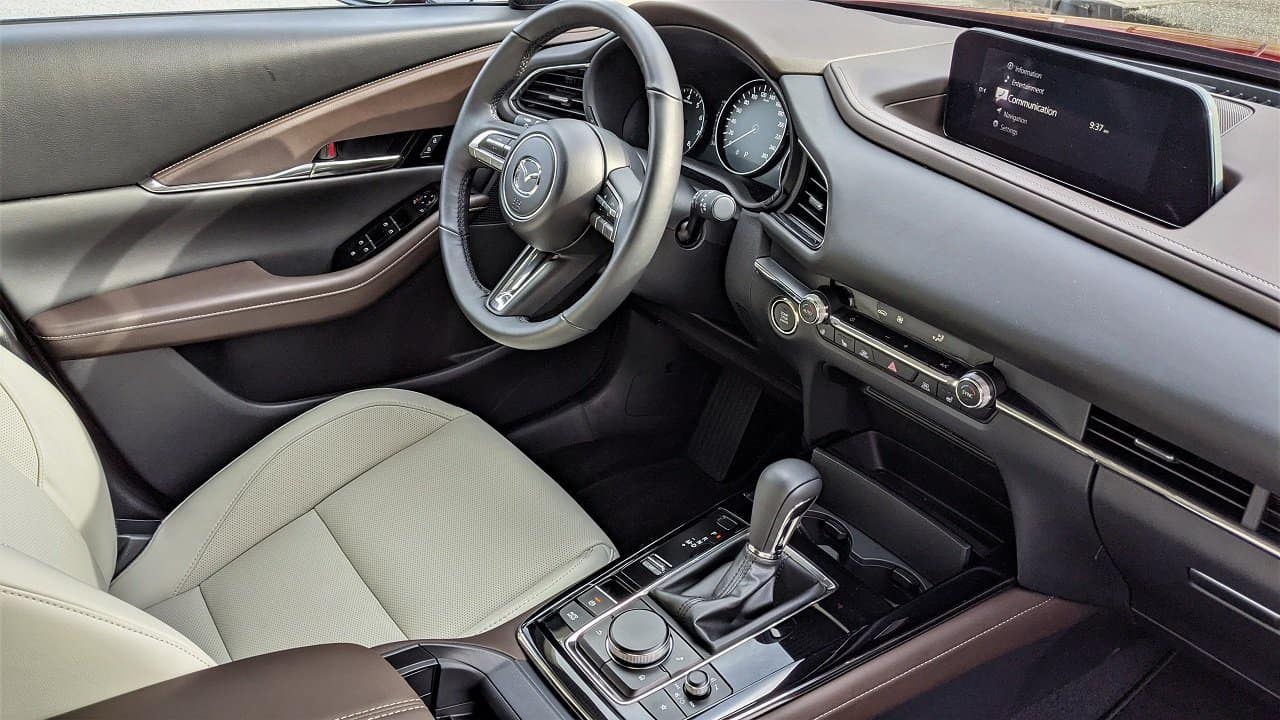 I won't go into details on the styling and interior much here, if you're interested in my thoughts on that, head over to my previous review. Overall, I like the way the CX-30 looks, it has a sporty design and makes use of the Mazda new design language. I'm still not a fan of the dark-grey plastic pieces around the wheel wells and lower body, it was a bit more palatable with this darker color compared to red on our last review car. The interior is fantastic and is at a level you'd expect from entry-level European luxury cars, at a much lower price point.
The addition of the turbocharged engine does give customers another option. The additional power provided by the turbocharged engine is definitely noticeable and is welcome. However, personally I would be happy with the naturally aspirated 2.5-liter 4-cylinder engine.
For more information, please visit Mazda's official website.