Just a couple of years ago, if I had told you that the Ford Mustang will have not only have four-doors but will be a cross-over, and it won't be powered by a gasoline engine, you would have thought I had lost my mind. But it is true, sort of.
The Ford Mustang is still around as a muscle car, with only two doors, and a V8 gasoline engine. The car I'm talking about is the Ford Mustang Mach-E, an all-electric CUV. When Ford first announced the naming structure, purists were up in arms. I'd love to tell you that has changed, but that's not the case, most people still scratch their heads when the see the Mustang name associated with the Mach-E, which is what most people are calling it. I can somewhat understand Ford's thought process, the Mustang has been around for over half a century and is a household name, so they decided to use that "goodwill" and draw attention to their all-electric vehicle.
With that out of the way, last week I finally got a chance to spend some time with the 2021 Ford Mustang Mach-E California Route 1.
2021 Ford Mustang Mach-E Canadian Prices
The 2021 Mustang Mach-E has a starting price of $50,495 for the Mach-E Select with rear-wheel drive and 68kWh standard range battery pack. Add in AWD via dual motors and the price jumps to $53,995. The Mach-E Premium has a starting price of $59,495 for the RWD version with the 68-kWh battery pack. This trim can be equipped with a bigger battery pack, increasing in size to 88-kWh for an additional $7,000 and adding AWD adds another $3,500 for a total price of $69,995.
The next trim is the Mustang Mach-E California Route 1, with a starting price of $64,495. This trim is only available with the 88-kWh battery pack and rear-wheel drive. There's also the recently launched Mustang Mach-E GT Performance Edition, with a starting price of $82,995. This trim comes with the 88-kWh battery pack and AWD.
The above prices do not include Freight & PDI of $1,995 and other levies and taxes. These prices also do not take into account provincial and federal EV incentives. These incentives depend on which province you live and the price of the vehicle, not all trims of the Mach-E qualify for the rebate.
Our review car for the week was a 2021 Ford Mustang Mach-E California Route 1, with a total price tag of $66,895. Price included $800 for the white paint, $350 for rubber floor mats, $100 federal excise tax, and $1,900 for "transportation and handling".
Mustang Mach-E Motor & Batteries
Like I mentioned above, the Mach-E is offered with two battery packs. The standard range (SR) and extended range (ER). The standard range is a 68-kW unit, the motor paired to this battery pack produces 266 horsepower and 317 pound-feet of torque. The estimated range with this combination is 370 kilometers. The same battery pack, when equipped with the eAWD system (dual-motors), has an output of 266 horsepower and 428 pound-feet of torque and an estimated range of 340 kilometers.
The extended range battery is an 88-kW unit, the motor with this battery pack produces 290 horsepower and 317 pound-feet of torque, with an estimated range of 483 kilometers. The dual-motors produces a combined 346 HP and 428 pound-feet of torque, with an estimated range of 435 kilometers.
The GT Performance Edition comes with the larger battery pack and eAWD. This combination is rated at 480 horsepower and 634 pound-feet of torque and an estimated range of 418 kilometers.
Our review car had the ER range battery pack, which is rated at 483 kilometers of range. When I picked up the car, the battery was showing 79% charge with an estimated 313 kilometers of range. Based on this, at full charge that would yield 396 kilometers. This range is based on winter driving, which is notorious for sucking the life out of the battery from "environmental loss" and using the heater. However, looking at the historical driving data, the Mach-E's onboard computer showed consumption of 18.0 kWh/100 kilometers, which would mean an estimated range of 488.88 kilometers (I'm basing this on dividing 88 kW by .18 kWh). I'm sure someone smarter than me will come along and say that's not how it works, there's much I need to learn about electric cars.
As far as driving costs go, that depends on the price of electricity in your location and whether you use any of the paid fast chargers. Charging at home, at an average cost of $0.125 per kWh, and taking the average consumption of 18.0 kWh/100 km, it works out $2.25 per 100 kilometers. We do have to take into consideration the loss of electricity while charging, which I've read is around 20%. Based on these estimates and my rough math, we're looking at $2.70/100 kilometers of driving. At today's gas prices of around $1.60/liter, that works out to about 1.69 L/100 km in gasoline equivalent based on price alone.
Charging the Ford Mustang Mach-E
According to Ford, on a normal household 120-volt outlet, you should gain about 5 kilometers or range per hour the Mach-E is plugged in (for the extended range battery pack with RWD). Step up to the 240V/32A and an hour plugged in should net you 32 kilometers of range. If you want even more range from a home-based charger, Ford will sell you a "Ford Connect Charge Station" with 240V/48A output, giving you 45 kilometers of range per hour the Mach-E is plugged in.
I personally couldn't test the 120-volt claim, because unfortunately our outlet wasn't working for some reason when I had the Mustang Mach-E. I have used this outlet for other vehicles, and it gave me enough charge for the average Canadian daily commute.
If you're on the road and need to top up the batteries on your Mustang Mach-E, using a DC (150 kW) fast charging will charge the battery pack from 10 to 80% in 45 minutes.
Driving the Mustang Mach-E
As expected, driving an electric car is a bit different from driving a gasoline or diesel-powered vehicle. When you start the vehicle, there is no sound and you just have to take a leap of faith and believe the car is actually on.
The Mustang Mach-E starts with no drama, no loud exhaust sound like its namesake would suggest. There's a short 80's-sounding sound effect when you start the Mach-E but that's about it. Switch it into drive via the rotary knob and off you go. The Mach-E comes with three driving modes: Engage which is a balanced mode, Whisper is the fuel-efficient mode, and Unbridled is the sport mode.
I drove the Mach-E in the Whisper mode for most of the time I had it. Even in this "eco" mode, the Mach-E is plenty fast thanks to the availability of torque right from the get go. The Unbridled mode makes it a much faster car, but for normal driving it's not needed. This mode also has the option for some simulated engine noise, I had this simulated engine noise on in the other two modes but I did not hear anything. I'm not sure if the fake sound isn't available in the other modes or I simply couldn't hear it. Normally I'm against these fake sounds, but the Mache-E had a nice V8 exhaust note that was pretty subtle and was pumped through the rear speakers, making it sound like it really was coming from the exhaust tips. I quite enjoyed it.
The Mustang Mach-E drives like a normal sporty CUV, it's just really quiet and has quick acceleration. The suspension is on the sporty side but isn't uncomfortable. There is some motor noise at standstill and a different type of whine at speeds of up to 30 km/h, above that speed the wind noise drowns any of the electric motor's noises.
The Mach-E doesn't have the same oomph as the Jaguar I-Pace I reviewed a couple of years ago, however that's a more powerful electric vehicle. If you want that kind of performance in a Mach-E, you'll have to wait for the Mach-E GT Performance Edition, which should be quite fun to drive and I'm eagerly waiting for my turn to review it next year.
Mustang Mach-E Styling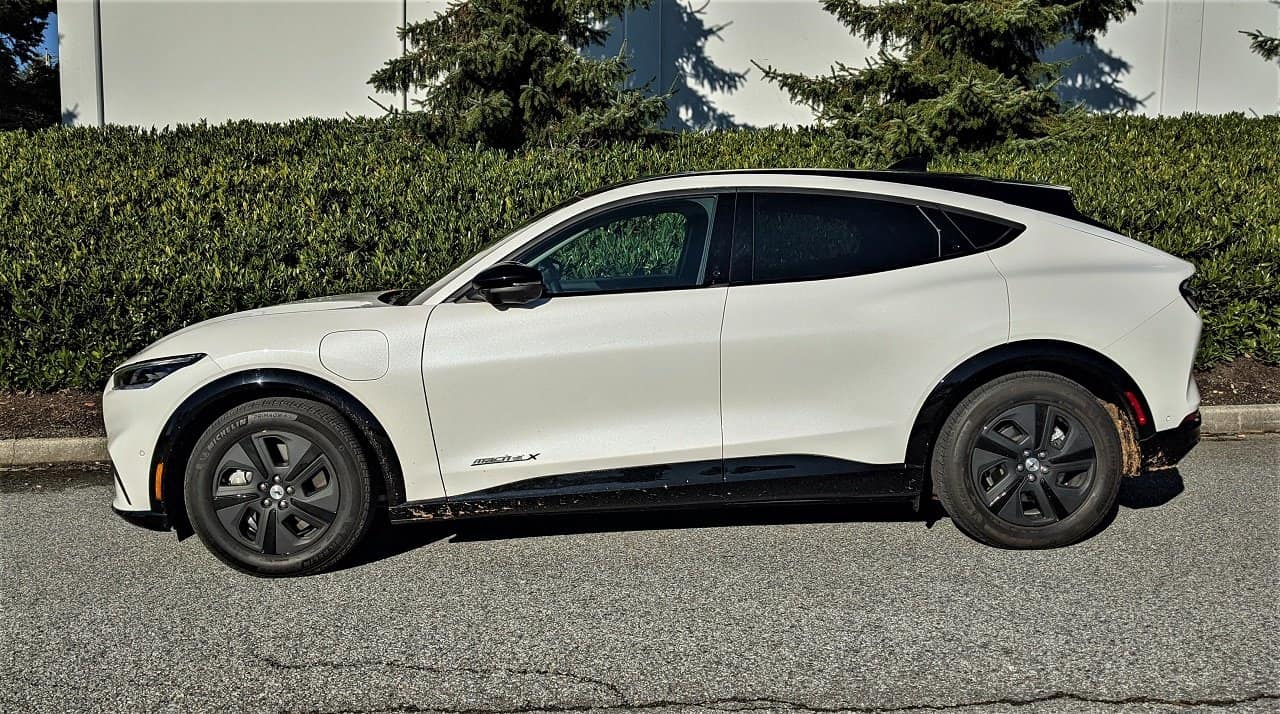 The Mach-E may not be the most technically advanced electric vehicle, those honors go to Tesla vehicles, it certainly is the best-looking electric SUV currently available in Canada and the United States, in my opinion. I know this is a subjective matter, but everyone I talked to was a fan of the way the Mustang Mach-E looked. They also commented that it really does look like a Mustang.
The overall shape of the Mustang Mach-E may be that of an SUV/CUV, but you can definitely tell this vehicle is related to the Ford Mustang. Unlike Tesla and other electric vehicles, the Mach-E isn't just an aerodynamic blob, the car has some nice character lines and it's quite pleasant to look at. I can't say that about many of the other electric cars currently available. The upcoming Hyundai Ioniq 5 and Kia EV6 might have something to say about the Mustang Mach-E being the best-looking electric crossover, but they're not available in North America yet, so we'll give the crown to the Mustang Mach-E (for now).
The front of the Mach-E has sharp looking headlights with a bit of character in the hood where a traditional grill would normally be on an internal combustion engine vehicle. On the GT Performance version, this area has a black textured grill, which looks even more like a "normal" car. I'm not exactly sure if that's a plastic piece, paint, or a sticker.
The side profile is quite sporty and the rear c-pillar is quite raked, which you'd think would reduce the head room in the rear seats. However, Ford plays a trick on the eyes, making that area look more aggressive than it really is, with black a painted roof.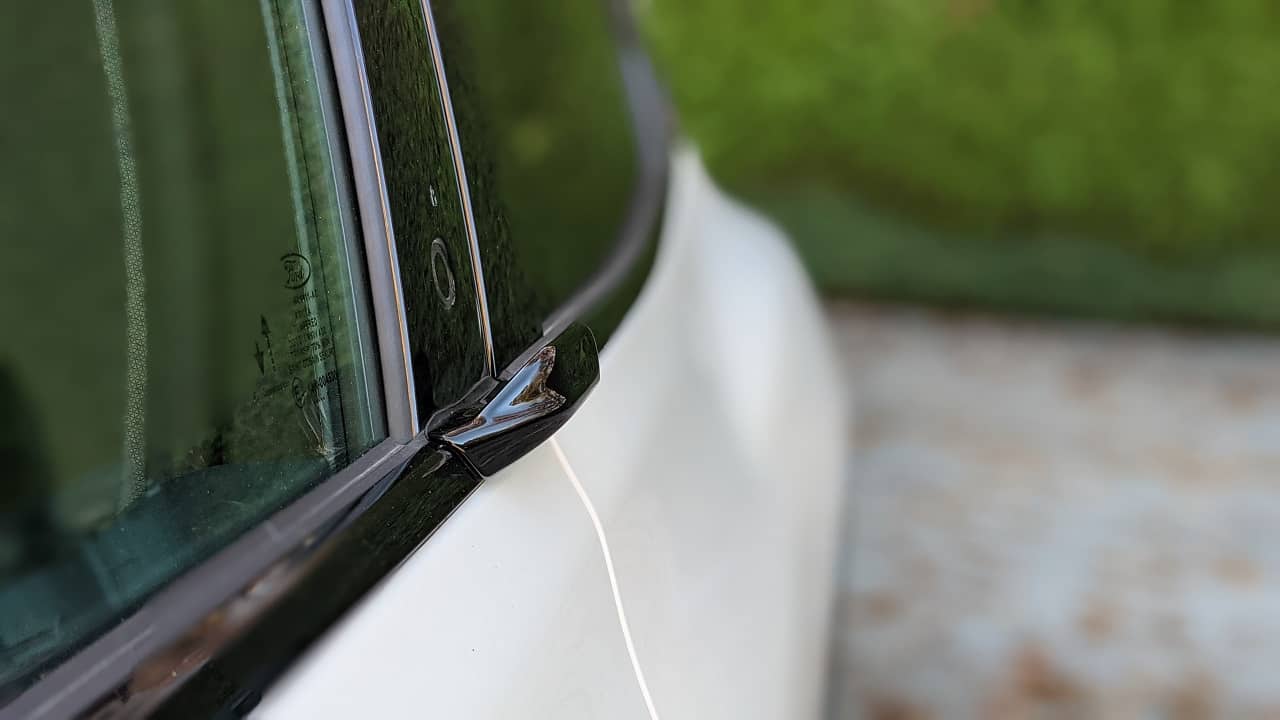 Most electric cars feature some sort of hidden door handles, Ford has gone with small buttons that open the door. The front doors have a small handle sticking out from the window sill that you pull on to open the door, after you've pressed the button on the door frame. To open the rear doors, you just need to press the button the door frame at the c-pillar and the door pops open a bit and then you just grab any part of the door and open it.
The taillights are very reminiscent of the Mustang's (the sport car). They're white but turn red when the brake is applied and have amber signals, I really liked this detail and the white taillights look sharp.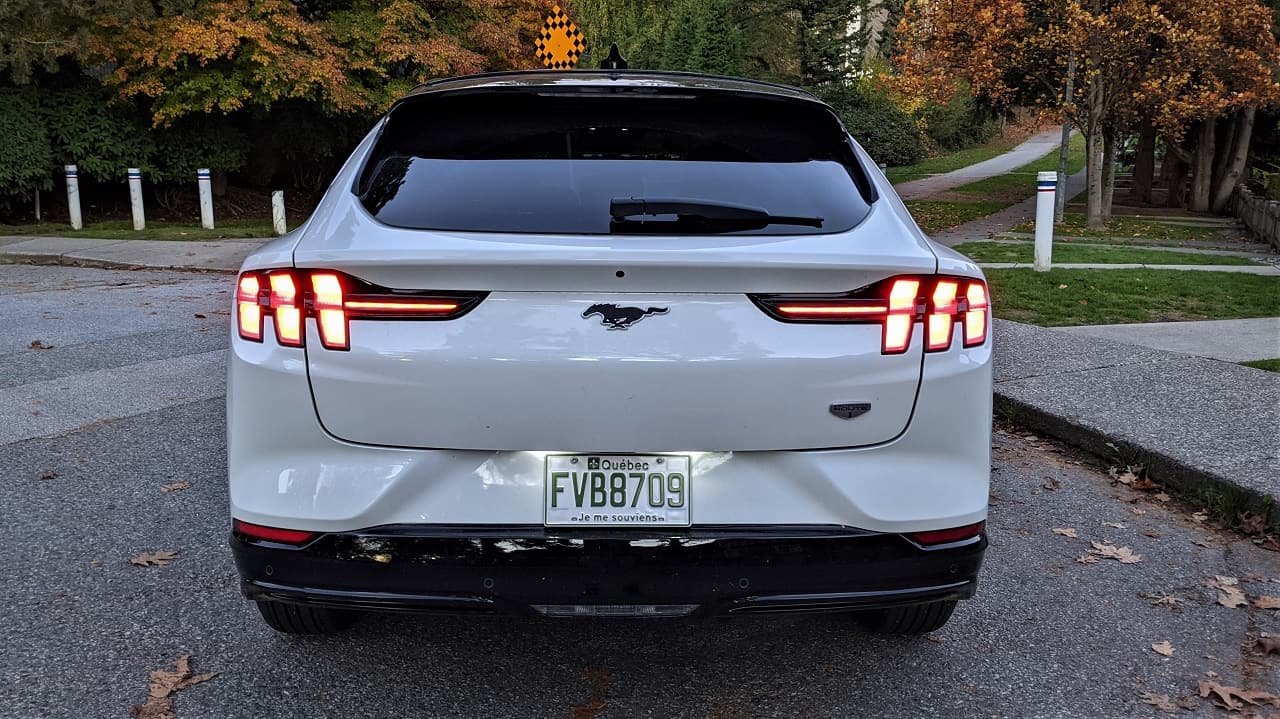 One thing you'll notice missing on this vehicle is the words "Mustang" or even "Ford". It just features the Mustang's famous ponies on the front and back and the "Mach-E" on at the bottom of the front doors. Is there a reason Ford is omitting these two words?
Mustang Mach-E Interior & Features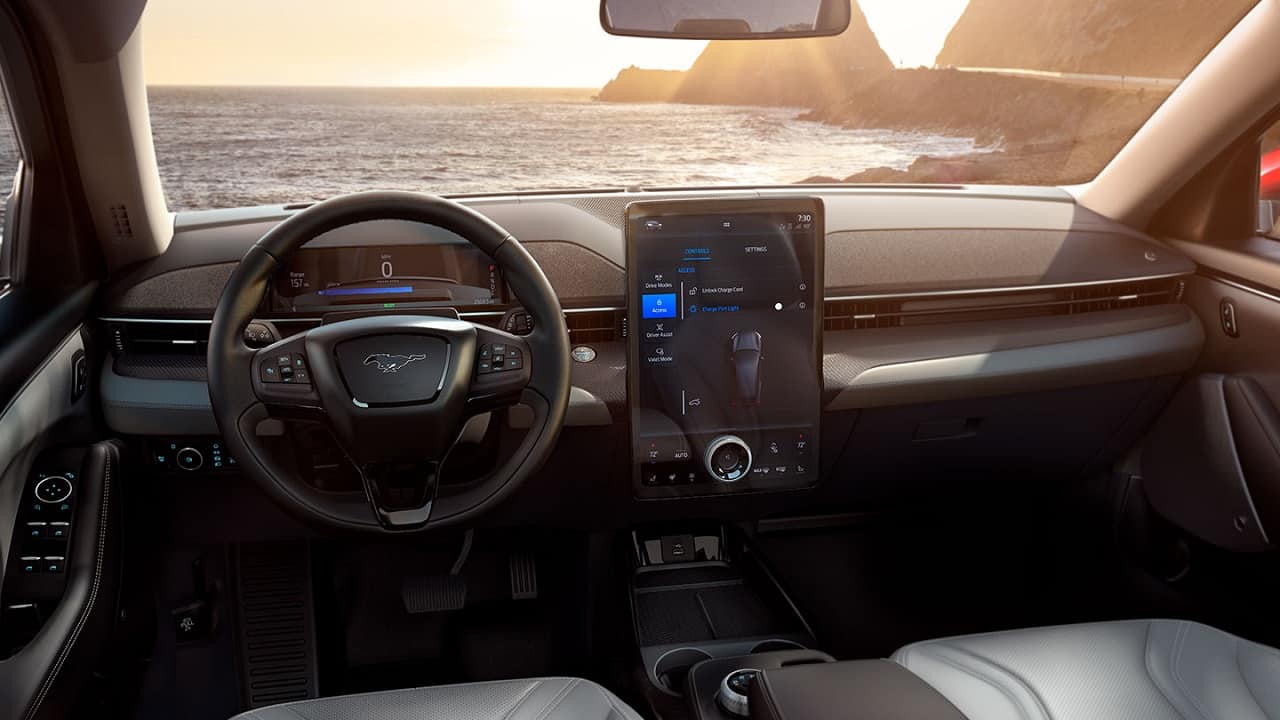 While Ford gave the exterior of the Mach-E quite a lot of personality, as opposed to going the bland Tesla way (I understand why Tesla's cars look the way they look, but they're still boring looking), they went the Tesla way with the interior design.
The Mach-E features a huge 15.5" touchscreen that controls everything you'd normally use buttons/knobs for. Ford did differentiate their interior a bit with proving a small screen behind the steering wheel where you'd normally find a gauge cluster and there's a large physical volume knob on that giant touchscreen.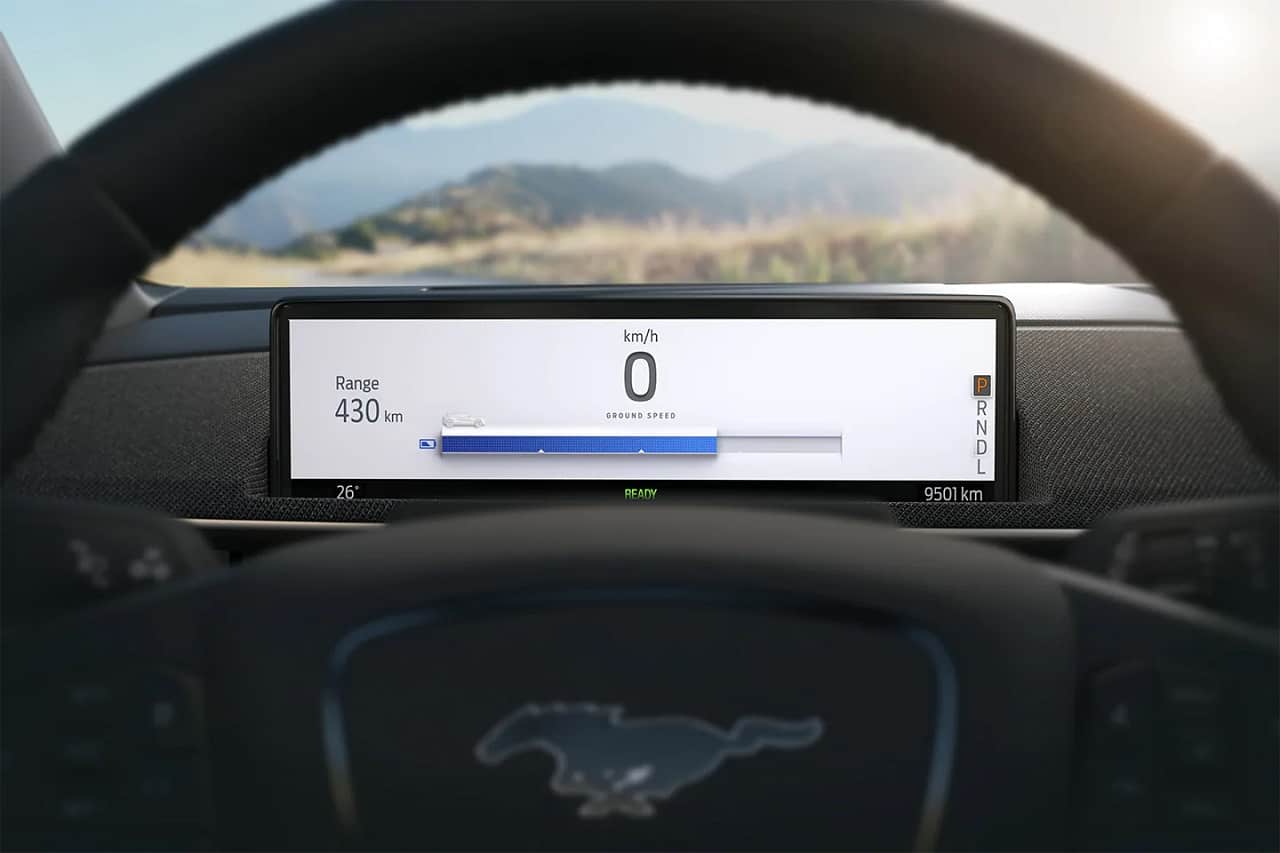 At first glance, the touchscreen was quite overwhelming and I had no idea where to find what I was looking for. This is understandable, because I have never looked at the Mustang Mach-E's infotainment system and as a buyer, you would have the salesperson explain the system to you. So, you would know some of the basics.
After tinkering with the system for a day, it made sense, but I still think this system can be improved in a big way. I also wasn't a fan of the dark color theme on the screen, the colors on the screen were black and different shades of grey (at least they didn't go with 50 shades of this color). However, the display can be changed between "Dark", "Light", and "Auto". The light theme is much more pleasing to the eyes.
The interior is comfortable and has a good mixture of soft and hard materials. The interior is quiet, as you'd expect an electric vehicle's interior to be. Like I mentioned in the driving section, there is a bit of humming noise at speeds under 30 km/h. There is the usual wind noise found on crossovers at highway speeds, but my Tesla friend said the Mache-E seems to be quitter than his Model 3.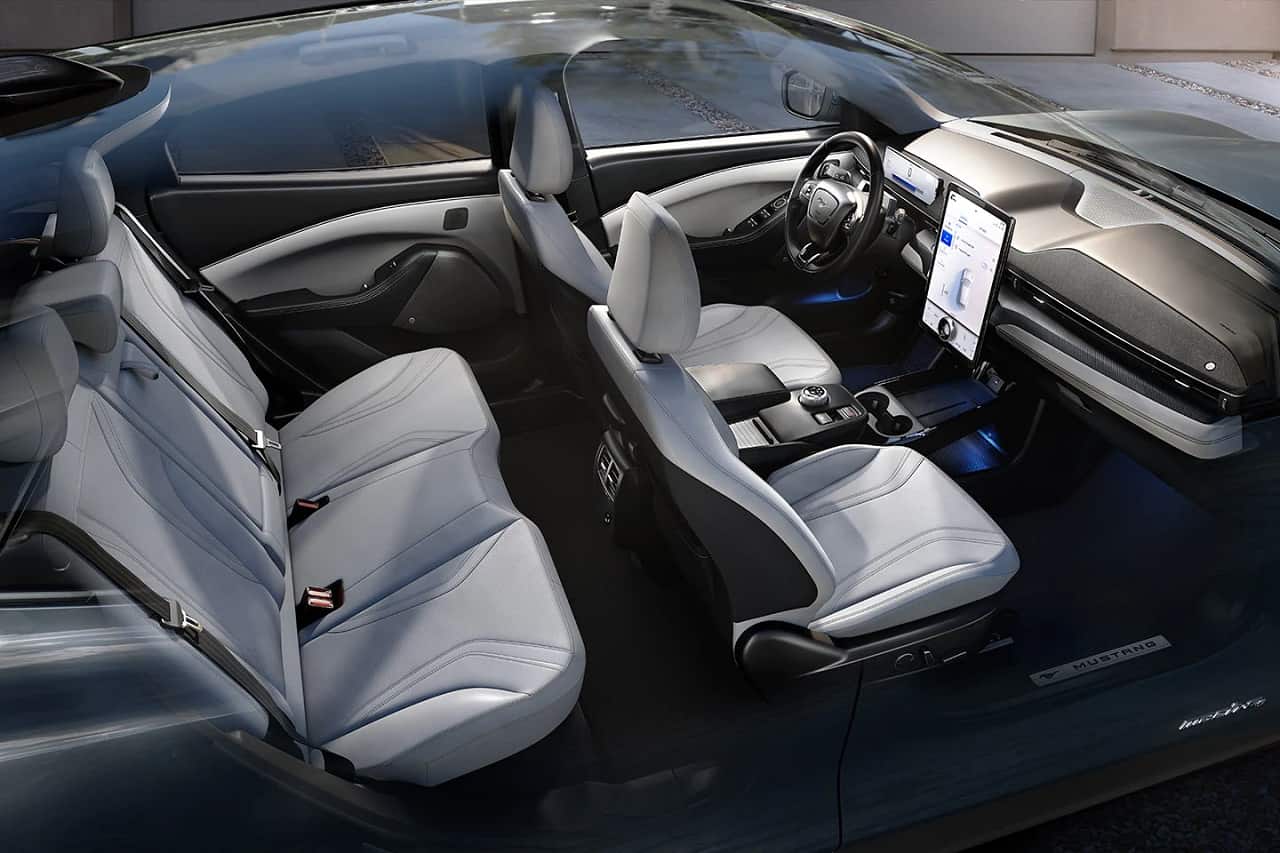 Another area where Ford beats Tesla vehicles is the overall interior quality and fit and finish. The fit and finish on the Mach-E is good, I didn't see any misaligned panels and massive panel gaps. That may not matter to some people, but it is a big deal to others.
There is a lot of passenger room in the Mach-E and thanks to the flat floors, a lot the room is quite usable. The front seats can easily accommodate people over 6 foot tall, however, my neighbor found the seats to be a bit narrow, he is a big guy but said his Ford Escape's seats fit him just fine. The rear seats are quite room and even the middle seat is useful thanks to the flat floor.
Overall Impressions
I think the Ford Mustang Mach-E is a good attempt by Ford at creating an electric crossover. The "Mustang" name does boil the blood of a lot of purists, but I'm sure Ford knows what they're doing. The competition is heating up in the electric car world, so I'm not sure how well the Mach-E will do in the future, the Koreans have some pretty enticing CUVs coming soon with lower staring prices.
But if you are looking for an American muscle car in electric form, there's only one Mustang electric.