Just yesterday, we showed you guys the all-electric Model S sedan from Tesla Motors. For those that are interested in purchasing an electric vehicle but want something larger, you might want to consider checking out Amp Electric Vehicles. They already offer the Mercedes ML350 which has been converted to all-electric platform but their newest addition will be showcased at the Detroit Auto Show next month. Their newest creation is the Jeep Grand Cherokee in an all-electric model.
Steve Burns, president of Amp, stated that the Jeep Grand Cherokee will be comparable to Tesla's Model S (basic trim) in terms of pricing. Basic trim of Model S is $57,400 before the $7,500 federal tax credit. Jeep Grand Cherokee by Amp will be capable of traveling approximately 100 miles per charge.
Amp Electric Vehicles actually started out with the Chevrolet Equinox but soon stopped using that platform as the company failed to win the support of General Motors. It makes sense to use the Jeep Grand Cherokee as it shares the same platform as the Mercedes ML350 which allows them to use the same drivetrain without involving extra work.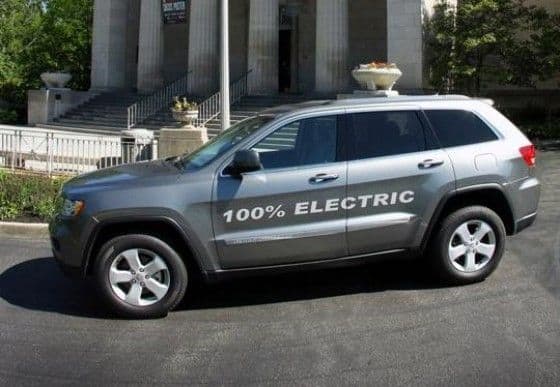 The Jeep by Amp will feature a 37 kWh battery pack which can be fully charged in 6 hours using 220V or in 15 ½ hours with 110V charging. The only similarity between the Tesla Model S (basic model) and the Amp Electric Jeep is obviously the price tag. The Tesla Model S features a 40 kWh battery and is capable of approximately 160 miles while the Jeep by Amp is only able to travel 100 miles. If you have drive often and want a unique looking sedan, the Tesla Model S is the route to go. With the Jeep Grand Cherokee, you can still go green and have the "SUV lifestyle" (whatever that means) but will be limiting the amount of distance you can travel and will have to charge more often.