"Gone Rogue" – behaving in ways that are not expected or not normal.
Swiss brand Peren's latest water-resistant dive watch is now available for pre-order and it's making us all giddy. Testers across the US and Europe are already rolling out the five-star reviews, and this watch based on a diving legend is one that will not disappoint.
The Tornek Rayville TR-900 diver's watch was released in the 1960s and was one of the rarest and sought-after diving watches ever made. Originals are hard to come by sixty years later, as only 1000 TR-900's were released and most have been subsequently destroyed. Containing a radioactive element, the watches now read "If Found, Return to Nearest Military Facility" and luxury brand Peren knows what they're doing when it comes to taking inspiration from the past.
The TR-900 overhaul has given us the near-perfect Nera Rogue, a limited edition watch with over 300 pieces and a 38-hour power reserve. Fit for dives of up to 200m (660ft), the Nera Rogue is hand built in Switzerland by certified watchmakers using only first class materials. And the attention to detail doesn't stop there; each watch goes through a rigorous testing process before making its way onto our wrists.
The fluted conical rotating bezel offers the ultimate grip and maneuverability, and the watch features the modern workhorse Sellita SW200, which provides an automatic movement of 28,800 BPH. In addition to this, the durability of the watch provides divers with complete reassurance when under the water. With a maximum resistance depth of 200m, we can't complain.
Style and convenience
With a modern, minimal and stylish design, the Nera Rogue has an option of three different straps. Choose from either NATO leather/nylon, a steel bracelet, or a leather strap, all of which look effortless next to the beautifully designed watch face.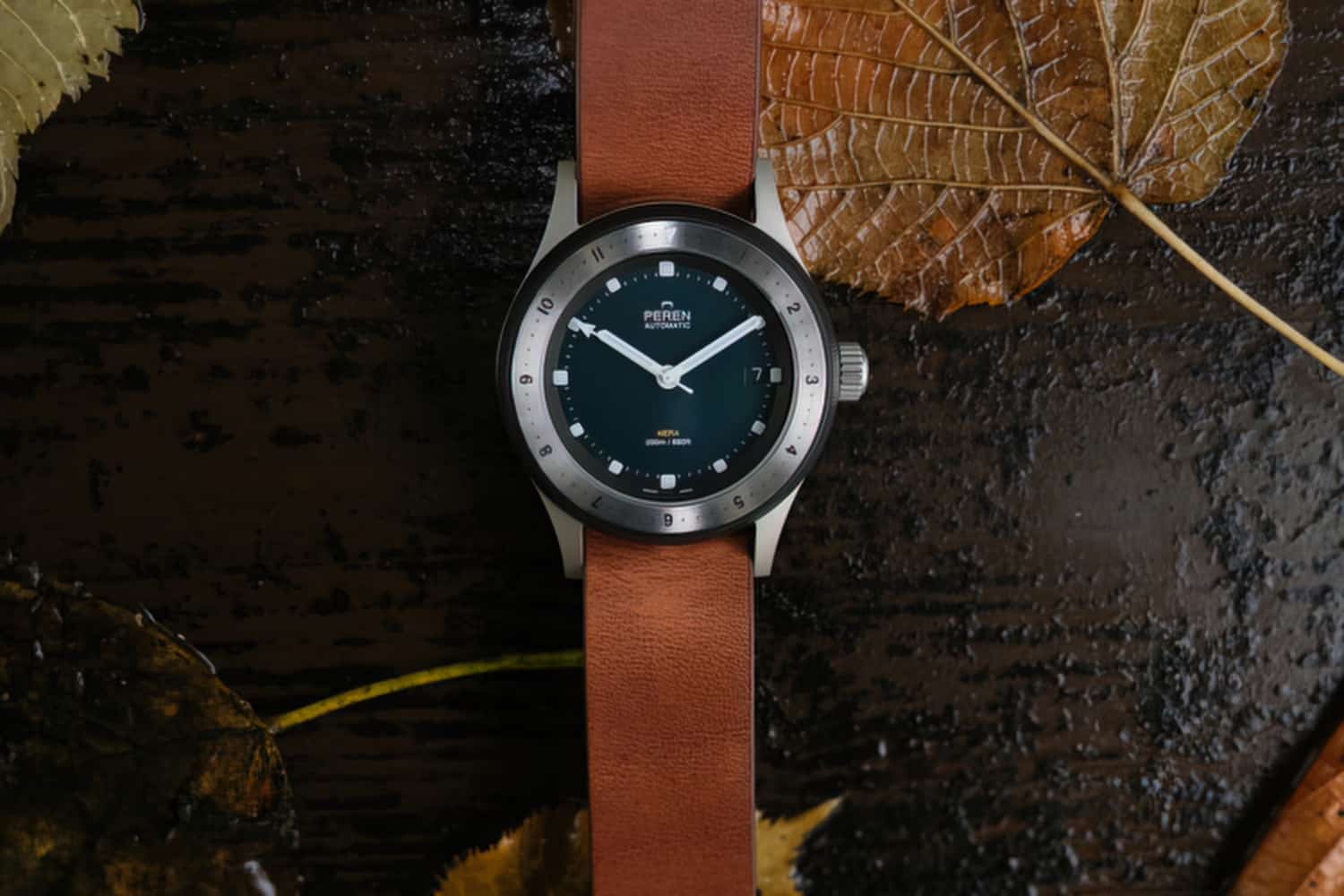 The watch face itself sports a dark shade of petrol blue/green and a minimalist design. You'll find the reddish-orange contrast of the brand's logo stands out at the bottom of the dial, along with bold and striking white pencil hands and markers.
As a handy reminder, the watch emphasizes the incredible water resistance depth in a small font just under the logo. It also includes a date dial, a large and accessible crown, and an all-important adjustable bezel.
What's a good dive watch without a decent bezel?
Diving watches will often feature a rotating bezel, which allows divers to read an elapsed time of under one hour from a specific point.
When the diver is geared up and ready to dive, the bezel will be aligned and set to mark the first few moments of using their oxygen tank. Set to zero upon entering the water by the overly large triangular marker, the bezel is a way of monitoring elapsed time under the water, which is a vital part of ensuring a dive is safe.
Peren ensures their bezels and accessibility of this function is unbeatable, providing reassurance and safety to their customers.
To put it simply, a diving watch without a good bezel is pretty redundant. Thankfully, the Nera Rogue lives up to its promise and delivers an exceptional black PVD-coated unidirectional bezel that can be easily manipulated by hand. Its texture is easy to grip, and the aluminum insert has thin markings for 5 minute intervals, and darker, thicker marks for every 15 for complete ease of reading when underwater.
Additionally, Peren added an oversized crown to add practicality to the use of the watch. Peren didn't just think of how they wanted the watch to look, but successfully ensured the Nera Rogue acts as a fully functioning dive tool.
Nera Rogue: a round-up
At under 500 dollars, the Nera Rogue is a steal. A beautifully designed, reliable dive watch with a touch of inspiration from the past.
You can pre-order the Nera Rogue on the Peren website before the price racks up a few hundred dollars