The electric car market is starting to heat up, with more and more manufacturers offering EVs. We can all thank or blame Tesla (depending on which side of the fence you're on) for this electric revolution. Even Toyota, which was betting on hydrogen fuel cars, has started to shift focus onto fully electric vehicles. Not every carmaker is currently offering an electric vehicle, but I expect that to change within the next few years.
One of the latest manufacturers to join in on the electric party is Jaguar, with the introduction of the I-Pace. The I-Pace has won awards like the "2019 World Car of the Year", "2019 World Car Design of the Year", and "2019 World Green Car". These are some prestigious awards, to find out if the 2019 Jaguar I-Pace is worthy, we spent a week with Jag's first fully electric vehicle.
Jaguar calls the I-Pace an SUV, it is capable of going off-road and through some water, something Tesla advises against on their Model X. However, I personally think the I-Pace is more of a hatchback with AWD and a bit of extra ground clearance rather than an SUV. And judging by the way it drives, I'd say it definitely is a hot-hatch, but more on that later.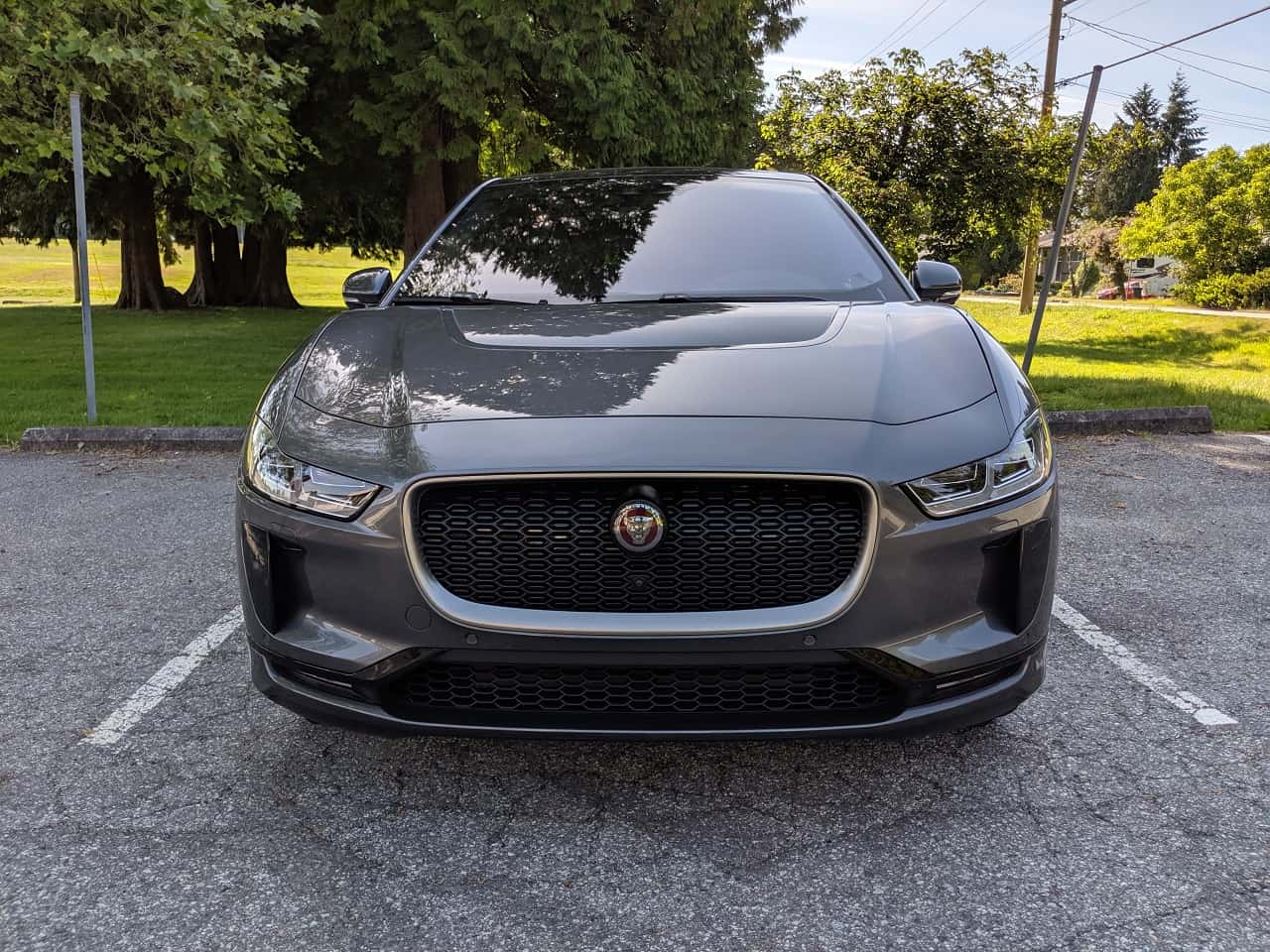 Prices
The 2019 Jaguar I-Pace EV400 comes in three trim levels, the base trim is the I-Pace S, with a starting price of $89,800. The I-Pace SE starts at $95,800 and the I-Pace HSE starts at $99,800 and can go over $120,000 with all the option boxes ticked.
The I-Pace is not a cheap vehicle, but I guess that's the price you pay for luxury and electrification.
Motors/Batteries
The Jaguar I-Pace is powered by a pair of electric motors, one at the front and one at the back, each producing 197 horsepower and 256 pound-feet of torque, for a total output of 394 HP and 512 lb-ft of torque, all available at 0 rpm. Power is sent to all-four wheels via a 1-speed automatic transmission. According to Jaguar, the I-Pace should do the 0 -100 km (0 – 62 mph) sprint in a sports-car-like 4.8 seconds, although I thought it felt much faster than that, and has a top speed of 200 km/h.
Unlike a traditional internal combustion engine (ICE), we don't stop there, the other major talking point of an EV is the battery pack, which in this case is a 90-kWh lithium-ion battery, with an EPA estimated range of 377 kilometers. The battery is placed in the floor, making the center of gravity very low, which is great for handling.
The other big question about an EV is the charge time and range, the range on the I-Pace is more than sufficient for most people. As for charging time, it varies depending on where you charge. According to Jaguar, on a standard household 120-volt outlet, the battery on the I-Pace can gain up to 11 kilometer of range per hour. Since 120-volt outlet was my only available option at home, according to my calculations, I gained 3.1 kilometer of range per hour on the 120-volt outlet. However, I do live in an old building and the wiring isn't the best, and who knows how many other electric appliances are on the same line.
You can also install a Jaguar approved wall box, which provides up to 35 kilometers of range per hour of charging. If you go to a public fast charger, a 50 kW DC rapid charger can charge the batteries on the I-Pace in 85 minutes and a 100 kW DC rapid charger can do the same in about 45 minutes, these numbers do not take into account cold winter conditions.
As for fuel electric economy, our onboard computer showed 25 kWh/100 km, this was with hard driving with lots of acceleration blasts, I'm sure this number can be brought down considerably with normal driving. I believe there's a loss of 15% electricity when charging (I read that somewhere, I'm not sure how accurate that number is), so charging 25 kWh would be the equivalent of 29.4 kWh at 85% efficiency. Our electricity rate is around 12 cents/kWh, so that would translate to $3.53/100 km. At current gas prices of $1.80 (for premium gas), this works out to 1.96 L/100 km. This is rough math, but it's still a pretty impressive number, and I'm not taking into account the fact that there are free chargers available, at least for now.
Driving
I mentioned earlier in the article that the I-Pace is more like a hot-hatch than a "SUV". I think calling the I-Pace an SUV is a bit of a stretch, maybe a crossover would be somewhat appropriate. The I-Pace's suspension does raise the car for going off-road and Jaguar doesn't discourage going off-road, but still I doubt anyone will ever take these vehicles off-road.
As a hot-hatch, the I-Pace makes a lot of sense, it drives like a real hot-hatch. Thanks to its low center of gravity and a lot of power that's available on demand, this thing will put smiles on your face all day long. I had the opportunity to drive the I-Pace on an autocross track set up in a parking lot a few months ago, I was very impressed with the way it handled the course. The low center of gravity plays a big role in making the I-Pace feel like it's stuck to the road.
All that horsepower and torque, with no gear shifting, and the AWD system made me feel like I was driving the F-Type V8. The only thing missing is the glorious roar of the V8, but I might be convinced to forget about the sensation of sound by the instant acceleration of the electric motors.
I took a bunch of neighbors and family members for a drive in the I-Pace, most of whom had never been in an electric car, let alone a performance oriented electric car. With the I-Pace in the Dynamic mode, they were all giggling like children from the sensation of the instant acceleration. My sister even asked if was doing the "nitrous thing" when I was accelerating with the throttle pushed all the way to the floor. Fun times in this "Eco-friendly" car!
Another reason I call the I-Pace a hot-hatch is the way it handles, the suspension is set up on the firmer side, this vehicle does not drive like an SUV/CUV. I personally would've preferred a bit of a softer suspension setup, especially if this was my daily driver. This type of suspension set up would be fine on a sports car but not on a car I would drive daily.
Braking is another topic of discussion with electric cars. The brakes will take a lot of getting used to, they feel fine when first pressed but as you slow down, they just feel weird, kind of hard to explain. Also, since there's no engine noise to mask other sounds, the brakes do make some unwanted sound. There was one occasion when I was in a tight spot and I needed to go forward and backwards a few times, there was a lot of noticeable noise coming from either the brakes or front suspension, the sound felt like what an older vehicle with leaf springs makes, not very pleasant at all. In fact, I was a little embarrassed as I was showing this car to a friend while I tried to do a 180 turn in an alley.
Styling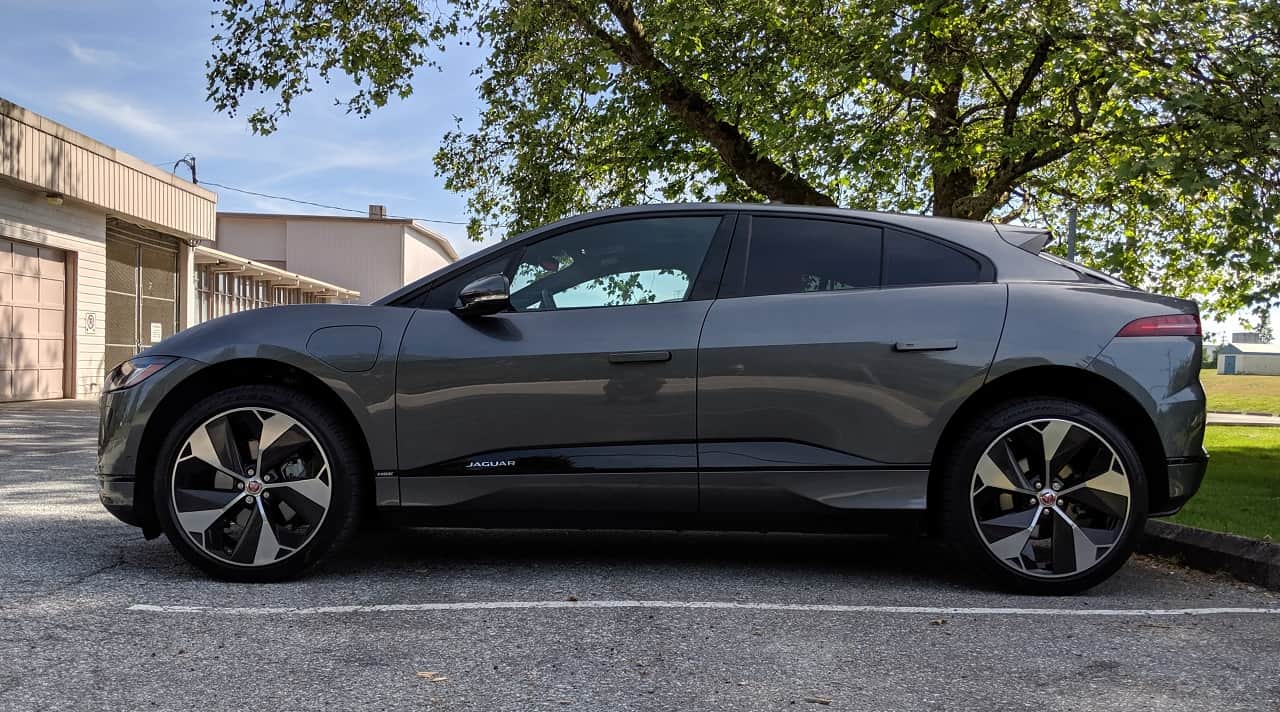 The Jaguar I-Pace takes a more conventional approach to its styling, it still looks futuristic, but doesn't look "weird for the sake of being weird". It actually features a front grill, but since it's not needed, the grill is blocked off, just giving the look of a conventional grill. I think I-Pace would look really weird without a grill, it has been years since Tesla removed the black shinny parts from the front of the Model S and it still looks a little weird to me.
Above the grill on the I-Pace is an opening that lets the air flow through, reducing drag, over the roof and the rear glass. According to Jaguar, this air movement eliminates the need for a rear wiper. It didn't rain when I was reviewing the I-Pace, so I don't know how accurate that claim is, I'm sure it works fine at highway speeds, I would like to see how it works at slower city speeds.
The overall design is still very "Jaguar", especially apparent are the design cues from Ian Callum's design era, who is sadly leaving the company. I think the Jaguar I-Pace is a good-looking vehicle, it has a sporty stance thanks to the wheels being moved far into the front and rear corners, it looks futuristic, and keeps the Jaguar identity. It looks especially good with the giant 22 inch wheels.
Interior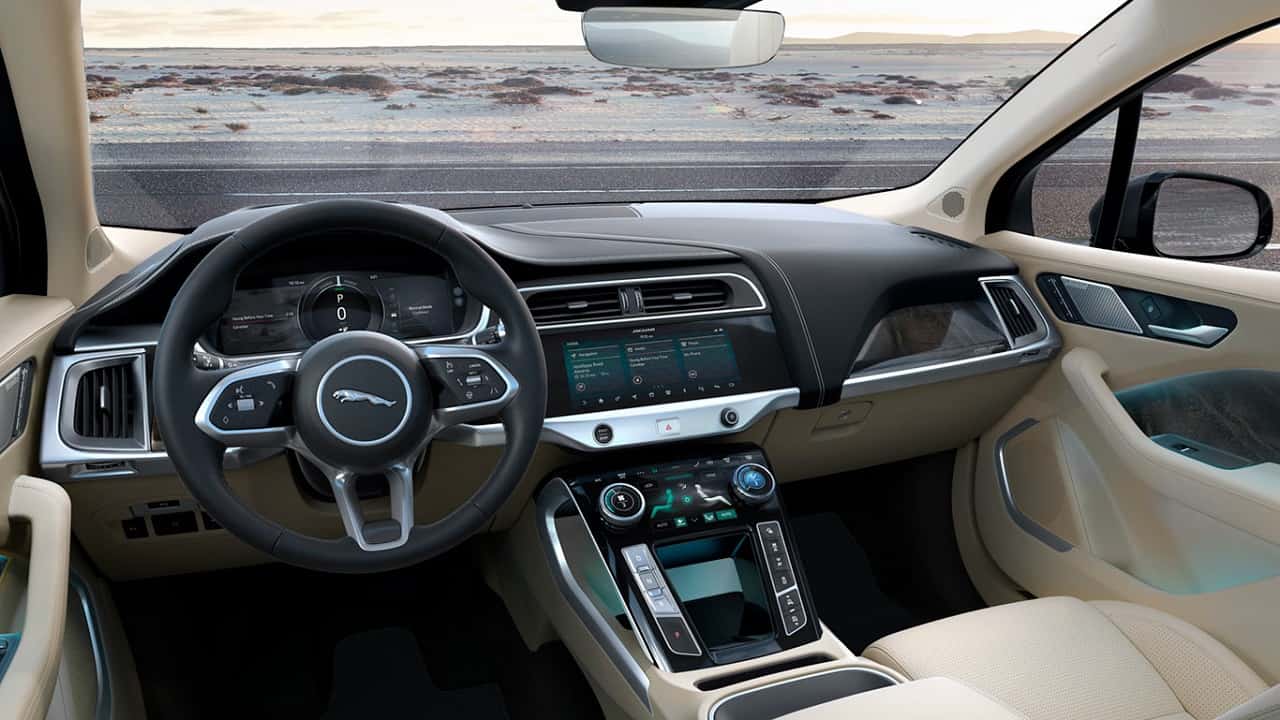 The Tesla Model 3, which I would say is the closet competitor to the I-Pace, has a very minimalist interior and is something that would take a decent amount of time to get used to. The I-Pace, again, takes a more traditional approach to the way the interior looks, however, there's plenty of futuristic features that set it apart from your average car.
There are multiple screens that can display different information depending on the driver's needs. There's the traditional 10" infotainment screen, which displays navigation, entertainment, battery data, eco-driving data etc. Then there's the TFT screen in place of traditional gauges, which can also be customized to display different information. And then 5" touchscreen below the 10" screen, this screen controls the climate system and is pretty cool to use, it took me a few minutes to get used to it but once I used it a few times, it was really easy to use.
The interior is very room and a comfortable place to be in, I did find the seats on the harder side, especially for a daily driver, these seats might be fine in a sports car but not in a vehicle like this, at least for me. The liberal use of piano black surfaces, especially on the center console, is a big negative for me because it gets dirty fast and more importantly, it gets scratched up fast.
The trunk is pretty spacious, there was more than enough room for a stroller and groceries. There are also a few places to tie down bags, and a hidden compartment under the main storage area which can be used to store the charging cable or other valuables you want to hide. The Jaguar I-Pace also comes with a front trunk (I'm not going to call it a frunk), however it is very small and is better suited for housing the charging cable.
Impressions
I think the I-Pace is a step in the right direction for Jaguar, if they are to compete with other manufacturers in the race to a fully electric future. The I-Pace is a good looking vehicle, it performs really well, it's luxurious with an interior that doesn't take much time to get used, and most importantly it has a range that makes it a practical vehicle.