Hyundai has done a great job of embracing alternative energy vehicles, offering a variety of electric vehicles from fully electric to plug-in hybrids, and "simple" hybrids, in addition to gasoline powered cars. Hyundai also offers a hydrogen fuel cell vehicle, which we'll be reviewing in a week or so. Their latest vehicle is the Hyundai Kona electric, which is based on the popular gasoline powered Kona.
A couple of weeks ago we had the opportunity to review the 2019 Hyundai Kona Electric, for a full week. We experienced first hand what it's like to live with an electric car on a daily basis, something that wasn't very convenient only a few years ago, but things move fast in the electric automotive industry and having an electric car now makes a lot of sense.
Kona EV's direct competitors are the Chevrolet Bolt EV and Nissan Leaf EV, although the Tesla Model 3 SR+ is also close in price to the top of the line Kona EV.
Prices
The 2019 Hyundai Kona Electric is offered in two trims, the Kona Electric Preferred has a starting price of $44,999 and the Ultimate starts as $51,999. These prices do not include any rebates you may get, which depend on the province you live in, on top of the $5,000 federal rebate.
Our review car for the week was the 2019 Hyundai Kona Electric Ultimate, with a starting price of $51,999 plus $1,805 for Freight & PDI.
Motors/Batteries
Both trims of the Hyundai Kona EV use a 64.0 kWh lithium-ion polymer battery pack, sending power to an "Interior permanent magnet synchronous electric motor", producing 150 kW (201 horsepower) and 290 pound-feet of torque, which is sent to the front wheels only. The battery power output is 170 kW, maximum voltage is 356 V, and the Kona EV can hit a top speed of 167 km/h.
According to Hyundai, the Kona EV has a range of 415 kilometers, when fully charged, the onboard computer showed 464 kilometers in Eco mode. I guess Hyundai is using the lower number to account for loss in range due to weather conditions. Driving range is reduced depending on which of the three driving modes you drive in and whether you have the AC or heat on.
Hyundai has the range covered for most people; the next big question is how long does it take to charge the 64-kWh battery pack? According to Hyundai, it should take about 48 hours to fully charge the battery pack using a 120 volt standard household outlet (Level 1 (1.4 kW)), using a Level 2 (7.2 kW) outlet should take about 9.5 hours, Level 3 (50 kW) should take 75 minutes to charge to 80% and Level 3 (100 kW) should take 54 minutes to charge to 80%.
Since I don't own an EV, I don't have a need for a higher voltage outlet in the carport, thankfully there's a standard 120 V outlet available. Based on the time I had it plugged in, I was able to add about 8.2 kilometers of range for every hour the Kona EV was plugged into a standard household outlet. This is more than enough of a charge for most people's daily commutes. For example, you come home at 6 PM, plug in the Kona EV and then leave for work the next day at 8 AM, that's 14 hours of charging, adding over 100 kilometers of range every day.
According to NRCAN fuel (electricity is a type of fuel) consumption ratings, the Kona Electric should use 16.2/19.3/17.4 kWh/100 kilometers in city/highway/combined driving or 1.8/2.2/2.0 Le/100 km. For our weeklong review, we averaged 12.7 kWh/100 kilometers in 70/30 city/highway driving, based on the number shown on the onboard computer.
At the time of our review, electricity cost about 12 cents/kWh (it's a two-tier system, first 1,350 kWh/2 month is 8.29 cents and everything above that is 12.43 cents), and I read somewhere there's an average of 15% loss of electricity when charging, to drive 100 kilometers in a Kona Electric, it cost me $1.75. Which is the equivalent of 1.13 liters of gasoline (gas cost $1.54/liter at the time of our review), which is pretty amazing amount of savings. On average driving of 15,000 km/year, you're spending $262.50 in electricity on the Konda EV vs $1,825 on an FWD Kona 2.0-liter gasoline powered car (based on $1.54/liter and 7.9 L/100 km of combined driving). With the electric Kona, you also don't need to worry about oil changes and less wear on brakes. However, you are paying a significantly higher price for the Kona EV.
Driving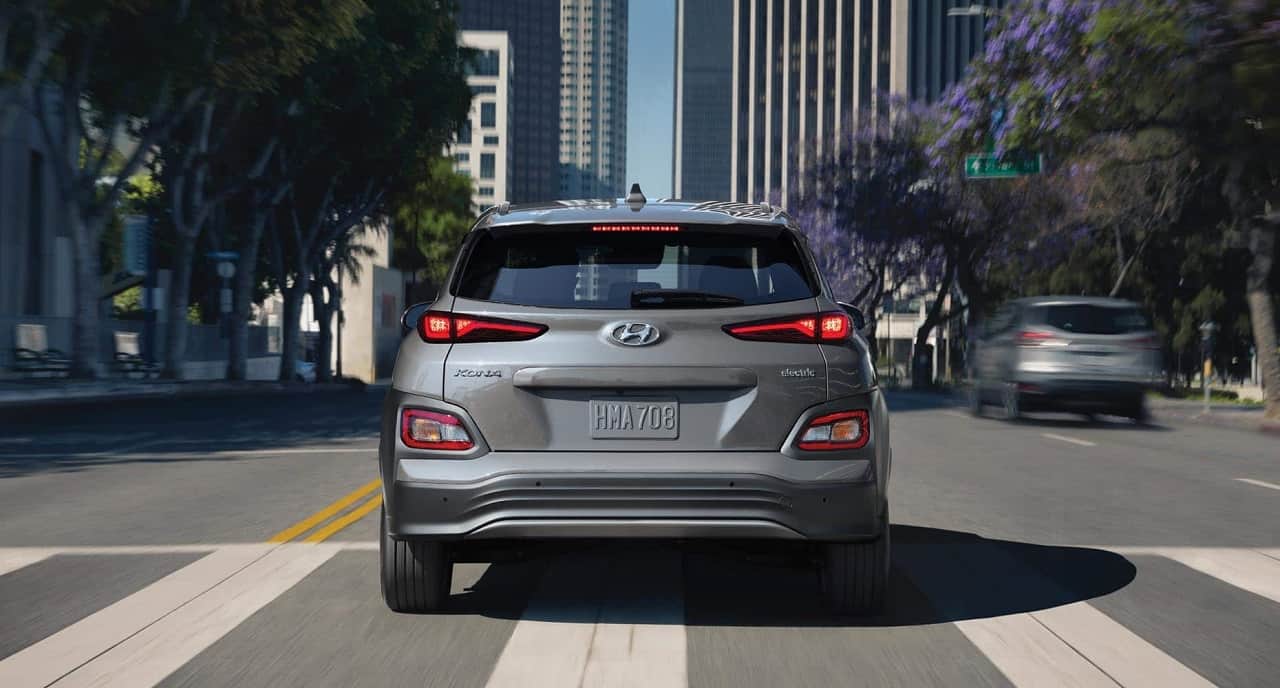 A couple of weeks before the Kona EV review, I reviewed the Jaguar I-Pace EV, which is a performance oriented electric vehicle and is a lot of fun, it's basically a sports car with four doors. The Kona EV is no slouch either, on paper it may not be as impressive as the I-Pace but it is a lot of fun to drive, it's definitely more fun than the gasoline powered Kona.
Thanks to the instant torque, the Kona EV accelerates very quickly from a standstill and even at highway speeds, it accelerates instantly. There's no need for downshifting etc. to increase your speed while passing on the highway, just put your right foot down and off you go. Although the claimed 0 – 100 km/h (0 – 62 mph) is 7.6 seconds, the Kona EV feels much faster.
The Kona EV comes with three driving modes: Standard, Eco, and Sport. I mostly drove it in the Eco mode, as I felt it had more than enough juice. The Sport mode makes the car feel much faster but I didn't really find a need for driving in this mode, it might be useful if I took it to an autocross?
The Kona EV comes with three modes of regenerative braking, which is controlled via paddle shifters on the steering wheel. It always starts out in Level 2, which I found to be a bit too "brakey" for my taste, I mostly left it in Level 1, which is like applying a tiny bit of pressure to the brake peddle in a gasoline car. I'm personally not too big of a fan of aggressive regenerative braking, as my driving style is very smooth and I usually coast to a stop light, with high regenerative braking it didn't feel natural and I always ended up stopping a long way before where I needed to stop. But I guess if I owned the Kona EV, I'd get used to the higher level regenerative braking and would adjust my stopping style.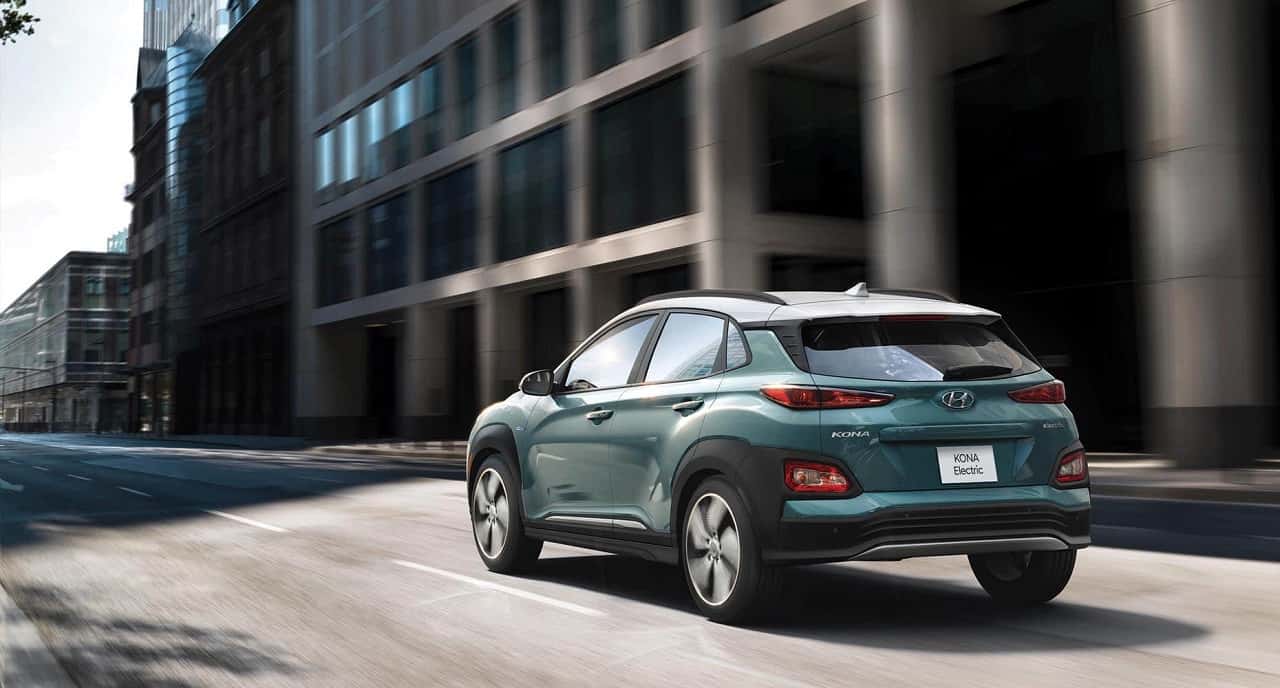 I had fun driving the Kona EV, it is a vehicle I see myself driving in the future, but it's still a bit more than what I would pay for currently, hopefully EV prices come down a bit in the near future, I definitely think our next family car will be an EV.
Styling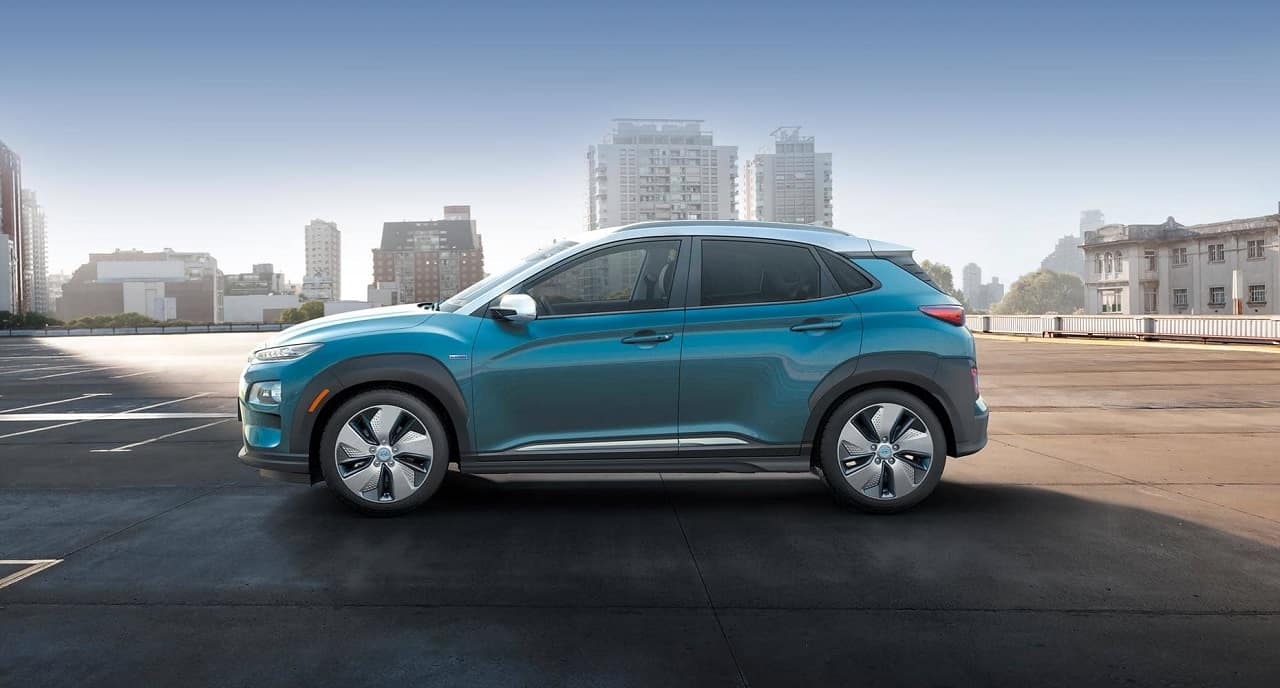 Styling is a subjective matter; I personally think the Hyundai Kona electric is an alright looking vehicle. The gasoline version of the Kona is a better-looking car, which looks sportier. The Kona EV, with its missing front grill, looks a bit weird, I would've liked to see a faux front grill like the one seen on the Jaguar I-Pace.
Interior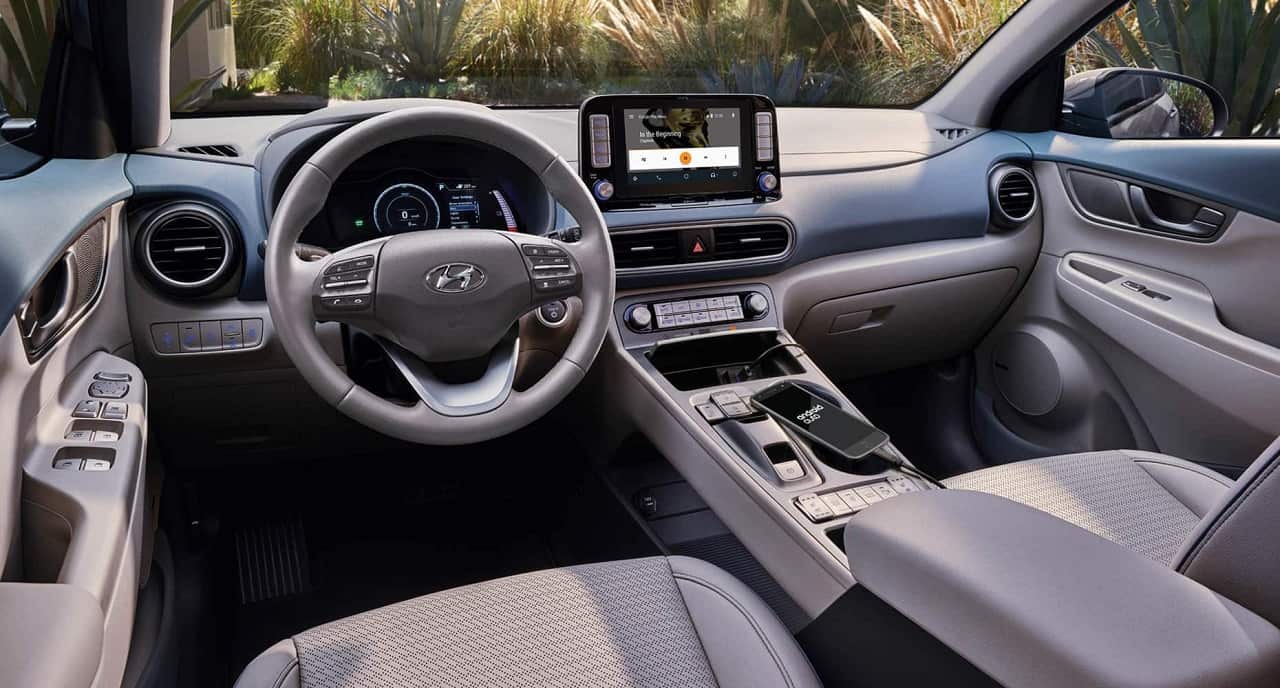 The interior on the Hyundai Kona has a nice clean look to it, it's easy to understand and it didn't take me any time to get familiar with all the controls and knobs and whatnot. Unlike the Tesla Model 3, the interior on the Kona EV is like a traditional car and it works great. There are plenty of physical buttons to press, so you don't have to go through multiple screens just so you can open your glovebox (or something like that).
The interior is mostly hard plastics, remember the Kona EV is based on the gasoline Kona, which is an affordable car. I call it a car because the Kona is very small and calling it a CUV just doesn't feel right, it's more of an upright hatchback, like the Honda Fit, it's actually about as high as the Fit, see photo below.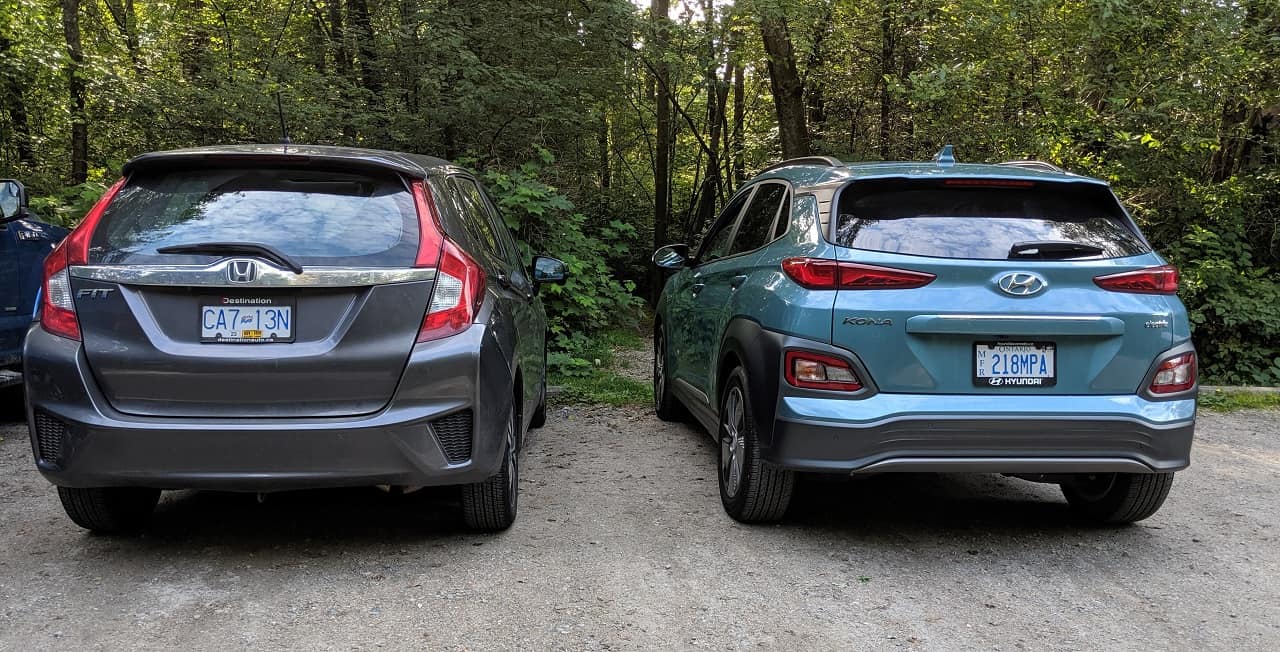 Since the Kona EV is based on an economy car, and EVs are famous for being quiet, which the Kona EV is, it's also a negative at highway speeds because you hear a lot of wind noise, some of which would normally be masked by the engine noise.
Technology
The Hyundai Kona EV has a lot of bells and whistles we've come to expect from our modern cars, below is a list of what's offered on the top of the line Ultimate trim, the Preferred trim is also well-equipped but the Ultimate has just little bit more.
LED headlights with active cornering lights (Ultimate only)
LED daytime running lights
LED taillights
Proximity key with push-button start/stop
Rain-sensing wipers (Ultimate)
Heated front seats
Ventilated front seats (Ultimate)
Leather seats (Ultimate)
8-way power driver's seat (Ultimate)
Rear camera
Bluetooth hands-free phone
Android Auto & Apple CarPlay
Heads-Up display (Ultimate)
8" touchscreen (Ultimate)
Wireless device charging (Ultimate)
Heated steering wheel
7" TFT LCD instrument panel
3-level regenerative braking system
Power sunroof (Ultimate)
Adaptive cruise control with traffic stop & go
LED interior lights (Ultimate)
Electronic stability control with traction control
Vehicle stability management
Blind spot monitor
Lane change assist
Rear cross-traffic collision warning
Reverse parking distance warning
Front parking distance warning (Ultimate)
Lane keep assist
Forward collision avoidance assist
Driver attention warning
High beam assist (Ultimate)
Final Thoughts
I had a lot of fun driving around in the Hyundai Kona electric, which is not something you could say about electric vehicles only a few years ago. The fact that the Kona EV is very efficient, easy to live with, and decently practical is just an added bonus.
I think electric vehicles have a good chance of fully becoming mainstream, I know they're pretty mainstream right now, but not at the level where every other car is an electric car, but we're getting there, slowly but surely. I can't wait to see what future battery technologies can achieve, I would love to see battery prices go lower and capacity go higher. Personally, for me, I think the 1,000 km/charge is the magic number, without too much of a premium over current electric vehicles.