Our regular readers have probably noticed our love for luxury and sports car, but we (especially I) have a weird love affair with another category of cars, the small economic car. I like these cars for their practicality, small size, fuel efficiency, and affordability. Living in Vancouver, I see plenty of small cars on my daily drives, especially prominent is the Honda Fit.
So what better way to experience this car than to take it for a week long test drive, this time we spent a week behind the wheel of a 2015 Honda Fit EX-L Navi. This second generation Fit went on sale in the fall of 2014 in Canada, as a 2015 model.
The second generation Honda Fit is available in four trims, all four trims come standard with a 6-speed manual transmission and all but the base model are offered with optional CVT transmissions. Prices for the Fit start at $14,495 for the base DX model and go all the way up to $22,595 for the EX-L Navi with the CVT transmission. Our review cars was the EX-L Navi with the 6-speed manual gearbox, with a price of $21,295 plus freight and PDI.
The Honda Fit was originally introduced in North America in 2006 as a 2007 model, and has won numerous awards over the years. The first generation car has been very popular in Canada and I see no reason why that trend won't continue for the all-new 2015 Fit.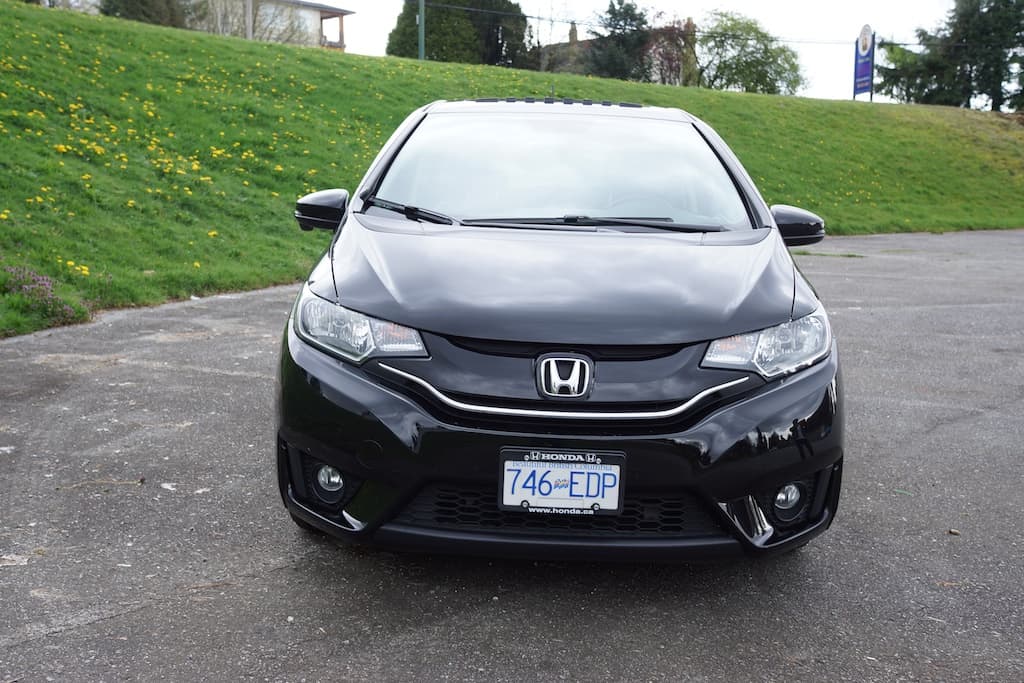 The 2015 Fit has a similar shape to the outgoing model but the design is significantly different and the car has a lot more character and it looks more substantial. The Fit isn't going to win any beauty contests, but this is a compact car that looks pretty good for what it is. And what it is is a practical car that's small on the outside but very big on the inside.
The 2015 Honda Fit is powered by an all-new 1.5 liter 4-cylinder engine with direct injection. This little engine produces 130 horsepower at 6,600 rpm and 114 pound-feet for torque at 4,600 rpm, an increase of 11% and 7% respectively over the first generation Fit. The engine is mated to a smooth shifting 6-speed manual transmission with a very light clutch pedal or a CVT transmission.
According to Honda, the Fit consumes 8.1/6.4/7.3 L/100 km on the city/highway/combined cycles with the manual transmission. The LX trim CVT equipped cars consume 7.0/5.7/6.4 L/100 km and the EX and EX-L CVT equipped cars consume 7.3/6.1/6.8 L/100 km. For our week long review with the 6-speed manual Fit, we recorded 6.5 L/100 km in mixed highway/city driving, according to the car's on board computer.
The Fit's 4-cylinder engine is quite peppy and is very rev happy. Dare I say it might even be a little fun, especially with the manual transmission. I haven't driven a CVT equipped Fit, so I don't know how that feels, but in my experience, a manual transmission gets the most out of small engines like these.
The small engine is perfect for running around the city, there seems to be enough power from taking off from traffic lights with ease and without getting in the way of big SUVs. The car feels very nimble, and weaving in and out of traffic is quite fun and easily achieved. On the highway, you're able to keep up with traffic easily but if passing a slower vehicle, you do need to drop a gear or two and do a bit of pre-planning for the passing maneuver.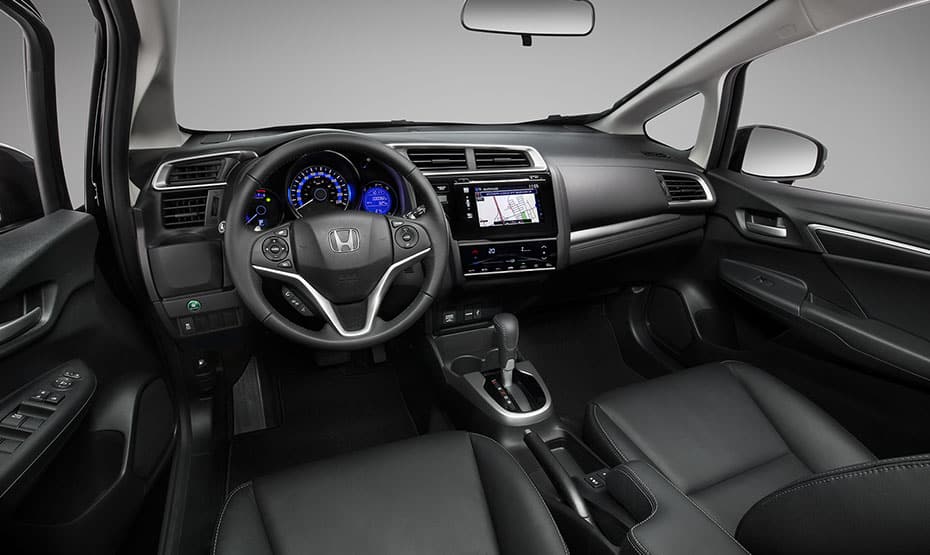 The Fit shines when it comes to interior space, especially considering how small the exterior dimensions of this car are. There are lots of little places to store your gadgets and plenty of cup holders. The center console layout is very clean with a large touchscreen in the middle that displays information for various functions like the entertainment system, navigation, and acts as a screen for the backup camera and right turn camera.
The interior features lots of hard plastics and isn't too quiet when you first drive it, but after a day of driving, I felt comfortable with the noise level. This is, after all, a small economy car and hard plastics and a bit higher noise level is expected.
The back seat has lots of room for the passengers, more room than some of the large cars I've reviewed over the years. The 2015 Honda Fit is actually 41 mm (1.6 inches) smaller in length than last year's model, yet the rear passengers get an extra 122 mm (4.8") of leg room. Pretty impressive for such a small package.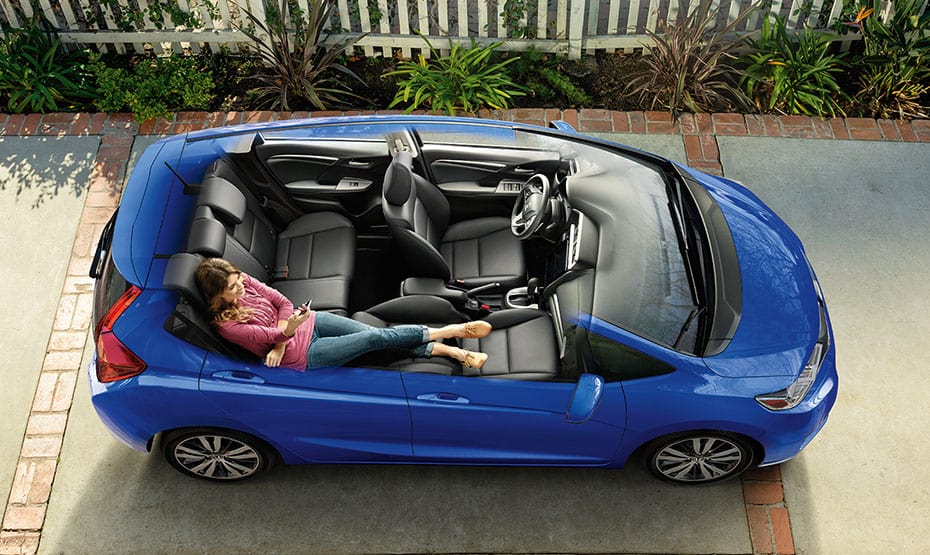 The rear seats fold in multiple ways to make room for large items, Honda calls these seats "Magic Seats", I'm guessing because of their versatility. If you have extra long items to transport, in addition to the rear seats folding, the front passenger seat also folds to house that long item. Or the front seat can be folded that way to make it into a sort of bed, see image above. The trunk has a good amount of room with the seats up, but like I said, it can always be extended by folding the various seats. This is the beauty of these small hatchbacks, they fit a lot of stuff with ease.
I actually had quite a good time in the week long review of the 2015 Honda Fit. I especially liked the fuel efficiency of the car and its small size, the car is very easy to park and drive. The Honda Fit could fit (no pun intended) perfectly in my garage as the every day run about car and then on the weekends I can have fun with my sports car.
If you're looking for a decently fun car that's fuel efficient, is going to last a very long time, is well made, practical, and offers a lot of space in a small package, the Honda Fit is a car you must take on a test drive.