Electric vehicles (EV) are becoming more and more common nowadays; there weren't many choices just a decade ago, and now it seems every carmaker is offering at least one EV. EVs have quite a few advantages over "traditional" internal combustion engine (ICE) vehicles, not least of which is the smoothness of the driving experience because of the lack of vibration from the ICE engine.
I have reviewed quite a few electric cars recently; the biggest common denominator was the smoothness of the drive. So, what do you get when you combine the smoothness of an EV and the already smooth driving characteristics of a luxury car? An incredibly comfortable ride that can't be compared to anything else I have experienced in my almost 30 years of driving.
The car in question is the Mercedes-Benz EQS, which is Mercedes-Benz's first fully electric vehicle in the North American market. Mercedes does have other electric vehicles in the EQ lineup in Europe, but in North America, the EQS is the only offering, for now. More EVs will be offered in the near future, with an EV equivalent of every model on Mercedes' current roster.
The all-new Mercedes-Benz EQS is a sleek four-door that seats up to five passengers, and it offers an impressive range of 547 kilometers on a single charge. The EQS also comes with a wealth of high-tech features, including a digital cockpit, an advanced infotainment system, and a host of driver-assistance systems. The EQS competes with the likes of the Tesla Model S, Lucid Air, the Porsche Taycan, and the Audi e-tron. Although the Taycan and e-tron GT are smaller cars with a focus on sporty driving and not all-out luxury.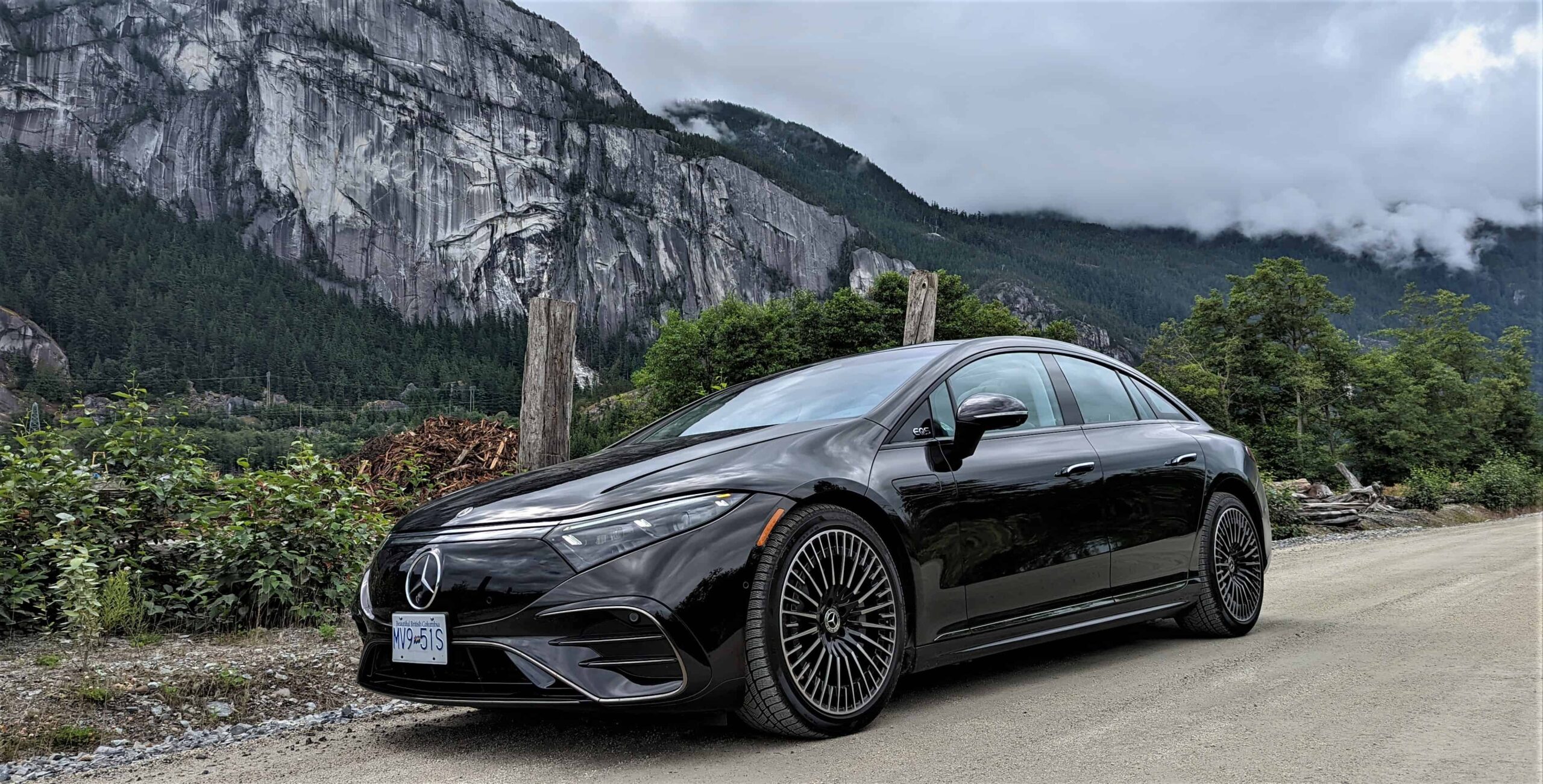 How Much Does The Mercedes-Benz EQS Cost in Canada?
Unlike in the United States, in Canada, the Mercedes-Benz EQS is offered in one trim only, the EQS 580 4MATIC Sedan. It has a starting price of $146,500, which is only $1,500 more than the S 580 4MATIC LWB Sedan. Prices can reach $175,000 with all the options ticked.
Our review 2022 Mercedes-Benz EQS 580 had a sticker price of $162,150, below are the optional packages our car came with. We'll go over these packages and their content in detail later in the review.
Active Ambient Lighting
ENERGIZING AIR CONTROL Plus
Exclusive Nappa Leather Package
Night Package
Premium Package
Dash Cam
In the United States, there are two trims: EQS 450+ and the EQS 580. The EQS 450+ is a rear-wheel drive single motor version, while the EQS 580 is equipped with an AWD and a dual-motor setup.
In Canada, there are government incentives for purchasing electric vehicles. There is a $5,000 federal incentive and $3,000 in BC and $7,000 in Quebec. However, the Mercedes-Benz EQS 580 doesn't qualify for these incentives due to its price being much higher than the maximum price of $55,000 for the base trim and $65,000 for a loaded trim. However, most people buying the EQS are most likely not worried about these incentives, at least I wouldn't be.
What are the Battery Sizes and Range on the Mercedes-Benz EQS?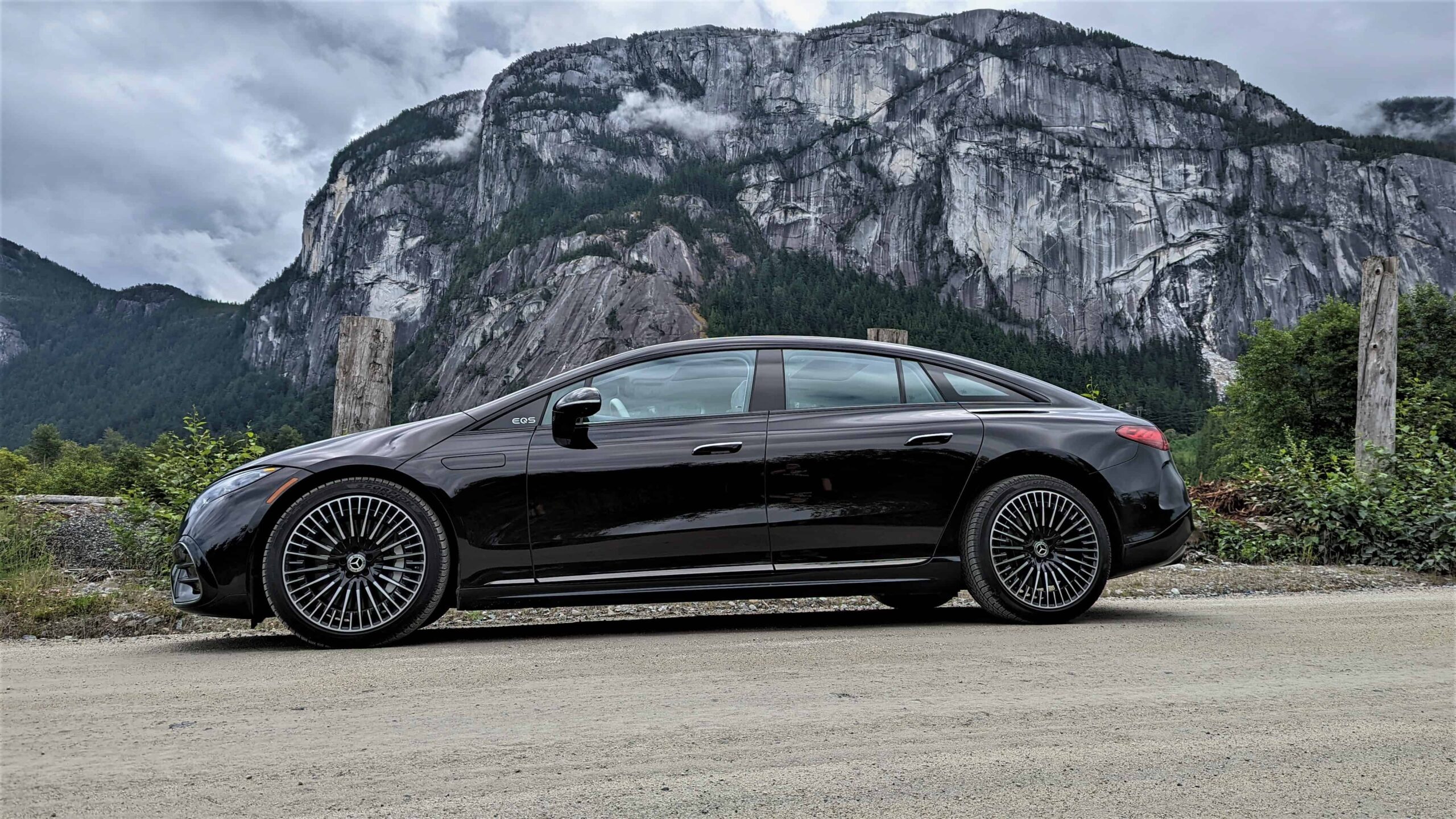 The EQS is only offered with one battery size and it's a rather large one, a 107.8 kWh unit. According to Mercedes-Benz, the EQS 580 4MATIC should be able to travel 547 kilometers. Of course, the amount of range you get out of your EQS will depend on a variety of factors, which are true for ICE cars but we don't pay much attention to them in ICE vehicles. Factors affecting range include driving style, weather conditions, use of climate control, and terrain.
When I received our review EQS 580, it was fully charged to 100% and the range showed 585 kilometers, in ideal summer conditions with temperatures ranging from 20 to 25 Celsius. I drove it for 62 kilometers, and the range was spot on, with 523 kilometers remaining. I drove it gently and occasionally used the air conditioner, with a liberal use of the massage feature on both the driver and passenger sides.
However, on some of the hotter days, the range dropped a bit with the use of AC and there was even one day where I turned on the heater, which dropped the range further. Cold is the enemy of all electric cars, so in the winter, the range should drop below the claimed range. In the spring/fall the range should be higher than the claimed range. I think it should easily average out close to the claimed range of 547 kilometers per charge over a year of driving.
On our longer trip, a round trip that consisted of going up and coming back down a mountainous highway, resulted in 20.0 kWh/100 kilometers. Mercedes-Benz didn't provide a kWh/100 figure for the EQS 580; however, they did provide a Le (liters equivalent) figure of 2.6/2.4 Le/100 km, which translates to 23.14/21.36 kWh/100 kilometers in city/highway driving.
Mercedes-Benz EQS 580 4MATIC Battery Charging Times
According to Mercedes-Benz, the EQS 580 can be charged from 10 – 80% in around 31 minutes, using a 200 kW DC fast charger. Charging times will depend on ambient temperature, battery temperature, and the state of the charger, and if you can find a fast charger.
The EQS comes with what MB calls "Mercedes Me Charge", which seamlessly integrates ChargePoint account into the car. So, when you go to a charging station, you don't have to fiddle around with the app, you just plug in and the car starts charging, taking care of all the back-end stuff like billing etc. This is something Tesla owners have enjoyed with the Supercharger network, it's great to see other manufacturers offering simple plug and play options. The navigation system also shows EV charging stations and it even shows whether the chargers are available or in use in real time.
However, if you plan on owning an EV, the best place to charge is at home, leaving the DC fast charging network for road trips or emergency use. Installing a home charger (there are many options to choose from) allows you to charge the batteries from 10 – 100% in 11.25 hours.
Charging on a 120-volt outlet would take quite a long time, Mercedes-Benz didn't provide a number for this but just doing rough math, it should take somewhere around 110 hours to fully charge it. Of course, you won't be draining the battery down to 0%, just like you won't be draining your gas tank down to 0 on an ICE car. I picked up the EQS 580 fully charged and topped it up using a 120-volt outlet in my garage, which provided more than enough electrons for my daily driving needs.
Driving/Motors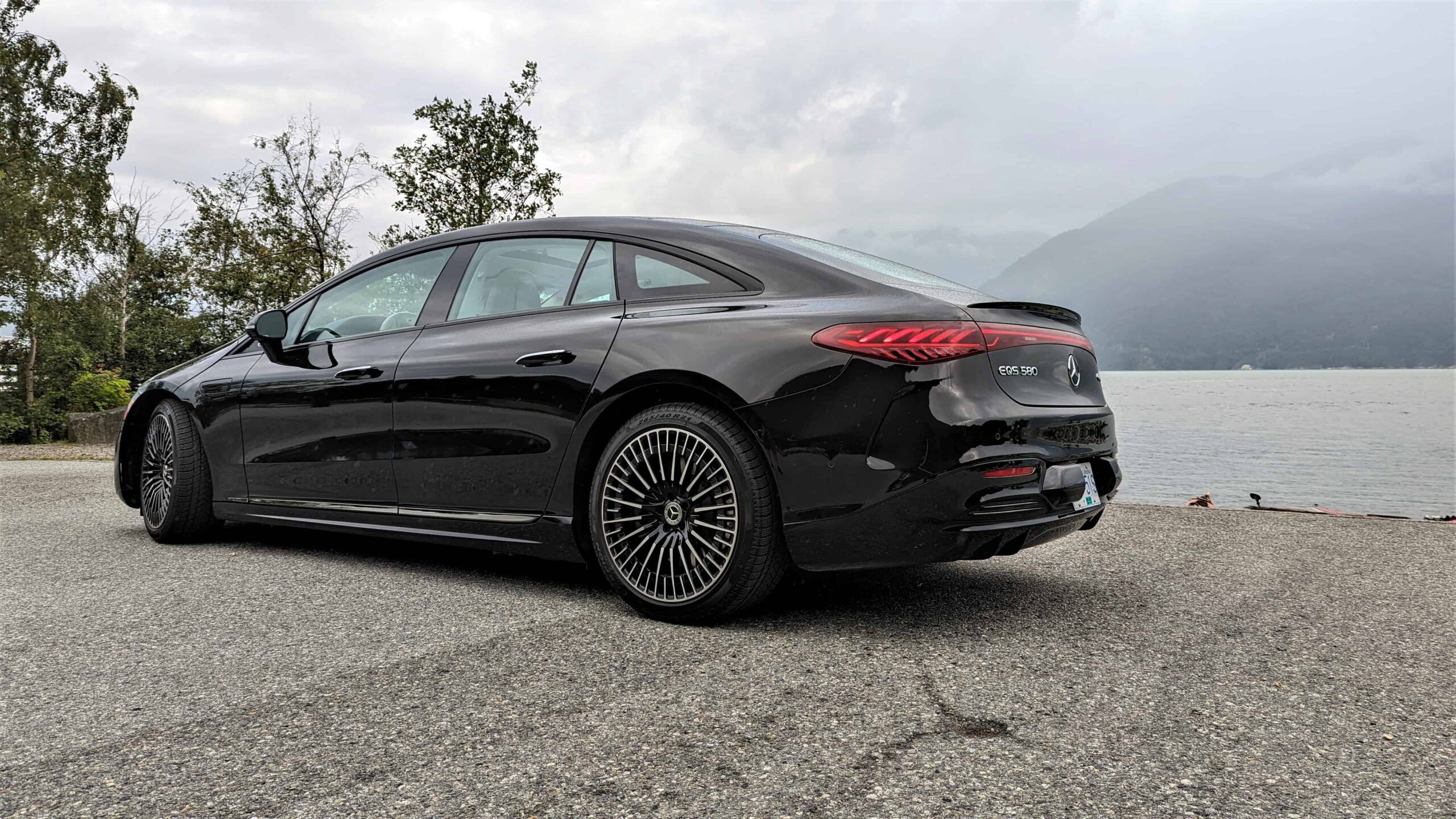 In Canada, the EQS is offered with a dual-motor layout, one at the front and one at the rear, giving you AWD. In the United States, you can choose between a single motor RWD and dual-motor AWD versions. The US single motor equipped EQS 450+ has an output of 245 kW, which is 329 horsepower, and 417 pound-feet of torque. The dual motor EQS 580, both in the US and Canada, have an output of 385 kW combine, which translates to 516 horsepower, and 631 pound-feet of torque. Power is sent to the wheels via a single-speed automatic transmission.
While not available in Canada, the RWD model doesn't gain as much range over the AWD model as you'd expect. The AWD has a range of 340 miles (547 km) and the RWD has a range of 350 miles (563 km). This could be attributed to the fact that during normal cruising, only one of the motors is engaged on the AWD trim, the second motor comes online only when it's needed.
The EQS is the equivalent of an S-Class, which is the class-leading luxury car and all of the competitors use it as a benchmark for their full-size luxury sedans. The S-Class is all about taking you to your destination in the most comfortable way. The EQS emulates that, it is probably the most luxurious car I have ever driven; it takes what the S-Class has to offer and makes it even more luxurious.
Electric cars are known for their smoothness because of the lack of vibration from the ICE engine, no matter how smooth an ICE engine is (in the case of the S-Class), it can't match an EV's smoothness. Taking that EV smoothness and combining it with Mercedes-Benz S-Class's refinement and we get an amazingly comfortable vehicle.
When I was asked how the EQS drives, my response was "it feels like I'm floating on a cloud", yes that sounds cliché but that was the only way I could explain it. The ride quality and the driving dynamics of the EQS are absolutely sublime. It's so relaxing to drive, and is extremely relaxing to be a passenger in it, which is what I was told by my numerous passengers over the week I had the pleasure of driving the EQS.
The EQS is quite a large vehicle, but driving it around town, it doesn't feel like a big car. One of the reasons is, the optional, 10-degree rear-axle steering. The EQS makes a U-turn in a freakishly small amount of space, it does take a bit of getting used to.
The EQS is not particularly a sporty vehicle; it doesn't pretend to be and nor does it need to be. There will be an AMG version, which should be sportier. The suspension is quite soft, but it doesn't float around and is actually quite compliant in the corners. The suspension does firm up in the Sport mode, if you feel inclined to hit some twisty roads.
I mostly drove the EQS in the Eco or Comfort mode, since there's more than enough power produced by the dual electric motors even in these "lesser" modes. The torque is instant, which is the case in all EVs, and you are doing illegal speeds in no time, if you don't pay attention. The heavy EQS gains speed at an uncanny rate, putting it in Sport modes makes the throttle response even quicker. Driving in the Sport mode is quite fun for scaring your passengers, other than that, I didn't really use this mode much. The sweet spot was the Comfort mode, which gives you plenty of power for everyday use. The Eco mode makes the throttle heavy and power is restricted, this mode is best used to long stretches of boring highway sections.
The EQS comes with three levels of brake regen, which can be controlled via the steering wheel mounted paddle shifters. The hardest regen is like one-pedal driving, but it doesn't come to a complete stop like some of the other manufacturers' EVs. I mostly left the regen in the middle level, which is a nice balance between coasting and regenerating electrons.
One of my complaints about the driving dynamics of the EQS 580 was the brakes. The brakes have a natural feel between regen and the physical brakes taking over. However, the brake pedal is quite soft and the brakes feel weak for such a heavy vehicle. Coming to stop from high speeds does taking some getting used to.
Another small issue I found with the EQS is the throttle peddle is quite heavy. I found it hard to modulate it precisely for low-speed maneuvers, like backing into a garage full of stuff. Pressing the accelerator peddle gently didn't do anything and pressing it harder, you risk running into something. Of course, the EQS does come with emergency stop system, but I wouldn't want to rely on that.
Other than that, I thoroughly enjoyed driving the EQS on all sorts of road. In fact, I just wanted to keep driving even after reaching my destinations.
2022 Mercedes-Benz EQS Styling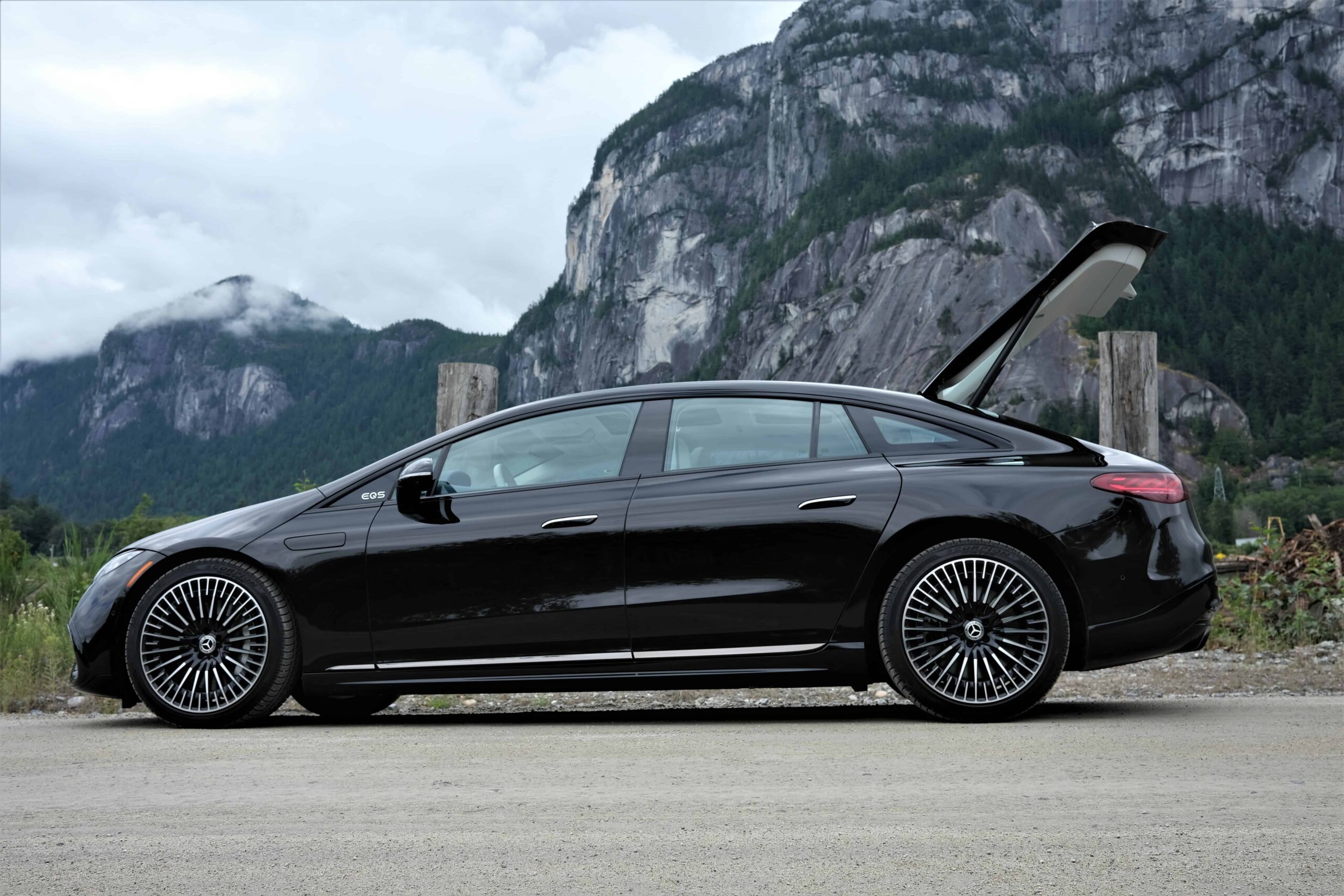 The most controversial part about the EQS has to be the styling. I know this is a subjective matter, but personally I wasn't a fan of the looks of the EQS and many people commented on it not being a good-looking car. The S-Class is an understated sedan, but it has a lot of road presence and is quite a head turner, which is not the case with the EQS. People did check out the EQS quite a bit, but I think that was because most people haven't seen an EQS in person. I also noticed BMW drivers almost breaking their necks trying to have a better look at the EQS, as I blasted past them.
However, after seeing it in person and spending some time with the EQS, I actually didn't mind the exterior styling. I'm confident enough to not care about what others think, and after driving it and spending a lot of time on the inside, I forgot (and stopped caring) about what the car looks on the outside. I do understand, Mercedes-Benz wanted to make it a super-efficient EV, the EQS has a drag coefficient of 0.20, which is the lowest CD of any production car.
I think the "weirdness" of the EQS's exterior design comes from not having a long hood compared to the rest of the body, this kind of a design will probably work better with an SUV. Large luxury sedans like this, including the S-Class, have much longer hoods. If you look at the Lucid Air, that's much more attractive design, I would say it could be attributed to the longer hood, which gives it the classic sedan look.
2022 Mercedes-Benz EQS Interior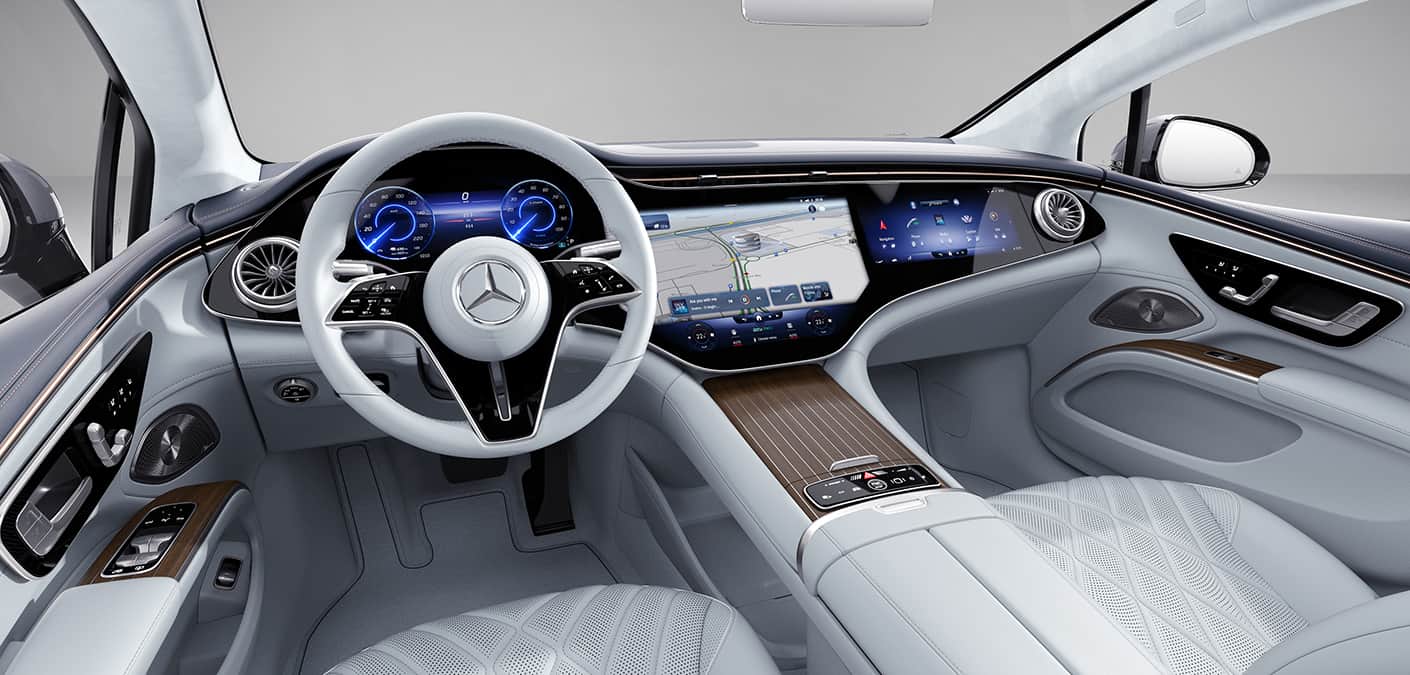 Stepping inside the EQS is something special, it's an interior that's unlike anything else I've seen. The star of the show is the huge "Hyperscreen", which spans the entire dashboard and measures 56". The screen is one large piece of gorilla glass (the same stuff found on smart phone screens), however, there are three separate screens underneath it. The Hyperscreen was quite the hit with everyone that saw it, I myself was quite mesmerized by it.
The Hyperscreen uses the MBUX system, which is an excellent system with crisp graphics and is extremely responsive to the touch. The 3 parts of the Hyperscreen consist of the gauge cluster, the regular infotainment system in the middle, and the added bonus infotainment system for the front passenger.
Like other high-end Mercedes-Benz vehicles, the look of the digital gauge cluster is quite customizable with various standard layouts and multiple information outputs. The main infotainment section is quite easy to use with most of the frequently used commands right there, rather than having to go through multiple sub-menus. The system does look overwhelming at first, but it doesn't take much time to master it. The passenger side infotainment system can perform most of the things the main infotainment system performs, I guess it's a way to keep your passenger busy, if they're not sleeping because of the serene drive. Of course, you can also use voice commands on the MBUX system, which is one of the best in the industry at understanding commands; it can even tell a few jokes.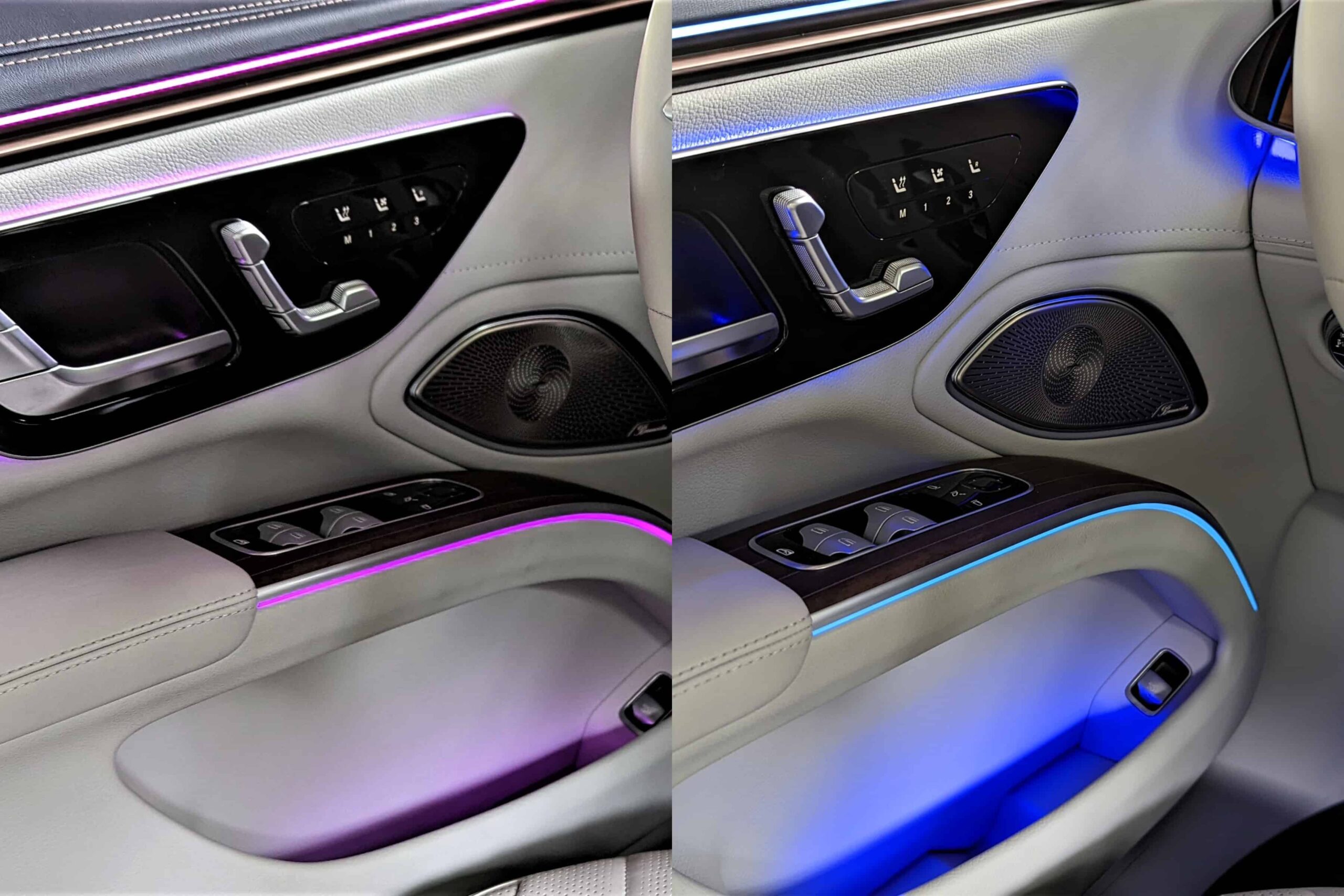 The other big wow factor on the interior was the ambient lighting, which look really cool, especially at night. Mercedes-Benz offers ambient lighting like this in quite a few of their cars, but it looked so much cooler with the white interior on our review car.
The interior is extremely quiet, which is to be expected of a Mercedes-Benz flagship car, and combining it with electric drive, it has taken things to the next level. It is probably the most comfortable interior, in terms of noise (or lack of noise), I've ever been in. Your passengers will love the quietness, especially on long trips, they'll be fast asleep if they're not playing with the Hyperscreen.
The front seats are comfortable and can be adjusted in so many ways, they should comfortably seat people of any size. Our review car came with a massaging function for the front two seats, which makes those long drives even more relaxing. There is an optional Executive Rear Seating Package, which our car didn't come with, that offers rear massaging and adjustable seats, like the ones we had on our S580 LWB.
There is lots of leg room in the rear, with the front seats set for my 5' 8" frame, sitting behind myself I had many inches of extra leg room. I did find the rear seats to be on the harder side, I would've preferred slightly softer rear seats. According to Mercedes, there is 993 mm of leg room in the rear seats and room for 3 passengers in the back seats. Although the floor is almost flat, I don't think the rear passenger in the middle rear seat would be too comfortable, the middle rear seat is best left for emergency use only.
The materials on the interior of the EQS are high quality, consisting of leather, soft plastics, and even real wood.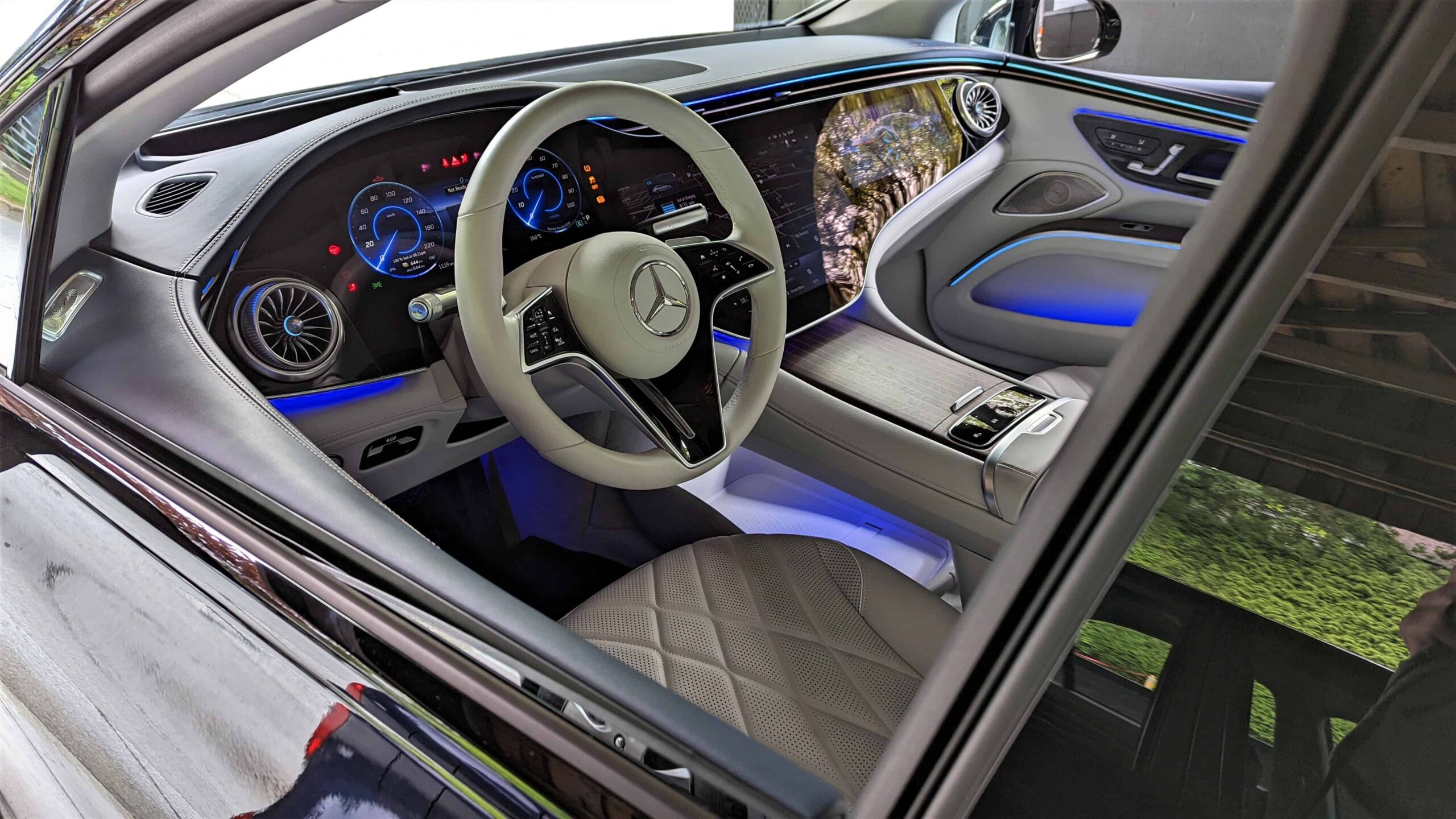 In terms of tech, safety, and convenience features, the Mercedes-Benz EQS 580 comes with a lot of standard features and can be equipped with more features to give it a personalized touch and added features if the customer desires. Below is a list of the additional packages available on the 2022 EQS 580:
Sport Package ($4,500)
AMG body styling
Black Panel with Star pattern
Bi-color 21-inch AMG multi-spoke wheels
Night Package ($5,000)
AMG body styling
Gloss black exterior accents
Black Panel with Star pattern
Bi-color 21-inch AMG multi-spoke wheels
Sport Interior Package ($3,000)
AMG Line interior
AMG sport comfort front seats
Sport steering wheel
AMG floor mats
Brushed stainless steel pedals
Premium Rear Seating Package ($3,000).
Rear side-impact air bags
Climate Comfort rear seats
Power outboard rear seats with memory
Luxury rear head restraints
Comfort-type rear armrest
Rear-cabin wireless charging
Executive Rear Seating Package ($7,000)
Climate Comfort rear seats
Power outboard rear seats with memory
Luxury rear head restraints
Multicontour rear seats with massage
Enhanced heated rear seats
Rear-seat neck heating
Comfort-type rear armrest
Rear-cabin MBUX Interior Assistant
Adaptive rear cabin lighting
Rear-cabin MBUX tablet
Rear-cabin wireless charging
Rear side-impact air bags
Premium Package ($7,000)
10-degree rear-axle steering
Climate Comfort front seats
Enhanced heated front seats
Multicontour front seats with massage feature
Head-Up Display
THERMOTRONIC 4-zone automatic climate control
Air Balance Package
Final Thoughts on the MB EQS 580 4MATIC
When I heard Mercedes-Benz was releasing a flagship electric vehicle, I was quite excited. Knowing it's a Mercedes-Benz car that is the electric equivalent of the S-Class, I had quite high expectations. Having driven the EQS for over a week, even with the high expectations, I was still blown away by this car. I shouldn't have been surprised, this is Mercedes-Benz we're talking about, they know how to produce luxury vehicles.
The EQS is an incredible EV, it's extremely luxurious, it's quiet and refined, and has a huge range. It may not be the best-looking EV currently available, but after driving it for over a week, I forgot all about its looks and just enjoyed all the luxury features this car has to offer. And the best part was, I didn't even need to go to a gas station. I can't wait to see other electric vehicles over the coming years and what Mercedes-Benz has in store for us.
If you are in the market for a full-size luxury EV, your choices are limited, but test driving an EQS 580 is a must if you are serious about buying a luxury electric car. For more information, visit Mercedes-Benz Canada website.