The Mercedes-Benz E-Class is one of the most versatile vehicles in the Mercedes-Benz lineup. It comes in the classic sedan format, it can be had as a wagon, a coupe, and even a cabriolet (convertible). And since we live in an SUV filled world, it has spawned the likes of GLE, GLE Coupe, and GLS SUVs.
The E-Class, in it's current form, has been in production since 1993, however, its predecessors date back to the 1950's in the form of the W120. The current generation E-Class (W213) has been in production since 2016, it should be getting a full makeover in the next year or two, as Mercedes-Benz has been busy refreshing their lineup with the all-new S-Class and C-Class.
A couple of weeks ago, I had the opportunity to review a 2021 Mercedes-Benz E 450 Cabriolet, a vehicle I enjoyed my time in a lot.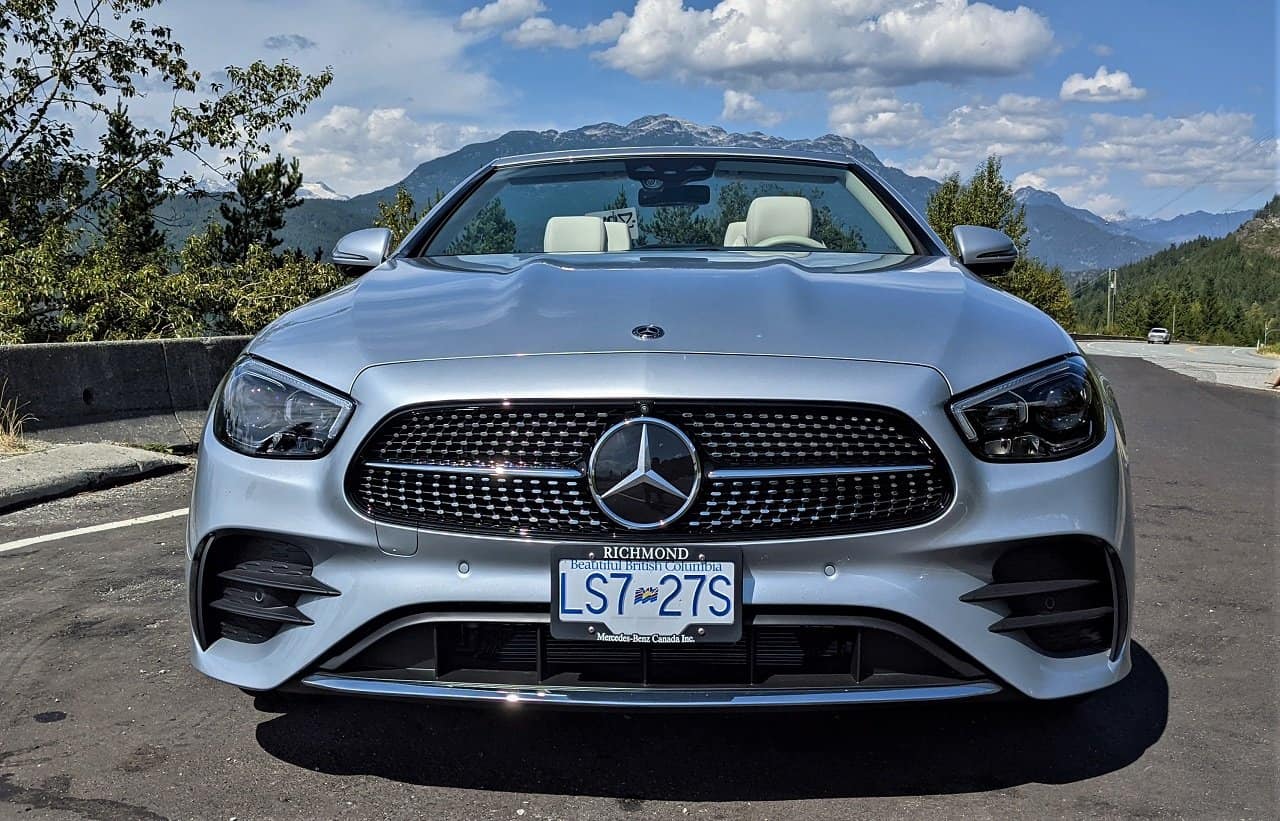 2021 Mercedes-Benz E-Class Cabriolet Canadian Prices
The 2021 E-Class Cabriolet is only available as an E 450 4MATIC and an AMG E 53 4MATIC+; I'm not complaining about the lack of different trims because I'm happy that MB at least offers cars like these and isn't just focused on SUVs like some other manufacturers. Mercedes-Benz also offers the C-Class and S-Class Cabriolets, for those looking for a smaller or larger 4-seat convertible; and let's not forget about the Mercedes-AMG Roadster.
The 2021 Mercedes-Benz E 450 4MATIC Cabriolet has a starting price of $88,900; ticking all the options and picking the most expensive paint and wheels, the price can reach over $110,000. Our review car had a sticker price of $99,700, before taxes and fees. Our review car had the following options:
Dash Cam ($300)
Soft Close Doors ($550)
20" AMG Multi-Spoke Wheels ($1,250)
Premium Package ($3,900)
Technology Package ($2,100)
Intelligent Drive Package ($2,700)
The E 53 AMG Cabriolet has a starting price of $99,900, which can reach the upper bounds of $120k.
2021 Mercedes-Benz E 450 Cabriolet Engine/Driving
The E 450 4MATIC Cabriolet is powered by a turbocharged 3.0-liter inline-6 engine with EQ Boost. Producing a 362 horsepower between 5,500 – 6,100 rpm (plus 21 HP from the EQ Boost system) and 369 pound-feet of torque between 1,600 – 4,000 rpm. Power is sent to all four wheels via a 9G-TRONIC 9-speed transmission. Mercedes-Benz claims a 0 – 100 km (0 – 62 mph) time of 5.2 seconds.
For a more powerful driving experience, the E 53 AMG is available with an AMG-enhanced turbocharged 3.0-liter engine with EQ Boost and electric auxiliary compressor, for an output of 429 HP @ 6,100 rpm (+21 HP from the EQ Boost system) and 384 pound-feet of torque between 1,800 – 5,800 rpm.
The Mercedes-Benz E 450 Cabriolet is grand touring car, so it's not all about pure performance. That doesn't mean it's not a fast car, it is fast enough to get you in trouble with the law, if you really push it. But on the other hand, the way this car is made and the feeling you get by driving this car is not of pure speed, but to slow things down and enjoy the little things in life. I don't think I've felt this relaxed in any car I've ever driven. I just wanted to cruise at a leisurely pace and enjoy the beautiful blue skies and the wind in my hair.
The engine and transmission work together seamlessly. Even when you're pushing it hard, it doesn't feel like you're going as fast as the speedometer shows. The suspension makes even the roughest of roads feel smooth, the suspension isn't floaty like old luxury cars, it's just perfect.
362 horsepower is a lot of power and this is a big car, so you'd think it wouldn't be as fuel efficient as it's claimed. The E 450 Cabriolet is rated at 10.4/8.0 liters/100 kilometer in city/highway driving, which are impressive numbers in my opinion. The fuel efficiency is achieved, in part, thanks to the EQ Boost system. In addition to the regular start/stop, the EQ Boost completely shuts down the gasoline engine when you're coasting at highway speeds, in the Eco mode. The turning off and on of the engine is completely seamless, if it wasn't for the tachometer dropping to 0 when you lift your foot off the accelerator pedal, you wouldn't even know anything had happened.
Mercedes-Benz E 450 Cabriolet Styling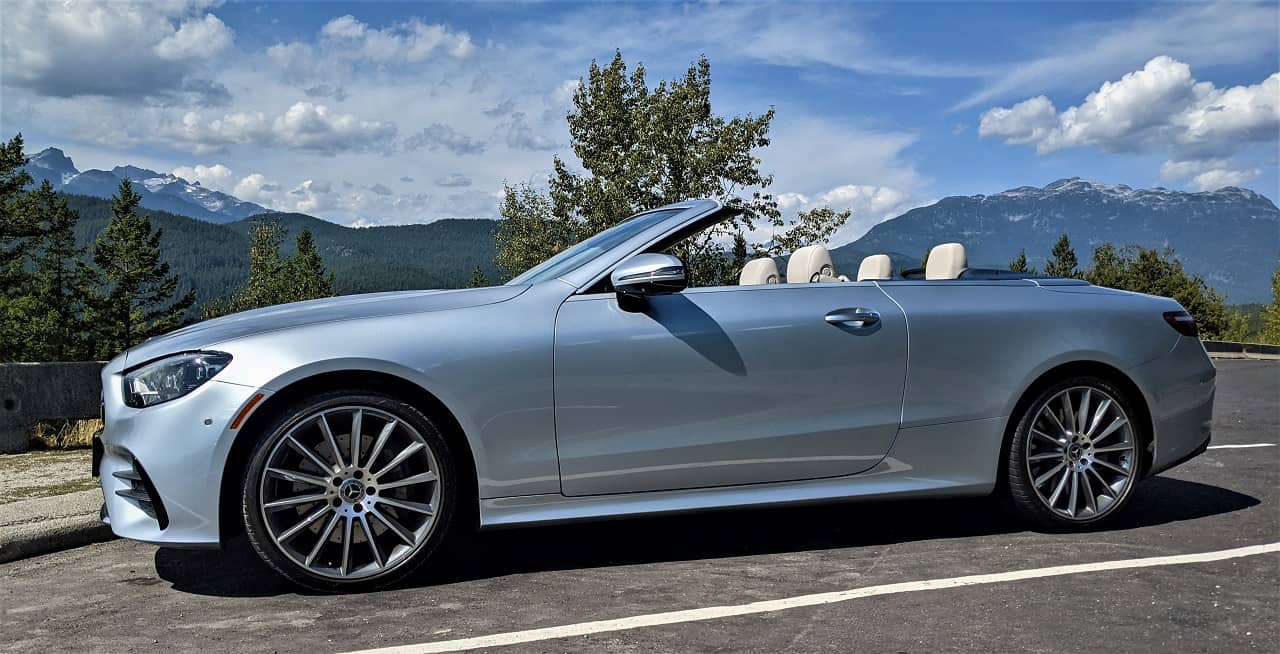 Styling is a subjective matter and there will always be someone that disagrees with you on the way a car looks. With that disclaimer out of the way, the MB E 450 Cabriolet has conservative styling and there's nothing showy about it and the design is pretty simple. But my God, is it ever a beautiful looking car, in my humble opinion. Pictures don't do this car justice; you have to see it in person to truly appreciate the subtle beauty of this car.
I could not stop looking at the E 450 Cabriolet, every time I got out of the car, I spent a quick moment admiring the elegance of this car. It's a car that's like an expensive custom suit, it will always look classy. The color combination on our car, "Hight-tech Silver metallic" exterior paint with Macchiato Beige/Yacht blue leather and dark blue top looked absolutely amazing. This was one of the most elegant color combinations I've ever seen on a car. I felt like I belonged in the Hamptons.
The overall design of the E 450 Cabriolet has the signature Mercedes-Benz look, it shares the same design DNA MB has been using on their latest cars, which is a good-looking design. When I first saw the E 450 Cabriolet, I thought it was the S-Class Cabriolet. The car is long and sleek, and is low to the ground. It looks like a yacht on land. The E 450 Cabriolet looks great with the top down and it even also looks good with the top up, which is not something you can say about a lot of convertibles. In fact, it might even look better with the top up because then you can see the navy-blue top with the silver paint color combination.
Mercedes-Benz E 450 Interior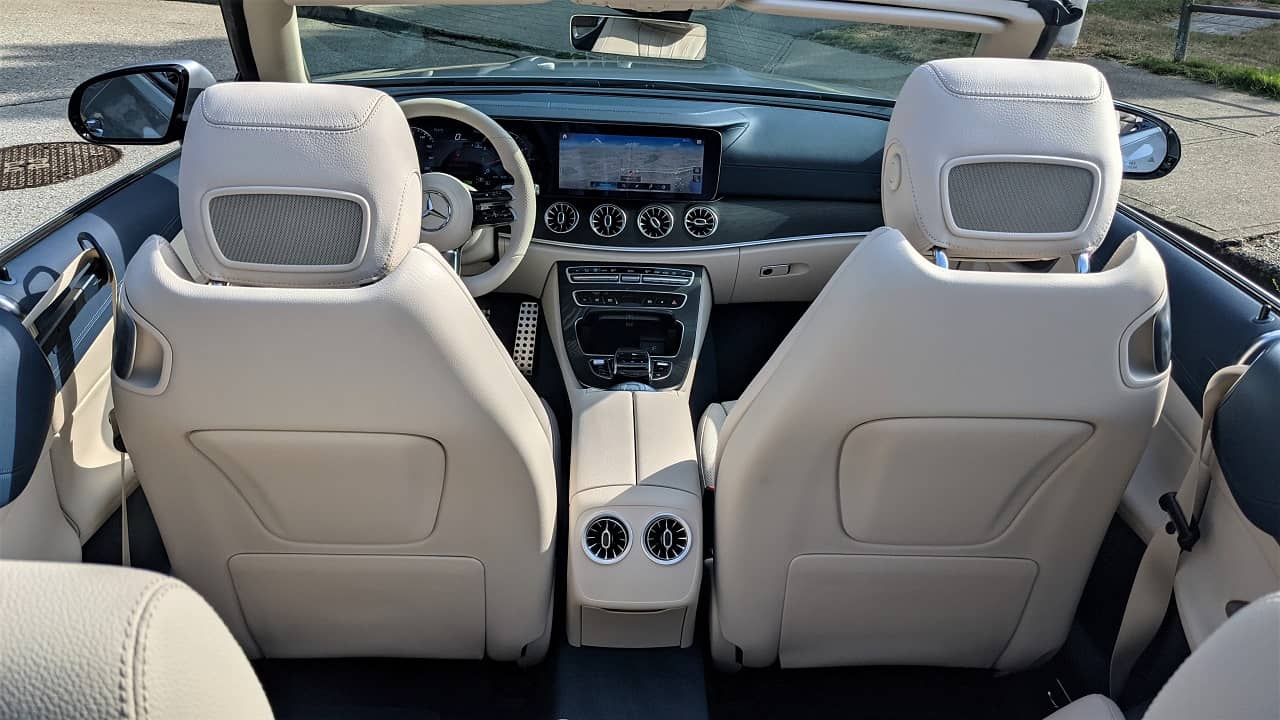 The Mercedes-Benz E 450 Cabriolet is just as beautiful on the inside as it is on the outside. If you've been inside of a modern MB vehicle recently, this interior will look very familiar. The interior is almost exactly identical to the CLS 53 AMG I reviewed a couple of years ago, which is also based on the E-Class sedan. The only difference is the new steering wheel layout. The steering wheel now features three twin-spokes and instead of the small trackpads found on most/all Mercedes vehicles, the entire spokes at the 3 o'clock and 9 o'clock positions have piano black material that are touch sensitive and are used to change the layout/display information on the gauge cluster and the infotainment system.
Like the CLS, the E 450 Cabriolet also uses the old system of controlling the touchscreen via a trackpad and a large horizontally placed wheel. The E-Class based cars are the only Mercedes-Benz vehicles this system for controlling the infotainment system is used on. It's fairly simple to use, however, I've grown accustomed to the new system with just the trackpad and no horizontally placed wheel.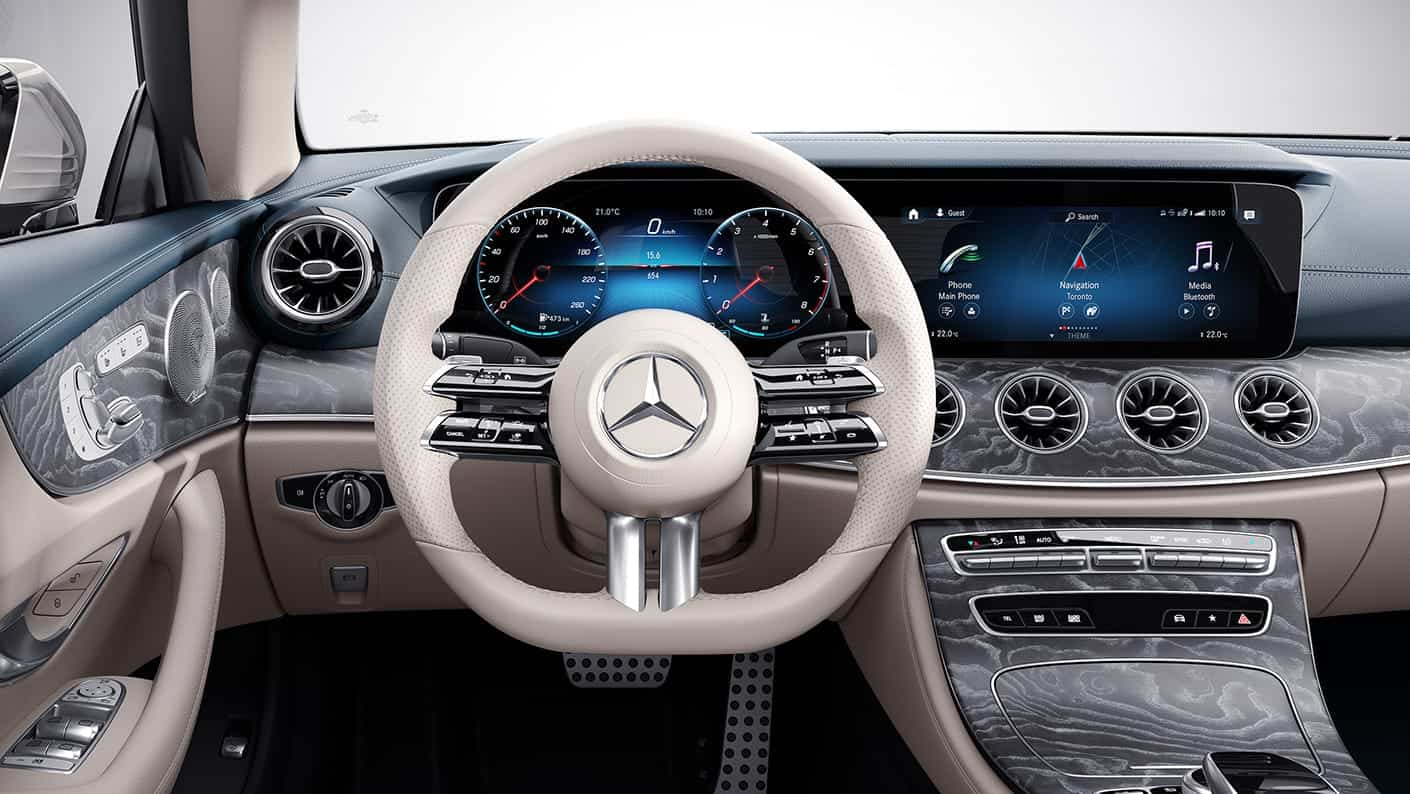 The interior on our review car featured beige leather with navy blue inserts on the dashboard and upper and lower sections of the doors; I personally thought this color combination was absolutely beautiful. However, if these colors are not up to your taste, Mercedes-Benz offers a variety of color combinations on the E 450 Cabriolet. Our review car also featured open pore wood on the dashboard that extends into the doors. Again, MB offers a variety of different materials you can choose from, including aluminum, a few different colors of wood, and Designo Black Piano Lacquer "Flowing Lines". This last option was my favorite and I think the extra $1,000 for this option is definitely worth it.
The interior is extremely luxurious, with leather covering almost every surface. All the buttons/knobs and surfaces you touch have a high-quality feel to them. The seats are extremely comfortable and can be adjusted to fit even people over 6 feet tall, front seats only. The rear seats are tight and are better used for children or as an added storage space. The front seats come with the famous Mercedes air-scarf, which blows warm air onto the neck, which would be quite useful on those sunny fall days.
With the roof down, the interior is pretty quiet even at highway speeds, which is an impressive feat. With the roof up, you'd be forgiven for thinking this is either a coupe or a hardtop convertible. The cloth-top is really well insulated, it keeps the noise level down and it should still be great in the winter. The cloth top is made out of three layers of material and is 20mm thick. It takes about 20 seconds to fold and unfold and can be operated at speeds up to 50 km/h. The roof can also be opened/closed via the key fob/remote, which is a pretty cool party trick.
The 2021 Mercedes-Benz E 450 Cabriolet comes with a whole host of features as standard and also has optional packages at additional cost. Below is a list of the optional packages and their equipment:
Night Package ($850)
Gloss black exterior accents
18" AMG 5-spoke aero wheels
Premium Package ($3,900)
Burmester Surround Sound System
Foot-activated trunk release
KEYLESS-GO
Climate Comfort front seats
Enhanced heated front seats
Heated front armrests
360 camera
Comfort Package ($1,900)
Multicontour front seats with massage feature
ENERGIZING Comfort
Air Balance cabin fragrance system
Air Balance cabin-air purification system
Intelligent Drive Package ($2,700)
Active Distance Assist DISTRONIC
Active Steering Assist
Evasive Steering Assist
Active Blind Spot Assist
Active Lane Keeping Assist
Active Lane Change Assist
Active Brake Assist with Cross-Traffic Function
Congestion Emergency Braking
Active Emergency Stop Assist
PRE-SAFE PLUS
Route-based Speed Adaptation
Enhanced Stop-and-Go
Active Speed Limit Assist
Technology Package ($2,100)
Active MULTIBEAM LED Lighting System
Adaptive Highbeam Assist Plus
Head-Up Display
Final Thoughts
I thoroughly enjoyed my time with the 2021 Mercedes-Benz E 450 4MATIC Cabriolet. Everything about this car screams (or whispers to be precise) class. This is a beautiful looking convertible and is a head turner without being pretentious. It is fun to drive, but is also very relaxing at the same time.
If you're in the market for a luxury convertible, the Mercedes-Benz E 450 is an enticing package and should be at the top of your shopping list.