The current focus of the automotive world is electrification and being green. However, that doesn't mean we still can't enjoy good old fashioned V8 powered cars, although there's nothing old fashioned about the car we had for our review last week. The car in question is a 2021 Mercedes-AMG GLE 63S 4MATIC+ Coupe.
I've reviewed a few Mercedes-AMG vehicles, however, not the ones with hand-built V8 engines, but last week that changed with the GLE 63S. I feel like I have reached another milestone in my automotive journey, as driving a hand-built V8 powered AMG vehicle is a dream come true for many car enthusiasts. Driving one of these vehicles has been on my bucket list and I hope to experience more of these vehicles before we go fully electric.
2021 Mercedes-AMG GLE Canadian Prices
The Mercedes-Benz GLE is based on the E-Class sedan, a vehicle I've previously reviewed. There are quite a few different ways you can get your GLE, there are the regular non-AMG GLEs, which include the GLE 350 and 450 4MATIC, and the AMG versions include the GLE 53 and 63 S 4MATIC+. But that's not all, the GLE can also be had in a Coupe version, but that comes in AMG-flavors only. The GLE Coupe comes as GLE 53 and GLE 63 S.
The Mercedes-AMG GLE 53 4MATIC+ Coupe has a starting price of $94,500, while the GLE 63 S 4MATIC+ Coupe has a starting price of $135,300. Our review car had a price tag of $150,600 before Freight & PDI and taxes. Below are the options equipped on our review car.
Premium Package – $7,900
Designo Hyacinth Red paint – $1,400
Designo red seatbelts – $250
115V Power Socket – $150
22" AMG Cross-Spoke Wheels – $500
AMG Night Package – $850
AMG Carbon Fiber Trim – $2,500
Aluminum Running Boards – $750
2021 Mercedes-AMG GLE Coupe Engines
The 2021 GLE Coupe is offered with two engine choices, the GLE 53 comes with a turbocharged 3.0-liter V6 engine with EQ Boost, producing 429 horsepower at 6,100 rpm and 384 pound-feet of torque between 1,800 – 5,800 rpm. Power is sent to all-four wheels via a 9-speed AMG SPEEDSHIFT TCT transmission. Mercedes-Benz claims a 0 – 100 kilometer/hour time of 5.3 seconds, but I have seen quicker times achieved in some reviews.
The GLE 63 S 4MATIC+ comes with a hand-crafted biturbo 4.0-liter V8 engine with EQ Boost, producing a massive 603 horsepower between 5,750 – 6,500 rpm and 627 pound-feet of torque between 2,500 – 4,500 rpm. Power is sent to all-four wheels via a 9-speed AMG SPEEDSHIFT TCT transmission. Mercedes-Benz claims a 0 – 100 kilometer/hour time of 3.8 seconds, again, I have seen reviewers beating this number.
It is amazing to see these types of horsepower and acceleration figures from an SUV. These are supercar numbers. You can now go off-roading (if you dare), go grocery shopping with the family, or go to the racetrack, all in one vehicle. We truly are at the pinnacle of automotive performance.
Driving the 2021 Mercedes-AMG GLE 63 S 4MATIC+ Coupe
Getting behind the wheel of the GLE 63 S and starting it up, you don't notice anything sinister about it. The car starts up without much drama, you drive around in comfort, accelerating smoothly with smooth gear changes. You'd think this is just another V8 powered luxury Mercedes-Benz vehicle. The GLE 63 S always starts in the Comfort mode, while accelerating hard in this mode, you do feel the power, but it's not overwhelming. The suspension is comfortable and you ask yourself what's so special about an AMG SUV?
The specialness comes when you change the driving mode to "Sport" or better yet, "Sport+". The sinister-ness of this car comes to life. The exhaust valve opens up and you hear the rumble of the hand-built V8 engine, although it's not obnoxiously loud. The suspension becomes firmer, the transmission is much more aggressive and tries to stay in a lower gear, the steering feels much heavier, and the throttle response is much sharper. Squeeze the accelerator pedal gently (or aggressively) and you're off the line extremely quickly, so quick that your brain can't decide whether you're in a sports car or a family sized SUV. With hard acceleration, the exhaust note fills the cabin (again, not in an obnoxious way), letting go of the accelerator pedal at relatively high rpm and your ears are treated to some popping and banging from the exhaust, which is very satisfying.
The Sport+ mode is a bit much for driving around in traffic congested cities like Vancouver, however, the Sport and Comfort modes are perfect. Sport+ is fine in the city if you want to be really aggressive, but personally I didn't use it much. If you find a nice twisty road, the Sport+ is a must, not because it's needed, but it's a lot of fun. An SUV this size shouldn't be able to drive like a sports car on twisty roads, but the GLE 63 S will make you forget you're in a big heavy vehicle. It truly is a pleasure to drive on twisty roads.
Any of the modes are more than enough for driving on the highway, cruising at highway speeds in the Comfort mode feels just like you're driving in the E-Class, the transmission will choose the highest gear possible and you'll be spending the least amount of fuel. Passing in this mode is quite easy but the transmission doesn't drop gears as fast. In the Sport mode, you're cruising in a lower gear than Comfort mode and passing is even easier with the gears dropping quickly. In Sport+ mode, the transmission is in even a lower gear (I noticed it liked to say in 5th gear at 100 – 120 km/h in this mode) and the slightest pressure on the accelerator results in super quick downshifts and warp speeds.
The turbocharged gasoline engine is assisted by the EQ Boost Integrated Starter-Generator, which is described by Mercedes as:
Electrifying the gasoline V8 is an innovative Integrated Starter-Generator. It teams with a 48-volt lithium-ion battery, plus a power supply for electrical components and the advanced suspension, and can add 21 hp and 184 lb-ft of torque for a burst of acceleration in key situations. It also supports energy recuperation from braking, allows efficient "gliding," and helps make the ECO Start/Stop operate even more seamlessly.
The GLE 63 S also comes with two off-road modes: Sand and Trail. I know most people don't take their G-Class off-roading, so I highly doubt anyone will ever take a GLE 63 S off roading, but if you do feel like it, you have the option for light off roading. The suspension raises the car quite a bit in these modes, so at least you'll have good ground clearance, traction on the other hand might be a problem because the GLE 63 S comes with 325/35R22 rear and 285/40R22 front summer performance tires.
Mercedes-AMG GLE Styling
As the name would suggest, the GLE 63S Coupe uses the so-called "coupe" styling. Mercedes-Benz was the first company to use the 4-door coupe wording, as far as I know, when they introduced the CLS. Then BMW went one step further calling their 4-door SUV/CUV a 4-door coupe with the introduction of the X6; although there was the Acura ZDX and Infiniti FX35/45 before that but thankfully those manufacturers didn't call them "4-door coupes".
Personally, I could stomach the 4-door coupe thing, but I think they went a bit too far with the 4-door coupe SUV. In my opinion, the "coupe" styling takes a lot of the utility away from an SUV/CUV. Because of the curved rear hatch area, there's much less cargo room than a traditional SUV/CUV.
But on the other hand, I can somewhat see the appeal of these types of vehicles. I mean realistically, who really needs an SUV/CUV with 600+ horsepower, these types of vehicles are all about making a statement and what better way to announce yourself than a utility vehicle that's not as focused on the utility part, than to show up with an SUV "coupe".
Also, after spending a week with the GLE Coupe, it grew on me and I wasn't as concerned by the way it looked.
Mercedes-AMG GLE Interior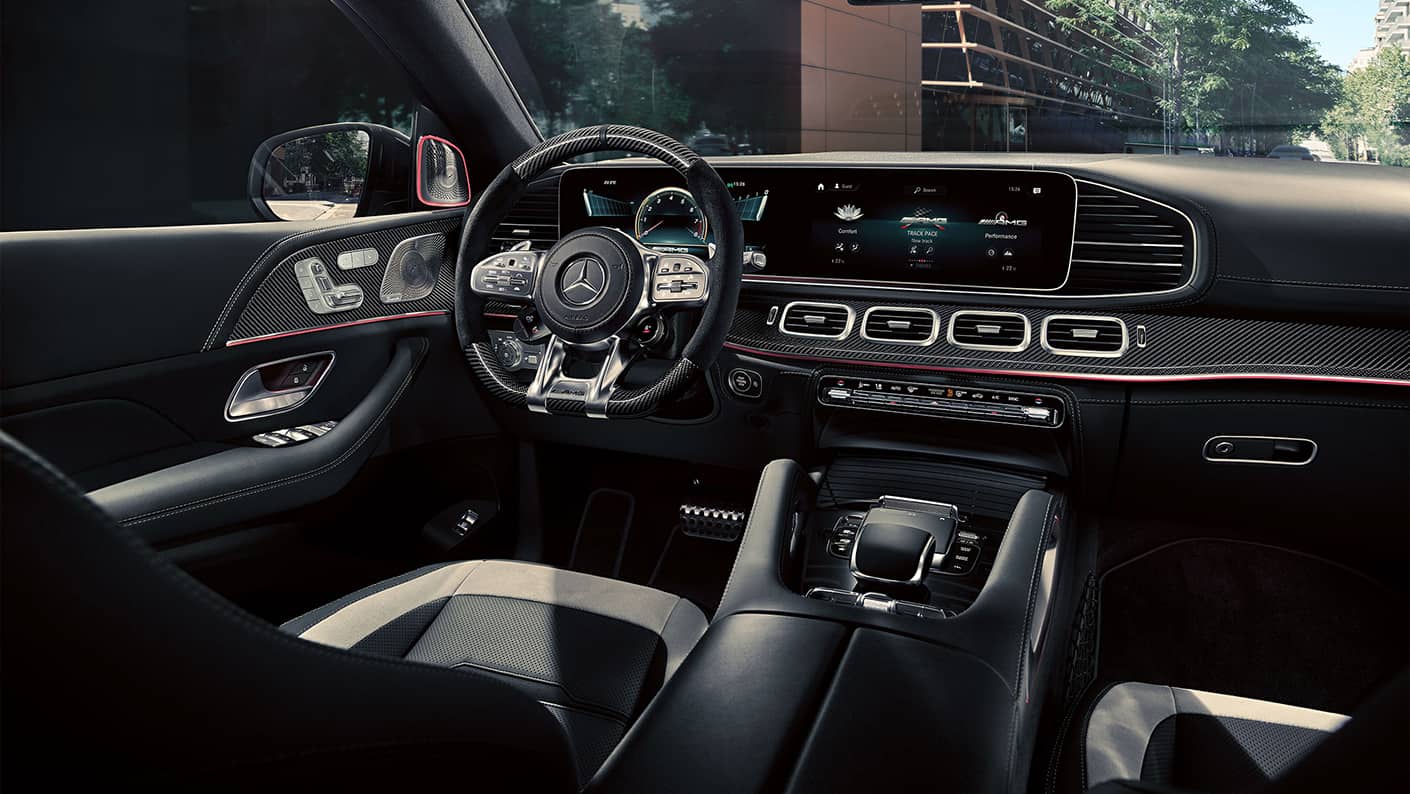 While the exterior styling might be controversial, I don't think there's anything controversial about the interior on the GLE. The GLE's interior is a very familiar looking place, because it shares it's styling with the E-Class sedan and it's quite similar to other vehicles in the Mercedes-Benz current lineup. Mercedes will be refreshing their interiors as new model years are introduced, with the new S-Class receiving an all-new interior that's even bolder than the current interiors, which I'm looking forward to experiencing first hand at some point in the near future.
I have been a big fan of the current generation of interiors on MB vehicles, they look and feel great, and are modern and elegant at the same time. The interior on the GLE features the signature horizontally laid out screen that starts at the gauge cluster and ends where you'd normally find an infotainment screen. These screens are quite customizable, ranging from elegant to sporty and everything in between. The screen that replaces the gauge cluster is controlled via the small trackpads on the steering wheel, the main infotainment screen can be controlled via the small trackpad on the steering wheel, the trackpad on the center console, or by touching it like a standard touchscreen.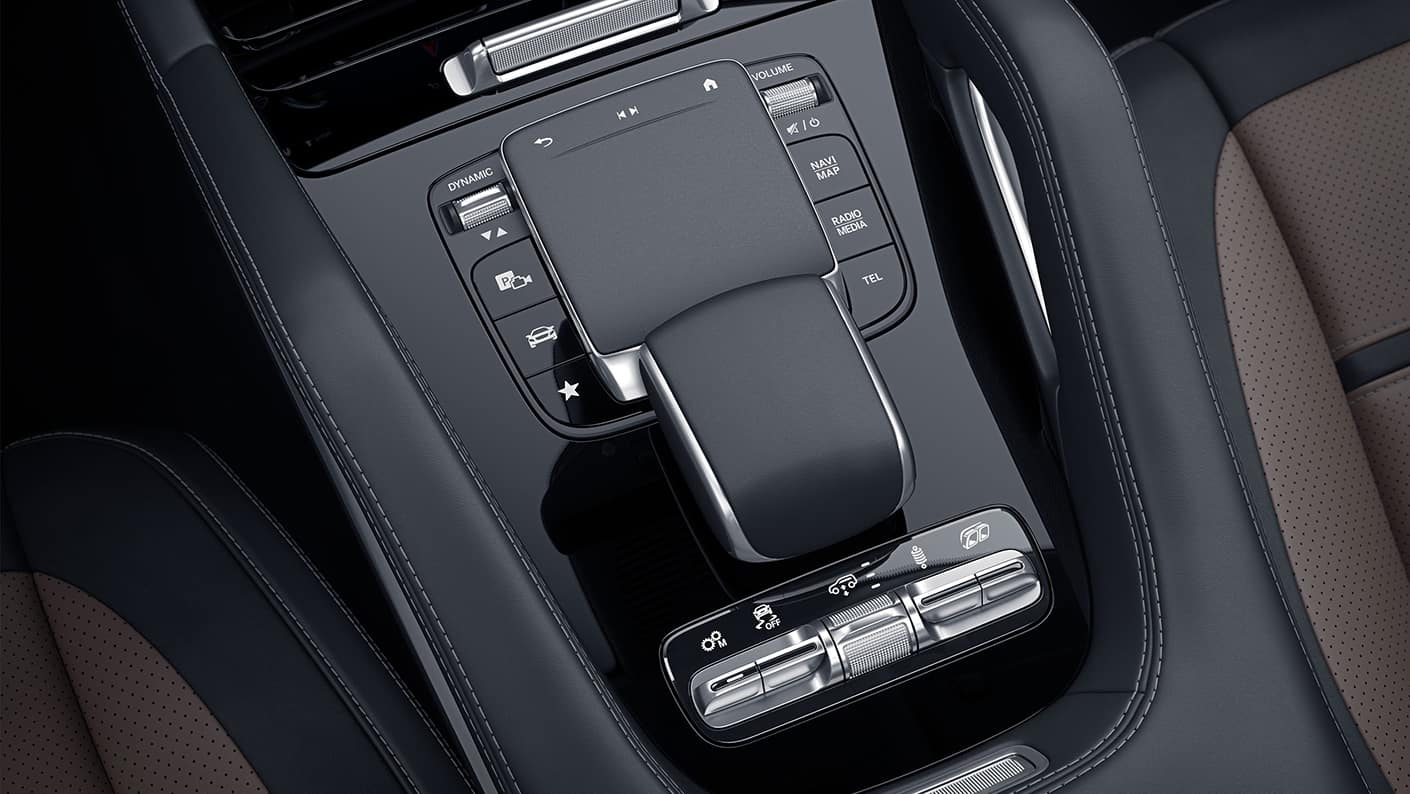 All these controls may seem overwhelming at first, but after using it for a few days, they become intuitive to use. The MBUX also comes with voice command, which is quite a good system and can understand a lot of different commands.
The interior is extremely comfortable, as you'd expect from a large Mercedes-Benz vehicle. The front seats are supportive and can be adjusted to fit just about any sized occupants. The seats are heated and cooled and come with MB's excellent massage function, offering a variety of massages from "classic" to "activating". The rear seats are also comfortable and there's a lot of leg; I was expecting head room to be at a premium due to the shape of the c-pillar, but there was more than 3" of spare head room for my 5' 8" frame.
Tech, Safety, & Convenience Features
The GLE comes with a lot of tech, convenience, and safety features, as you'd expect from a top Mercedes-Benz model. Below are some of the optional packages that add even more features to an already well-equipped vehicle.
Premium Package
Foot-activated tailgate release
KEYLESS-GO
Rapid heating feature for front seats
Heated front armrests and upper door panels
Heated 2nd-row seats
Climate Comfort front seats
Multicontour front seats with massage feature
360 camera
AMG Head-Up Display
Soft-close doors
MBUX Interior Assistant
Air Balance cabin-air purification system
Air Balance cabin fragrance system
ENERGIZING Comfort
Intelligent Drive Package
Active Distance Assist DISTRONIC
Active Steering Assist
Evasive Steering Assist
Active Brake Assist with Cross-Traffic Function
Active Emergency Stop Assist
Active Blind Spot Assist
Active Lane Keeping Assist
Active Lane Change Assist
PRE-SAFE PLUS
PRE-SAFE Impulse Side
Active Stop-and-Go Assist
Enhanced Stop-and-Go
Route-based Speed Adaptation
Final Thoughts
The 2021 Mercedes-AMG GLE 63 S 4MATIC+ Coupe is an amazing machine. It's a family hauling SUV that thinks it's a sports car, or is it the other way around? Either way, it's fast, comfortable, and a head turner. The hand-built V8 engine is a gem and is worth all the hype these AMG engines get. Cars like these won't be around forever, thanks to the increasing popularity of electric vehicles. Thankfully we still have a while to go before everything becomes fully electric; I'm not anti-electric vehicles, I just love the sound of these awesome V8 engines.