A few decades ago, station wagons were quite popular and consumers had the option of choosing from a variety of makes and models to choose from. However, if you're looking for a station wagon in this day and age, well, your options are extremely limited. There are only a small handful of carmakers still producing these versatile vehicles.
So, what happened to the station wagon? The minivan is what killed the station wagon, minivans were a bit bigger than station wagons, had upright seating positions, and they were quite versatile. However, if you're looking for a minivan right now, your choices are also limited. You see, the minivan also got killed by the next generation of vehicles called SUVs and CUVs. Personally, I don't think SUV/CUVs are as versatile as station wagons and minivans, but they did offer AWD, a good amount of space, and much better looks than the minivan.
If you still must have a wagon, thankfully there are still a few choices, however small they may be. You'll need to step up to a luxury automaker to be able to buy a wagon, at least in Canada and the United States. One such luxury automaker is Mercedes-Benz and they offer two wagons in their lineup. A C-Class Wagon and an E-Class Wagon. The later is the subject of today's review.
The E-Class Wagon has been offered by Mercedes-Benz since 1993, when the E-Class nameplate became official. Starting in 2021, the Mercedes-Benz E-Class Wagon has become a bit more like an SUV and isn't just a wagon anymore; it's called an "All-Terrain" Wagon, similar to the Volvo V90 Cross Country and the Audi A6 Allroad, and let's not forget the Subaru Outback, but that car doesn't compete in the same luxury segment.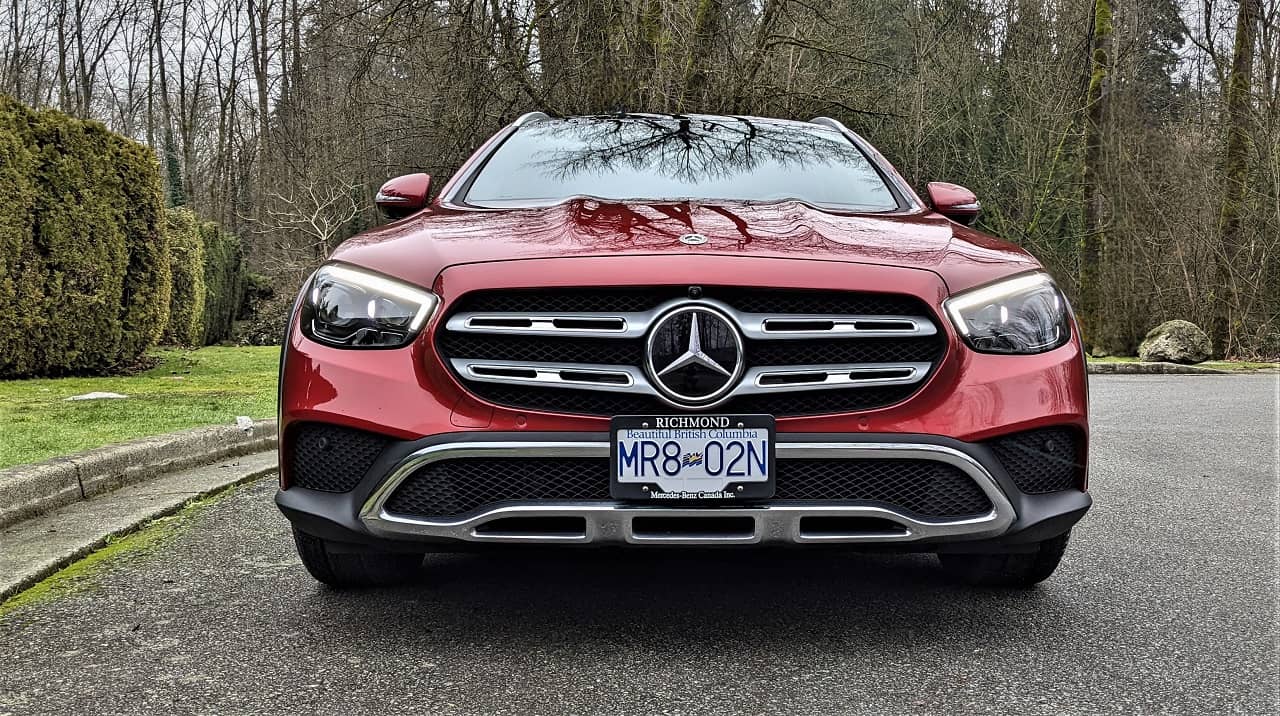 Mercedes-Benz E 450 All-Terrain Wagon Canadian Prices
Unlike other Mercedes-Benz vehicles, the E450 All-Terrain Wagon is only offered in one trim and doesn't have an AMG variant. The E450 4MATIC All-Terrain Wagon has a starting price of $81,700 CAD, ticking all the optional package boxes leads to a price slightly above $100,000.
Our review car had a sticker price of $94,100. It had options like Designo Hyacinth red metallic paint, 20" AMG 5-Twin spoke wheels (not equipped on our car because it had winter tires), Premium Package, Technology Package, Intelligent Drive Package, Designo Piano Black Flowing Lines, Dash Cam, and Tire Pressure Monitoring System. I'll go over the details of these packages later on in the review.
Engine/Driving the E450 4MATIC All-Terrain Wagon
The E 450 4MATIC All-Terrain Wagon is offered with only one engine choice, a turbocharged 3.0-liter inline-6 engine with mild hybrid drive. This engine produces 362 horsepower between 5,500 – 6,100 rpm and 369 pound-feet of torque between 1,600 – 4,500 rpm. Power is sent to all four wheels via 9-speed 9-G Tronic automatic transmission. The mild-hybrid system, which MB calls EQ Boost, is an integrated starter-generator with a 48-volt lithium-ion battery, providing up to 21 horsepower and 184 pound-feet of torque at certain rpm. Combined with energy recovery during braking/deceleration, engine start-stop, engine off during some coasting condition, we have a pretty fuel efficient yet powerful engine. With claimed city fuel consumption of 11.0 L/100 km and highway consumption of 8.3 L/100 kilometers.
In addition to the standard driving modes offered on most MB vehicles like Eco, Comfort, Sport, Sport+, and Individual, the E450 AT Wagon also comes with Off Road and Off Road+ modes. In these modes, the suspension is raised, giving you more ground clearance for avoiding rocks and other obstacles. These last two modes would come in handy on trips to the cabin where the last few kilometers of the road may be unpaved. This would be the extent of the "off-roading" most/all of the E450 AT Wagons would through; I doubt anyone would want to do serious off-roading with a vehicle like this, especially when they're equipped with 20" or 21" wheels.
The E450 All-Terrain Wagon is a good mix between a normal wagon and a CUV, although the E450 AT has more car-like driving characteristics than that of a CUV. It has 5.8" of ground clearance in the highest setting, which is less than its direct competitors, the Audi A6 All-Road and the Volvo V90 Cross Country. The E450 has plenty of power for all your driving needs, the engine is quite civilized in city driving and has lots of grunt for high-speed highway passing. Thanks to the addition electric torque from the EQ Boost system, the E450 AT Wagon accelerates like a sports car, doing the 0 – 100 km sprint in 5.2 seconds (0 – 60 mph in 4.9 seconds).
The EQ Boost is a mild hybrid system, it's a great little system that's excellent at saving fuel. Not only does it shut off the engine at full stops, but as you're coming to a stop, it turns off the engine before you're fully stopped. In the Eco and Comfort modes, the fuel saving measures are increased by the system shutting off the engine when you're coasting at certain speeds.
Driving on paved roads, the suspension is soft but not floaty like station wagons from the old days. The driving dynamics are on par with the non-All-Terrain E450 Sedan. With the Sport/Sport+ modes activated, the E450 AT Wagon is quite fun to drive, it's even fun on twisty roads. The inline-6 engine makes a beautiful sound, inline-6 engines always sound better than their V6 counterparts. The sound is not as aggressive as you'd find on an E53 AMG, but still quite satisfying.
The transmission performs smooth gear shifts, which can be left in automatic or manually changed with the steering wheel mounted paddle shifters. As you switch between modes, the gear changes become more and more aggressive, with the Sport+ being the most aggressive.
E450 All-Terrain Wagon Styling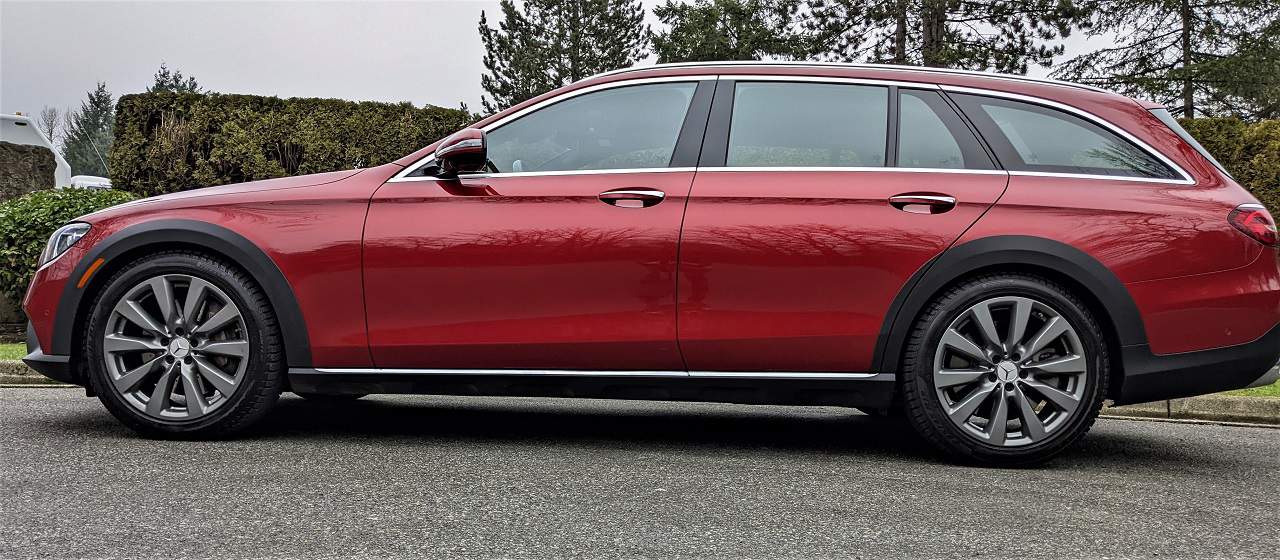 The Mercedes-Benz E-Class is an elegant looking vehicle, whether it's the E-Class sedan, the E-Class convertible, the E-Class coupe, they all look beautiful in an understated way. I have driven all of the body styles of the E-Class currently available and I have been a fan of the way these cars look, which was especially true with the E450 Convertible. I just couldn't stop looking at that car.
The E450 All-Terrain Wagon continues the tradition of elegance in its design. At the front, the headlights are the same new design we saw on the E 450 Cabriolet, the grill opening is larger and features two bars running across it, which is similar to the GLE. By becoming an "All-Terrain", the E 450 has some added cladding to give it a tough look. However, these black/dark grey claddings are done tastefully, covering the wheel arches, lower front and rear bumper.
The E 450 All-Terrain Wagon is just about as long as the GLE SUV, however, because of the long hood and lower stance of the Wagon, it looks much longer. I especially like the long hood on the E450 Wagon. The E 450 All-Terrain Wagon also sits a bit taller than the previous non-All-Terrain Wagon; it has a maximum ground clearance of 5.8", which is a bit higher than a car and a bit lower than you'd find in an SUV. Giving you best of both worlds.
2022 E450 Wagon Interior
As you'd expect with any Mercedes-Benz vehicle, the interior is top notch. The interior has amazing fit and finish, comfort, tech and safety features, and classy looks. Like all of the other cars in the E-Class lineup, the interior on the E-Wagon is a great place to spend rush hour in, it'll also provide a comfortable environment for a long road trip to the cabin or speed blasts across the autobahn.
The interior is also quiet. I found there to be plenty of leg room for my 5'8" frame, however, there's enough leg room for even people taller than 6'. The back seats also offer loads of leg room and head room. The back seat can technically seat three adults, but the middle seat is quite small and there's a large transmission tunnel in the middle, taking away most of the leg/foot room from the middle passenger. Two adults can sit comfortably in the back seats. Mercedes-Benz E-Class Wagons have another party trick up their sleeves, they have an additional row of seats behind the 2nd row seats, these seats are folded into the truck and can house two small children (see image below). The 3rd row seats are street legal and come with 3-point seatbelts. These seats face towards the rear of the car, giving kids a nice view of everything behind the car. My kids enjoyed riding in these seats quite a lot and they had fun waving at surprised drivers driving behind us.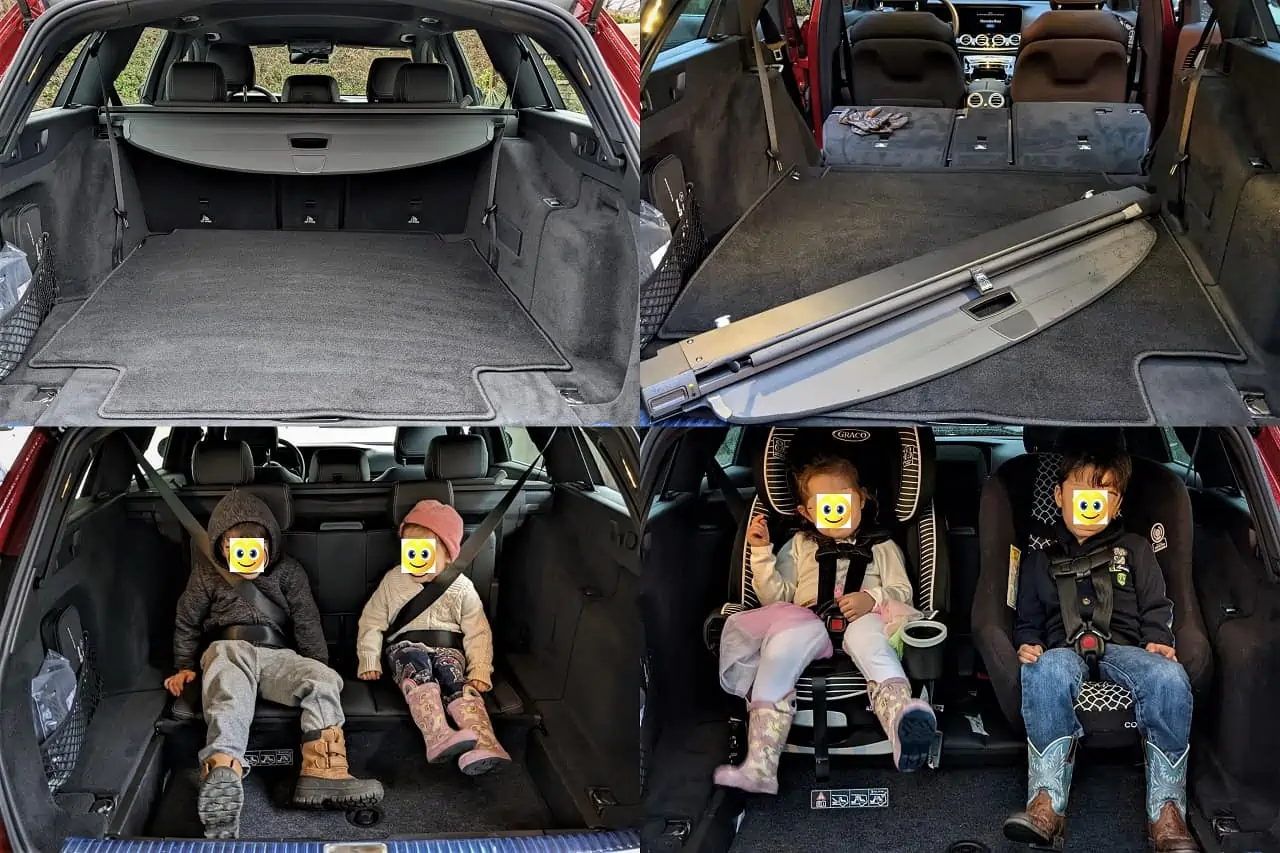 The trunk on the E 450 All-Terrain Wagon can swallow up a lot of cargo with the 3rd row seats folded and even more cargo with all the seats folded. The official numbers come at 640 liters in the trunk and 1,820 liters with all the seats folded down. This is one of the reasons station wagons were so popular in North America, back in the day, because of the versatility they offered. They're still quite popular in Europe and are a perfect alternative to CUV/SUVs.
On the technology, comfort, and safety front, the E 450 All-Terrain Wagon is offered with the usual suite of gadgetry we've come to expect from Mercedes-Benz. Below is a list of different packages that offer various additional features that make life a bit more comfortable/easier.
Technology Package $2,400
Active MULTIBEAM LED Lighting System
Adaptive Highbeam Assist Plus
Head-Up Display
MBUX Interior Assistant
Night Package $850
Gloss black exterior accents
Black roof rails
Premium Package $3,300
360 camera
Burmester Surround Sound System
Heated rear seats
KEYLESS-GO
Enhanced heated front seats
Heated front armrests
Comfort Package $4,100
Climate Comfort front seats
Drive-Dynamic multicontour front seats
Luxury front head restraints
ENERGIZING Comfort
Air Balance system
Intelligent Drive Package $3,000
Active Distance Assist DISTRONIC
Active Steering Assist
Evasive Steering Assist
Active Blind Spot Assist
Active Lane Keeping Assist
Active Lane Change Assist
Active Brake Assist with Cross-Traffic Function
Congestion Emergency Braking
Active Emergency Stop Assist
PRE-SAFE Impulse Side
PRE-SAFE PLUS
Route-based Speed Adaptation
Active Stop-and-Go Assist
Active Speed Limit Assist
Enhanced Stop-and-Go
Final Thoughts on the Mercedes-Benz E450 AT Wagon
In a world filled with CUVs and SUVs, there are still a handful of options for those looking for a more versatile vehicle without losing that car feeling. The Mercedes-Benz E 450 All-Terrain Wagon is a perfect example of a car that can seat 6 or 7 people in comfort and has loads of cargo room. The All-Terrain-ness of the wagon makes it even better for people that want some off-road capabilities but are still hesitant to buy an SUV or CUV.
The Mercedes-Benz E 450 All-Terrain 4MATIC Wagon is a beautiful looking car, it's comfortable, fun to drive, and is extremely practical. It's the perfect luxury family vehicle.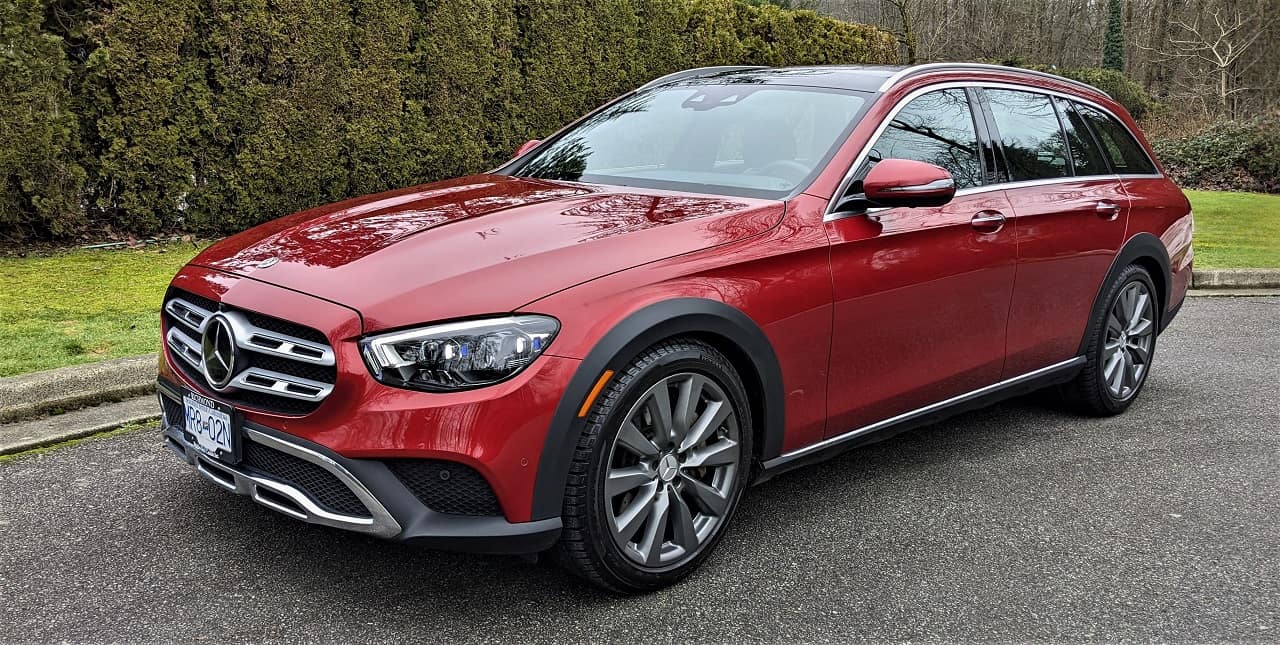 For more information, please visit Mercedes-Benz Canada's website.