A while back I read an interview with one of my favourite authors, William Gibson. He talked about a great many things, but what intrigued me most was a wallet that he mentioned. He described it as being made from a boat sail material called Cuben, and that it was super light and durable. I've been trying to find a decent looking ultra-light wallet for years, and this wallet seemed to match that description. After a bit of research, I'm fairly certain I found the wallet that he described in the interview.
The wallet in question is none other than the Wa-Ben wallet from designer Jason Yasutomo. I contacted him after reading the interview, and he was generous enough to provide a sample for me to review. I've been playing around with it for a few weeks now, and despite my initial misgivings and bouts of incredible laughter, I've changed my tune. Here's what I like…
What I like about the Wa-Ben wallet
It's unbelievably light. It's so light that you probably won't even notice that you're carrying it, and that's startled me more than a few times. I'm used to a certain weight, and when I don't feel it, my initial inclination is to panic. Once you get over that, it's awesome.
The carrying capacity is substantial, especially considering the tiny profile. A person could comfortable fit 12 cards by doubling up in each slot if they were so inclined. I only carry a few cards, but I used the space in behind the card slots to hold my bus pass and the occasional receipt.
The Wa-Ben is super tough. It's made out of a unique sail material called Cuben Fiber. If it's strong enough to propel a boat forward, I'm fairly certain it will stand the test of time for a wallet.
Since the wallet is made of Cuben Fiber and not leather, it won't rot or corrode from water and mud. I've carried many leather wallets over the years, and eventually they get really worn out and grimy. That's good if you're using an untanned wallet and want to break it in, but not so much for that expensive black wallet you bought.
Now, I mentioned earlier that I had a good, hearty laugh when I first opened the package. The reason I laughed so hard is because the wallet looked a bit… odd. It reminded me of a rice sack, or perhaps a piece of garbage bag; not exactly the qualities I look for in a wallet. What changed, though, was that I realized how much stuff I could pack into such a tiny wallet.
Wa-Ben Wallet Video Overview
The Ben-Wa wallet is light, durable, and holds a ton of stuff when I need it. I don't often carry around a lot of cards, so using this wallet allows me to forgo the additional bulk of more traditional leather wallets; it's kind of nice sometimes. I also ended up growing accustomed to the style, and even kind of liking it. It's definitely an acquired taste, but I like it a heck of a lot better than the Carbon Bifold Wallet I reviewed a while back.
Overview Photos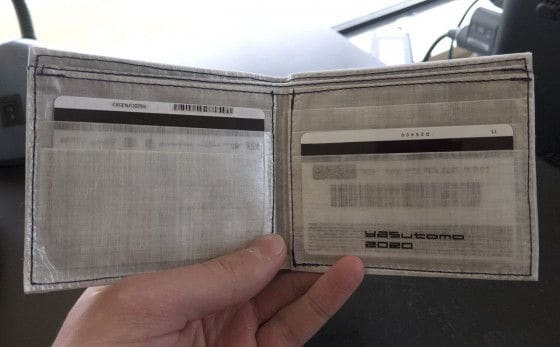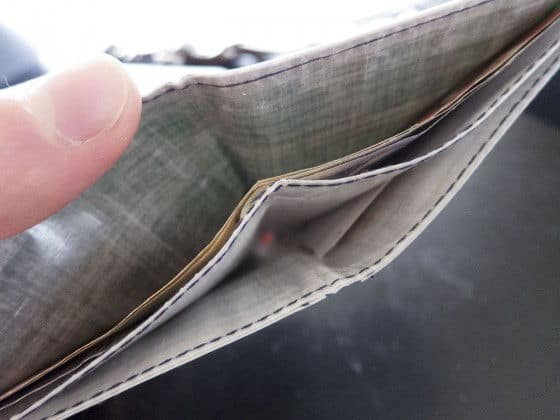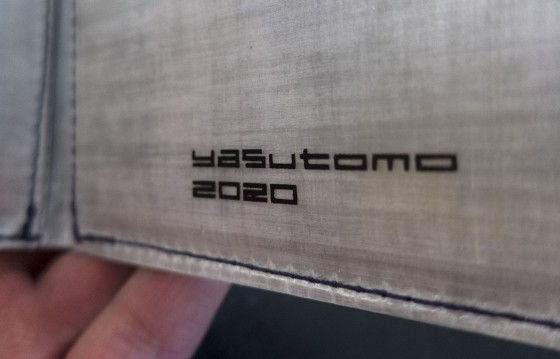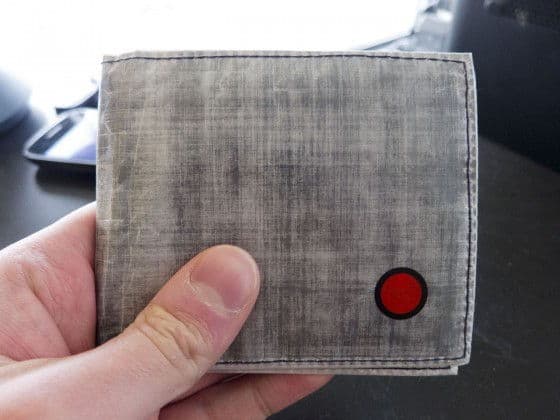 Though this wallet isn't for everyone, I highly recommend it for anyone that prefers carrying a light wallet, without having to give up a reasonable amount of storage capacity.
You can order the Wa-Ben Wallet on Yasutomo 2020 for $49.95 USD.