I want everyone to take a moment of silence, and to reflect upon the tragedy presented before you. This man is murdering what was once a beautiful piece of meat. What's worse? He's performed this heinous act in the name of the most innocent and loving form of preparing food: barbeque.
Now, I'm not railing against grilling here. There's nothing wrong with searing any flavor and tenderness out of your meat. This is America somewhere you can access the internet freely, and I assume that comes with the freedom to prepare your own food. Even if you want to prepare it in an incorrect manner.
Preparing Meat Properly
No, the traditional Barbeque requires a low heat, high delicious factor for preparation. Don't be afraid to let your meat marinate a bit, just in its own juices or any number of recipes that are readily available. I myself preferential to Jason's Moms Sauce (a local concoction) and a bit of cinnamon, A nice zest for a half-rack of ribs.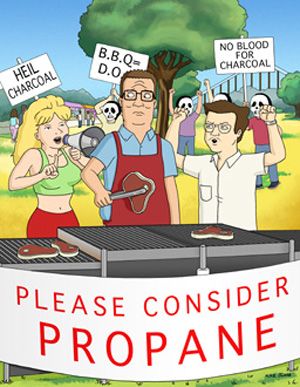 So here's what you do, other folks who are not Americans (which includes California and the Northern States.), go out and get yourself a nice gas burning grill. You'll want the exceptional heat control and clean burn that the propane provides.
Next you need your meat, and not just any old meat. You're going to want to find something that has seen the hands of an actual butcher and not a conveyor belt. These men are going to be working a trade, frequented by professional chefs, and less likely to leave stock sitting in a glass case for weeks at a time. Next, pamper that meat like you don't pamper your lady. Nice wines, a good massage, and then plenty of time to relax. A full 24-hours if you can manage it.
After that, get your chosen machine prepped. Pre-heat that sucker to a nice temperature for your selected slab-o-meat, 130 Degrees for a medium rare steak. Which is the only kind of steak you should consume.
Of course, some of you in far flung land of Dragons and the Mist of Avalon, might lack the appropriate 24-hour store at which to buy your orange juice, shotgun, and grill. In that case, feel free to pop over to WowBBQ for your meat machine fix.
(Photos by Unknown and King of the Hill)