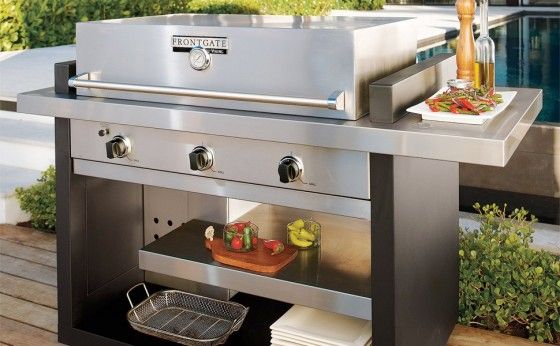 Spring is just around the corner and that means the start of the barbecue season.  And what better way to celebrate the start of the barbecue season than with the awesome Frontgate Viking Grill?  This high-end "barbecue machine" belongs in every Unfinished Man's backyard.
The 62" Frontgate Viking Grill is constructed out of stainless steel for maximum toughness and features a double-wall hood construction for better heat retention and to prevent discoloration.  The grill features an open car design for easy access to accessories and comes with three 25,000 BTU stainless steel burners and has 836 square inches of cooking surface.  That's enough BTU's and cooking space to feed the entire neighborhood.
The manly Frontgate Viking barbecue station can be yours for a reasonable price of $2,995.