If you want to succeed in the current automotive landscape, you need to sell a lot of SUV/CUVs. It seems like everyone and their grandmother wants a crossover, or is it the other way around? They want a crossover because carmakers are producing so many different CUV/SUVs? That is a question for another post and another time?
Not to be left out of the game, Genesis, Hyundai's luxury brand, had to start producing CUVs to compete with other luxury and traditional automakers. The market is full of luxury and semi-luxury SUV/CUVs, so Genesis had to bring something to the market that would take market share away from the more established brands.
Genesis has done a great job with creating three pretty amazing luxury sedans, the G70, G80, and G90, can they do the same when it comes to luxury a crossover? Continue reading to find out.
2021 Genesis GV80 Canadian Prices
The 2021 Genesis GV80 is offered in four trims. The base trim is called GV80 2.5T Select AWD and has a starting price of $64,500. The next trim is the 2.5T Advanced AWD and has a starting price of $70,000. The other two trims come with V6 engines, the 3.5T Advanced AWD starts at $80,000 and the 3.5T Prestige AWD has a starting price of $85,000.
These prices are what they are, no hidden/added costs like Freight & PDI and other options. Genesis has made it really simple, pick the trim you want, pick the exterior color and interior material (if more than one option is available), pick a couple of accessories, and pick an extended protection plan, and you're set. The Europeans could learn something from Genesis, keeping it simple is the way to go.
Genesis GV80 Engines
The 2021 Genesis GV80 is offered with two engine choices, a turbocharged 2.5-liter 4-cylinder and a turbocharged 3.5-liter V6. The 2.5T produces 300 horsepower at 5,800 rpm and 311 pound-feet of torque between 1,650 – 4,000 rpm (on premium fuel). The 3.5T produces 375 horsepower at 5,800 rpm and 391 pound-feet of torque between 1,300 – 4,500 rpm. Power is sent to all four wheels via an 8-speed automatic transmission on both engines.
According to Genesis, the 2.5T equipped GV80 should consume 11.3/9.5/10.5 liters/100 kilometers in city/highway/combined driving. The 3.5T equipped GV80 should consume 12.9/10.4/11.8 L/100 km.
Driving the 2021 Genesis GV80
Our review GV80 came with the 2.5T engine. I was actually dreading this engine, as I didn't have a good experience with a recent SUV that came with a 4-clyinder turbocharged engine (2021 Explorer). However, I was extremely impressed by the smoothness, power, and overall feel of this engine. I thought the GV80 might be too much of a vehicle for such a small engine, but I was wrong.
The 4-cylinder engine on the GV80 is extremely smooth and quiet, the only time there's noise is under heavy acceleration, especially when starting from standstill. The 300 horsepower is more than enough to move this rather large vehicle. The engine and transmission work in perfect harmony, with quick downshifts when you need to pass slower vehicles. The engine performs well in city driving and is quick to respond on the highway. It doesn't have any trouble passing at highway speeds.
The ride is extremely smooth, especially on the highway. I felt like I wasn't even moving while doing 90+ km/h. The GV80 doesn't pretend to be some "sporty" SUV, it's a luxury crossover that will keep you comfortable even on the roughest of roads. For a sporty ride, the GV70 will be the crossover to have, which should be on sale soon.
With the impressive power delivery of the GV80 2.5T, I can't help it wonder what the bigger engine will feel like. I will be reviewing the 3.5T in a couple of months, hopefully I still remember how the 2.5T felt so I can compare the two engines.
Styling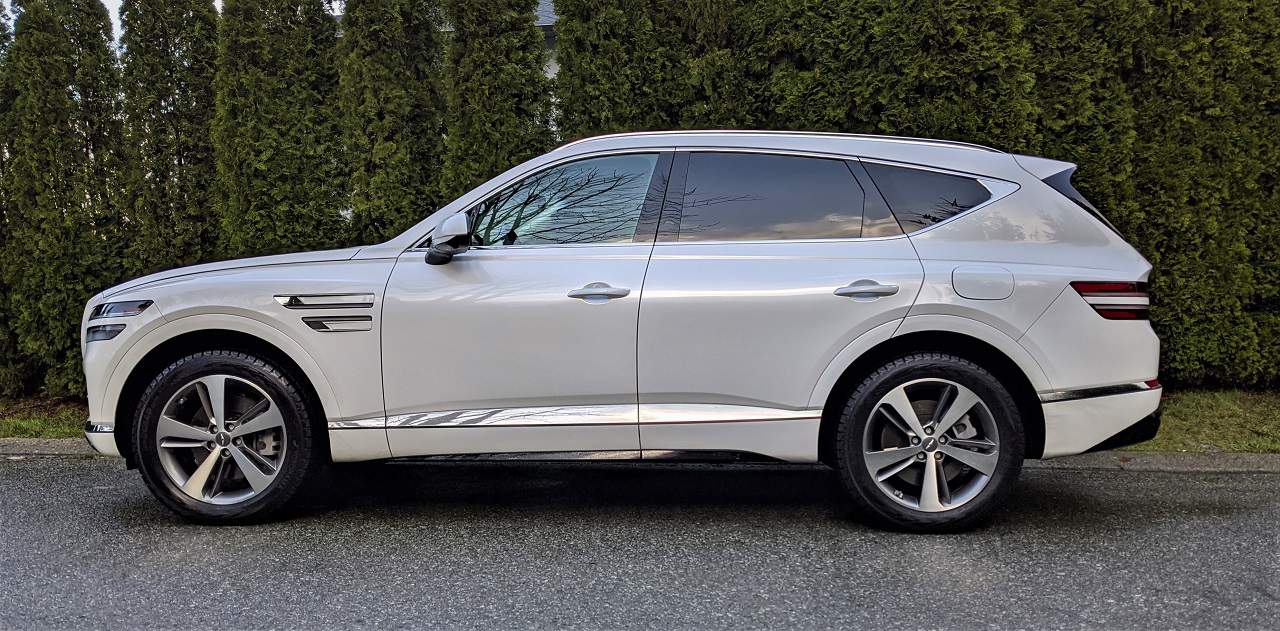 When it comes to styling, it's a subjective matter. I personally liked the way the 2021 Genesis GV80 looks. Some people say it looks like a Bentley Bentayga. There is some resemblance, but they're both SUVs with large front grills, SUVs tend to look alike. Personally, I wouldn't say it looks like a Bentayga, but more like something that Bentley would produce, which is a good thing.
I think the styling on the GV80 looks fresh and the giant grill suits the bigger body style. And I wasn't the only one liking the GV80, it's a head turner. Everywhere I went, people were staring at it and to my surprise, there were a lot of young people that were checking it out. I also got quite a few thumbs up, which is not something I've experienced in an SUV.
The GV80 uses the new design language found on other Genesis vehicles like the G80 and the yet to be released in Canada G70. It starts with the giant front grill that may look big in pictures, but it perfectly suits the GV80. The front features sleek twin lights, the are carried onto the side of the vehicle, with twin side markers, and continue on to the rear with twin taillights. All of these lights are LED and come standard on all trims.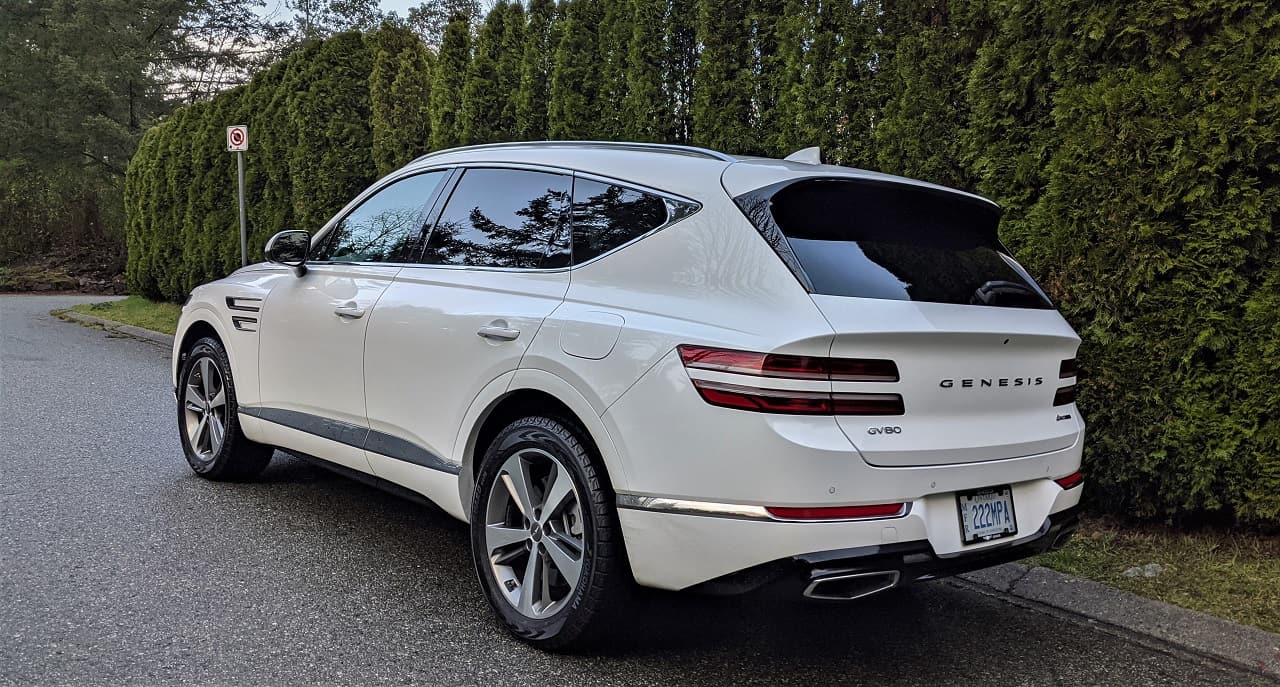 The shape of the rest of the vehicle is athletic, and is the typical two-box SUV design. There are hints of chromes throughout the exterior. The rear features twin tailpipes that have the same pentagonal/diamond shape as the front grill. Overall, I think the GV80's design looks really good and this is a vehicle I would be proud to own.
2021 Genesis GV80 Interior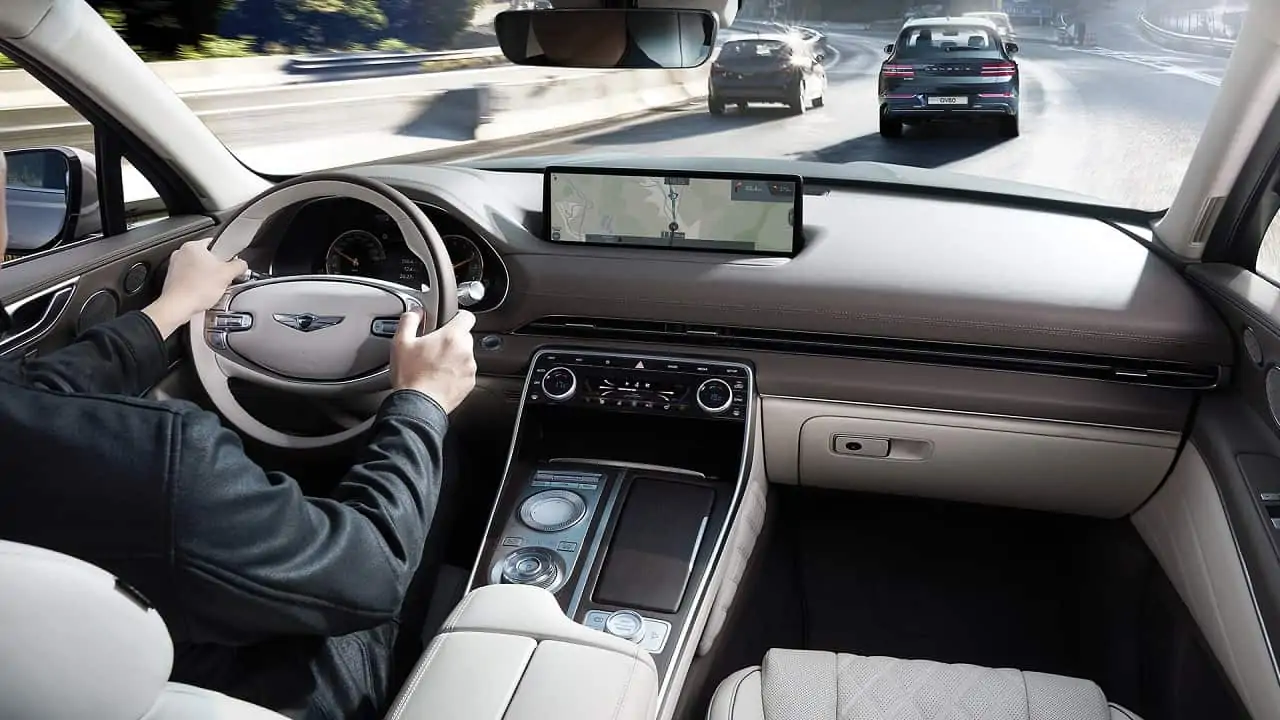 Genesis has really knocked it out of the park with the interior on the 2021 GV80. I'll get the "negative" out of the way first. It's not really a negative, but I wasn't a big fan of the steering wheel design. It seems like something out of an 80's car. It's a two-spoke type of design, that didn't do it for me, but it's not too big of a deal. The same steering wheel is found on the G80, but it has two small spokes, which give it a modern look.
With that minor "dislike" out of the way, the rest of the interior is all praise. I love the quality of the materials used, the fit and finish, and the overall layout/look of the interior on the GV80. You'll be hard pressed to find any exposed plastic. Everything is covered with soft-touch materials and it all feels so high end.
The interior has a clean layout and features all the latest tech and gadgetry we've come to expect from modern cars. At the center of the interior is a 14.5" widescreen touchscreen that displays the standard navigation, radio/media information, and front, rear, and side cameras' output. The graphics on this screen are crisp and easy to see. The screen can be controlled by touching it, although it is a bit far, which could be on purpose to discourage you from touching it. Instead, you can use the large circular touchpad on the center console to move between menus or use voice commands.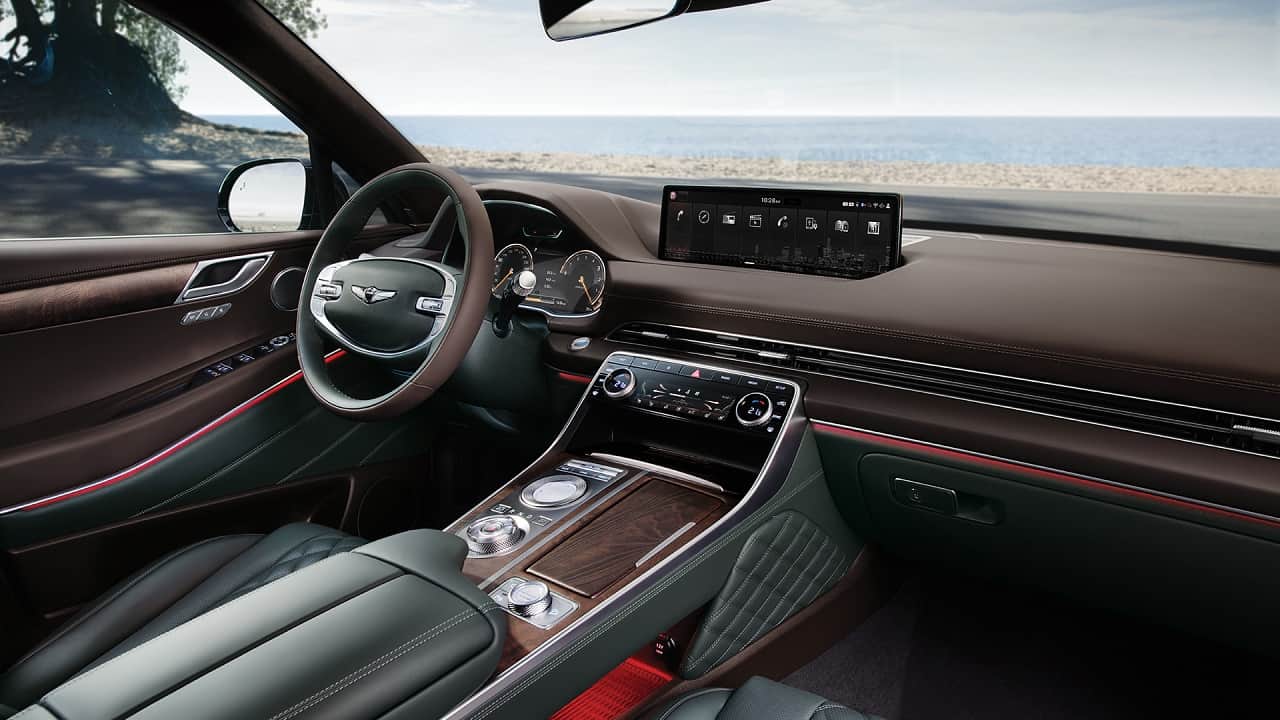 Below this area is another display for the climate control, this area utilizes buttons, knobs, and a touchscreen to change the airflow direction, fan speed, temperature control, and heated/cooled seats. This looks classy and modern at the same time, I really liked the way it fits into the overall design of the interior. Below it is small storage area for keys, phones etc., it also houses the wireless phone charging pad. The center console has a small area for the volume and tuning, the circular pad for controlling the infotainment system, another knob for changing gears, a smaller knob for the different driving modes, and a pair of cup holders.
The interior is really comfortable and quiet. Even with the small 4-cylinder engine, which are usually noisier than 6-cylinder engines, there isn't too much engine noise making its way into the cabin. The seats are extremely comfortable and have good support for the back. There's more than enough room for even the tallest of occupants in the first and second row. The GV80 is offered with third row seats, but only on the 6-cylinder model, but from what I've seen, the third row is best suited for children.
Tech/Convenience/Safety Features
Hyundai, the parent company of Genesis, is known for offering features that were only available on luxury cars. So, with their own luxury vehicles, we can expect the same and even more. If you're looking for all the bells and whistles the Europeans offer, you won't be disappointed, you won't have to add crazy amounts of optional packages. The GV80 is loaded with great tech, even in the lower trims.
Full LED Headlights
Automatic Headlights
High Beam Assist
LED Daytime Running Lights
LED Taillights
LED Outside Mirror Turn Signal Indicators
Power-Folding Mirrors
Auto-dimming Side Mirrors
Panoramic Sunroof with Tinted Glass
Acoustic Laminated Glass (Noise Reducing)
12-way Power Driver Seat
16-way Power Driver Seat (Prestige)
12-way Power Passenger Seat including 4-way Power Lumbar
Front Passenger Seat Walk-in Device
Heated Front Seats
Ventilated Front Seats (all trims except Select)
Heated Rear Seats
Ventilated Rear Seats (Prestige)
40/20/40 Split Folding Rear Seats
Rear Center Folding Armrest with Dual Cup Holders
12 Speakers (Select & 2.5 Advanced)
Lexicon premium audio system with 21 High speakers (3.5 Advanced & Prestige)
Android Auto & Apple CarPlay
4 USB slots
Bluetooth Hands-free Phone System
Touch type Dual Zone Climate Control (Select)
Fully Automatic 3 Zone Climate Control (Advanced & Prestige)
Smart Cruise Control with Stop & Go
Wireless Charging Pad
Proximity Key with Push-Button Start
Rear view Camera with Parking Guidelines
Surround View Monitor (All trims except Select)
Blind Spot View Monitor (All trims except Select)
Heads-up Display (All trims except Select)
Power Hands-free Smart Liftgate w/ Auto Open
Remote Smart Park Assist (Prestige)
Vehicle Stability Management (VSM)
Electronic Stability Control System (ESC) with Traction Control System (TCS)
Anti-lock Braking System (ABS)
Brake Assist (included with ESC)
Hillstart Assist Control (HAC)
Parking Distance Warning (4 sensors in front and rear)
Blind-Spot Collision-Avoidance Assist (BCA) and Rear Cross-Traffic Collision-Avoidance Assist (RCCA)
Parking Collision Avoidance-Assist Rear (All trims except Select)
Lane Departure Warning (LDW)
Lane Keeping Assist (LKA)
Lane Following Assist (LFA)
Forward Collision-Avoidance Assist
Driver Attention Warning (DAW)
Forward Attention Warning (All trims except Select)
10 Airbags
Overall Thoughts on the Genesis GV80
Genesis might have been late to the party with the GV80, but they brought a very enticing vehicle. I was extremely impressed with the GV80, the way it drives, the way it looks, and beautiful interior would suggest a much higher price. If this was a European vehicle, I'm sure it would be priced at least 30% higher if not more.
I enjoyed driving the 2021 Genesis GV80 2.5T, and I look forward to driving the 3.5T. Genesis will also be offering a sportier GV70 soon, and I assume a large GV90 after that. I'm looking forward to these vehicles. For more information on the GV80 and other Genesis vehicles, visit their official site.