I had my first experience with a Genesis sedan way back in 2008, back then the Genesis was a Hyundai Genesis and it was Hyundai's first step into the luxury market. I believe the plan was to have a separate Genesis brand but then the financial crisis hit and the Genesis brand was put on hold.
However, in November 2015, a standalone luxury Genesis brand was announced. Genesis Motors produced the G80 mid-size and the G90 large sedans and recently introduced the G70 small luxury sedan. There are plans for a coupe and a few SUVs.
Last week we were given the keys to a 2018 Genesis G80 Sport 3.3T for a weeklong review. Below are our thoughts on the latest entrant into the competitive luxury segment.
Trims & Prices
The 2018 Genesis G80 comes in three trims with three different engine options. The base is called the G80 3.8 Luxury, with a price of $55,000. The next higher trim is the G80 3.8 Technology, with a price of $58,000. The next trim up is the G80 3.3T Sport, with a price of $62,000, and the top of the line is the G80 5.0 Ultimate, with a price of $65,000. Normally I say prices start at $xx,xxx, however with the Genesis brand, there are no options, you can add a few accessories but the price is as is, plus tax. Freight & PDI and other fees are already included in the price, I like this better, it keeps things simple.
The Genesis brand also offers quite a few added bonuses at no added costs, things like complimentary scheduled maintenance and Genesis at home service. When your car needs maintenance, a Genesis rep will come to your house or work, take your car to the dealership and leave you a courtesy car, and bring back your car when it's serviced, quite a nice feature. All Genesis vehicles also come with 24/7 roadside assistance.
Engines
The 2018 Genesis G80 is offered with three engine choices, which you probably noticed by the naming structure of the trim. There is a naturally aspirated 3.8-liter V6 engine, producing 311 horsepower at 6,000 rpm and 293 pound-feet of torque at 5,000. The 3.3-liter twin-turbo V6 produces 365 horsepower at 6,000 rpm and 376 pound-feet of torque between 1,300 – 4,500 rpm (premium fuel). For those looking for a true luxury experience, there's a 5.0-liter V8 engine available on the top of the line G80, producing 420 horsepower at 6,000 and 383 pound-feet of torque at 5,000 rpm (premium fuel).
In Canada, all G80s come with HTRAC All-Wheel Drive systems and power is sent to the four wheels via an 8-speed automatic transmission.
Driving
The G80 is trying to compete with the likes of BMW 5-Series, Mercedes E-Class, Audi A6, Jaguar XF, Infiniti something or other (can't understand their new naming structure), and a few others. The BMW is supposedly the leader in this class in terms of sportiness, I've never driven a 5-Series, so I can't really compare. But I have reviewed the Jaguar XF, which I find to be much sportier than the G80. I would say the Genesis G80 is more on the luxury side than sport, even the G80 3.3T Sport. The car handles well but it feels quite heavy and unfortunately our review car was still equipped with winter tires, at the end of May, so I'm sure that took away quite a bit of sportiness.
The suspension is tuned more to be comfortable than sporty, don't get me wrong, the G80 is no "boat", it still performs quite well, Genesis just needs to work on it a big, especially the G80 Sport, to bring it closer to its European competitors.
There is no shortage of power from the 3.3-liter turbocharged engine, the G80 is very fast and the transmission does a great job of quickly shifting gears. The twin-turbos provide lots of low end torque, getting you up to illegal speeds in a matter of seconds. The car comes with three modes, "Eco", "Normal", and "Sport". These modes are self explanatory, in Sport mode the G80 does become quite fun and will get you speeding tickets if you're not careful.
The G80 Sport comes with quite hefty brakes, 360 mm ventilated disc with 4-piston calipers at the front and 330 mm ventilated rotors with 1-piston calipers at the rear. Our review car had been in the fleet for a while and I'm sure it was abused quite hard because the brakes felt very weak and the rotors probably needed changing, there was quite a bit of vibration under moderate to heavy braking.
The Genesis G80 Sport is quite a thirsty beast, especially in the city. According to Natural Resources Canada fuel consumption ratings, the G80 Sport should consume 13.8/9.7/11.9 L/100 km in city/highway/combined driving. For our weeklong review, in city driving we were getting about 15 L/100 km and in combined we recorded 13.5 L/100 km, in about 50/50 city/highway driving, which is quite a bit off from the claimed numbers and most of our driving wasn't very aggressive. I think an engine start/stop feature might make a bit of difference in city fuel consumption, and most of the G80's competitors have this feature.
Styling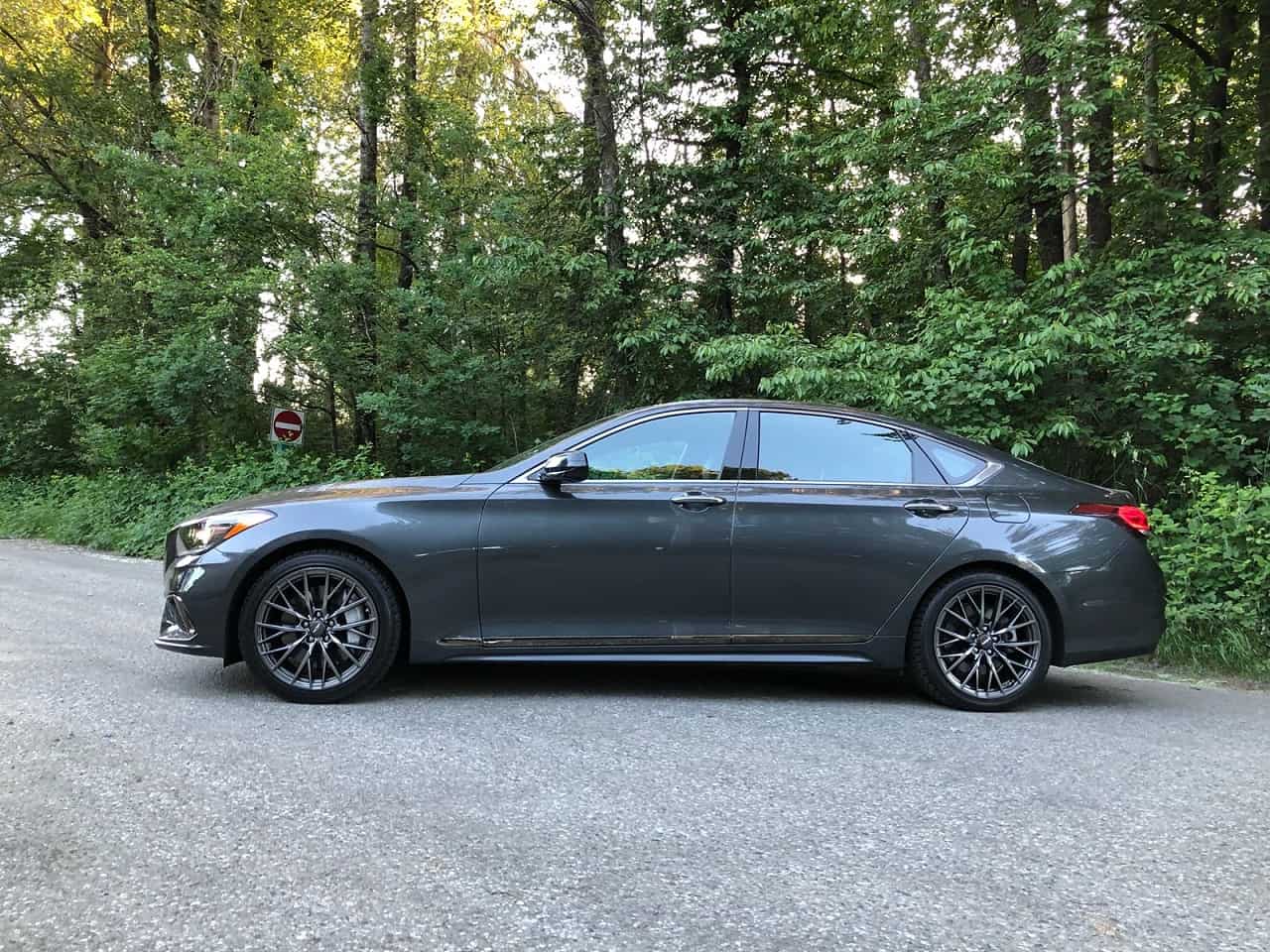 Styling is a subjective matter, but I personally like the look of the Genesis G80. You get two different looks based on the trims, the G80 Sport has a more aggressive front end and the other trims are more conservative. I personally like the look of the Sport over the regular G80, even the Sport is not too aggressive, which is a good thing in my mind. This is a vehicle in the mid-size segment, most luxury cars in this segment have quite conservative designs, if you want aggressive design, you'll need to go to the smaller vehicles, like the newly introduced G70.
The G80 does have the "premium-look" part down, when I first brought the G80 home, I saw quite a few of my neighbors standing around it and admiring it. One of them thought it was a Bentley and the other one that knows nothing about cars thought it looked like a very expensive car.
Interior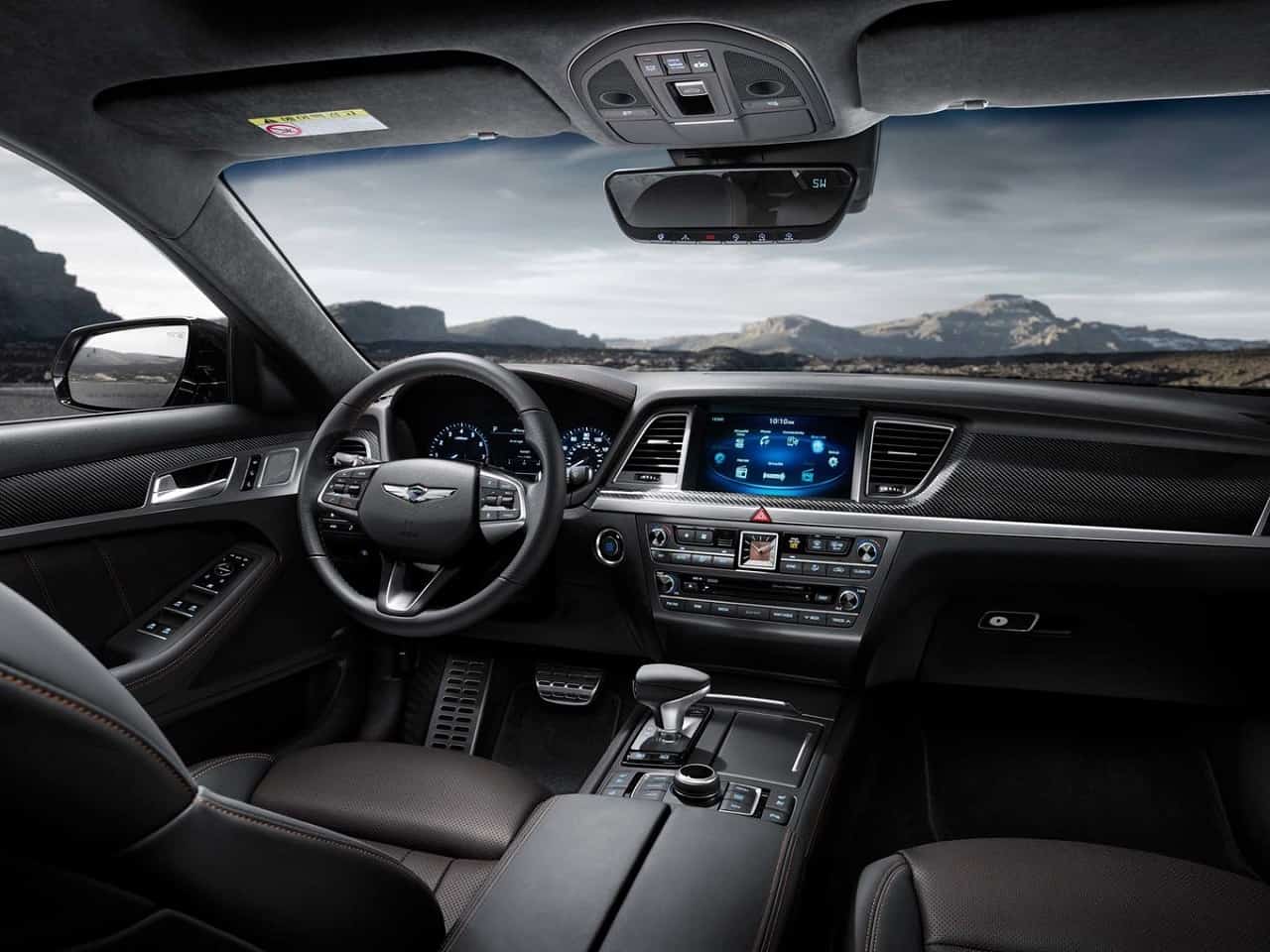 The G80 maybe not be as sporty as some of the European competition but the interior is on par and even better than some of the competitors. The interior is very luxurious with leather and soft touch materials throughout the cabin. The interior on the G80 is offered in quite a few color schemes with various colors of Nappa leather, open pore wood or carbon fiber trim, and aluminum accents. Our G80 Sport replaces the wood trim with carbon fiber and dark aluminum accents. I did find the carbon fiber on the dash a bit bright on sunny days in the passenger seat.
The interior has a clean and simple design, it's very easy to understand and there are lots of buttons for all the features, so you don't have to mess around with touchscreen and dig through menus to get to the features you want.
The interior is very quiet, even with our snow tires, I found the noise level to be very low. The interior is also very comfortable and roomy, it's a pleasant place to spend your time in. Our review car had the 16-way power-adjustable seats with 4-way lumbar adjustments, which made it easy to find the perfect seating position for any size driver. The passenger seat is 12-way power-adjustable with 4-way lumbar adjustments. The front seats are heated and ventilated and the rear seats are heated. There is plenty of head and leg room for rear passengers, making the G80 an ideal car for long trips.
Overall visibility is good; however, the rear window is very small and if the middle head rest is up, it's impossible to see what's behind you, folding the middle rear head rest down does improve things a lot.
Technology & Features
The Genesis G80 is a luxury sedan, so you'd expect it to be loaded with all sorts of tech features that you find in cars in this segment, unsurprisingly, the G80 is loaded with features. I can't go into details of all the features but below is a comprehensive list of all available tech and convenience features:
Automatic headlights
LED Daytime Running Lights
LED tail lights and reverse lights
LED side mirror turn signal repeaters
LED license plate illumination
High Beam Assist; automatically deactivates high beams when traffic is detected ahead
Full LED headlights with Adaptive Cornering System
Speed-sensitive front windshield wipers with rain-sensing function
Sport-type 16-way power-adjustable driver's seat with side bolster and thigh support adjustments, 4-way lumbar adjustment
12-way power-adjustable passenger's seat with 4-way lumbar adjustment
Heated and ventilated front seats
Heated rear seats
Premium Nappa leather seating surfaces
Heated leather-wrapped 3-spoke Sport steering wheel with aluminum shift paddles and power tilt-and-telescopic adjustment
Haptic feedback (linked to BSD and LKAS functions)
Apple CarPlay, Android Auto, USB, and auxiliary connectivity
Bluetooth hands-free phone system and audio streaming
9.2″ touch-screen navigation system with 720p high-definition display and 64 GB SSD
Driver Information System with multimedia controller
900-watt Lexicon AM/FM/XM/DVD/MP3 7.1 surround sound audio system with 17 speakers and Logic 7 sound processing
Power windows with auto up/down and pinch protection (front/rear)
Panoramic sunroof
Proximity keyless entry with push-button ignition
Drive Mode Select controlling steering, engine, transmission response, and CDC suspension (V8 models)
Proximity-activated hands-free trunk opening ("Smart Trunk")
Front and rear-view cameras
Front and rear parking assistance sensors
Adaptive Cruise Control with stop-and-go capability
Head-Up Display (HUD)
Wireless charging pad (Qi standard)
Multi-View Camera System
7.0″ TFT LCD instrument panel display
Vehicle Stability Management
Electronic Stability Control with Traction Control System
ABS with Electronic Brake-force Distribution and Brake Assist
Driver Attention Alert
Blind Spot Detection with Rear Cross-Traffic Alert and Lane Change Assist
Lane Keep Assist with Lane Departure Warning
Autonomous Emergency Braking with pedestrian detection
Overall Impressions
I think Hyundai has done a great job with the Genesis brand, it's a new-ish luxury brand, so it will take some time to get it fully established. But overall all, the G80 is a pretty good start. If pure performance is not your thing, like the BMW 5-series, then the G80 ticks most the boxes. It is a great looking car, the interior is very luxurious and comfortable, and it costs considerably less than most of its competition.
2018 Genesis G80 Sport 3.3T Review Photo Gallery
For more information on the Genesis G80 and other Genesis vehicles, please visit genesis.ca.