After driving so many SUV/CUVs lately, it was extremely refreshing to get my hands on a proper sports sedan. As practical as SUVs are, there's nothing quite like getting behind the wheel of a vehicle that's designed with the driving enthusiast in mind. The proper sports sedan in question is the 2021 Genesis G70, a car I'm a huge fan of.
About a week ago we got our hands on the top of the line 2021 Genesis G70 Sport. There aren't any significant changes between the 2020 and 2021 G70, with the exception of 2.0T Advance trim now coming with standard LED headlights. However, for the 2022 model year, the G70 will get a major refresh on the exterior.
2021 Genesis G70 Canadian Prices
Trims and prices have stayed the same for the 2021 G70, the exception being the base trim 2.0T Advanced now has a starting price of $43,000, instead of $42,000 for the 2020 model, but you do get LED headlights, which is worth the $1,000 in my opinion.
| | | | | |
| --- | --- | --- | --- | --- |
| Trim | Engine | Drive train | Transmission | Price |
| G70 2.0T Advanced | 2.0L I4 | AWD | Automatic | $43,000 |
| G70 2.0T Sport | 2.0L I4 | RWD | Manual | $45,500 |
| G70 2.0T Elite | 2.0L I4 | AWD | Automatic | $47,000 |
| G70 2.0T Prestige | 2.0L I4 | AWD | Automatic | $52,000 |
| G70 3.3T Prestige | 3.3L V6 | AWD | Automatic | $56,000 |
| G70 3.3 Sport | 3.3L V6 | AWD | Automatic | $58,000 |
Our review car for the week was the 2020 Genesis 3.3T Sport, with a price tag of $58,000, Freight & PDI is included in this price.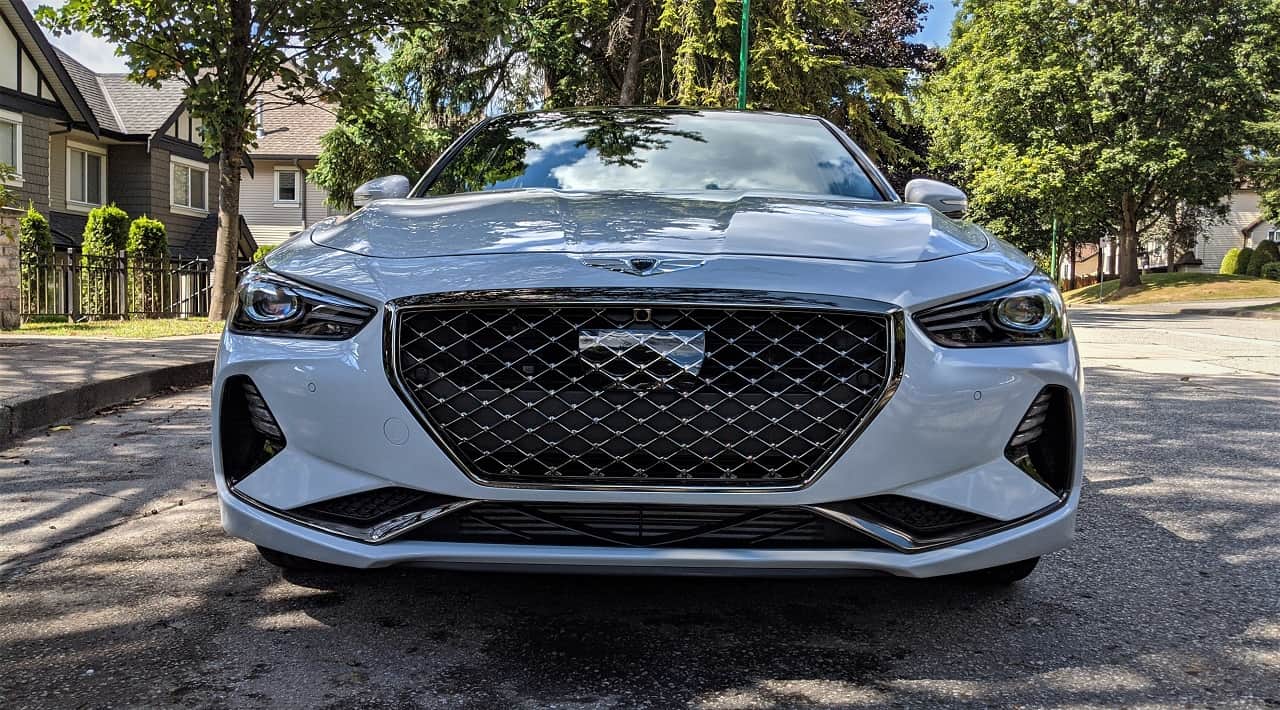 Engines
The 2021 Genesis G70 is offered with two engines choices: a turbocharged 2.0-liter 4-cylinder and a turbocharged 3.3-liter V6. The 4-cylinder engine produces 252 horsepower at 6,200 rpm and 260 pound-feet of torque between 1,400 to 4,000 rpm. The Sport trim comes with RWD and a 6-speed manual, all of the other trims get AWD and 8-speed automatic transmissions. This is the last year the G70 will be offered with a manual, due to low demand.
Our review car was equipped with the V6 turbocharged engine, which produces 365 horsepower at 6,000 rpm and 376 pound-feet of torque between 1,300 to 4,500 rpm. Power is sent to all four wheels via an 8-speed automatic transmission. Rear wheel drive is not offered with the V6 engine, it would be a nice option though.
According to Genesis, the 3.3T V6 equipped G70's should consume 14.1/9.5/12.0 Liters/100 kilometers in city/highway/combined driving. For our weeklong review the onboard computer showed 13.7 l/100 km in about 90/10 city/highway driving.
Driving
For years car manufacturers benchmarked the BMW 3-Series as the go to sports sedan, which was hard to catch. However, I don't think the 3-Series is a clear leader now, the Mercedes-Benz C-Class has caught up to it and might even be a better driving car, from what I hear. I haven't driven the new 3-Series, but have had experience with the C-Class. I think the G70 has as good, maybe even better, driving dynamics as the C-Class. Maybe the new benchmark for sports sedans should be the Genesis G70?
The G70 certainly is the best driving Asian sports sedan, even though the Lexus IS and Infiniti Q50 (previously known as the G35/37) have been around longer. I have driven both of those cars and the G70 is head and shoulders above those two.
I haven't driven the 4-cylinder G70 but I did review the Kia Stinger 2.0, which uses the same engines as the G70. I was pretty impressed by the 2.0-liter engine in the Stinger, I'm sure it's a fun engine to have on the G70, hopefully we can review a G70 with that engine and the manual transmission at some point in the near future before the manual is discontinued.
The 3.3-liter V6 is a great engine with more than enough power for this car. The 376 pound-feet of torque is available from a very low rpm of 1,300, which rockets the G70 into excessive speed zone very quickly. The transmission works seamlessly to send the power to all four wheels without much wheel spin or drama. Driving around the traffic infested streets of Vancouver is a lot of fun, but the G70 Sport really shines on twisty back roads.
I was afraid I was going to get a ticket, because the G70 Sport woke up a beast in me that had been pushed into submission by the barrage of SUVs I've been reviewing lately and the stress caused by COVID-19. But thankfully I had my fun with this car in a safe manner.
The G70 3.3T does the 0 – 100 km/h sprint in less than 5 seconds. The turbocharged V6 performs great at highway speeds, just put your foot down and the transmission drops down a gear or two and off you go, thanks to its quiet interior, you're doing well over the speed limit before you even realize it.
The suspension and steering setup feel very European, I'd say it's on par with the C-Class and 3-Series, the steering has a nice heavy feel to it. Unfortunately, there isn't much feedback from the road, which is the norm nowadays for a vast majority of cars. The suspension is quite firm, I wouldn't call it uncomfortable on most roads, but when the roads are pothole filled, it gets a bit uncomfortable. However, this is a sports sedan and it needs to have a firmer suspension, which is great for tossing it into corners.
The Genesis comes with 5 driving modes: Smart, Eco, Comfort, Sport, and Custom. These modes modes are standard on most cars in this category. I personally mostly drove it in Comfort; however, I didn't notice much of a difference in any of the modes other than Sport. In Sport mode, you're getting all the power from the turbocharged engine and the throttle response is sharp, gears shift at a much higher rpm and the transmission downshifts quickly during deceleration to providing engine braking. The car feels much livelier and is even more fun to drive. I also liked the fact that whichever mode you left the G70 in when you're done driving, the next time it starts in the same mode. It's a small thing, but I like it a lot and I have complained about the lack of this feature on other cars.
Overall, I think Genesis has done a great job at producing a real competitor to the Europeans, a car that drives just as good as, if not better, than the competition. I had a lot of fun driving around in the 2021 G70 3.3T Sport.
Styling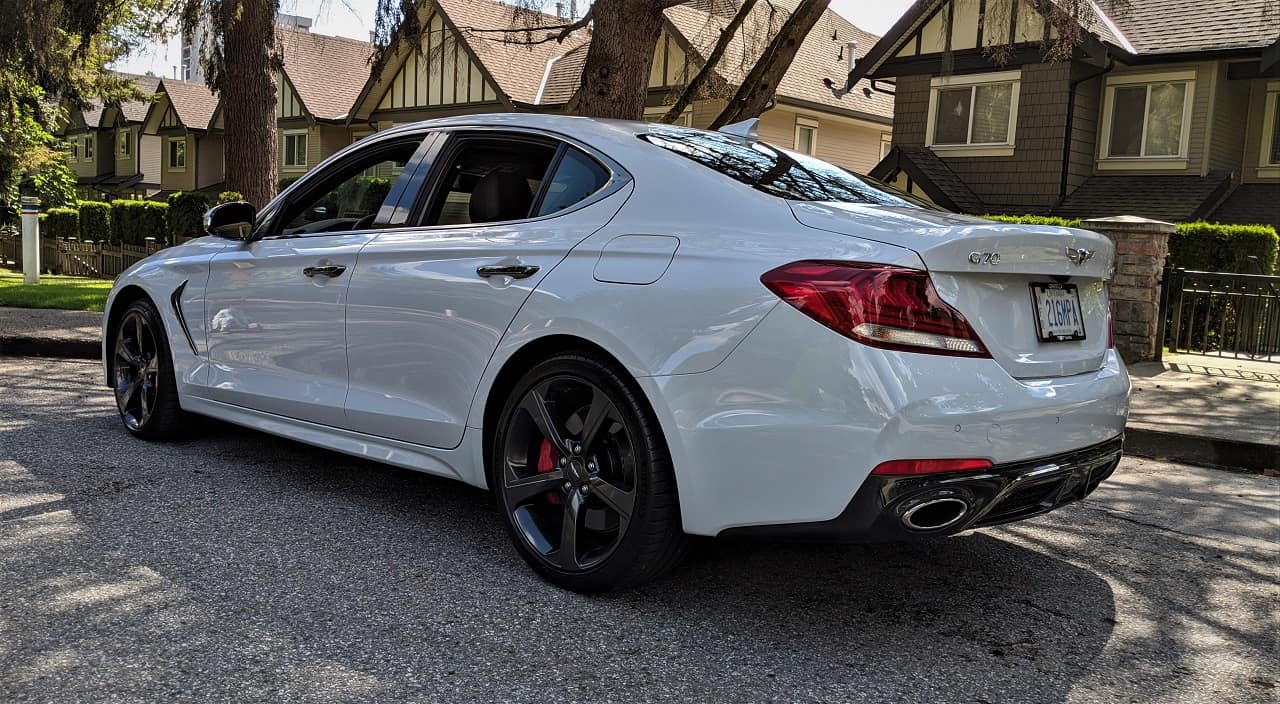 I personally think the 2021 Genesis G70 is a great looking car, it is aggressive, sporty, and elegant at the same time. For the 2022 model year, which will be available in 2021, the G70 will use the same "Superman" type of grill found on the G80, G90, and the all-new Genesis GV90. The headlights and taillights are also going to be changed to look more like the above-mentioned vehicles.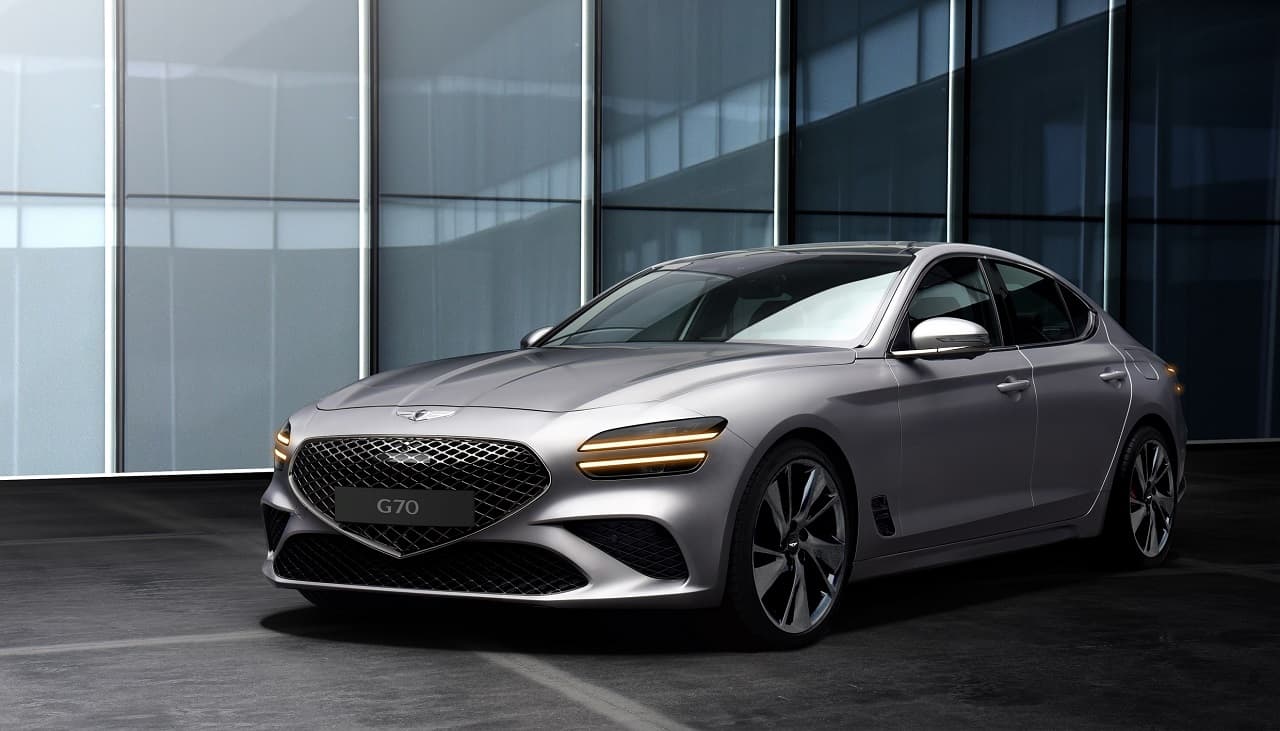 The G70 has the classic front engine, rear drive layout, with the front wheels pushed as far forward as possible. The wheels sit out of the body, with curvy fenders covering them. There are quite a few swooping lines on the body, giving it a lot of character. The front of the car features a large chrome grill, which is blacked out on the Sport trim; the grill is big but not polarizing like some other manufacturers. The front bumper has quite a bit going on, with some fake and some real air intakes. The rear has a nice beefy look to it, with a pair of exhaust tips integrated into the lower part of the rear pumper.
2021 Genesis G70 Interior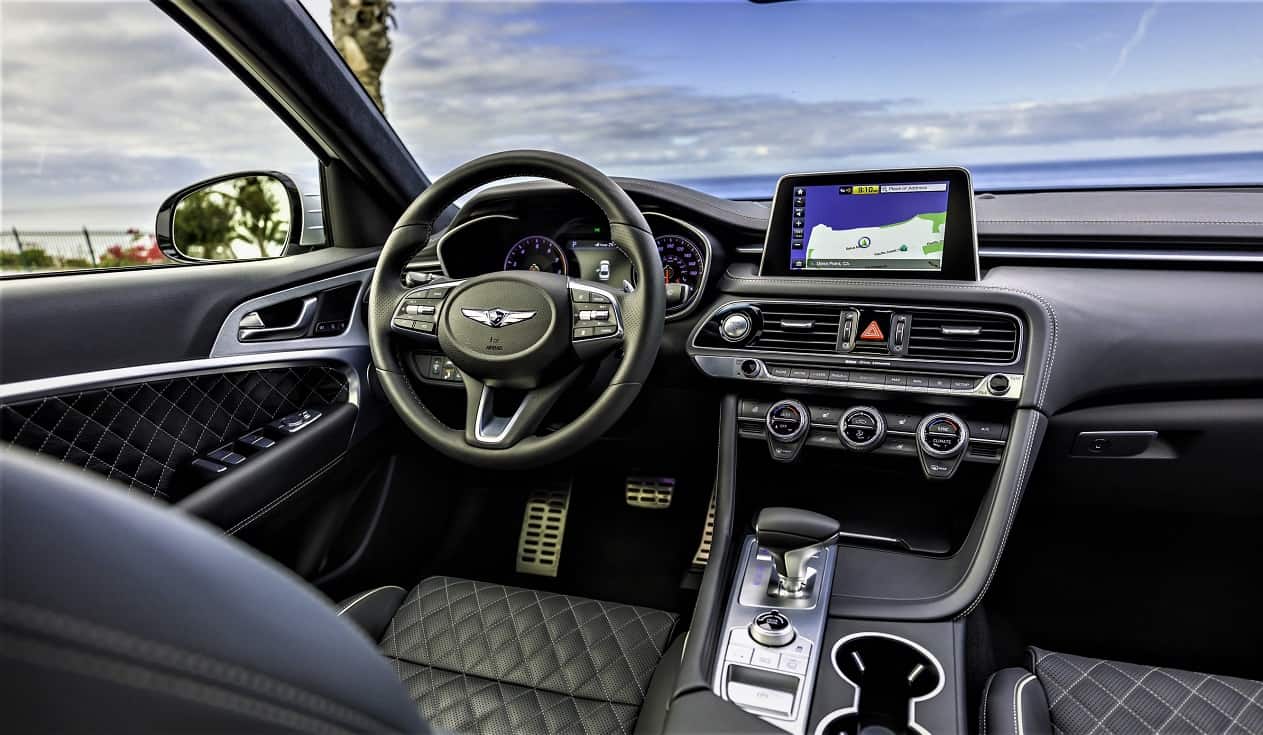 The interior on the Genesis G70 is elegant and modern. The materials used are high quality and there are lots of soft-touch surfaces. Some of the buttons and knobs do look familiar, having been taken from other Hyundai vehicles, but some parts sharing is to be expected to keep costs down.
The interior features a few knobs and a number of buttons to get you from menu to menu. At the center is an 8" touchscreen, which displays the map, media, climate, phone info, and the video feed from the cameras. You can scroll around the different screens by using the touchscreen or using the buttons below this screen. The climate system has its own separate area, with knobs and buttons for controlling the fan speed and temperature.
Below all of this is the storage area for phones and other small items, our review G70 came with wireless charging. Below this area is the gear selector and a knob for changing between the driving modes, with buttons for parking assistance, traction control, auto hold, and cameras surrounding it.
The gauge cluster consists of two analogue gauges, a tachometer and a speedometer, with a 7" TFT LCD screen. This screen displays various driving information like trip computer, fuel consumption, navigation directions, compass etc.
The interior on the G70 feels very premium and is quiet, it's on par with the competition. Our review car came with premium Nappa leather, in brown, with diamond quilt stitching, which look absolutely beautiful. This brown leather is carried over into the door panels, the combination of aluminum and this brown leather on the doors looks fantastic.
I would have liked to hear more of the engine/exhaust sound inside the vehicle, this is a sports sedan after all. The interior has about average interior space for this segment. I found the front to have plenty of room and the seats can accommodate taller drivers/front passengers, but anyone that's taller than 6 feet will take away much of the leg room from the rear passengers. The rear seat had enough room for me, with the front seats positioned to my 5' 8" frame.
Tech/Convenience/Safety Features
To compete with the European sports sedan, not only does the car have to be fun to drive and easy on the eyes, it also needs to come with a lot of tech, safety, and convenience features. The Genesis G70 doesn't disappoint with the number of features available, below is a list of everything available, not all trims come with everything, but this list should give you an idea of what you can expect on a 2021 Genesis G70 sports sedan.
Proximity keyless entry with push-button ignition
Proximity-activated hands-free trunk opening ("Smart Trunk")
High Beam Assist (HBA)
LED daytime running lights, headlights, taillights, turn signals
Headlight Adaptive Cornering System (ACS)
Wide sunroof (power tilt and slide with one-touch operation)
Power windows with auto-up/down and pinch protection (front/rear)
Electrochromic auto-dimming rearview mirror with integrated HomeLink transceiver and compass
Audio, Bluetooth, cruise control and voice command controls
Power tilt-and-telescopic adjustment
7.0″ TFT LCD instrument panel display
Head-Up Display
Rearview camera
Driver's Integrated Memory System (IMS) for seat, mirror and steering wheel positions
14-way power-adjustable driver's seat with cushion extension and 4-way lumbar adjustment
12-way power-adjustable passenger's seat with 4-way lumbar adjustment
Nappa leather seating (diamond stitch quilting — type varies by package)
Heated and ventilated front seats
Heated rear seats
Leather-wrapped 3-spoke Sport steering wheel with shift paddles
Heated steering wheel
Wireless charging pad (Qi standard)
Apple CarPlay, Android Auto, USB (x3) and auxiliary connectivity
Bluetooth hands-free phone system and audio streaming
8.0″ touch-screen navigation system
Multi-View Camera System (MVCS)
Rear parking assistance sensors
Front parking assistance sensors
Rear Cross-traffic Collision Warning (RCCW)
Electronic Stability Control (ESC) with Traction Control System (TCS)
Anti-lock Braking System (ABS) with Electronic Brake-force Distribution (EBD) and Brake Assist (BA)
Blind-Spot Collision Warning (BCW) with Lane Change Assist (LCA)
Driver Attention Warning (DAW)
Lane Keep Assist (LKA) with Lane Departure Warning (LDW)
Forward Collision Avoidance-Assist (FCA-A) with Pedestrian Detection
Electronic Parking Brake (EPB) with Auto Vehicle Hold (AVH)
Adaptive Cruise Control (ACC) with stop-and-go capability
There are some extra perks with Genesis ownership, like complimentary scheduled maintenance for 5 years/100,000 kilometers, 5 years/100,000 comprehensive warranty, 24/7 enhanced roadside assistance, and "Genesis at Home". Genesis at Home is for service and maintenance appointments, Genesis reps will come to your home or office to pick up your Genesis vehicle and leave you another Genesis vehicle while your car gets serviced. Once the service is done, they'll come back with your car and take away the courtesy car. This is a great service and takes the hassle out of having to go to a dealership to get your vehicle serviced.
Final Thoughts
The 2021 Genesis G70 is the first Asian car that's truly worthy of a sports sedan title. The G70 could possibly be the benchmark in this segment and I hope Infiniti and Lexus step up their game, just like all the manufacturers did when Hyundai started offering equipment in their mass-market cars, that used to be only available in high-end cars.
The G70 looks great, has a luxurious interior, and is a lot of fun to drive. I enjoyed every minute of the one week I had it, and it's on my shortlist of cars that I might pick up personally in the future. If you're in the market for a sports sedan, do not overlook the Genesis G70, you will thank me.
For more information on the 2021 Genesis G70, visit genesis.com.