The Q50 is Infiniti's entry level luxury sports sedan, it's a car I'm very familiar with, as I leased one when it was first introduced. My lease was for the 2014 Q50 Sport, the sportiest trim this car was available at that time. For weekly our review, we had the 2019 Infiniti Q50 Signature, which is a trim higher than the base. Things have changed a bit since I had my leased Q50, more on that later.
The Infiniti Q50 competes in a very crowded market, competing against established players like the Mercedes-Benz C-Class and the BMW 3-Series, and others like the Audi A4, Lexus IS, and the latest entrant, the Genesis G70. This segment is quite popular and is my favorite segment, as the cars in this segment are quite sporty yet they're practical.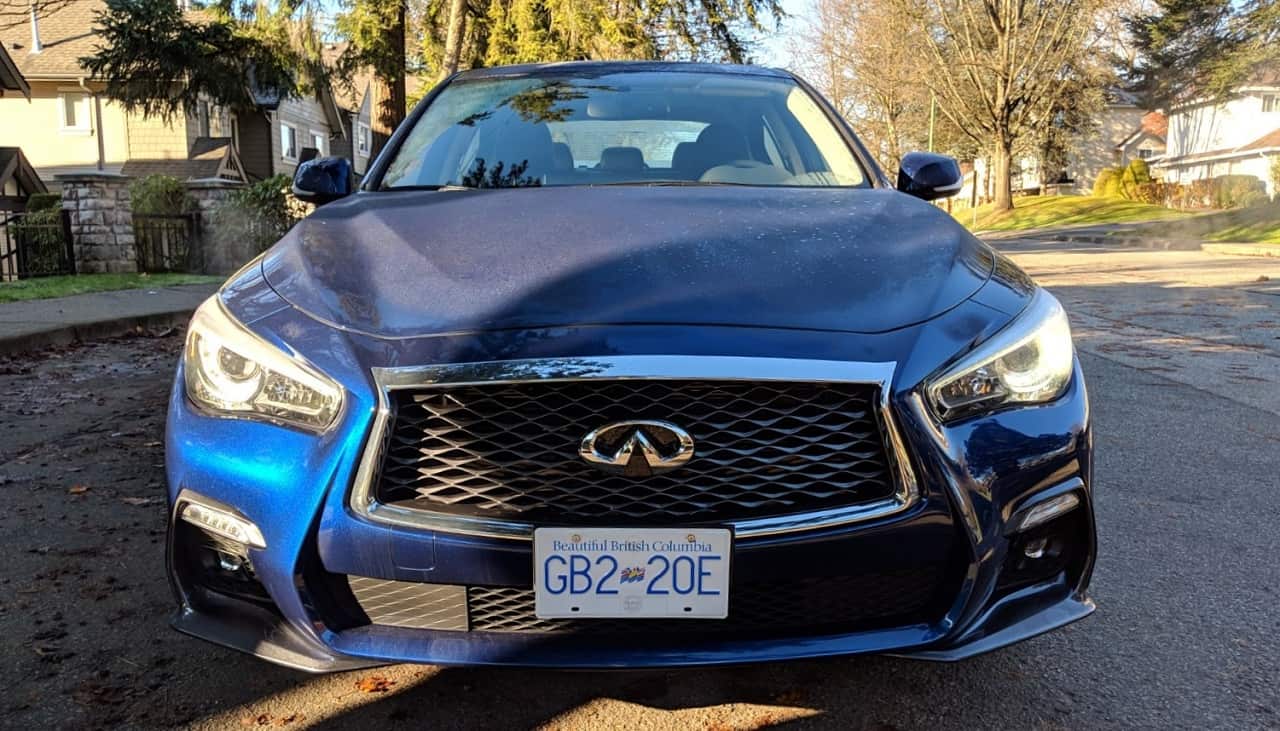 Prices/Engines
In Canada, the Q50 is offered with three engine choices, which include a turbocharged 2.0 liter 4-cylinder, a turbocharged 3.0 liter V6, and a 3.5 liter V6 hybrid. However, on Infiniti's website, I can't find any information on the 2.0 liter 4-cylinder or the Hybrid Q50.
The base 2019 Infiniti Q50 Luxe has a starting price of $44,995, the Q50 Signature starts at $46,495, the Q50 Sport starts at $48,495, and the Q50 Red Sport 400 starts at $53,195; prices do not include Freight & PDE of $2,045. All of these cars are equipped with 3.0 liter turbocharged V6 engines and come with AWD. Our review 2019 Infiniti Q50 Signature had a total price of $49,290, which included $750 for the optional pearl paint and Freight & PDE.
The engine on the 2019 Q50 is a bit different than what I had on the 2014 Q50, instead of the 3.7 liter V6 on my car, the newer versions of the Q50 use twin-turbo 3.0 liter V6 engines, with two different outputs. The standard output, for Luxe, Signature, and Sport models is 300 horsepower at 6,400 rpm and 295 pound-feet of torque between 1,600 – 5,200 rpm. The Red Sport 400 produces 400 horsepower (hence the name) at 6,400 rpm and 350 pound-feet of torque between 1,600 – 5,200 rpm. Power is sent to all four wheels via a 7-speed automatic transmission, with a rear-wheel bias.
Only the top two models get paddle shifters, which are mounted on the steering wheel as opposed to the steering column on the Q50 I had. I and many respected automotive journalist prefer the paddle shifters to be on the column, because that's the correct place for them to be. I would have liked paddle shifters offered on all trims, the Q50 is Infiniti's sports sedan, and it is a pretty sporty car, so in my opinion, the shifters are a must.
According to Infiniti, the Q50 Signature should consume 12.4/8.7/10.8 L/100 km in city/highway/combined driving. For our weeklong review, the onboard computer showed 13.5 L/100 km in city driving, with very short trips, I could've improved this number had trips been not so short. I could've also had much worse fuel consumption, had I driven the Q50 like a sports sedan.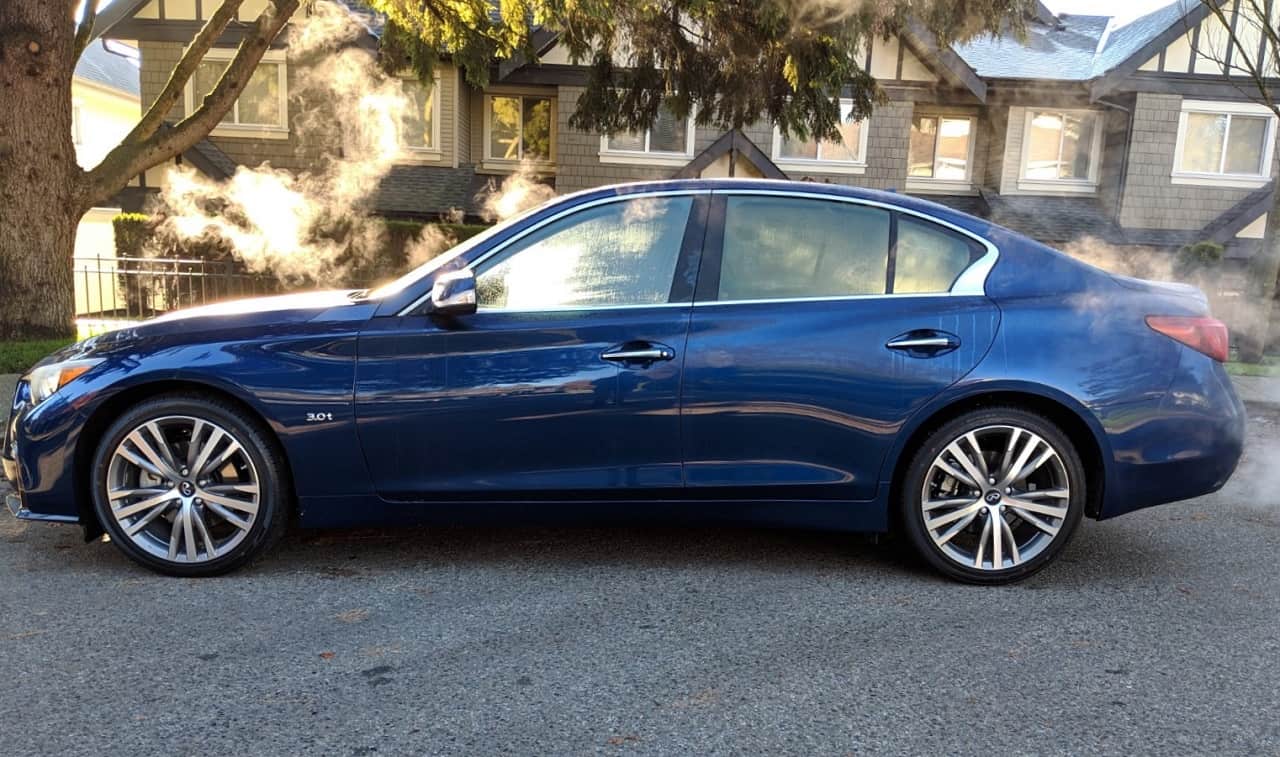 Driving
The Q50, formerly known as the G35/G37, has always been known as the Japanese sports sedan, a car that's very close in performance to the German competition. Personally, I've always been a fan of the Q50/G35/37, that's why I leased one. I think the Q50 is a very sporty car, the turbocharged V6 engine is very powerful, even though it's a bit less powerful than the car I had, it has more torque and it's available much sooner, so I didn't notice a lack of power.
There's plenty of power in city or highway driving, the throttle response is not as crisp as I would have liked, but it's not too bad. The suspension is also on the firm side, but it's not uncomfortable, it feels very sporty. The steering response is good, but there isn't much of a feedback, which is the norm in most cars these days unfortunately.
Like many modern cars, the Q50 comes with a few driving modes, which include Snow, Eco, Standard, Sport, and Personal, all accessible with a switch located on the center console. These modes are self-explanatory and do change the driving dynamics a bit, the difference in the modes is not too noticeable like in some of the cars I've reviewed.
Styling
I personally think the Q50 is a very nice looking car, it's sporty and elegant, and isn't trying too hard with over styled elements. The Q50 has been around for 5 years now, but the styling still looks fresh and it's still a head turner. I believe it should be getting a complete makeover in the next year or so, at least that's what I'm hoping, maybe I'll lease another one once the new design comes out.
Interior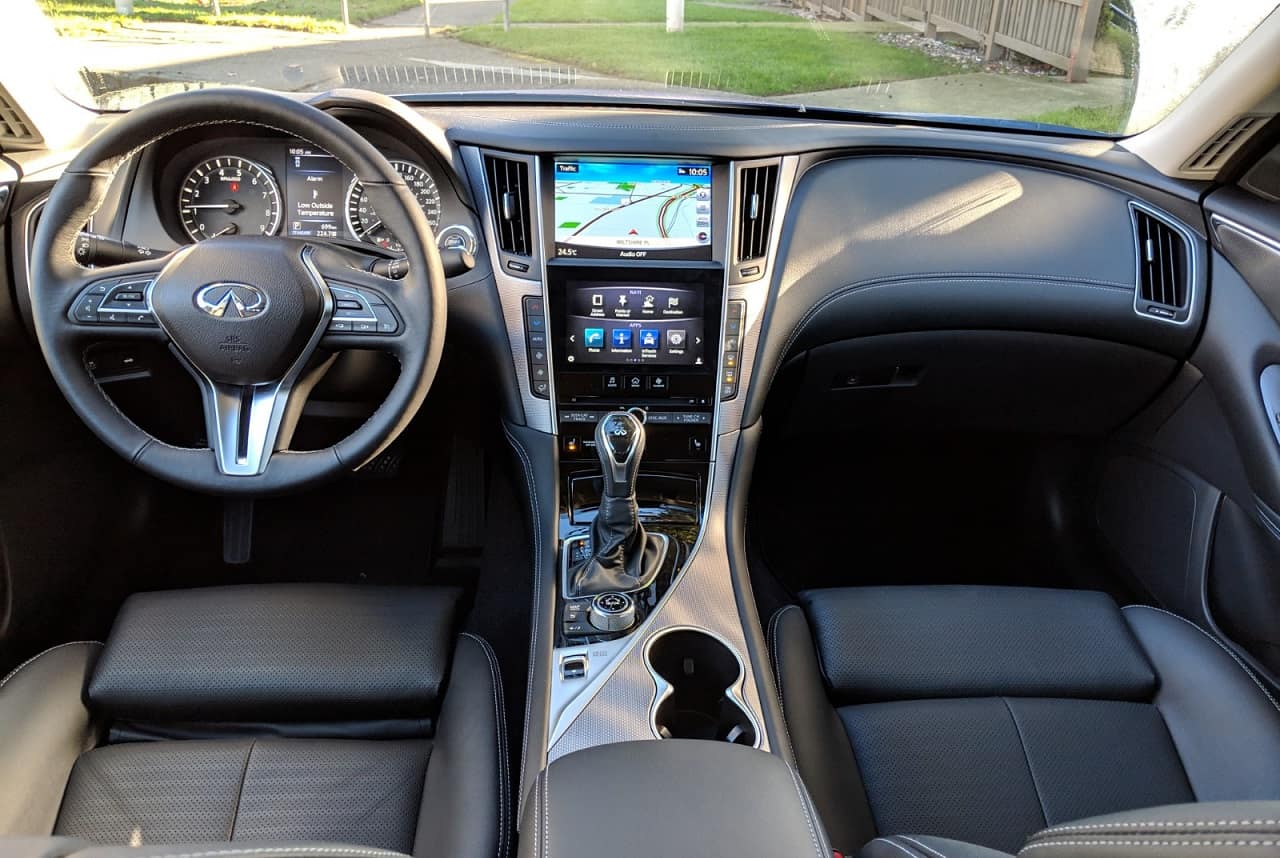 The interior is also quite nice and is luxurious, with a lot of soft touch materials everywhere in the cabin. I believe the Q50 was the first vehicle in Infiniti's lineup that utilized the dual screens, which I'm very used to and is very easy for me to use. To someone new to the car, it shouldn't take too long to get used to. However, the graphics and the sensitivity of the touchscreen does show its age. I'm guessing when the new Q50 is introduced, it should have much crisper graphics.
The interior is quite roomy, especially for the front passengers, and everything is within easy reach. The rear seats have a decent amount of leg/head room, although taller people might find it tight. The Q50 is a 5 seat sedan, however the middle seat at the back should only be reserved for emergency use.
The interior is very quiet, and it feels like a proper luxury car. I do, however, miss the beautiful sound of the 3.7 liter naturally aspirated VQ engine.
Safety/Technology/Convenience Features
There are quite a few tech features that come standard with the Q50, there are also many features that are found on higher trims, below is a list of everything available on the 2019 Q50, some features may not be available on all trims.
Advanced Vehicle Dynamic Control (VDC) with cancellation switch
Traction Control System (TCS) (integrated with VDC)
Tire-specific Tire Pressure Monitoring System (TPMS)
Hill Start Assist
Vehicle speed sensitive power steering
Remote Engine Start
Active Trace Control (Adjusts vehicle braking and engine torque to help enhance cornering feel)
8-way power driver seat
8-way Power Passenger Seat
Front seats manual thigh extension
Driver and Front Passenger Heated Seats
Heated steering wheel
Manual tilt and telescopic steering column
Power Tilt & Telescopic steering column with memory (optional)
Dual Zone Automatic Temperature Control System
Infiniti Intelligent key remote keyless entry system (door, trunk, panic alarm) with 2 FOBs
Push button start
Forward Emergency Braking (FEB)
The Infiniti Q50 doesn't come standard with blind spot warning, it's an option, which is quite surprising in a $50k car. The $20k Nissan Kicks has, yet an entry level luxury sports sedan makes you pay extra for it, it should be standard on all trims of the Q50, along with the aforementioned paddle shifters.
Final Thoughts
In a world full of European sports sedans, the Infiniti Q50 is a reliable option for those that are looking for luxury, sporty driving dynamics, and practicality. The styling on the Q50 is conservative like some of its European rivals, but it's also not offensive, it has a perfect blend of elegance and sportiness.