If you have any interest in cars and read car websites or watch car videos, then I'm fairly certain you've heard about the Kia Stinger, Korea's answer to the European Grand Tourers, at a much more reasonable price.
The Stinger has been around for over a year, and we finally got our hands on one, better late than never. Although most of the talk around the Stinger has been about the GT, with a V6, our review car for the week was the 2019 Kia Stinger GT-Line, which is powered by a 4-cylinder engine.
Prices
The base Kia Stinger GT-Line has a reasonable starting price of $39,995. Step up to the V6 powered GT, and the price jumps up to $44,995, and the top of the line GT Limited starts at $49,995. Unlike the European carmakers, that gouge you with optional equipment, the Kia Stinger is a pretty straight forward buy, with no additional options on the three trims, other than the paint. I really like this simple approach, you don't have to mess around with options etc.
Our review car had a price tag of $42,090, which included $200 for the red paint, $100 taxes/levies, and $1,795 for Delivery & Destination.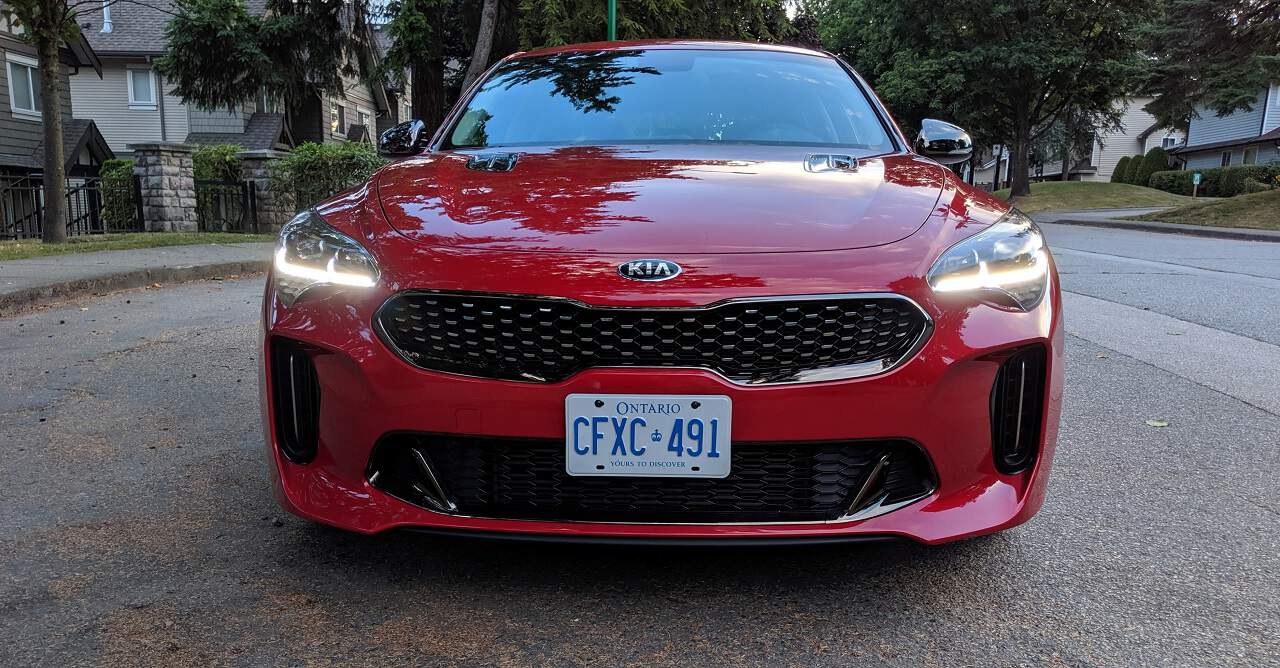 Engine
The two engines available on the Stinger are a turbocharged 2.0-liter 4-cylinder and a twin-turbo 3.3-liter V6. The 4-cylinder engine produces 255 horsepower at 6,200 rpm and 260 pound-feet of torque between 1,400 – 4,000 rpm. The V6 produces 365 horsepower at 6,000 rpm and 376 pound-feet of torque between 1,300 – 4,500 rpm. Both engines come with 8-speed automatic transmissions, sending power to all-four wheels.
According to Kia, the 4-cylinder engine should consume 11.1/8.1 L/100 km in city/highway driving, while the more powerful V6 consumes 13.6/9.6 L/100 km in city/highway driving. Our review car had the 4-cylinder engine, we averaged between 11.6 – 12 L/100 km in pure city driving, it was not my normal smooth driving, I drove this car quite aggressively (and of course, within the limits of the law). I'm sure I could've beat the claimed fuel consumption numbers with my normal smooth driving style, but sometimes you just gotta have fun.
Driving
Speaking of fun, when I first found out I was getting the 4-cylinder version of the Stinger, I was a little disappointed, I really wanted to drive the more powerful version. However, after driving it around for a couple of days, I really started to love the little 4-cylinder engine, it's very powerful and smooth. Of course, if I was buying the Stinger, I would probably spend the extra $5,000 and get the V6, but not everyone wants that much power and the V6 would be harder on the wallet at the gas station.
Thanks to the availability of the torque at low rpms, the Stinger GT-Line doesn't feel slow even taking off from a full stop. It is a big car, so I was expecting the 4-cylinder engine to struggle, but that wasn't the case at all. The Stinger GT-Line gets up to speed very quickly and highway passing is not even an issue, it goes from fast to very fast, very quickly. I was quite surprised by how well the engine and transmission worked together to give you the most power when you needed/wanted it. The transmission shifts gears smoothly and can be manually shifted with the steering wheel mounted paddle shifters or the gear lever.
The Stinger comes with 5 driving modes: Smart, Eco, Comfort, Sport, and Custom. I mostly drove in Sport or Eco, depending on driving conditions and my mood, and these modes are self-explanatory. Custom mode lets you change the way power is delivered, steering feel, and the AWD system. In this mode the engine can be set to Eco, Comfort, or Sport, the steering can be set to Comfort or Sport, and AWD system can be set to Eco, Comfort, or Sport.
The different modes slightly adjust steering sensitivity, shift points, and throttle mapping. I didn't really feel much of a difference between the different modes, even in Eco mode the car accelerated very quickly given enough throttle, in some cars the Eco mode is almost undriveable, but I didn't feel a lack of performance even in this most conservative mode.
The Stinger is a Grand Touring vehicle, so the suspension is set up a bit on the softer side, but I didn't mind it at all and I thought it performed well in corners. And when I say "soft", I don't mean like those old American cars that feel like boats, it's softer than a sports sedan. The Stinger is perfect for city driving but would be even more fun on a long journey, or a Grand Tour, it really made me want to go somewhere far.
Styling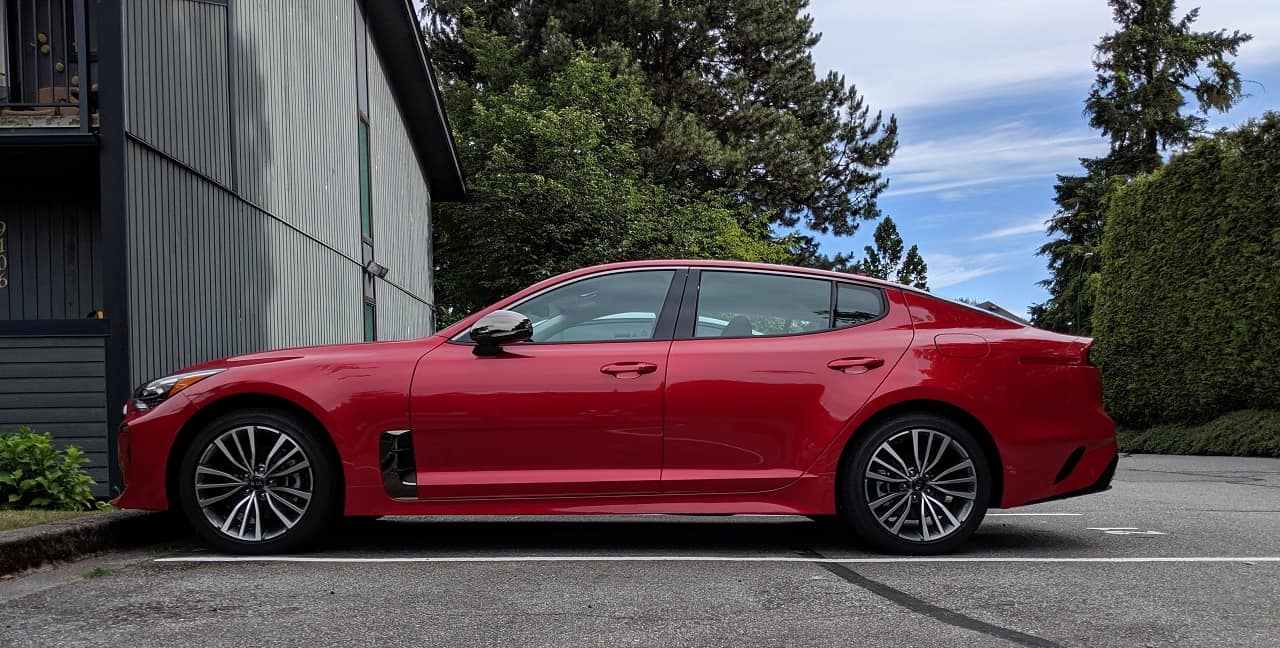 Everyone has different tastes and opinions on what a car should look like. Personally, I really liked the styling on the Stinger. It has sporty and elegant styling; it looks more like a European car than something coming out of Asia. The body shape reminds me a bit of Audi A7/A5 Sportback, which is a good thing. The designers, Peter Schreyer and Greg Guillaume, said the design of the Stinger is inspired by a Coke bottle.
The front is quite unique, while the rear end, especially the taillights, remind me of a Maserati GranTurismo. The side view of the Stinger is one of my favorite views, it looks very long and low, and very sleek. There are quite a few "vents" on the Stinger, the ones in the front and side are functional but the ones on the hood are fake, which I would've preferred to do without or make them real, I can't stand fake vents.
Interior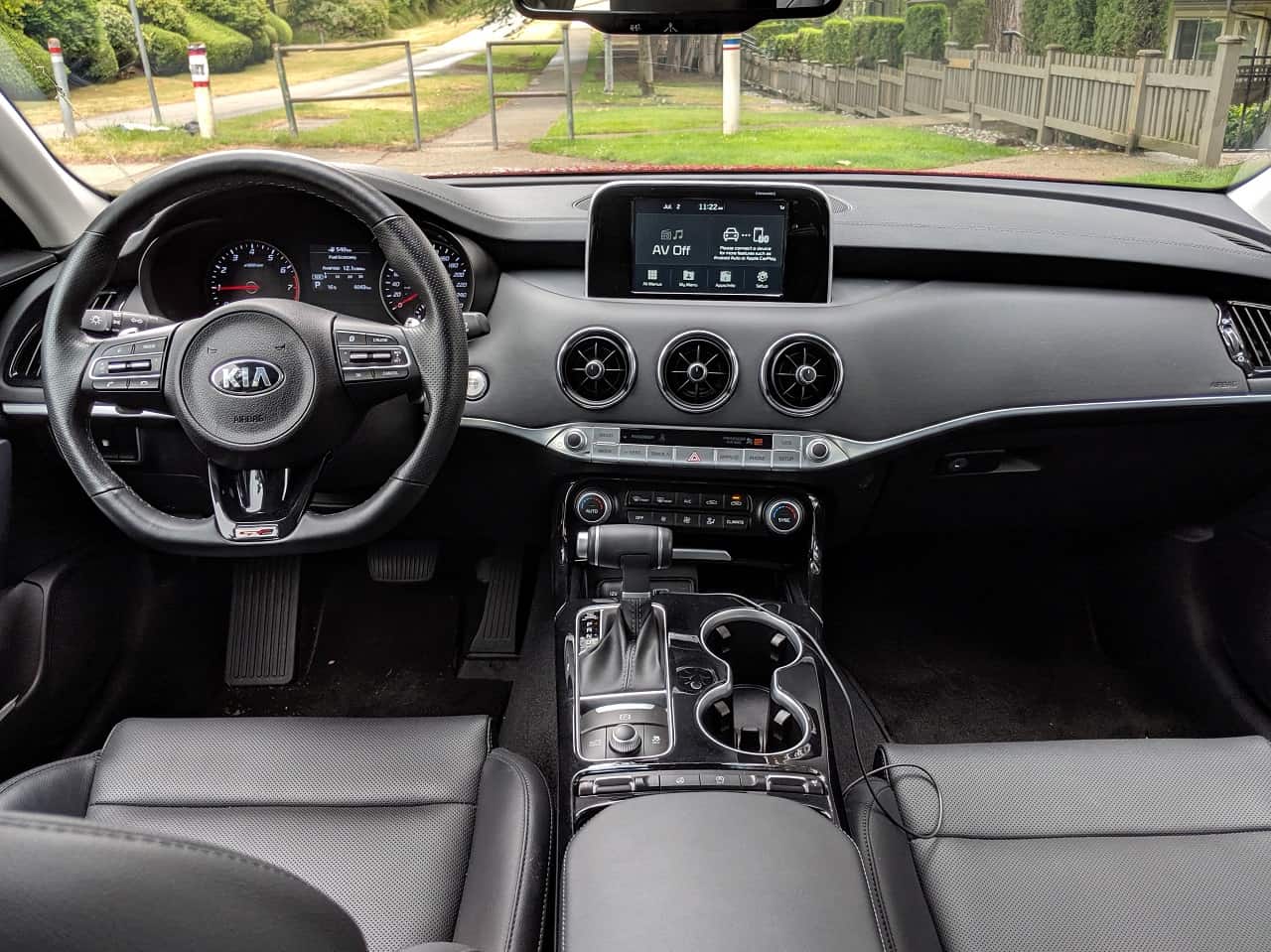 The interior on the Kia Stinger is another impressive part of the Stinger. The interior is very luxurious and looks like something out of a European car, Kia/Hyundai have done a great job at bringing their vehicles upscale.
The interior layout is very simple and easy to understand, it took me no time to get familiar with all the controls and features of the car. There are lots of soft-touch materials through out the cabin, giving it a very luxury feel. The interior is also very quiet and is a very comfortable place to be in on long journeys. The front seats are very comfortable and the rear seats have plenty of leg and head room even for taller occupants.
Tech/Convenience/Safety Features
Our review 2019 Kia Stinger GT-Line was the base trim; however, it still came quite nicely equipped. If you go for the higher trim, the Stinger can be equipped with all the latest tech, convenience, and safety features we've come to expect in our cars. Below is a list of features the Kia Stinger can have:
Automatic headlights
Dynamic directionally adaptive headlights
LED headlights, taillights, daytime running lights
Rain sensing wipers
Sound-reducing front side door glass
Full-width premium sunroof
Automatic power folding sideview mirrors
Auto-dimming sideview mirrors
Leather seats
8-way power adjustable driver's seat
8-way power adjustable passenger seat
Heated front & rear seats
Cooled front seats
Power tilt/telescopic steering wheel
Heated steering wheel
8″ infotainment system
9 or 15-speaker audio system
Apple Carplay & Android Auto
Wireless phone charging
Advanced smart cruise control (ASCC)
Smart key with push-button start
7″ Supervision LCD/TFT instrument cluster
Advanced heads-up display (HUD) system
Auto-dimming rearview mirror
LED interior lighting
Power liftgate
Electronic stability control (ESC)
Vehicle Stability Management (VSM)
Hill-assist control (HAC)
Tire Pressure Monitoring System (TPMS)
Blind-spot Detection System (BSD)
Lane Keep Assist System (LKA)
Driver attention alert system (DAA)
Autonomous emergency braking system (AEB)
Rear parking sensors
Rear Cross-traffic Alert (RCTA)
Rearview camera
360° camera monitoring system
Overall Impressions
The Stinger is a bod statement by Kia and has put the competition on alert. Kia has shown us that a manufacturer of mass-market cars can produce a car that's good looking, luxurious, and most importantly, desirable.
The Kia Stinger is great looking car (in my opinion), it's luxurious, and fun to drive. Every time I got behind the wheel of the Stinger, I felt like a German executive that's about to take a long drive on the autobahn. The Stinger is also very practical, it can comfortable carry four adults and a lot of their cargo, with the hatchback design, it can carry even more of your stuff with the rear seats folded down, who needs a crossover when you can have cars like the Stinger.