Have you ever been on the go and wanted hot and fresh coffee? But not from Starbucks for any other coffee shop? Miir, a company striving to create innovative products, has introduced the Pourigami and Coffee Canister duo. This duo is great whether you want a fresh cup of coffee at home or if you are out. The Miir Pourigami is the smallest, portable flat-pack dripper in the world. It is extremely durable and can fit into your pocket. It assembles easily and quickly, with three interlocking panels and notches to create a cone shape for your filter. The dripper is easy to assemble and creates minimum mess. The dripper comes in black, white or stainless steal and also comes with a carry pouch.
The accompanying coffee canister keeps coffee beans or ground coffee fresh. It has an accordian style seal, which locks out oxygen from the canister and prevents your coffee from going stale. It also has a twist pack to prevent any spillage. This canister also works great for just keeping your coffee at home. It can hold a regular 12oz bag of coffee beans or ground coffee, making sure the coffee is fresh and free of any oxygen once the bag has been opened. The canister comes in black, white, stainless steal or copper.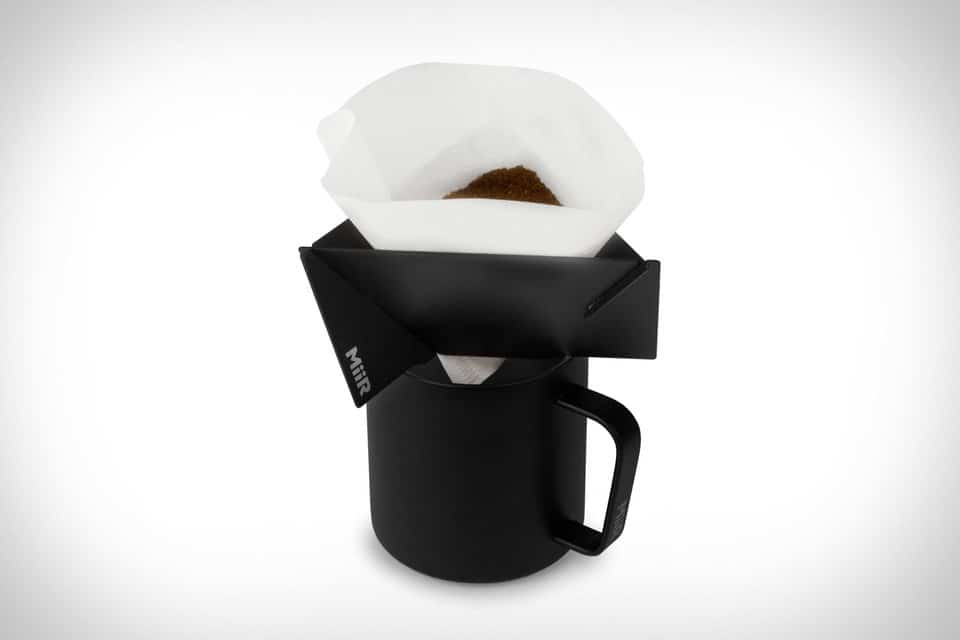 It's easier than ever to pack up all you need to make a fresh cup of coffee while you're out and without any access to a coffee shop. There's no need to pack up any bulky equipment when camping and no fear that you will break a coffee press.
Via: kickstarter