The Maserati GranTurismo is one of the most beautiful GT cars currently being produced; the regular version of the car is a bit on the "softer" side, so Maserati introduced a more hardcore version last year called the MC Stradale.  However, the MC Stradale only had 10 more horsepower than the GranTurismo S, so German car tuning firm Novitec stepped up to the plate to take care of the MC Stradale with quite a few added ponies.
The Novitec Maserati GranTurismo MC Stradale pumps out 646 horsepower and 460 pound-feet (624 Nm) of torque from the 4.7 liter V8 engine.  The power increase comes courtesy of an ECU tune, a supercharger, custom injectors, and larger manifolds.  0 to 62 mph (100 km/h) is reached in 3.9 seconds and 124 mph (200 km/h) is reached in 14.0 seconds.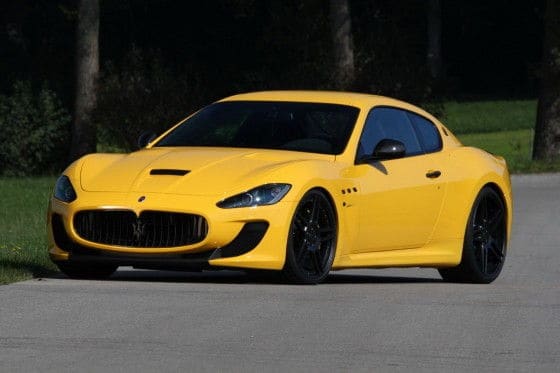 You won't find huge spoilers or a massive body kit on the Novitec GranTurismo. The only visual upgrades includes hood vents, a lower stance, big exhaust tips, and 21" front and 22" rear wheels wrapped in beefy Pirelli high-performance tires.
The Novitec tuning package for the GranTurismo MC Stradale is priced at €23,900 or about $31,900 US at today's exchange rate.
Novitec Maserati GranTurismo MC Stradale Photo Gallery