The Mercedes-Benz S-Class has been the king of the "executive sedan", it is the go-to vehicle for a successful executive and it has been around for a very long time. Other manufacturers have tried to compete with it, with cars like the Audi A8, BMW 7-Series, and Lexus LS. Now there's a new competitor to the S-Class, the Genesis G90. So let's dive with in with my hands on review of the 2020 Genesis G90!
Let's review the 2020 Genesis G90
Genesis is the newest luxury brand in the automotive world, however, its parent company, Hyundai Motor Company, has been around for over 50 years, and the G90 isn't an all-new car. It was previously sold as the Hyundai Equus, but since the introduction of the Genesis stand-alone brand, it has been called the G90, with a facelift for the 2019 model year.
A couple of weeks ago we finally had a chance to review the 2020 Genesis G90; below are my thoughts on the Korean executive sedan after spending a week with it.
Prices
German automakers are usually the top sellers in this segment, however, unlike them, Genesis decided to go a different route when it came to pricing the G90. The Germans usually start with a somewhat reasonable starting price, but they have tons of different packages you can add to the vehicle, with all the good stuff added, you're looking at 70 – 100% increase in price over the base price.
With the Genesis G90, there's only one trim offered with a single price. You can add a rear entertainment package for an additional $2,500. The base price, or fully loaded price for a 2020 Genesis G90 is $89,750, and unlike other manufacturers, this is out the door price (no added fees, PDI etc.), plus tax. A similarly equipped Mercedes-Benz S-Class or a BMW 7-Series will set you back at least $50,000 more.
Engine
On paper, the 2020 Genesis G90 is offered with one engine choice, which is a V8 engine. However, there is a 3.3T V6 offered, the same 6-cylinder engine found on the G70 and G80, but it's a special order only and is not shown on their website.
The 3.3-liter twin-turbo V6 produces 365 horsepower at 6,000 rpm and 376 pound-feet of torque between 1,300 – 4,500 rpm. The naturally aspirated 5.0-liter V8 engine produces 420 horsepower at 6,000 rpm and 383 pound-feet of torque at 5,000 rpm. Both engines are mated to 8-speed automatic transmissions and send power to all four wheels.
According to Genesis, V6 engine equipped G90's should consume 13.6/9.5/11.8 L/100 km in city/highway/combined driving, while the V8 equipped G90's should consume 15.4/10.2/13.1 L/100 km. For our weeklong review, the onboard computer showed 16.5 L/100 km in all city driving; I'd say this number is pretty close to the claimed number, since it was cold and heated seats/steering and the defrost were used liberally.
Driving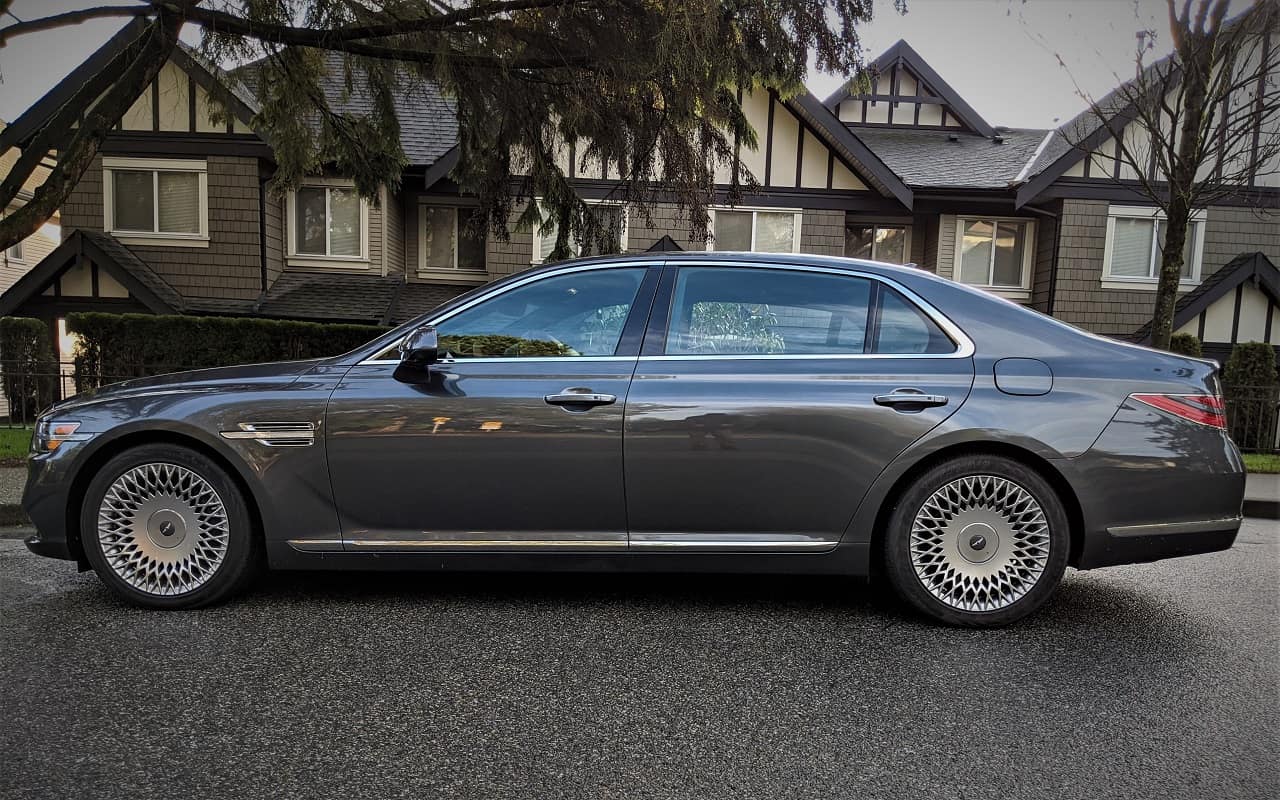 While the aim of an executive sedan is to have comfortable driving dynamics, it's also meant to be sporty; the Europeans do a good job at that as their executive sedans tend to be on the sporty side. The 2020 Genesis G90's driving dynamics are more on the comfortable side than sporty, the G90 drives more like an American luxury sedan than a German sports or executive sedan, the way the G90 drives reminds me a lot of the Lincoln Continental.
Don't get me wrong, it's not like one of those old American cars that drove more like boats than cars; the ride quality is good and there is some stiffness to the suspension, but it's tuned to be comfortable. The G90 would be a great car to be driven around in, in the back seat.
The 5.0-liter V8 engine is silky smooth and has plenty of power for normal city driving and it works great on the highway, passing slower cars is done with ease and the transmission responds quickly and effortlessly to the driving conditions. The transmission changes gears smoothly in congested city driving, most of time you won't even realize a gear shift has taken place. Every aspect of this car is tailored for smoothness and refinement.
Styling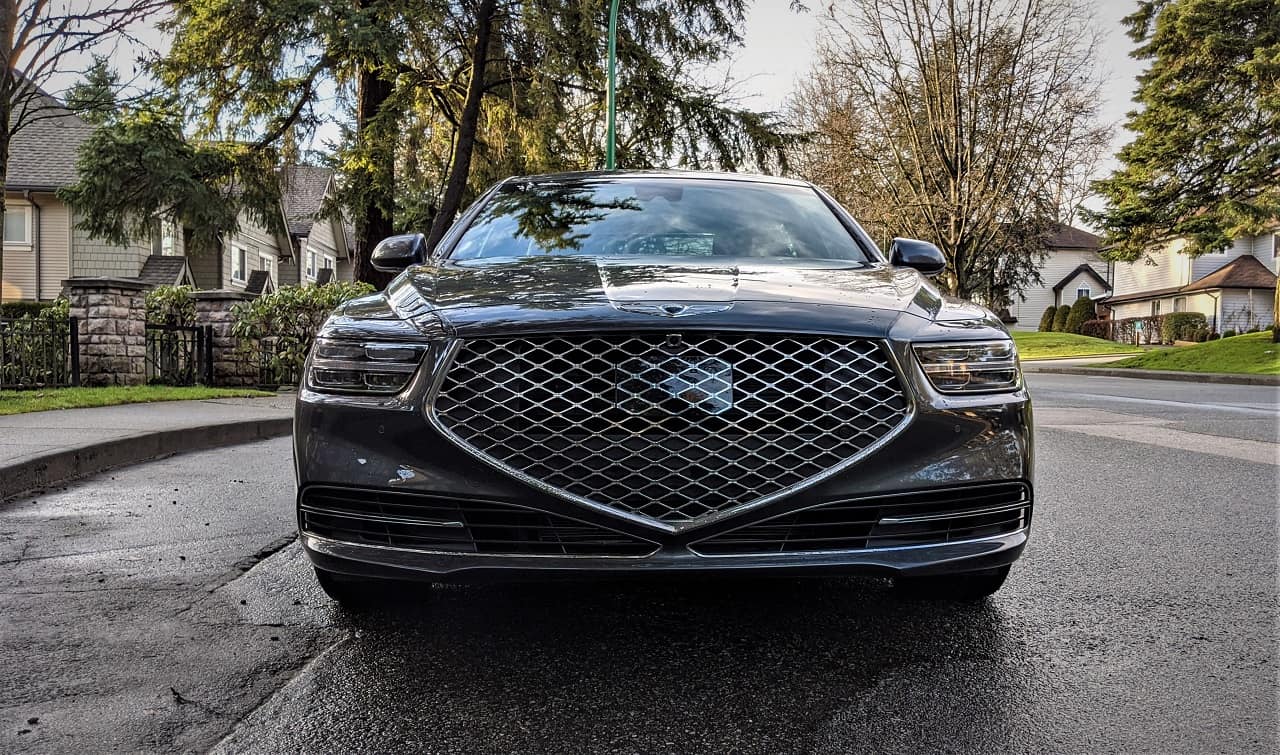 Styling on the 2020 Genesis G90 is on the conservative side, with the exception of the front-end styling. The front-end is quite aggressive and I've seen much internet debate on its size; personally, when I saw pictures of it, I thought the front grill was too big. But when you see the car in person, the front "Superman" grill doesn't look as big, thanks to the overall size of the car. I had quite a few people walk up to me saying how much they liked the front-end of the car, and I personally liked it a lot more than I thought I would.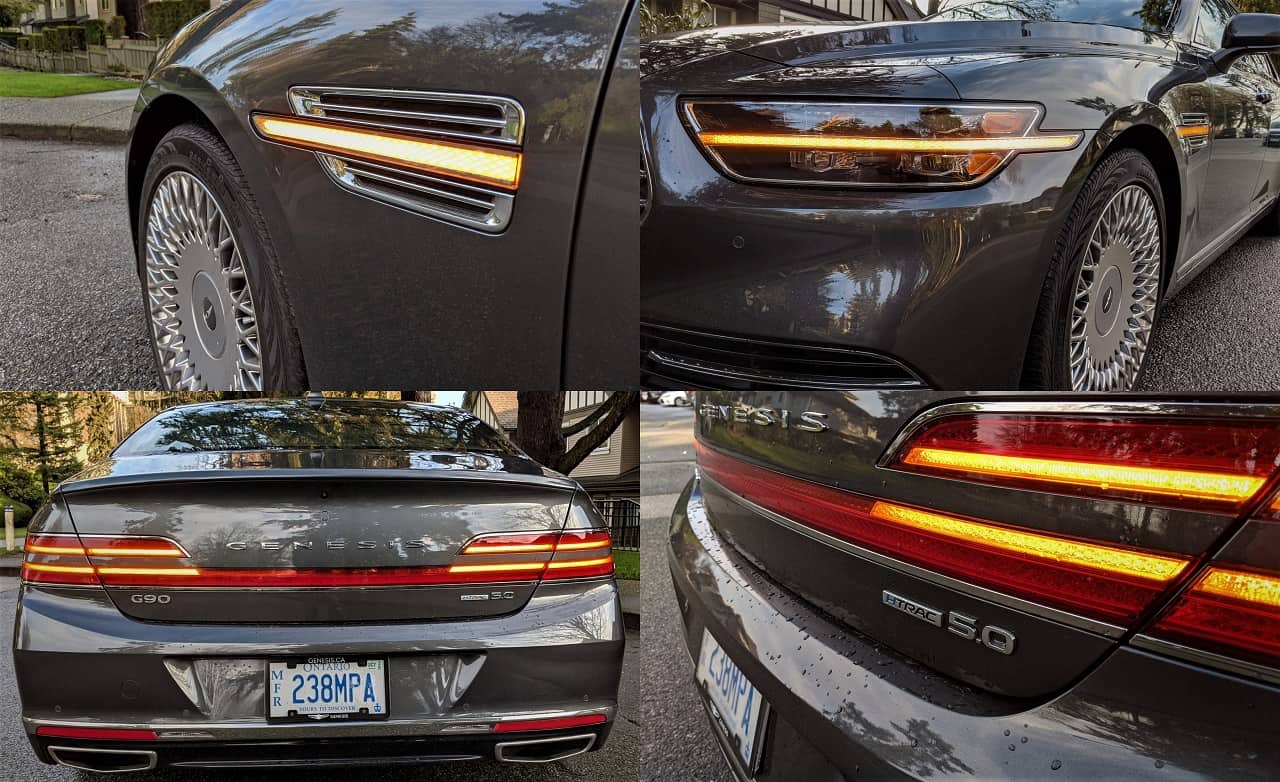 The rest of the car's design is pretty conservative, especially the side profile. I did love the bold wheel design, which reminded me of something you'd find on an 80's Mercedes-Benz S-Class (known as SEL/SEC etc. back then). These wheels are polarizing, however, a majority of the people I talked to seemed to love them. The rear end lights, with the thin reflector light running from one taillight to the other, reminded me of something from Lincoln. The rear lights are also shaped in a way (you'll have look at the car from a ¾ rear view) that looks like the Genesis "wings" logo.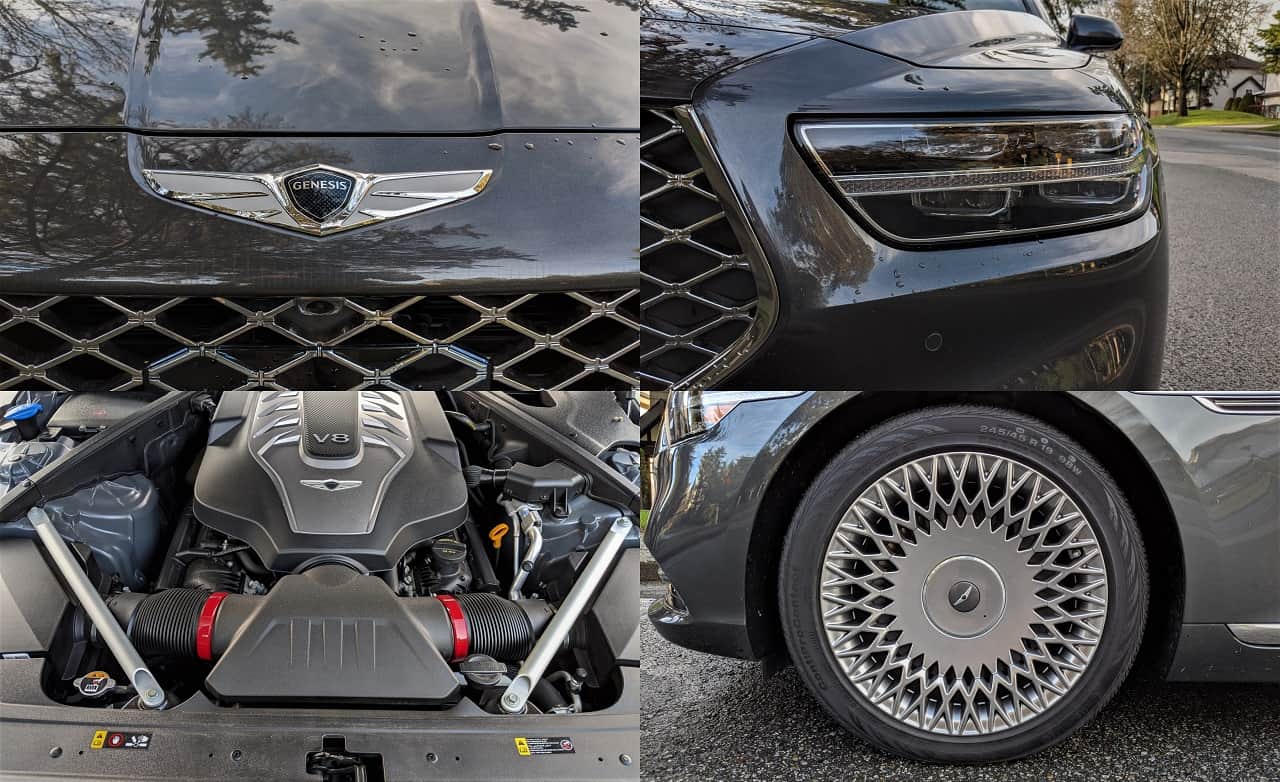 Interior
The Genesis G90 is a proper luxury car; this is a car to be driven around in. I think Genesis has done a great job at making a car that has this level of attention to detail and the use of high-quality materials. The word "opulence" comes to mind when I look at the interior of the 2020 Genesis G90.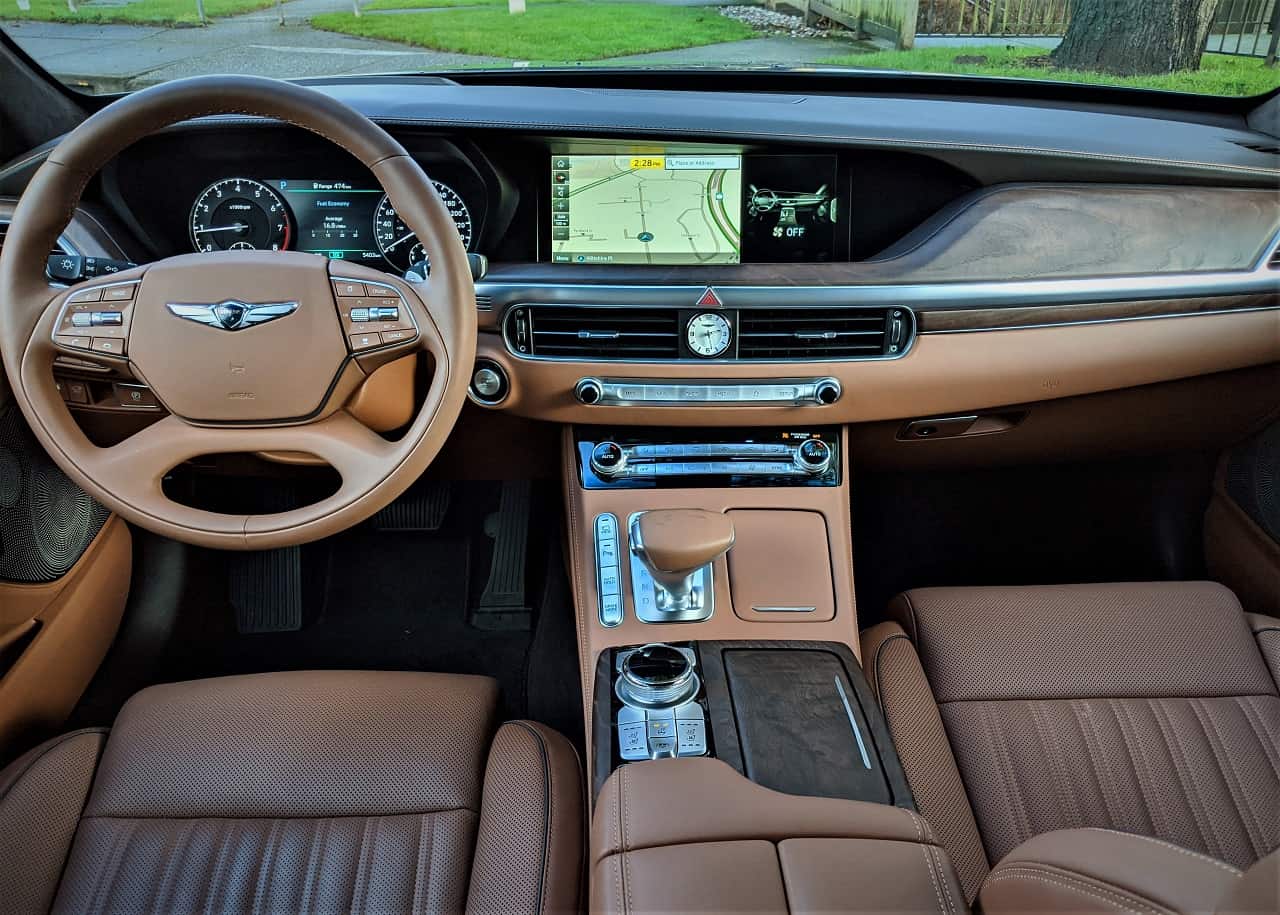 As you enter the G90, you're greeted with miles of leather, which is applied to the seats, steering wheel, door panels, and parts of the dashboard. The Genesis G90 has three options for the interior: Havana Brown with Olive Ash wood, Obsidian Black with Olive Ash wood, and Vanilla Beige with Grey Ash wood. Our review car was equipped with the Havana Brown Nappa leather and it looked absolutely fantastic. The leather used is very soft and looks and feels high quality.
A lot of the buttons look very familiar, that's because they're from other Hyundai products, they're not as high-quality as the rest of the interior. But I can understand Genesis borrowing some of this equipment from its parent company to keep costs down.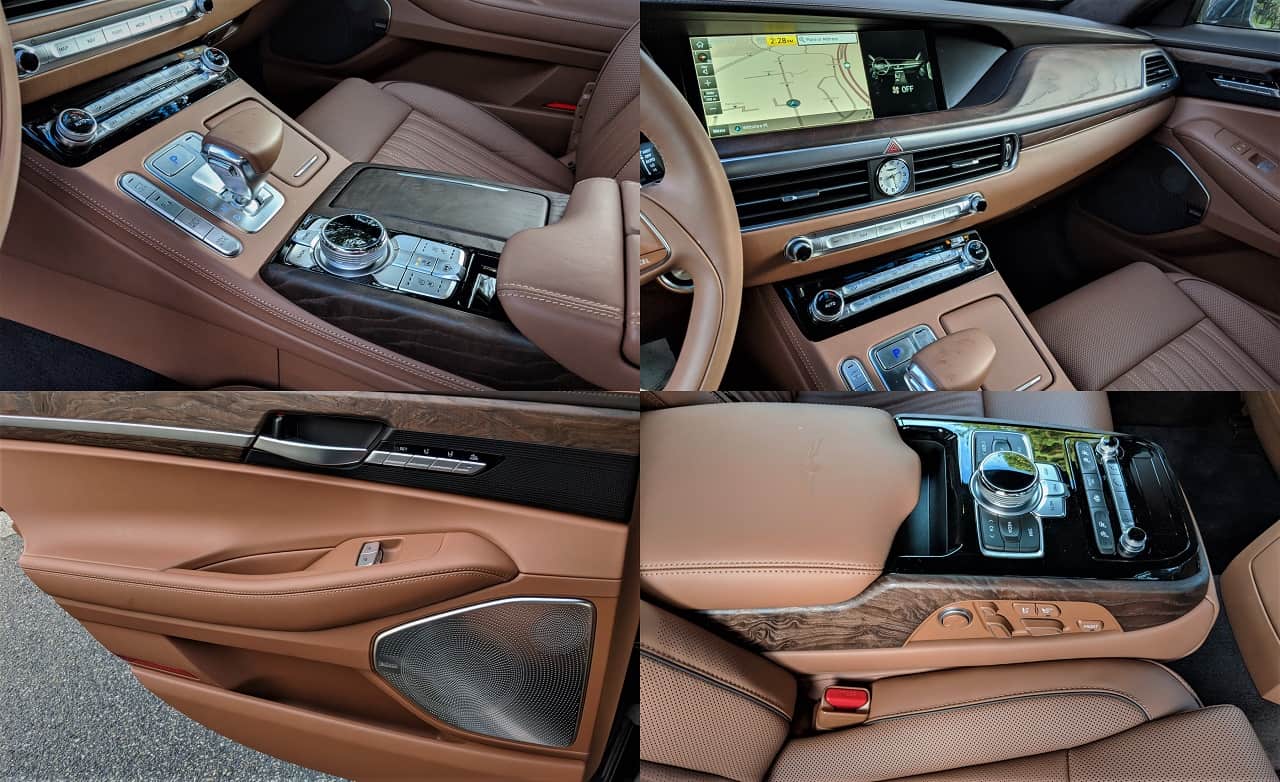 At the center of the dashboard is a large 12.3" touchscreen with 720p display, which is quick to respond to the touch. It also displays crystal clear views from the rear, side, and front cameras. The screen can be split into two section with a large left section and a smaller right section, when it's full screen, it looks really cool. The screen displays features like the navigation output, video from the cameras, entertainment, phone connection etc. Below the screen is an analogue clock, it gives the car a classy look, however, I personally would've chosen a different font for the numbers (I'm a bit of a watch snob, so I'd like to think this area is my specialty). Below all of this is a separate section for the climate control system, I like the ease of this layout, instead of having to go through multiple menus to get the right temperature, airflow direction etc.
Below this section is a short gear selector, a storage compartment for your phone, parking assist/camera button. Below that is a large knob for controlling the touchscreen and buttons for the heated steering wheel, heated/cooled seats, and the rear shade.
The front seats are extremely comfortable and come with three memory settings for the driver's seat, memory settings are found in many cars, however, not too many cars have buttons that are called "Smart". Pushing this button brings up a screen on the infotainment system where you enter your weight, inseam, and height and the car will automatically adjust the seats to the proper seating position based on your weight and height range.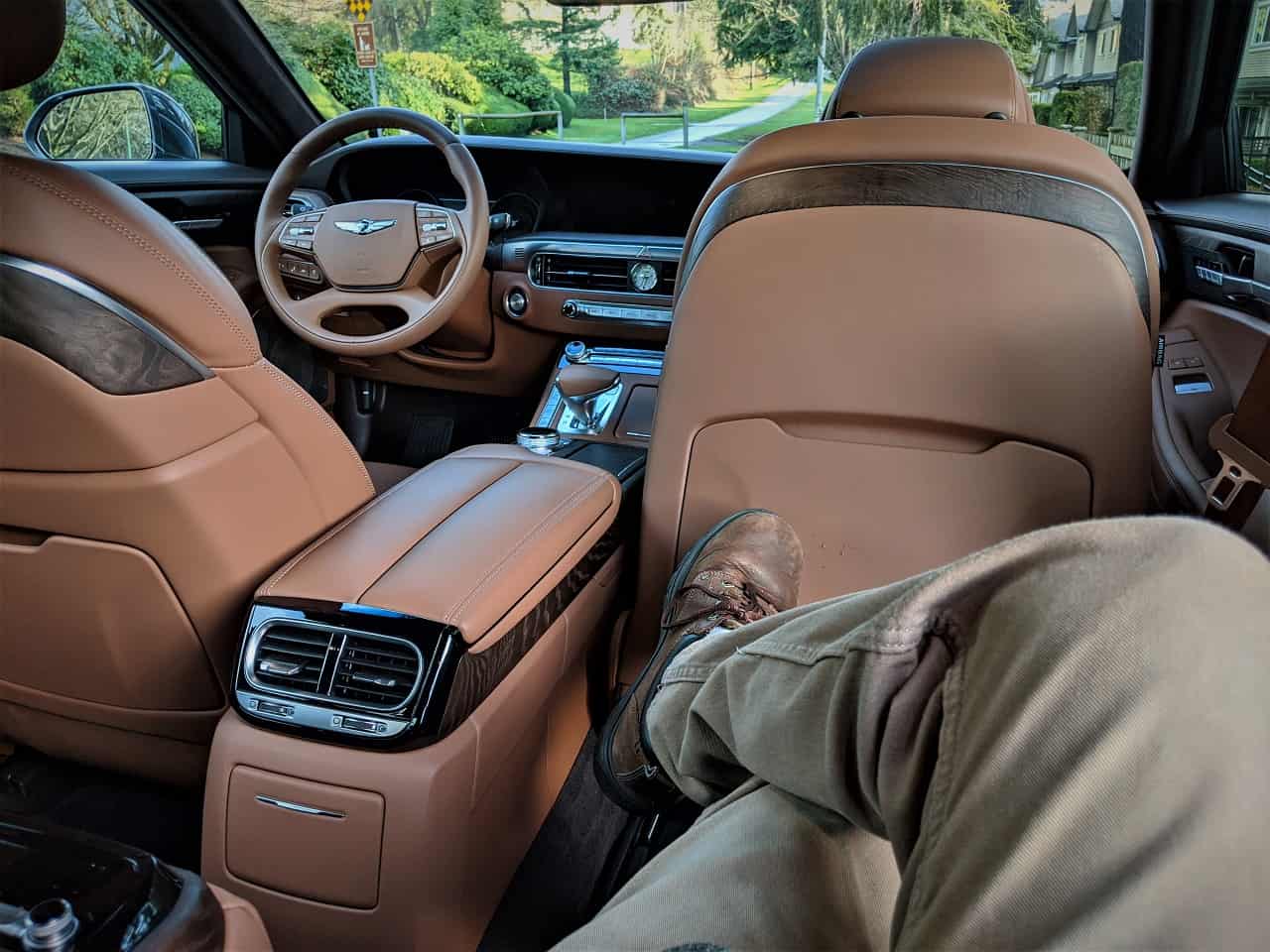 As luxurious as the front seats are, the rear seats are where you really want to be, especially the rear passenger side. Like the front, the rear is an opulent place to be, it's covered with soft touch materials and the luxurious Havana Brown Nappa leather.
As you'd expect in a big car like this, the rear seats have lots of leg, shoulder, and head room. Technically the rear seat is a three-passenger seat, but the middle seat is extremely small and would be uncomfortable to sit in for an extended period of time. The party trick of the G90 is revealed when the middle seat is eliminated, by brining down the armrest.
With the rear armrest folded down, the rear passengers are presented with a large control panel that lets the rear passengers control the climate control system, heated and cooled rear seats, rear window shade, and the infotainment system. The rear seats can also be adjusted and reclined, and the passenger can control the front passenger seat. The front passenger seat can be folded and moved as far forward as possible, by the rear right passenger, providing lots of room for stretching your legs. I would've liked an ottoman or something to rest my feet on when the front passenger seat is folded.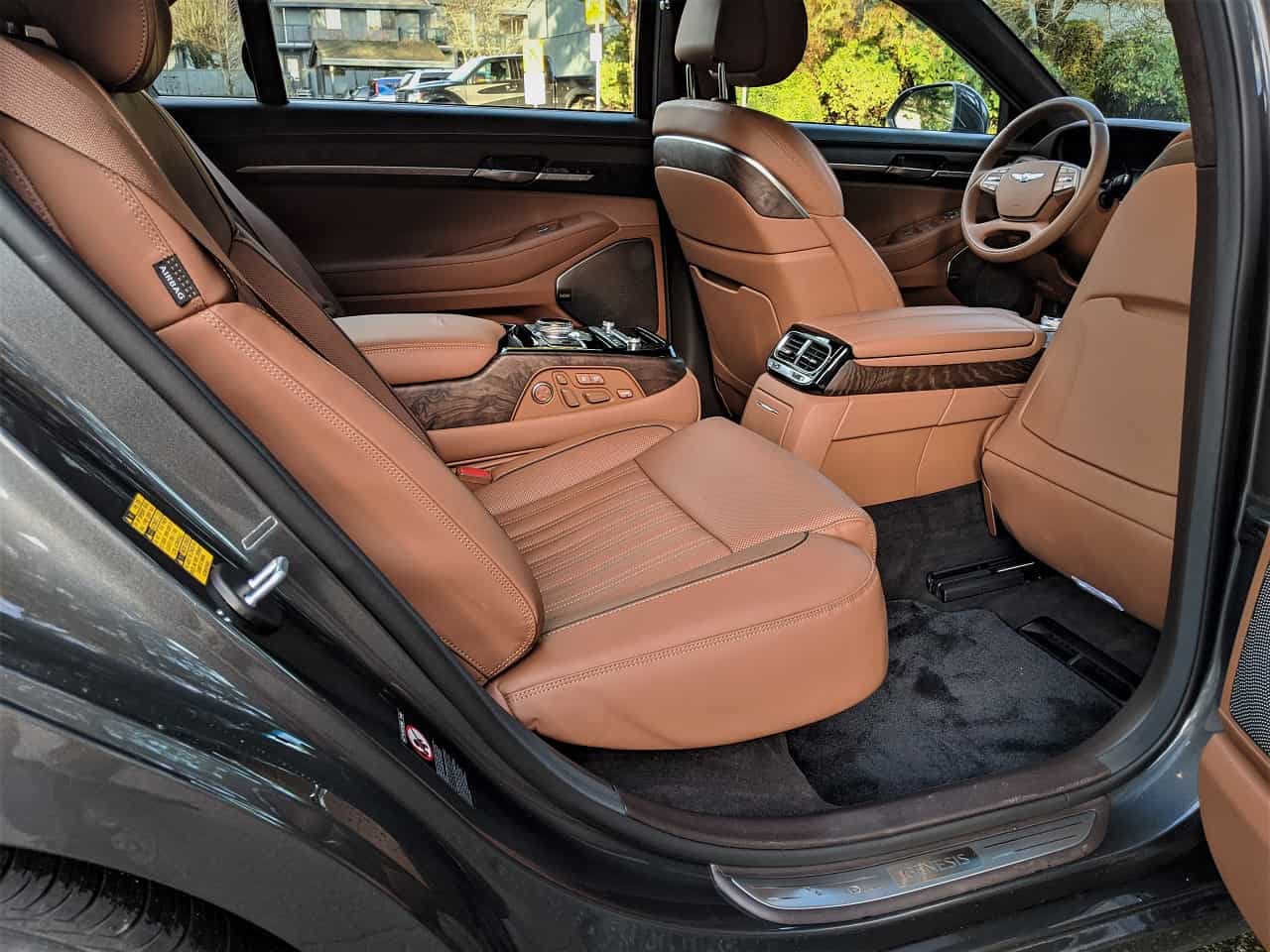 I would have also like to have a massage feature on all seats, most luxury cars in this segment offer massage seats. The Lincoln Continental I reviewed a couple of years ago had massage in the back seat, which was great for long drives.
There was a feature that I've never seen on another car, I'm sure there is another car (or a few) that offer this feature, but I've personally never come across it. On normal cars, other than the driver's side, you get one button for the window on each door, but not on the Genesis G90, the two rear doors feature two window buttons, one for the window on that door and one for the other rear window. I thought that was pretty cool, you can open/close either of the two windows from either of the rear seats. These windows also came with privacy screens, which are controlled by the window up/down buttons.
Technology/Convenience/Safety Features
The G90 is the Korean luxury automaker's flagship sedan, so it's loaded with all the bells and whistles you can think of, and the best part is, you don't have to spend thousands on adding different packages to get the desired features you want, it's all in one package.
Below is a comprehensive list of tech, safety, and convenience features the 2020 Genesis G90 sedan comes with:
Tire Pressure Monitoring System (TPMS)
Quad-Lamp LED headlights
Automatic headlights
LED Daytime Running Lights (DRL)
LED taillights
LED reverse light guides
LED side repeaters mounted in fender vents
LED license plate illumination
High Beam Assist (HBA); automatically deactivates high beams when traffic is detected ahead
Speed-sensitive and rain-sensing front windshield wipers
Quilted Nappa leather seating surfaces
22-way power-adjustable driver's seat
16-way power-adjustable front passenger's seat
Heated front & rear seats
Ventilated front & rear seats
14-way power-adjustable right rear outboard seat
12-way power-adjustable left rear outboard seat
Heated steering wheel
17-speaker Lexicon surround sound audio system (900 watts, 12 channels)
Quantum Logic Surround (QLS) and Clari-fi Music Restoration Technology
12.3″ touch-screen navigation system with 720p high-definition display and HD Radio Traffic
Driver Information System (DIS) with multimedia controller
Wireless device charging (front – Qi standard)
Apple CarPlay, Android Auto, USB, and auxiliary connectivity
Rear seat USB charging port (mounted in rear center console)
Bluetooth hands-free phone system
Speed-sensitive volume control
Genesis Connected Services
Rear seat entertainment system with dual 10.3″ seatback-mounted high-definition displays (option)
Power windows with auto up/down and pinch protection (all windows)
Soft-close doors
Power-operated rear side window sun shades
Power-operated rear window sun shade
Sunroof (power tilt and slide with one-touch operation)
Proximity keyless entry with push-button ignition
Power trunk lid with hands-free proximity opening
Electrochromic auto-dimming rear-view mirror with integrated HomeLink transceiver and compass
Drive Mode Select (DMS) (controls response of steering, engine, transmission, and Genesis Adaptive Control Suspension (GACS))
Driver's Integrated Memory System (IMS) for seat, outside mirrors, steering wheel, and Head-Up Display (HUD) positions (3 memory settings)
Front passenger's Integrated Memory System (IMS) for seat position (2 memory settings)
Front and rear parking assistance sensors
Electronic Parking Brake (EPB) with Auto Vehicle Hold (AVH)
Multi-View Camera System (MVCS)
Blind-Spot View Monitor (BVM)
Adaptive Cruise Control (ACC) with stop-and-go capability
Lane Follow Assist (LFA)
Integrated Memory System (IMS) for outboard rear seats (2 memory settings each)
Illuminated rear seat vanity mirrors
Head-Up Display
LED interior lights
Vehicle Stability Management (VSM)
Electronic Stability Control (ESC) with Traction Control System (TCS)
Anti-lock Braking System (ABS) with Electronic Brake-force Distribution (EBD) and Brake Assist (BA)
Forward Collision Avoidance-Assist (FCA-A) with Pedestrian and Cyclist Detection, Lane Change Oncoming Evasive Steering
Parking Collision Avoidance-Assist – Reverse (PCA-R)
Blind-Spot Collision Avoidance-Assist (BCA-A)
Rear Cross-Traffic Collision Avoidance-Assist (RCCA)
Lane Keep Assist (LKA) with Lane Departure Warning (LDW)
Final Thoughts
I think the 2020 Genesis G90 is a great executive sedan, it's loaded with the latest technology, convenience, and safety features. The G90 is also very luxurious and most of the materials used are top quality.
Will it steal sales away from the leader in this class, the Mercedes-Benz S-Class? Personally, I don't think it will, but it might sales away from some of the European competition in the midsized class, because you're getting a full-size car for the price of a mid-size European luxury sedan. I also believe customers that are buying these large executive sedans are looking to impress with the name-brand, and I believe Genesis has years to go before it is considered a status symbol.
But I do believe the Genesis G90 is a very good try and I hope to see the company succeed, we need more competition in the luxury market.