Tesla is the clear leader in the electric vehicle (EV) segment, with sales coming in at almost 1,000,000 units in 2021, they're most likely going to sell over 1 million EVs in 2022. Selling a million EVs was something unimaginable just a few years ago, but here we are.
The next runner up will have to be Hyundai/Kia in the EV market, in North America. I believe Kia/Hyundai has the most enticing EVs currently for sale. The European and Asian (especially China) markets have a lot of EV makers and there are lots of choices. Kia and Hyundai are probably far off the lead, in terms of sales, compared tot he Chinese EV manufacturers, but we're focusing on the North American market. Hyundai and Kia offers 6 different EVs, which include the Niro, Soul, EV6, Kona, Ioniq 5, and the Ioniq sedan (which will be going out of production soon).
I recently reviewed the 2022 Hyundai Ioniq 5 EV, a vehicle I thought was an excellent electric vehicle. Last week I had the chance to review the Kia EV6 GT-Line, which is based on the same Electric Global Modular Platform (E-GMP). There will be more EVs based on this platform from Kia, Hyundai, and even Genesis. We'll be sure to review those vehicles as they become available.
What is the Kia EV6 Canadian Price?
In Canada, the Kia EV6 comes in 2 main trims, called the Standard Range (SR) and Long Range (LR). However, you if you were to take all the packages/trims, then there are a total of 5 different trims/packages you can choose from. The base starting price is $44,995 and the top-of-the-line EV is priced at $61,995; not including $2,000 for Freight & PDI and other fees and taxes. Below is a list of prices for all five trims/packages.
EV6 RWD Standard Range (SR) $44,995
EV6 RWD Long Range (LR) $52,995
EV6 AWD Long Range (LR) $54,995
EV6 AWD LR GT-Line Pkg 1 $57,995
EV6 AWD LR GT-Line Pkg 2 $61,995
In the United States, the Kia EV6 comes in 3 main trims: Light, Wind, and GT-Line. Usually, most manufacturers keep their trims quite similar between the US and Canadian markets, but Kia (and Hyundai) has changed things up for the Canadian market because of the EV incentive/rebates that are available to Canadians, which I'll explain below.
When I reviewed the Hyundai Ioniq 5, the incentives were based on a starting price of $45,000 or less and the top trim having a price of $55,000 or less. However, as of April 25, 2022 these starting prices have been increased to allow for more EVs to be eligible for the incentives, which is $5,000 from the Federal government and $3,000 in British Columbia and $7,000 in Quebec.
The new Canadian electric vehicle incentive program (iZEV) has increased the eligibility of the base price to $55,000 and $65,000 for the maximum price of the trim. This is basically an increase of $10,000 over the previous limits for passenger vehicles. There's also a new tier for station wagons, light pickup trucks, and SUVs. Vehicles that fall into this category are eligible for the incentive as long as their staring price is $60,000 or less and the highest trim is $70,000 or less.
The way Kia/Hyundai had priced the EV6/Ioniq 5 made them eligible for the old incentives even when the price was over the $55,000 max (reaching $62,000) was because the incentives were based on trims and not packages. The trims were priced below $55,000 with the additional packages not interfering with the incentive. However, with the new increased base/max prices, these vehicles would qualify even if the trims had a higher starting price. Let's hope Kia/Hyundai and other manufacturers don't increase prices because higher priced vehicles are now eligible for the iZEV program.
What Are The Battery Sizes For the Kia EV6 in Canada & the USA?
In Canada and the United States, the Kia EV6 is offered with two battery sizes. The base EV6 Standard Range (SR) comes with a 58-kWh lithium-ion polymer battery pack and is paired with a 125-kW motor, which translates to 167 horsepower and produces 258 pound-feet of torque. This combination is rated at 373 kilometers (232 miles), which is 19 kilometers more than the Ioniq 5 with the same setup.
The RWD Long Range comes with a 77.4-kWh battery pack and gets the more powerful 168 kW motor, which translates 225 horsepower and has 258 pound-feet of torque. This combination is rated at 499 kilometers (310 miles), an increase of 11 kilometers over the Ioniq 5.
The other three trims come with AWD and are powered by the same battery pack and dual-motor configurations. The battery pack is the same as the above trim but there's an additional motor at the front axle. The rear motor is 165 kW and the front motor is 74 kW, for a combined output of 320 horsepower and 446 pound-feet of torque. This combination is rated at 441 kilometers (274 miles) vs the Ioniq 5's 414 kilometers (257 miles), which is quite a substantial increase.
There will also be a more powerful version of the EV6, called the EV6 GT (not to be confused with the GT-Line). The EV6 GT will feature the same 77.4 kW battery pack but will have a 160-kW motor at the front and a 270-kW motor at the rear, which is 576 horsepower. The EV6 GT will be available in late 2022.
Summary of Kia EV6 Range
EV6 RWD SR – 373 kilometers
EV6 RWD LR – 499 kilometers
EV6 AWD LR – 441 kilometers
With driving ranges like these, there shouldn't be any range anxiety for normal daily driving, especially if you have a place to charge it at home, even a standard 120-volt outlet should be more than enough for most peoples' daily commutes. Having a 220-volt outlet gives you more freedom and daily range. Of course, these are ranges for ideal conditions and Canadian harsh winters will decrease range anywhere from 20 – 30% depending on how cold it is.
Our EV6 review took place in a dry spring week with temperatures in the 18 to 20 C range, which is quite unusual for Vancouver and perfect weather for getting the maximum range out of an EV. When fully charged and in the Eco mode, our review EV6 showed a total range of over 480 kilometers. As with any car, including gasoline powered cars, this range (fuel consumption) will vary with the way you drive. Drive it nice and smooth and you should be able to achieve the claimed range, use the sport mode and drive like a maniac, this range will come down quite quickly.
Charging the Kia EV6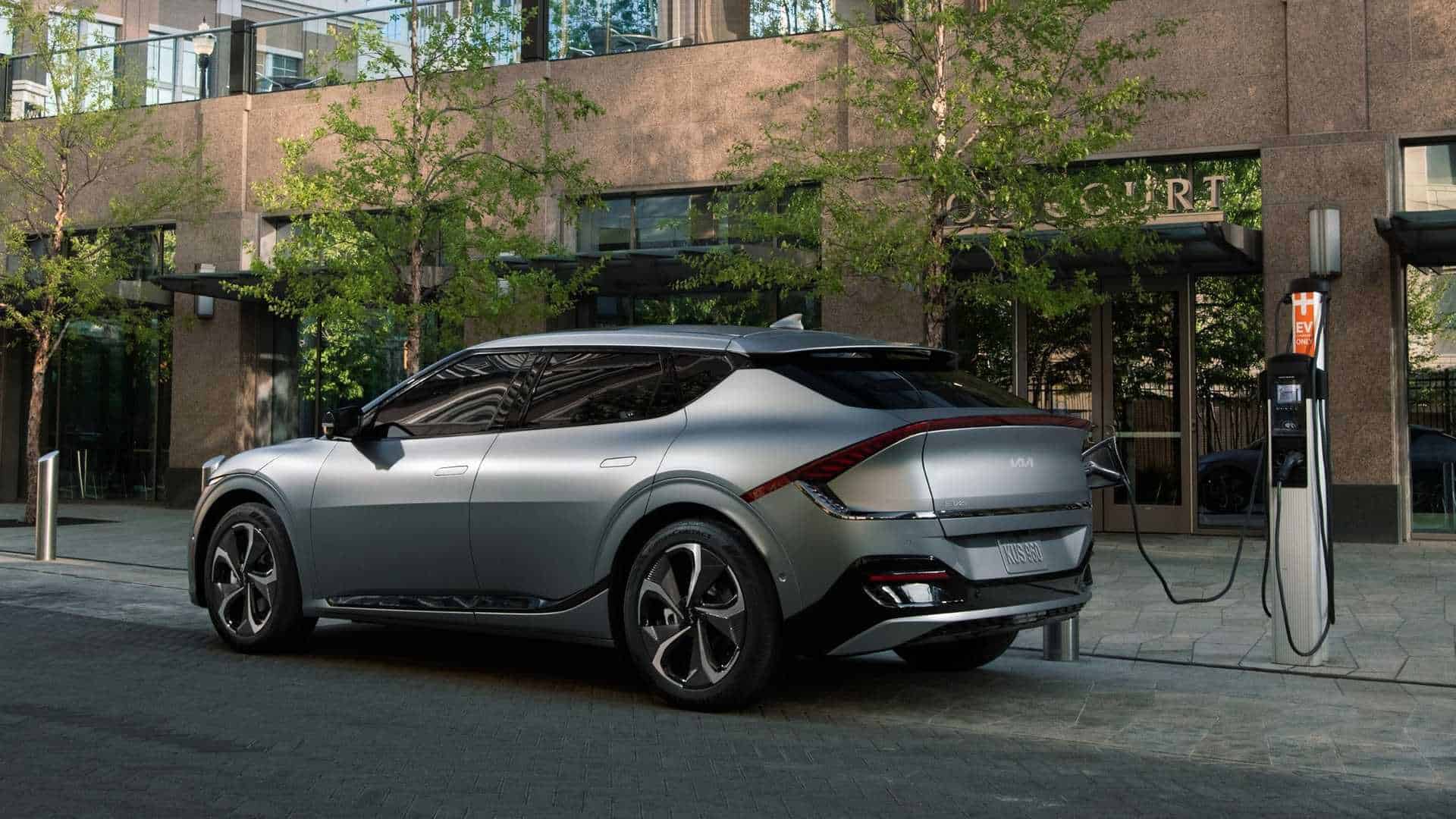 According to Kia, to fully charge the EV6 from 0 – 100% on a regular 120-volt household outlet, it would take approximately 68 hours. This may seem like a really long time (it is), but no one really depletes their battery to 0 before charging. A normal household outlet is fine for people that drive less than 100 km/day, which would be the majority of Canadian drivers. I was gaining just above 5 kilometers of range for every hour the EV6 was plugged into a 120-volt outlet, which was more than enough for my daily driving needs.
If you do need more range than 120-volt outlet can provide, especially in the winter where range is reduced, then installing a 240-volt home charger is a must. According to Kia, the EV6 can be fully charged on a 240-volt (48A) in 7 hours and 10 minutes.
On road trips, the EV6 is one of the fastest charging EVs currently available. It uses an 800-volt architecture, only the Porsche Taycan and its Audi sibling uses 800V system, a pair of vehicles that are price 2 to 3 times more than the EV6. Using a 350 kW DC fast charger, the EV6 can go from 10 – 80% state of charge in only 18 minutes. However, finding a 350 kW DC fast charger is a challenge in Canada (hopefully that's remedied as more EVs are produced) and it also depends on ambient temperatures, how well the charger is working, and the condition of batteries.
Using the more common 50 kW DC fast charger takes about 73 minutes to go from 10 – 80% state of charge.
Driving the 2022 Kia EV6
Our review car was the 2022 EV6 AWD LR with GT-Line Pkg 2, so it was the most powerful option currently available. And it was fast, which is a common theme with electric vehicles because of the instant torque. I can't even imagine what the EV6 GT will feel like.
Like most modern cars, the EV6 comes with different driving modes ranging from Eco, Comfort, to Sport and snow. For normal daily driving, the Eco mode is more than enough. In this mode there's plenty of power for normal city driving and highway driving is also fine with plenty of passing power. This mode also gives you the most range; I mostly drove in this mode to maximize my range. The Comfort mode gives you a bit more power, it's a nice blend between the Eco and Sport mode. In this mode range slightly decreases but you do get quicker acceleration. The Sport mode turns things up a few notches, the EV6 accelerates quite quickly. The EV6 is based on the same underpinnings as the Ioniq 5, but I felt it was faster than the Ioniq 5. Maybe it's just in my mind because of the sporty looks on the inside and outside; it has been a few months since I reviewed the Ioniq 5, so I can't be 100% sure. A head-to-head review might give us a better answer. The Sport mode does use up more battery, which reduces range; the same thing happens in ICE cars, the more aggressive your driving style is, the more fuel the car will consume.
Driving dynamics seem to be a bit sportier on the Kia EV6 compared to the Ioniq 5. I found the Ioniq 5's suspension to be a bit softer, which is fine for an SUV. If you are looking for a bit sportier feel, then go with the Kia EV6. The brake feel is also excellent, the transition between regenerative braking and mechanical brakes is seamless. I found the brakes to be fine for a family CUV like this, but when you are driving in an aggressive manner (Sport mode), they felt a bit weak.
Like all electric vehicles, the Kia EV6 comes with regenerative braking, which sends back some of the kinetic energy into the batteries, making the drive even more efficient. However, not all EVs come with different settings for regeneration, they either come with one-pedal driving or minimal regeneration. On the EV6 you can choose between different regeneration levels with the steering wheel mounted padels; the left one increases the regen level and the right one decreases it. There are four levels of regen: L1, L2, L3, and i-Pedal. The i-Pedal is one pedal driving and will bring the EV6 to complete stop. There's an Auto regen setting as well, by holding the right paddle for a second or two, the regeneration is done automatically based on the road conditions, the camera system adjust regeneration based on the vehicle in front of you. This setting does not bring to vehicle to a full stop and you'll need to be ready to apply the brakes manually.
How Efficient is the Kia EV6
I couldn't find exactly how many kWh/100 km the EV6 consumes, the Kia website only gives the Liters Equivalent (Le/100 km). Liters Equivalent is described below:
To help compare vehicles that use electricity, a conversion factor is used by NRCan to convert electrical energy consumption values, expressed in kilowatt hours per 100 kilometers (kWh/100 km), into gasoline liters equivalent per 100 kilometers (Le/100 km). One liter of gasoline contains the energy equivalent to 8.9 kWh of electricity.
Kia's claimed numbers are 2.0/2.5/2.2 Le/100 km in city/highway/combined driving. Based on the above quote, that should translate to 17.8/22.25/19.58 kWh/100 kilometers. I did a few different tests during the week, overall, in mixed highway/city driving, I was able to get 16.5 kWh/100 km, which beats the claimed number. I was able to bring that down to as low as 12.5 kWh/100 km in pure city driving. But these are shorter tests, and with winter's added consumption, I think we should assume the consumption to be closer to Kia's claimed numbers. Which are excellent to begin with, for a vehicle of this size, with this much power, and AWD. These numbers are also better than the Ioniq 5's, which has a boxy shape, which creates higher drag and therefore is less efficient.
Dollars & Cents
I'll take our 16.5 kWh/100 km number for the week we drove. Our electricity is about $0.13/kWh, with an assumed loss of 20% due to power going from the outlet to the car, that takes us to a price of $0.156/kWh. To drive 100 kilometers, it would cost $2.57… which is the price of one liter of gasoline (okay, gasoline is not $2.57 yet, but it will soon be, gasoline is currently priced at $2.35/liter in Vancouver).
Who knows how high gasoline prices will go, just based on driving costs, it's a no-brainer to buy an EV! However, EVs are still priced quite high, but with these crazy gas prices, it will take much less time to recoup your initial investment and you can feel smug about saving the environment.
Kia EV6 Styling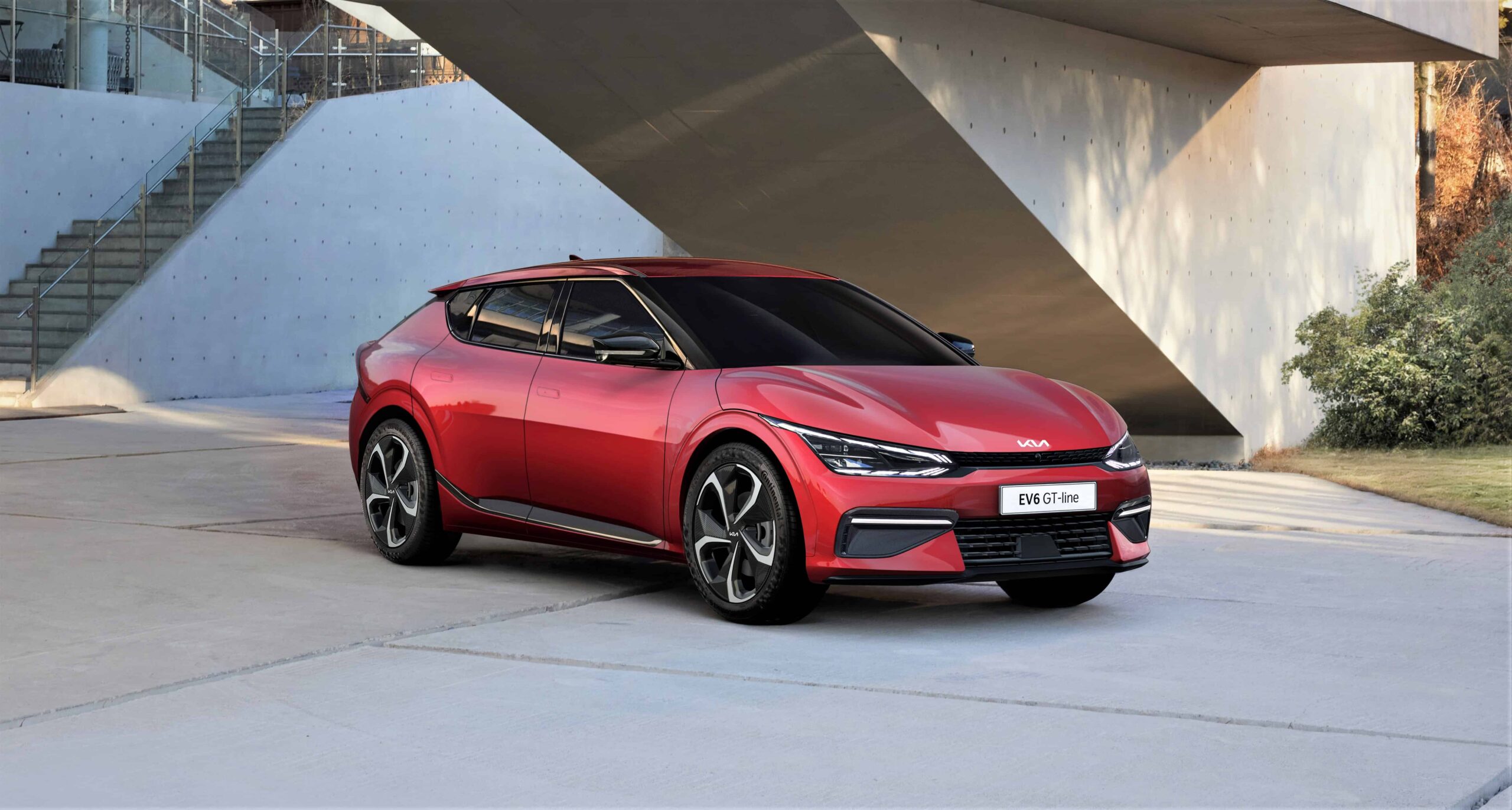 The Kia EV6 was the second EV showcased by Hyundai/Kia based on the E-GMP platform, the first was the Ioniq 5. When I first saw the Ioniq 5, I instantly fell in love with the styling and even put down a deposit. When the EV6 was initially showcased, I didn't really like it. However, seeing it in person, I actually like the styling, which is what I've heard from a lot of people that initially saw the press release photos and then saw the EV6 in person.
I described the Ioniq 5 as a "a look at the future, from the past", because it reminded me of something that would be designed as futuristic vehicle, back in the 1980's; it looks quite retro. The Kia EV6, on the other hand, is a futuristic take on a crossover. Neither of these vehicles are like your traditional crossovers, they're more like tall hatchbacks. The EV6 has a lower roof-line than the Ioniq 5, so it looks even less like a CUV.
But, that's the beauty of electric vehicles, designers have more freedom to be creative with design, they're not as constrained by the placement of a large internal combustion engine at the front of the car.
The Kia EV6's design is quite sleek and aerodynamic, which is most likely the reason it has a slightly better driving range than the Ioniq 5. However, unlike other EV makers, the EV6 isn't just an aerodynamic blob, it actually has a lot of character and road presence. The front is quite low with sharp headlights, giving it an angry look. The side profile is quite sleek, with a look that's not quite a hatchback or a wagon, it just is… My favorite part of the design was the rear end, which looks quite aggressive with a "trunk" area that is sort of a molded spoiler. The rear lights are quite sharp and are connected in the middle with a thin light strip.
Because of the way the rear end is designed, I expect the rear window to not get as dirty as it did on the Ioniq 5. Like the Ioniq 5, the EV6 does not come with a rear wiper (which is much needed on the Ioniq 5). Unfortunately, we had a dry week during our review, so I couldn't really compare how bad the rear window would get dirty from all the spray produced by the rear tires.
Kia EV6 Interior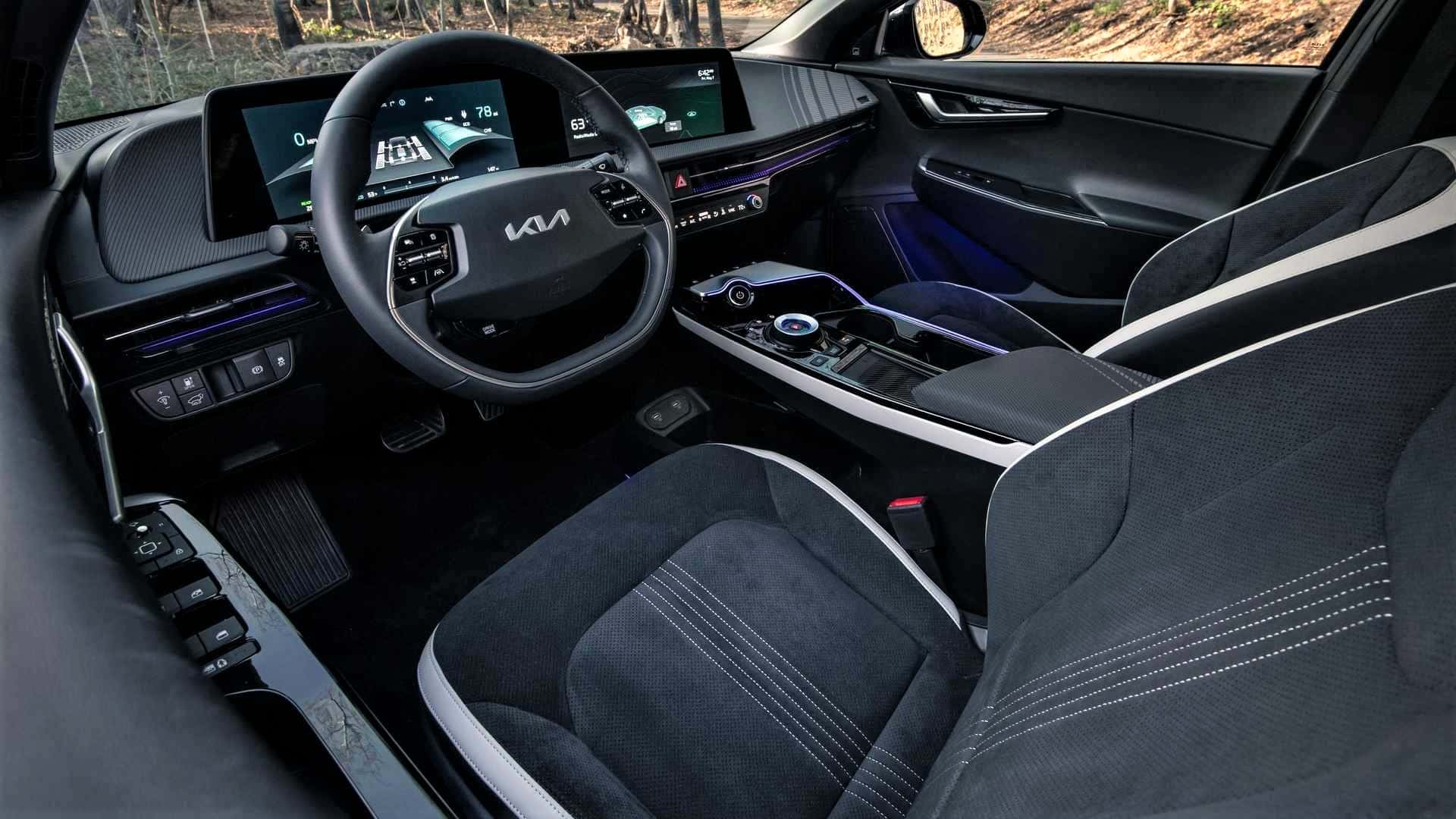 Like the exterior, the EV6 takes a completely different approach to the interior design compared to the Ioniq 5. The Ioniq 5 had an open and airy feel, I believe Hyundai described it as a lounge feeling. The EV6 has a sportier and snug feel, something you'd find in a sporty vehicle.
The Ioniq 5 had a moveable center console (the moving mechanism is only available on the top trim), the EV6 has a regular center console. And like other EVs, there's added storage area underneath for extra utility. The center console features a rotary knob for the gear selector, engine on/off button, and physical buttons for the heated/cooled seats and heated steering wheel. A lot of people prefer this layout for these buttons, rather than having to go through multiple menus to get to heated seats/steering wheel.
The main infotainment and "gauge cluster" screen is the same as the one found on the Ioniq 5, a pair of 12" screens. However, on the EV6, it has a bit of a curve to it and comes with a black bezel; I personally prefer the black bezel of the EV6 over the white bezel of the Ioniq 5. Pretty much everyone I've talked to disliked the Ioniq 5's white bezel surrounding the screen are. The digital gauge cluster has a clean layout and is easy to read. It displays various outputs like speed, power usage, trip computer. This screen also has the Blind View Monitor (BVM), which displays a video feed from the left and right blind spots when the signal is turned on. Our top trim review EV6 also came with Head-Up Display with Augmented Reality navigation directions. The HUD displays the speed, speed limit, blind spot warning, and directions when the navigation system is in use. The interior is luxury vehicle-level quiet, which is what you'd expect in a car with no internal combustion engine. Even at highway speeds there wasn't much wind noise around the A-pillar area, thanks to the sleek shape of the EV6. In city driving, the interior is insulated from all the noise made by other vehicles, road construction, and other annoying sounds. It's very relaxing to insulated from all the hustle and bustle of the city.
The fit and finish is excellent, with no misaligned panels on the inside (or outside). The material used are of great quality with lots of soft touch materials on the dashboard, doors, and center console. The interior is roomy for the front and rear passengers, there is a lot of rear passenger room thanks to the wheelbase being so long. I did notice there isless headroom than on the Ioniq 5, because of the lower roof-line. However, there is still plenty of headroom for people as tall as 6 feet.
The EV6 is Kia's flagship electric vehicle, so it can be had with all the bells and whistles we've come to expect from modern day cars. Our review EV6 was the top of the line, so it had every option. Below are some of the highlights of the features, not all features are available in every model.
LED Exterior Lights (Front, Rear, DRL, Signals)
Automatic headlights
High Beam Assist
Power-folding Mirrors
Blind-Spot Collision Avoidance Assist
Rain-sensing wipers
Heated/Ventilated front seats
Heated rear seats
Android Auto & Apple CarPlay
Rearview Camera with Dynamic Guide
Premium Heads-up Display (HUD) with AR Functions
Wireless Device Charging
Dual automatic temperature control w/ Driver-Only mode
Heat Pump & Battery Heating System
Sunroof
Hands-free smart power liftgate with auto open
Charge-port Door – Power open and close
Smart Cruise control w/ Stop & Go + Machine Learning (steering wheel-mounted)
Power windows with front auto-down/up
Remote keyless entry system with alarm and panic
Remote Smart Parking Assist
Hood remote release
Vehicle to Load (V2L) Two-way on-board charger (2nd row)
Auto-dimming inside rearview mirror w/ HomeLink
Proximity Key w/ Push Button Start
Regenerative Braking System
Electronic Stability Control (ESC) with Traction Control (TCS) and Brake Assist
Vehicle Stability Management
Tire Pressure Monitoring System (TPMS) with Individual Tire Indicator and Tire Fill Complete Alert
Parking Distance Warning (Forward/Reverse)
Parking Collision Avoidance Assist – Reverse
Forward Collision-Avoidance Assist with Car/Ped/Cyclist Detection and Junction Turning/Crossing
Lane Keeping Assist (LKA)
Lane Following Assist (LFA)
Intelligent Speed Limit Assist
Driver Attention Warning (DAW)
Safe Exit Assist (SEA)
Highway Driving Assist II (HDA II)
High Beam Assist (HBA)
Rear Occupant Alert (door logic type)
Remote smart parking assist (RSPA)
Surround View Monitor (SVM)
Blind View Monitor (BVM)
2022 Kia EV6 Warranty
The Kia EV6 comes with a 5-year 100,000 kilometers limited warranty and an 8-year 160,000 kilometers battery components warranty.
Final Thoughts
I was a big fan of the Ioniq 5 and also really liked the Kia EV6. Both of these cars are excellent at what they do, they have plenty of range, can be charged quite quickly if you can find DC fast chargers, they're quiet, comfortable, and roomy.
Deciding between the Kia EV6 and Ioniq 5 is hard. The EV6 is a bit sportier, the Ioniq 5 is a bit roomier. They both have head-turning exterior designs; some might prefer the retro look of the Ioniq 5, while others will prefer the futuristic looks of the EV6.
Personally, I would be happy to have either of these vehicles in my garage. Both would be even better.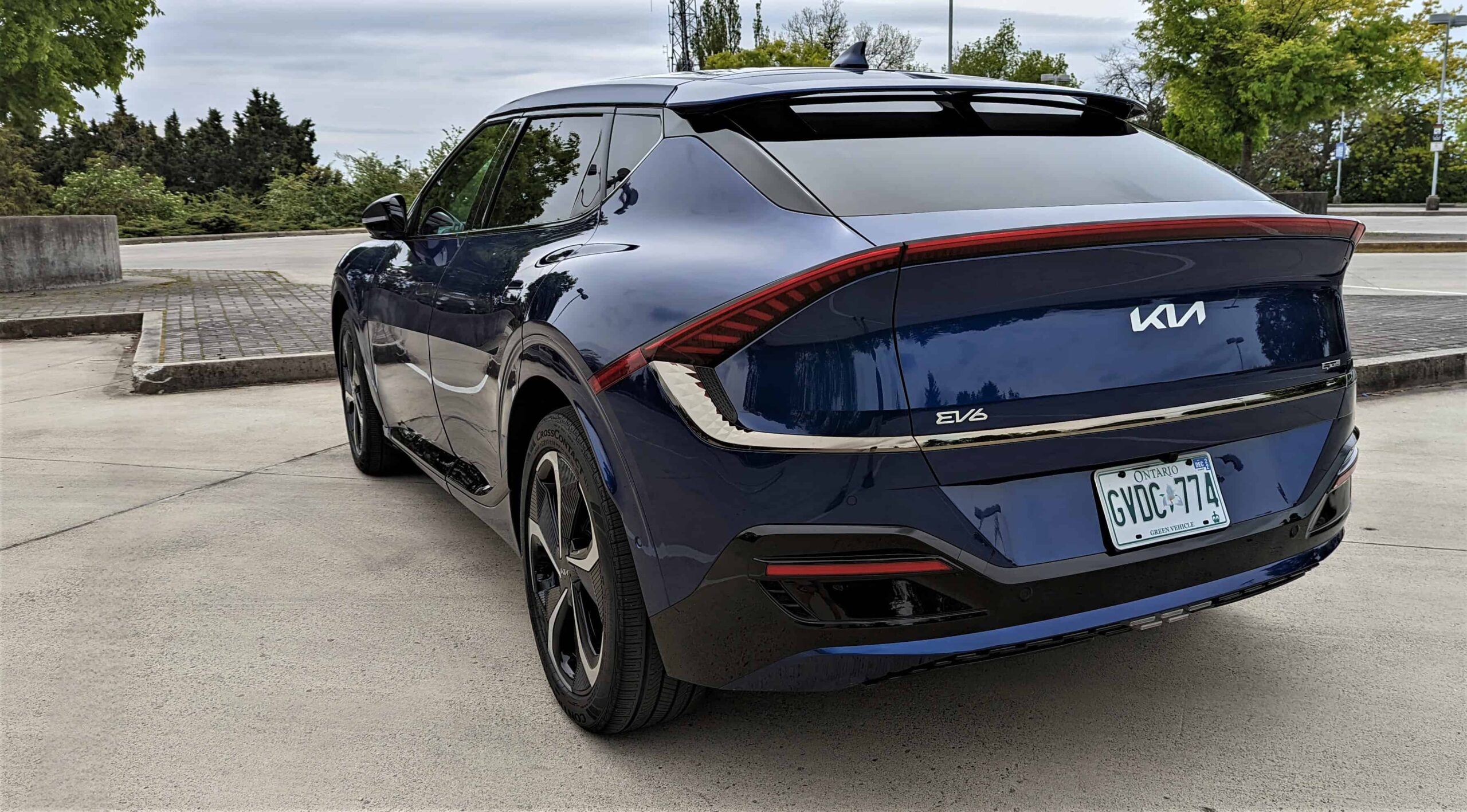 For more information on the all-electric EV6, please visit Kia Canada's website.