SUV/CUVs are more popular than ever, because they're practical, easy to get in and out of, and they give you good road visibility; especially if you're vertically challenged. But, they're not the go-to vehicle for many car enthusiasts, because they're not really fun to drive, even a boring sedan is more fun to drive than an average CUV. However, there are some exceptions…
The SUV/CUV in question that made me break my promise of not falling in love with these types of vehicles is the 2020 Jaguar F-Pace SVR, which can be described as a rocket ship with seating for 5. The F-Pace SVR is a special vehicle developed by Jaguar's new (it has been around for a couple of years now) department called SVO, or "Special Vehicle Operations", which sounds very James Bond like. SVO cars are even hotter versions of already pretty hot cars. The SVO department of Jaguar has three different badges: SVAutobiography, which makes the luxury brand's cars even more luxurious; SVX, which focuses on making already capable off-roaders even more capable; and SVR, which takes sporty cars and makes them lighter, faster, and louder.
Jaguar F-Pace SVR Review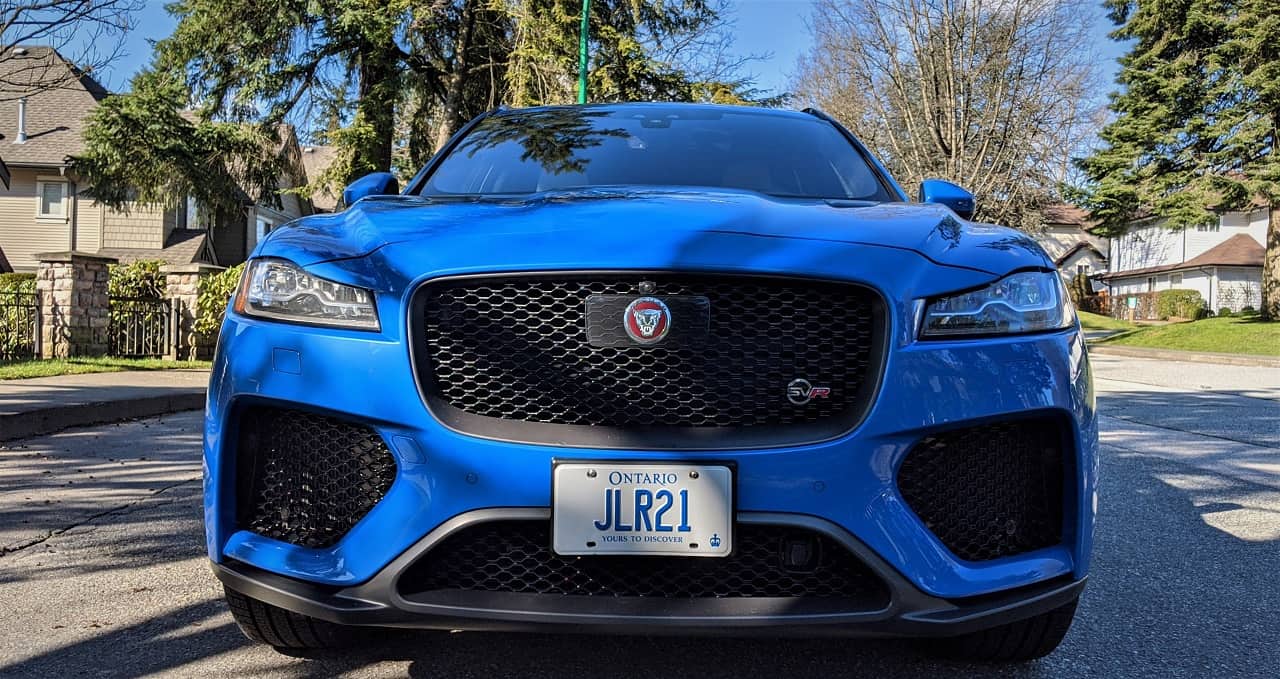 A couple of weeks ago, I got my hands on a 2020 Jaguar F-Pace SVR for our weekly review, this is a vehicle I had been looking forward to reviewing for a while now. I was expecting quite a bit from the F-Pace, which is one of my favorite cross-overs in regular trim, and I was not disappointed by the SVR version of it.
2020 Jaguar F-Pace SVR Prices
The 2020 Jaguar F-Pace has quite a few trims, with engines ranging from 4-cylinders to 8-cylinders. The base F-Pace has a starting price of $52,500, and the top of the line, 2020 F-Pace SVR starts at $92,000. There are a few additional packages you can add to your F-Pace SVR, listed below:
Luxury Interior Package $1,475
Driver Assist Package $3,600
Drive Package $1,700
Park Package $600
Heated windshield $550
Tow hitch receiver $720
Surround camera system $900
Blind spot assist $500
Head Up Display $1,020
2020 Jaguar F-Pace SVR Specs
The Jaguar F-Paces SVR comes with an impressive spec sheet, with the most impressive item being at the heart of the SVR, the V8 engine. The Jaguar F-Pace SVR is powered by a supercharged 5.0-liter V8 engine, producing an impressive 550 horsepower between 6,000 to 6,500 rpm and 502 pound-feet of torque between 2,500 to 5,500 rpm. Power is sent to all-four wheels via a ZF 8-speed automatic transmission. This engine and transmission are very familiar to our readers, as Jaguar/Land Rover makes liberal use of this combination throughout its lineup of vehicles.
The F-Pace SVR does the 0-60 mph sprint in 4.1 seconds (0-100 km/h in 4.3 seconds), with a top speed of 176 mph (283 km/h). On paper the Jaguar F-Pace SVR might by called an SUV or CUV, but deep down inside it's a proper sports car.
Driving the F-Pace SVR
Like I said earlier, and in many of my other reviews, I'm not a big fan of SUV/CUVs from a driving standpoint, but I do see why these vehicles are so popular nowadays. With the F-Pace SVR, you can have your cake and eat it too (on a side note, why would you "have your cake" and not eat it?). When I got my hands on the Jaguar F-Pace SVR, I had the biggest smile I've had in a while. I knew I wasn't driving a "mere car", I felt like I was given the keyfob to a spaceship.
Just pressing the start button, hearing the engine roar to life, and the exhaust crackling and popping is an event in and of itself. It's something I can do all day long, which would not sit well with the neighbors, but it's a very fun activity.
But that's just the beginning of the adventure, put the F-Pace in "Drive" and off you go to chase down sports cars, but the more likely scenario is you going to drop off the kids or going to the grocery store. Putting the F-Pace SVR in gear is now a much more engaging experience, thanks to the inclusion of a real gear lever that we first saw on the Jaguar F-Type sports car, instead of the pop-up rotary dial for changing gears. I have always said Jaguar needs to put a proper gear lever on their sporty cars, the rotary knob is fine on the XJ and full-size Range Rover.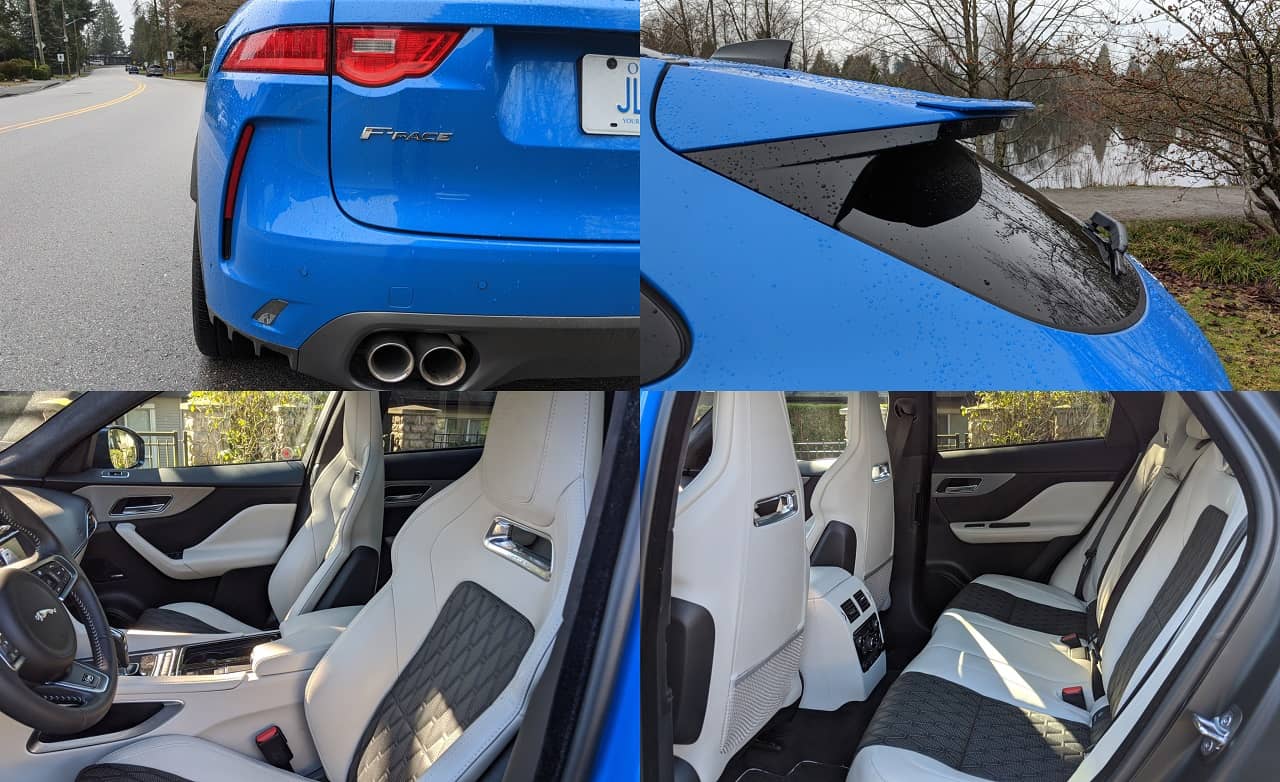 The F-Pace SVR comes with the standard range of driving modes found on other cars in this class and other Jaguar vehicles, which include snow/wet, Eco, Comfort, and Dynamic. Even driving in the Eco mode, which is supposed to be the most eco-friendly mode, the F-Pace SVR has so much power. Going to the comfort mode increase throttle response a bit, and going to the Dynamic modes takes the F-Pace SVR to supercar territory. With the Dynamic mode and the transmission in Sport mode, the F-Pace is a true beast of a car. I don't know if you need this much power in a SUV/CUV, but you're sure going to want it!
The F-Pace SVR launches hard from a standstill and gets you to triple digit speeds lightning fast; passing on the highway is so easy you don't even have to think about it. Just press the accelerator a bit and everything around turns into a blur. And I can't forget the exhaust note the four trumpets in the back made, the sound coming from the back feels more like a thunderstorm than the exhaust of an SUV. The exhaust sound is very addictive, it makes you want to accelerate for no reason. The exhaust sound is the loudest in the Dynamic mode, but you can open up the exhaust valve in other modes with the touch of a button if you wanted to, which you definitely will want to.
SUVs are generally heavy and not very sporty in corners, but thanks to Jaguar's liberal use of aluminum in the construction of the F-Pace, it isn't as heavy as its size would suggest. The suspension is also on the firmer side, it isn't uncomfortable and is plenty sporty. The ZF transmission switches gears as quickly as you'd want in an SUV, this is a well-regarded transmission and has been used to many manufacturers and in most/all of Jaguar and Land Rover vehicles.
I was already a big fan of the regular F-Pace I reviewed a couple of years ago, but the F-Pace SVR really takes the cake. To say I enjoyed my time in the F-Pace SVR would be an understatement.
Styling
I think the Jaguar F-Pace is a pretty good-looking SUV, it keeps the Jaguar DNA even in an SUV form. These types of vehicles are not known for their amazing looks, but overall, the F-Pace is good looking vehicle. The F-Pace SVR takes things a notch higher, with bigger air intakes at the front, vents on the front fenders, a subtle diffuser at the back, quad exhaust tips, and it seems to be a bit wider than the standard F-Pace. The SVR also comes with giant 22" wheels, which look absolutely fantastic and let people know this is a more serious version of the F-Pace.
Our review F-Pace SVR came in a bright blue color, which was quite a head turner, even when standing still. Normally the exhaust is enough to snap heads of people walking on the streets.
Interior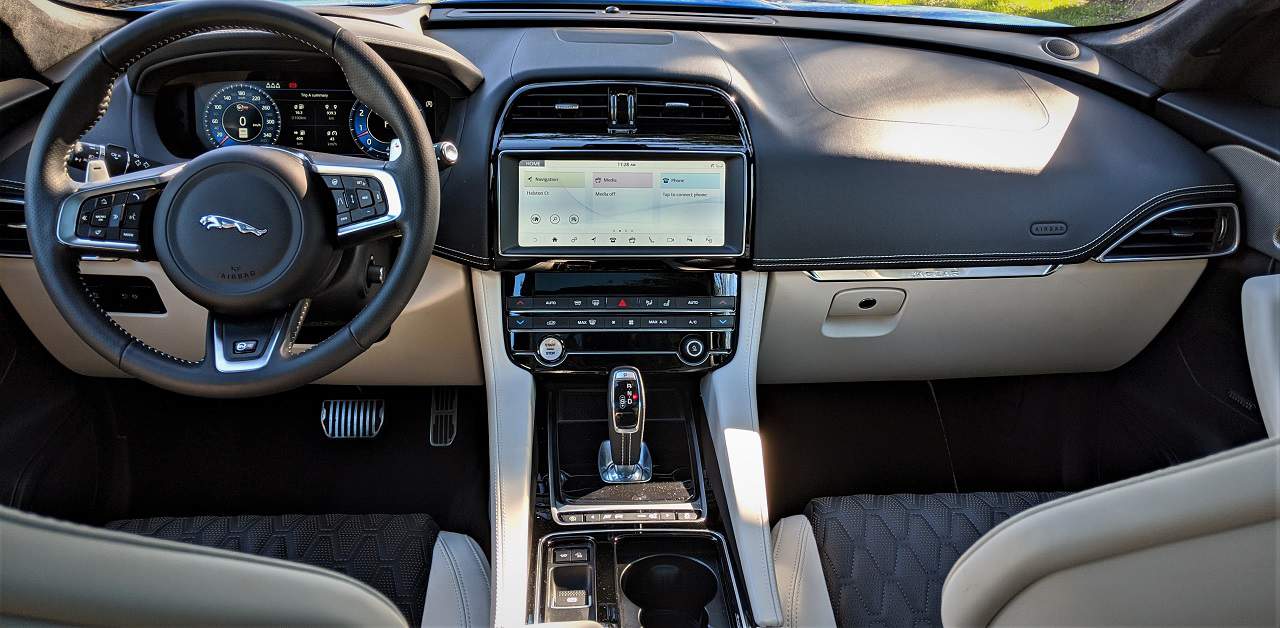 The Jaguar F-Pace SVR interior doesn't see much of an upgrade over the standard F-Pace, which is similar to the rest of Jaguar sedans. The big difference, which I mentioned earlier, is the addition of a gear lever instead of the rotary knob. It's a small change but I think it makes a huge difference and, in my opinion, makes the F-Pace sportier. The bucket seats on the SVR are very supportive and a nod to the sporty nature of the vehicle, although I wouldn't order them in white like our review car's.
Overall Impressions
The 2020 Jaguar F-Pace SVR is the SUV equivalent of a muscle car; it's loud, it's fast, and it commands attentions from onlookers. It's probably one of the most fun SUV/CUV on the market, and even diehard sports car fans will appreciate what it has to offer.
I thoroughly enjoyed my week behind the wheel of this beast of a car, driving around with the exhaust valve wide open and flooring gave me child-like giggles. The F-Pace SVR is not your average grocery-getter, but it will get you to the grocery store faster than all your neighbors and has plenty of space in the trunk for hoarding all the toilet paper your heart desires.
For more information on the F-Pace SVR and other Jaguar vehicles, visit jaguar.ca.
2020 Jaguar F-Pace SVR Photo Gallery