This year I reviewed quite a few all-electric/plug-in hybrids, and I believe that number is only going to increase in the years ahead; it's a sign of the times. As EVs/PHEVs get more efficient, have longer battery range, and become more affordable, consumers are going to flock to these vehicles.
Fuel prices might not be too high in the United States, but in Canada we pay a lot for the privilege to fill up, currently the price for a liter of regular (87 octane) gasoline hovers around $1.55 in the Vancouver, BC area. Just looking at my fuel bill every week makes me want to get an electric vehicle. But I still think the upfront cost of electric vehicles is just a little out of reach for me and many consumers, with increasing demand and economies of scale, I'm hoping prices go down a bit and my next car will definitely be an electric.
However, there are some vehicles that have a decent starting price, subtract government rebates and they do look very enticing. The car we're talking about this week is the 2019 Kia Niro EV, which shares its underpinnings with the excellent Hyundai Kona EV.
Prices
Like the Kona EV, the 2019 Kia Niro EV comes in two trims with a starting price of $44,995 for the EX trim and $53,995 for the SX Touring trim. The base prices for the two vehicles are identical, while the top of the line Niro EV is $2,000 more than the top of the line Kona EV.
Our review car for the week was the 2019 Kia Niro EV SX Touring, with a starting price of $53,995 plus $1,795 for Freight & PDI, less government subsidies.
Motors/Batteries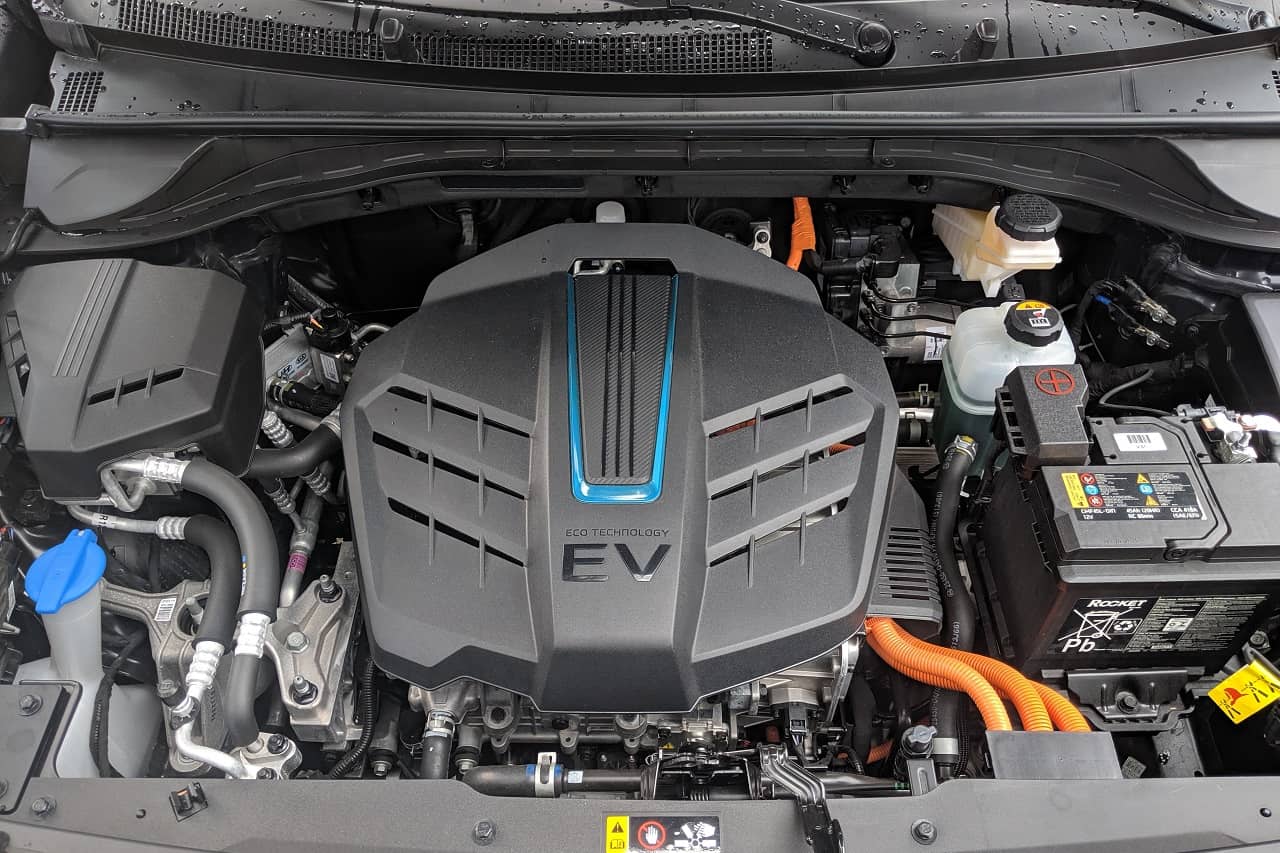 Both trims of the Kia Niro EV use a 64.0 kWh lithium-ion polymer battery pack, sending power to a "Permanent magnet synchronous electric motor", producing 150 kW (201 horsepower) and 291 pound-feet of torque, which is sent to the front wheels only. The battery power output is 170 kW, maximum voltage is 356 V.
According to Kia's website, the Niro EV has a range of 385 kilometers (which is 30 kilometers less than the Kona EV), when fully charged, but the onboard computer showed 500 kilometers when it was fully charged and in the Eco mode. The Kona on the other hand showed 464 kilometers when it was fully charged. The range numbers do go down when AC/Heat is used and the range is also reduced in Normal and Sport mode.
I think the 500-kilometer number is pretty impressive and is achievable, I'm guessing Kia/Hyundai are being conservative with their claimed numbers to discount for various driving conditions.
According to Kia, it should take about 59 hours to fully charge the battery pack using a 120-volt standard household outlet (AC Level 1), which is 11 hours slower than on the Kona EV. Using an AC Level 2 outlet should take about 9.5 hours, Level 3 (50 kW) should take 75 minutes to charge to 80% and Level 3 (100 kW) should take 54 minutes to charge to 80%.
Plugging the Niro EV into my garage 120 V outlet for 11 hours resulted in 87 kilometers of added range, which is 7.9 km/hour of range added. If you're plugging it in for 10 to 12 hours a day, it should gain more than enough range for the average commute.
Unlike Hyundai's website, Kia didn't provide how many kWh/100 km the Niro EV uses, instead they give the gasoline equivalent, which is 1.9/2.3 Le/100 km. We averaged 13.7 kWh/100 km in mostly city driving, which is 1 kWh/100 km higher than we got on the Kona EV. Still, 13.7 kWh/100 km is a very good number, it equates to $1.64/100 kilometers minus the loss of about 15% electricity between the outlet and the battery, which is much cheaper than gasoline, which hovered around the $1.50 – $1.60 mark in the Vancouver area over the last month.
Driving
Driving the Kia Niro EV is almost identical to the Kona EV, although I felt like the Niro EV was heavier than the Kona EV. After checking the two websites for each of the vehicles, my gut feeling was correct, the Kona EV's curb weight is 1,685 and the Niro EV's curb weight is 1,764, which also explains the slightly higher electricity consumption.
The Kia Niro EV is not aimed at the performance EV market, like the Jaguar I-Pace, but it still feels peppy thanks to the instant torque available from 0 rpm. Driving around town is actually quite fun, it feels like a sporty car and passing on city streets and highways is quite fun thanks to that torque and not having to wait for your ICE car to downshift and then engine rev up to get going (this example of ICE cars applies to your daily drivers, not pure bred sports cars).
Styling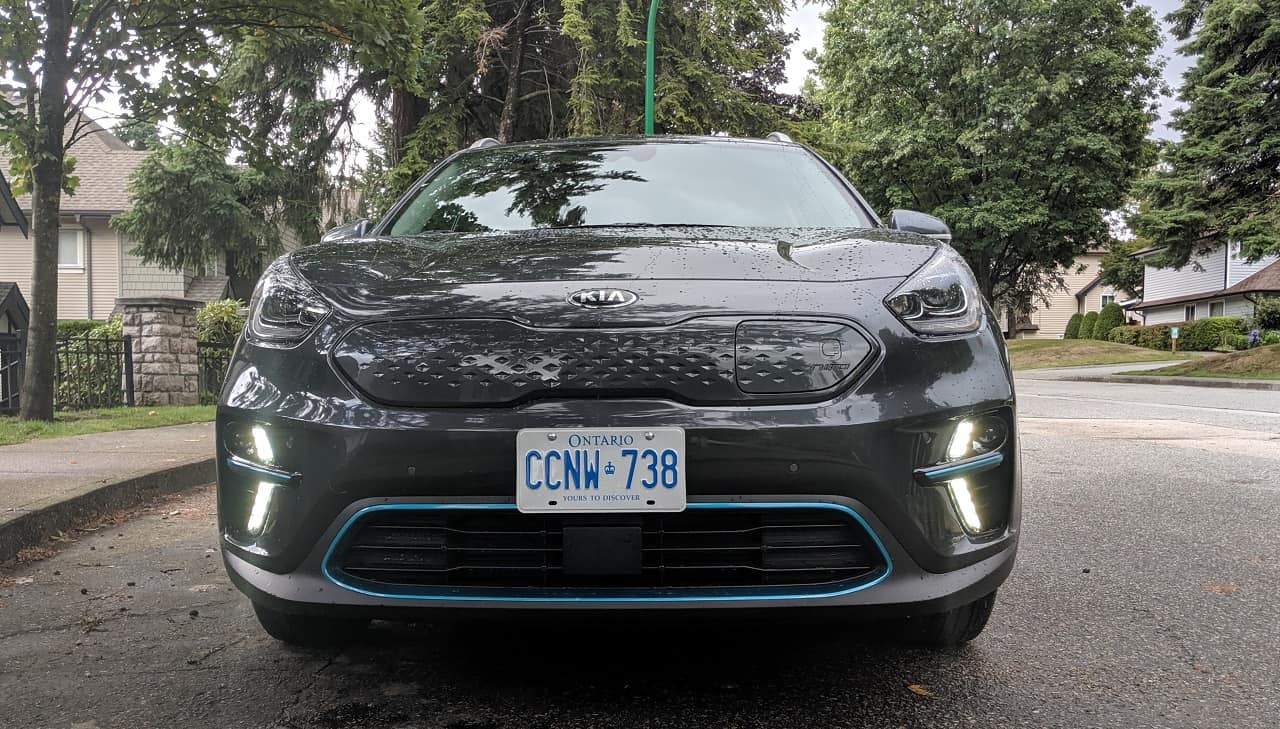 I liked the overall styling on the Kona, but the front on the Kona EV didn't look right. On the Niro EV, the front didn't look as weird as it did on the Kona, at least to me. It might have something to do with the dark color, our review Niro EV was black, which hides a lot of the details. It could also have something to do with the fact that the Niro EV has a larger grill in the bumper, giving it a bit more of a traditional ICE look? I'm not sure what it was but the Niro EV didn't stand out as an electric car.
The overall styling is pretty conservative on the Niro, I prefer the styling of the Kona. However, the more traditional/conservative styling lends to a bigger interior.
Interior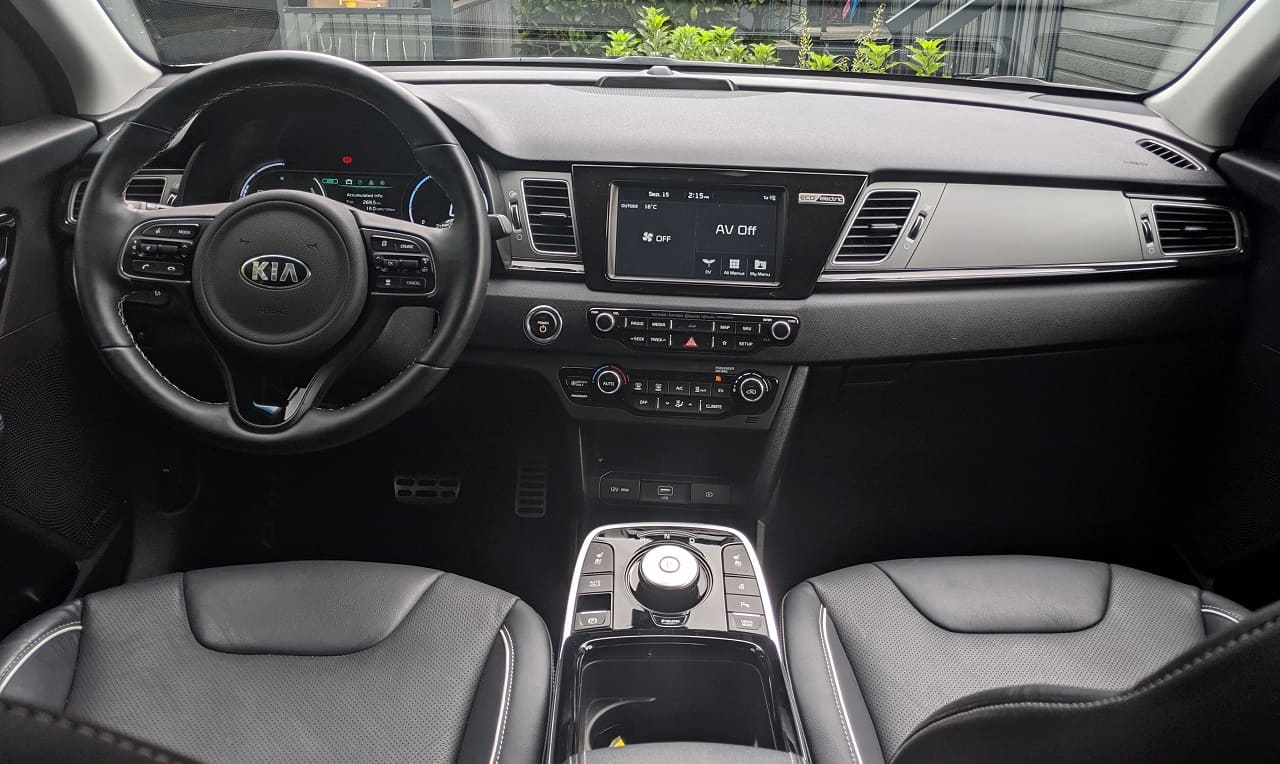 The interior on the Kia Niro EV seemed much roomier than the interior on the Kona EV, at least that's what it felt like to me. The interior has average amount of room for this class of vehicles, it's roomy enough for the front and rear occupants and there's a decent amount of room in the trunk.
The interior layout for the dashboard and center console is also more traditional, with a touchscreen integrated into the dashboard. You wouldn't know this is an electric car, which makes it easy for customers coming from traditional ICE cars. The controls, knobs, and touchscreen are all well placed and within easy reach, it took me no time to get familiar with everything.
As with all electric vehicles, the interior is very quiet when the vehicle is in motion. However, and like the Kona, there is a fair amount of wind noise at highway speed, which is usually somewhat masked by the engine in a gasoline powered car.
Tech/Convenience/Safety Features
The two trims of the 2019 Kia Niro EV are well equipped, even the base trims comes with a good number of features, below is a list of what's available on both trims.
Automatic headlights
LED headlights (SX Touring only)
LED daytime running lights
LED positioning lights
Sunroof (SX Touring only)
Automatic power folding side mirrors
Leather seats (SX Touring only)
8-way power adjustable driver's seat (SX Touring only)
2-way driver's seat lumbar support (SX Touring only)
Driver's seat memory function (SX Touring only)
Heated front and rear seats (SX Touring only)
Air-cooled front seats (SX Touring only)
Heated steering wheel (SX Touring only)
Leather-wrapped steering wheel (SX Touring only)
7″ Display audio (EX trim)
8″ multimedia interface with integrated navigation (SX Touring only)
Harman Kardon premium audio system (SX Touring only)
USB audio input and charging port
Bluetooth hands-free cell phone connectivity
Apple CarPlay and Android Auto
Wireless phone charger (SX Touring only)
110V power inverter (household outlet) (SX Touring only)
Smart cruise control (SX Touring only)
Remote keyless entry
Smart key with push-button start
UVO Intelligence™ connected car services
7″ Supervision LCD/TFT instrument cluster
Auto-dimming rearview mirror (SX Touring only)
LED interior lighting (SX Touring only)
Ambient mood lighting (SX Touring only)
Express up/down front windows
Electronic stability control (ESC)
Vehicle Stability Management (VSM)
Brake assist system (BAS)
Hill-assist control (HAC)
Tire Pressure Monitoring System (TPMS)
Blind-spot Detection System (BSD) (SX Touring only)
Lane Keep Assist System (LKA) (SX Touring only)
Driver attention alert system (DAA) (SX Touring only)
Forward collision-avoidance assist (FCA) (SX Touring only)
Front parking sensors (SX Touring only)
Rear parking sensors (SX Touring only)
Rear Cross-traffic Alert (RCTA) (SX Touring only)
Rearview camera
Final Thoughts
The 2019 Kia Niro EV is a solid vehicle for people looking for an alternative-fuel vehicle, it comes with a driving range that's more than enough for most consumers. With my driving habits, I would rarely need to charge it at a fast charger, the amount of range it gains using a standard household outlet is more than what I drive most days.
The Niro EV is also not a boring car to drive and there's a good amount of space for daily use.
For more information on the Niro EV and other Kia vehicles, visit kia.ca.