Keeping an active lifestyle is a great way to stay healthy, and music is a great way to get moving. That's why I've decided to review the Aftershokz Aeropex, a pair of exciting new bone conduction headphones.
Moving with Music
Listening to music has a number of great benefits for those wanting to stay active. For most people, the sound of music can keep their energy levels high. Music can help motivate you and push you to reach your limits while exercising. Listening to music can also help pass the time – distract you from the idea of quitting while doing your routine.
For runners, hikers, gym goers, and anyone who loves to move around, having stable earphones is essential. Loose headphones can be more of an annoyance since you have to readjust frequently. Wired earphones can also be a burden since it requires you to have a phone with you at all times. This may prevent you from using both hands, or inhibit your range of motion because of the added weight.
Aftershokz Aeropex Review: the Wireless Wonder?
The best fit for this active lifestyle is wireless headphones. These can play any music you like – all straight from your phone without requiring a solid connection. Through Bluetooth, you can easily connect with your device even if it is halfway across the room. This means no more holding phones and no more bulky pockets. You will be free to move around without worry – and still access your music to boot.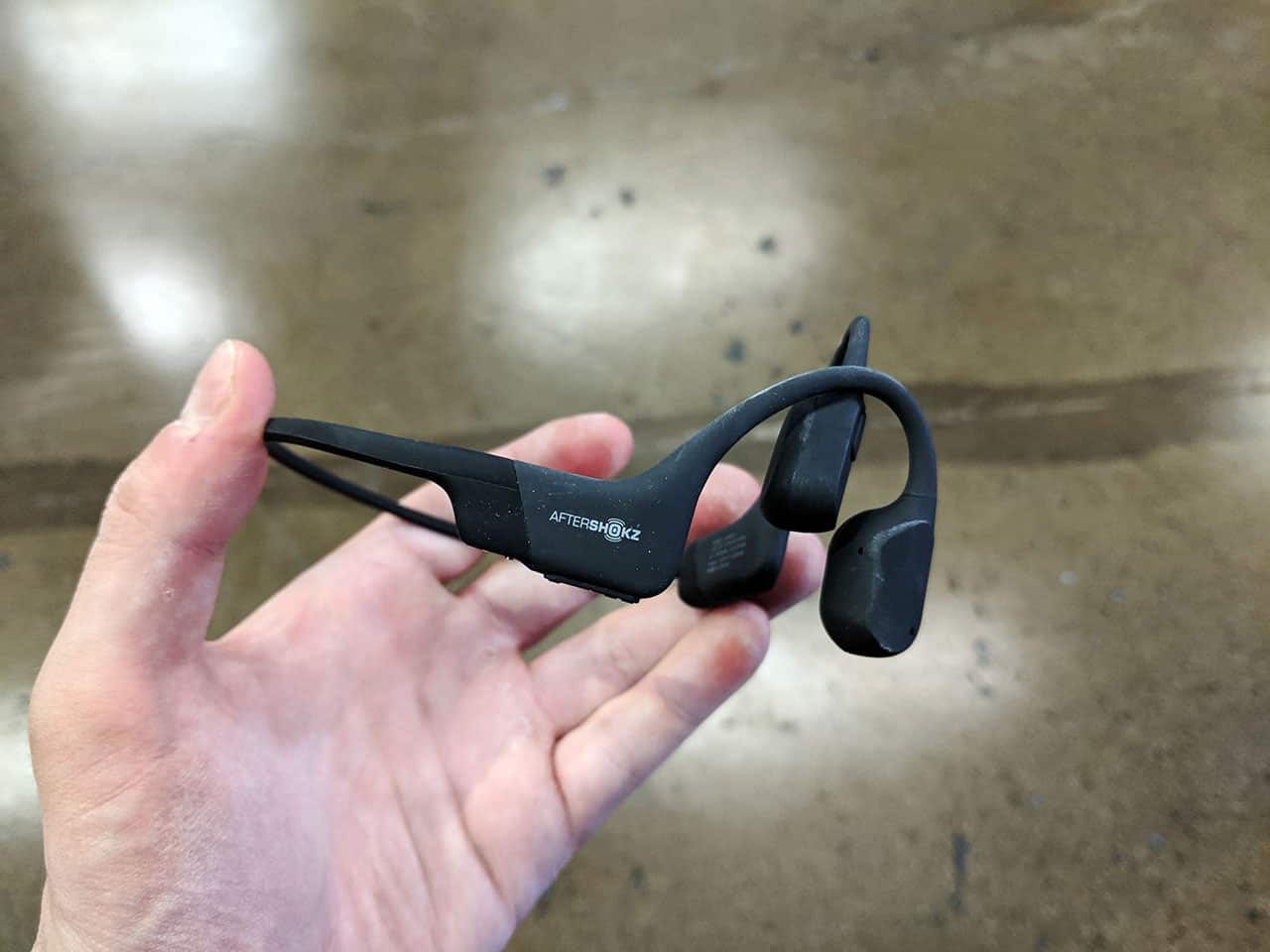 The Aftershokz Aeropex headphones are a great example of versatility meeting the ruggedness of activity. It has Bone conduction technology, which is an upgrade from the usual earbud sound delivery. It attaches closer to your temples instead of covering your ears entirely. This gives you a closer, more flexible fit. All while still providing high quality audio.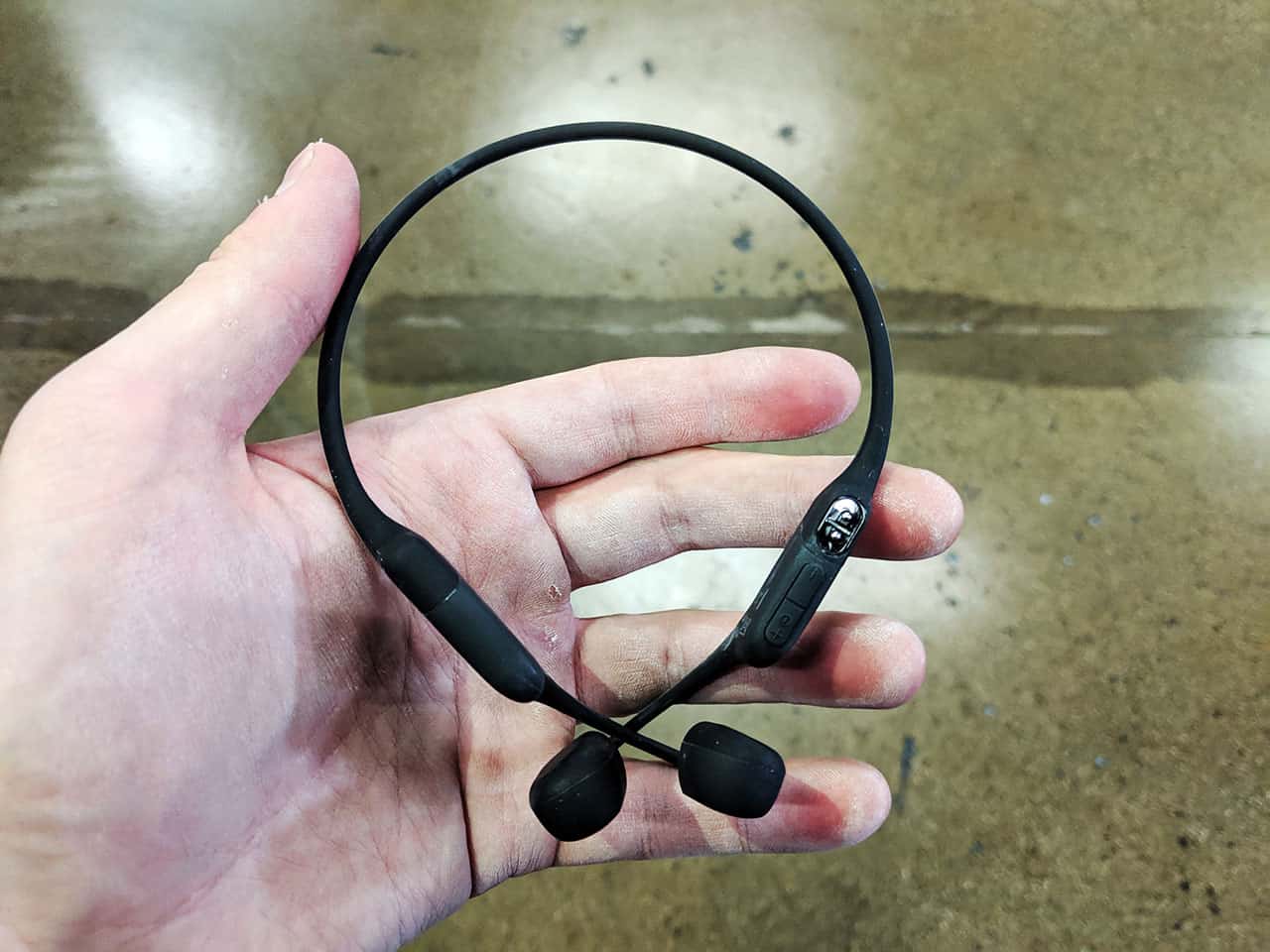 It is also completely waterproof, perfect for those who love rugged activities outdoors and intense workouts at the gym. Water obstacles such as rainy weather or even sweaty workout periods would have little to no effect on your gear. The noise-cancelling microphone is great for phone calls on the go. The long battery life (8 hours; 10 days standby) and quick charging means you can use it regularly.
Always Aware
An important – yet severely underrated – benefit of bone conduction headphones is it improves your awareness; improving awareness also increases your safety while on the go.
Think about it for a second. While wearing ear and headphones, you may sometimes feel like you are not aware of your surroundings. With music blaring at your ears, it can feel like you are in a world of your own. They can be a very dangerous distraction especially when you are outdoors. Did you know that nearly 70% of automobile/pedestrian accidents involve a person wearing headphones? When listening to something on your earphones, it can sometimes be very difficult to pay attention. The sound vacuum created can take away your senses.
With Aeropex's bone conduction tech, you get open ear listening. This means your ears are free to listen to your surroundings while still enjoying music. Running, jogging, cycling, and even rock climbing can be a lot safer to do.