I'm not an old man …yet (slowly getting there) and one of the things that is always in the back of my mind is hair loss. My old man is 63'ish (I think) and he's pretty much bald on the top of his head. In recent years, I've noticed that when I fix up my hair I can see the scalp. It's a scary thought for me because I like my hair and would prefer to keep a full head of hair. I know something is going on up there because even my sister made a comment about it and that freaked the shit out of me.
For my birthday this past October, my sister bought me Nioxin which is a three-step hair treatment that is supposed to provide thicker, denser-looking hair in as little as 30 days. Whether she it bought for me as a joke or not, I don't know but I started using it with no noticeable changes. If and when my hair loss truly begins, I will be ready to cough up the $9,000 or so for the hair transplant surgery. But until that happens, there is a product I came across a few nights ago that might be a temporary solution.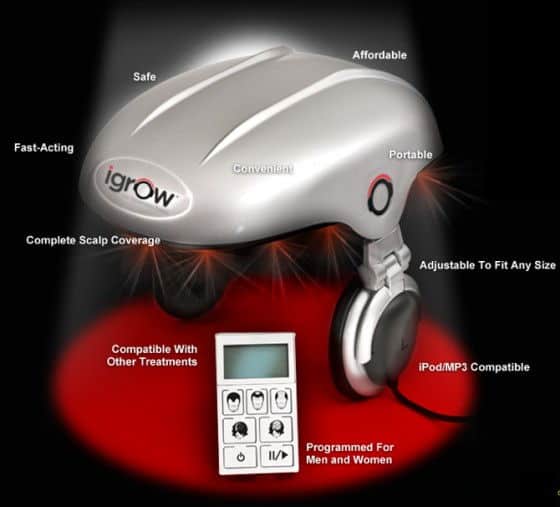 The iGrow Laser Hair Rejuvenation is developed by Apira Science Inc and they are worldwide providers of clinic based laser technology for treatments of thinning hair. I admit, the product looks pretty weird but it's something to look into for those who have to deal with thinning hair. The hands-free system uses a combination of lasers and high output LEDS that results in thicker, fuller hair for men and women. The system uses 21 lasers and 30 LEDS to provide full coverage of the scalp.
The iGrow system has five different treatment settings which allows for a customized treatment. The device also incorporates mp3 connectivity allowing you to listen to your favorite tunes during your 20 minute treatment sessions. Because the iGrow uses a combination of low level laser/LED, no heat is produced and the device is supposed to be pretty comfortable to wear. For optimal results, the company recommends two to three treatments per week. If used properly, users can expect to see thicker, fuller, healthier hair within 10 to 12 weeks.
Will this device actually work? I don't know to be honest but it's an option that you now know about. For those who can't afford the very expensive hair transplant method, this could be something to consider. The website states "Get thicker, fuller hair in weeks – guaranteed!". We might have to call them out on that. The iGrow Hair Rejuvenation system will cost you $695 on Amazon.