I know "My dog is my best friend" is a tired old cliche, but my dog, Baxter, really is my best friend. I got him as a cuddly puppy back when I moved into my first apartment. It was the first time I was living alone (no parents and no roommates) and even though I loved the privacy and freedom of having my own place, it was far too quiet. So I wandered down to the animal shelter and came home with a fuzzy little companion.
In the years ever since, Baxter has gone with me everywhere – on hikes, jogs, to restaurants (where he sits patiently next to the outdoor table like the good boy he is), and on road trips. He listens when I complain about work or how my girlfriend is being unreasonable and he's always up to grab a burger or enjoy a game of Frisbee.
The only downside to my furry friend (hey; everyone has to have at least one flaw, right?) is his fur. Specifically, the fact that it finds its way into all corners of my apartment. I don't know what breed he is – only that it's one that should be chronically bald due to how much of his coat constantly falls out. I have to vacuum at least once a day; if I let it go any longer than that, I'm walking around in a cloud of Baxter fur.
I was going to get one of those robotic vacuum cleaners, but that's no help for my furniture, so I started looking into upright vacuums. The thing is, my apartment is small and doesn't have a ton of storage space, so I wanted something powerful enough to handle Baxter fur, but it had to be compact enough to be easily stashed.
Enter the Dyson Cyclone V10 Cord-free Vacuum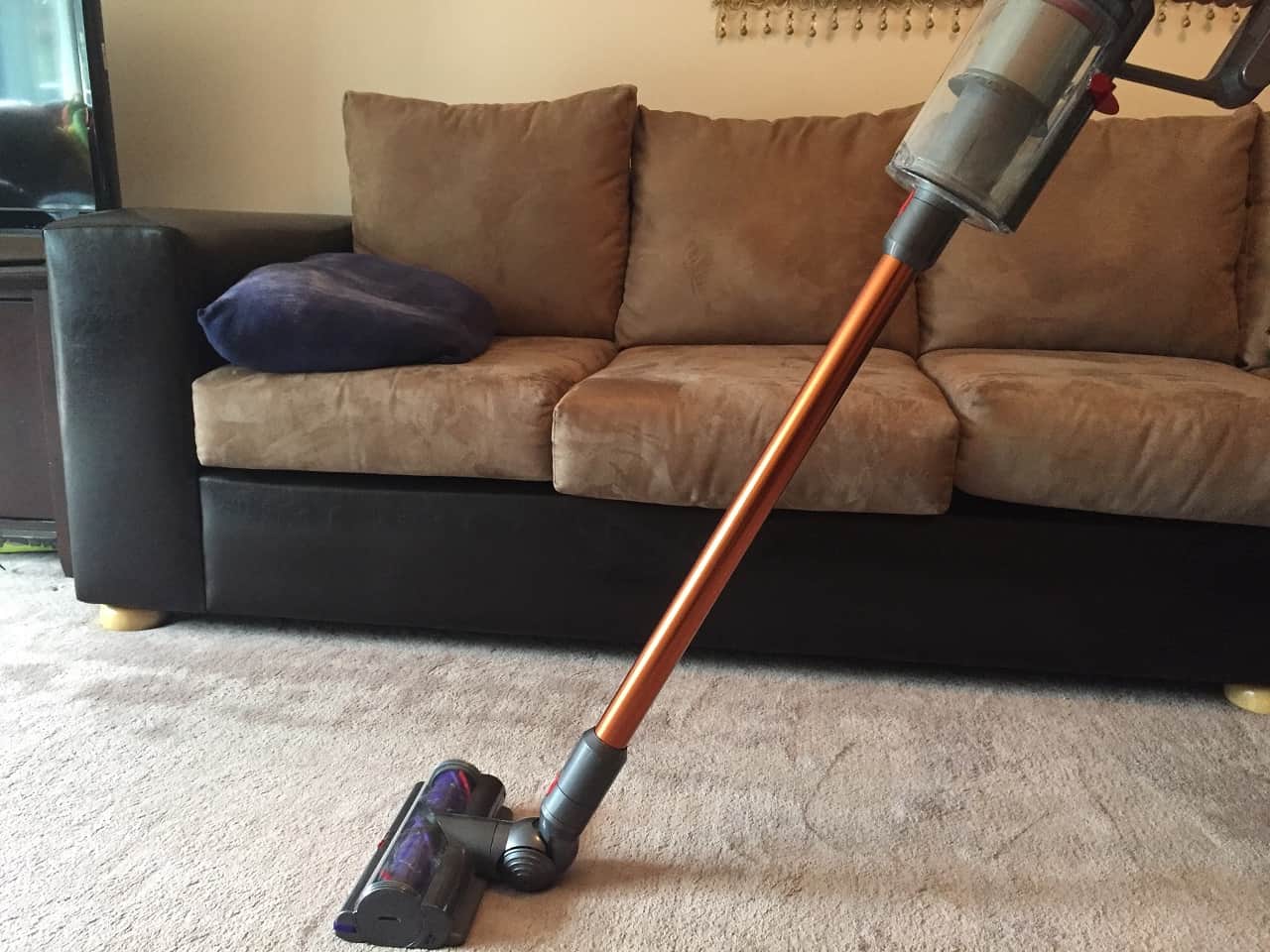 I've been fascinated by Dyson's vacuum designs ever since they first came out years ago. With the release of the Dyson Cyclone V10, I thought it was high time to give one a try.
Even though it was Dyson, I was a bit skeptical at first, even though my colleagues here at Unfinished Man had high praise of Dyson cord-free vacuums (see review here and here). I did use the V6 vacuum for a few days to compare it the latest V10, more on that later.
cord-free vacuums are known for being under-powered and having short-lived batteries. However, if any cord-free could stand up to Baxter's scads of shedding, I thought maybe Dyson could do it.
Mind-Blowing Versatility
Honestly, I think this may be the only vacuum I'll ever need to own. First of all, it's amazingly versatile. It goes from a stick vacuum to a small handheld in one motion, letting me move between vacuuming the rug and cleaning up the couch instantly. Speaking of the rug, it has a DC motor that lives inside the brush bar itself, meaning that it removes way more dirt, hair, and dander from rugs and carpeting than my old vacuum could. The brush bar is also covered in soft-woven nylon and anti-static carbon fiber filaments that work together to catch both large debris particles and small, fine bits of dust. The vacuum comes with helpful attachments that ensure that I can reach every nook and Baxter fur-clogged cranny.
Battery-Powered? No Problem!
One of the reasons Dyson has moved into the cord-free realm is because of its amazing seven-cell, 525-watt lithium-ion battery pack. Depending on the model you choose, this battery design allows you to get amazing amounts of power and run time out of your Dyson. For the Dyson Cyclone V10, I can clean for up to 60 minutes without even the slightest hint of fading power. It never takes me that long to clean my apartment, but if I was ever up for a bit of spring cleaning, it's nice to know that my Dyson will last that long.
More Time for Ball Chasing
When I'm done with the Dyson Cyclone V10, I simply empty its dust bin into my trash bin using Dyson's "point and shoot" emptying mechanism. I don't have to fiddle with bags or ever touch the dust to empty the vacuum cleaner.
Unlike the V6 vacuum we reviewed a couple of years ago, the V10 comes with a 'Point and shoot' hygienic bin emptying mechanism, which allows you to empty out the collecting debris without touching it. With the V6, once the debris is collected and if there is long hair inside the collection bin, I needed to put my hand inside the bin to pull out all the junk because it was tangled with the hair and wouldn't drop down with gravity (see above picture for the V6 and picture below for the V10). The V10 uses the same/similar system to the Big Ball vacuum cleaner we reviewed about a year and half ago.
After cleaning, I drop my Dyson Cyclone V10 back into its wall-mounted charging dock so that it's ready for the next round of vacuuming. Baxter loves me not having to mess with bags or cords because it gives me more time to hang out with him. Which means that we're off to the park yet again!
If you are looking for some helpful tips to help minimize your dog shedding, check out this guide from My Pet Needs That.
Dyson Cyclone V10 Pricing
The Dyson Cyclone V10 cord-free vacuum cleaner comes in quite a few varieties, with different equipment at different price ranges. If you just want the V10 vacuum, the V10 Motorhead is priced at $599 CAD. It comes with a regular motorhead cleaner, a combination tool, and a crevice tool. The next step up is the V10 Animal, priced at $699. It comes with a Torque Drive cleaner, a mini motorized tool, soft dusting brush, combination tool, and crevice tool.
The vacuum we reviewed is the next higher "trim", the V10 Absolute, priced at $799. This model comes with everything the V10 Animal comes with and has a Soft Roller cleaner head, for cleaning hard floors. Obviously it's also one of the best vacuum cleaners for carpet too.
The top of the line model is the V10 Absolute Extra, priced at $849. It comes with everything the V10 Absolute comes with and additional items like an extension hose, up top adaptor, flexi crevice tool, and a Dyson tool bag.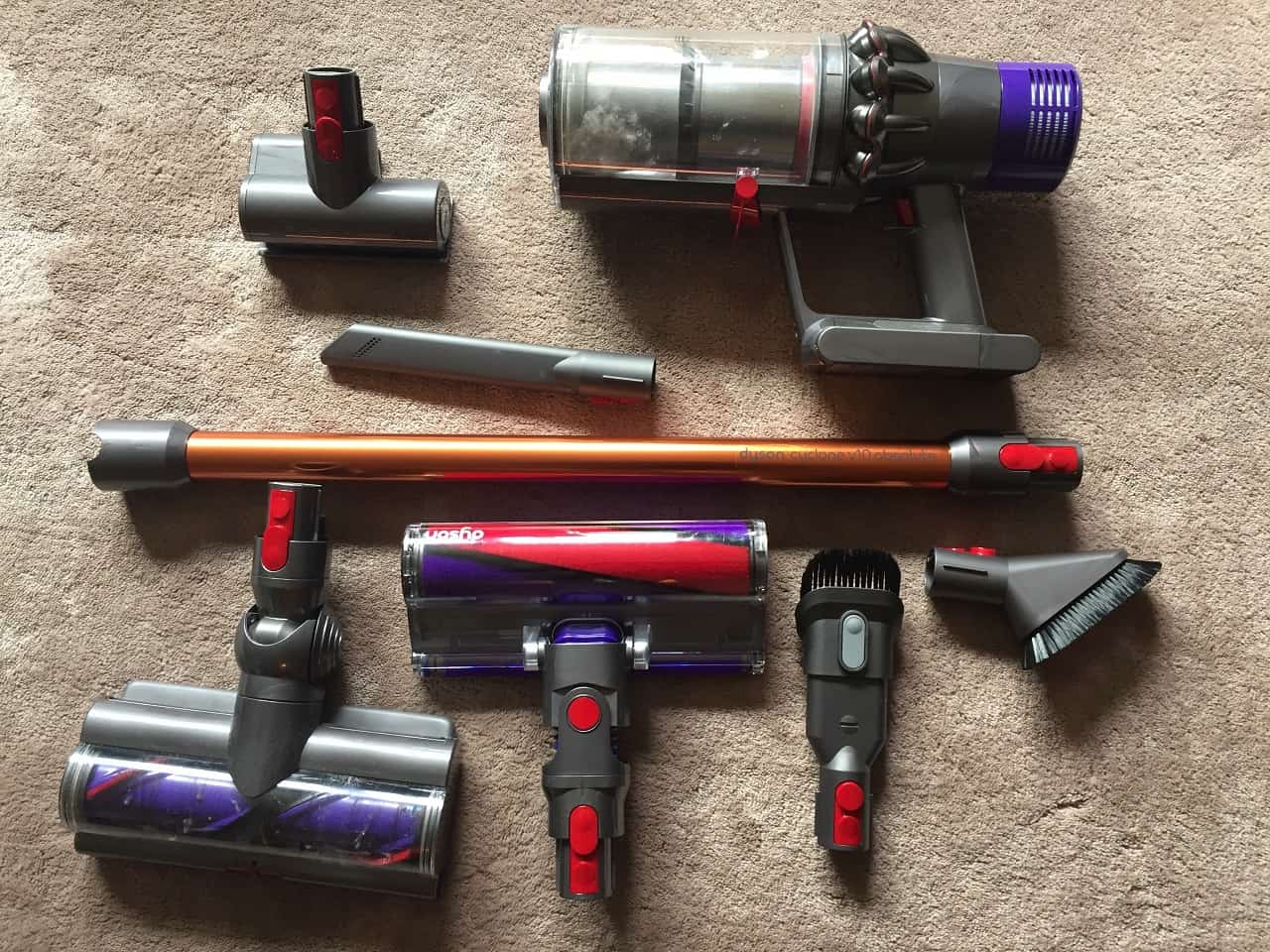 Improvements over the V6
The Dyson Cyclone V10 vacuum takes quite a big step forward over the V6 vacuum. The biggest, in my opinion, is the "point and shoot hygienic bin". This is a great features as pulling all the fuzzy stuff out of the V6 by hand wasn't fun. Other improvements include a longer lasting battery, a larger canister, three power level settings, a battery life indicator, and much a quieter motor.
Overall Impressions
Overall I was extremely impressed with the features of the Dyson Cyclone V10 cord-free vacuum. It took care of a lot shortcomings of the V6 and improved upon an already great vacuum. I thought the V6 did an amazing job at getting all the debris, dust, and hair out of our rugs but the V10 takes it a step further, pulling out so much dust out of the carpets, it makes me wonder how much dust I'm breathing in.
The Dyson V10 vacuum gets two thumbs up from me and leaves with a question of "what will they think of next?".
For more information on the Dyson Cyclone V10 vacuum, please visit dysoncanada.ca.
Dyson Cyclone V10 Absolute Review Photo Gallery