Growing up in a large family, all of the kids had certain chores they were responsible for around the house. My chore of choice was vacuuming the house, and I was really good at it. As a grown up, I'm still very good at vacuuming, and no one can do better job than me, it has taken me years of practice to perfect this skill.
As a married man, vacuuming is still my responsibility. I normally prefer to do my vacuuming duties with an upright vacuum cleaner, as I don't have to worry about the hose and the power cord getting tangled. But when Dyson comes out with a state of the art canister vacuum cleaner, I just couldn't resist. I have always enjoyed products from Dyson, I think they look great and work even better. I recently reviewed the Dyson V6+ cordless vacuum cleaner, which works great and is super convenient.
About a month ago we were provided a Dyson Cinetic Big Ball vacuum cleaner for a review, I was also flown to Chicago to meet the senior design engineer Robert Green, who talked about how this new vacuum cleaner was designed and we also had a chance to look at the inner workings of the vacuum, we were provided with a Cinetic Big Ball vacuum, which is taken apart and with the help of Mr. Green, we were walked through the process of putting it back together. I really know the ins and outs of this vacuum, not a lot of people can say they've seen the inner workings of a Dyson vacuum cleaner.
It was really impressive to see how much research and development goes into making these vacuum cleaners. To end users, these are just vacuums that do what they're supposed to do, but engineers spend thousands of hours perfecting these vacuums.
The Dyson Cinetic Big Ball Vacuum Cleaner
One of the problems with a canister vacuum is they tend to tip over when you over extend the hose, which has happened to me in the past. The old shop-vac I used to use would tip over occasionally and would sometimes even spew out some of the dust I had collected, leaving a bigger mess than I started with. The new Cinetic Big Ball takes care of the tipping problem, as it's the world's first canister vacuum that self-rights itself when it tips over.
At the Dyson office, while we were putting the vacuum back together, Mr. Green showed us how they've achieved this. The engineers designed the canister with most of the weight at the lowest part of the "ball", the cord wraps around at the lowest point and they've even put in a metal plate at the bottom for added weight, making the center of gravity as low as possible. The circular shape also helps it flip back up when it has been knocked down.
Does it actually work?
The simple answer is yes. I've been using the vacuum for about a month now and it actually never tipped over on its own, so to test the theory, I kicked it a few times to tip it over. As soon as it tips over, it rights itself back up. It is also very easy to maneuver and it follows you like a certain robot from a certain movie that involves Wars and Stars.
Vacuuming power of the Dyson Cinetic Big Ball
The small hand-held vacuum I reviewed recently, sucked up a lot of dirt, so I was expecting the bigger vacuum to do an even better job, and it did. The Cinetic Big Ball has a very powerful motor, picking up everything that comes in its way and it also picks up a lot of dust particles that other vacuum cleaners would leave behind. You only realize this when you empty out the bin, the amount of dust that falls into the trash can is pretty impressive and scary at the same time, making you realize how much dust you've been living with.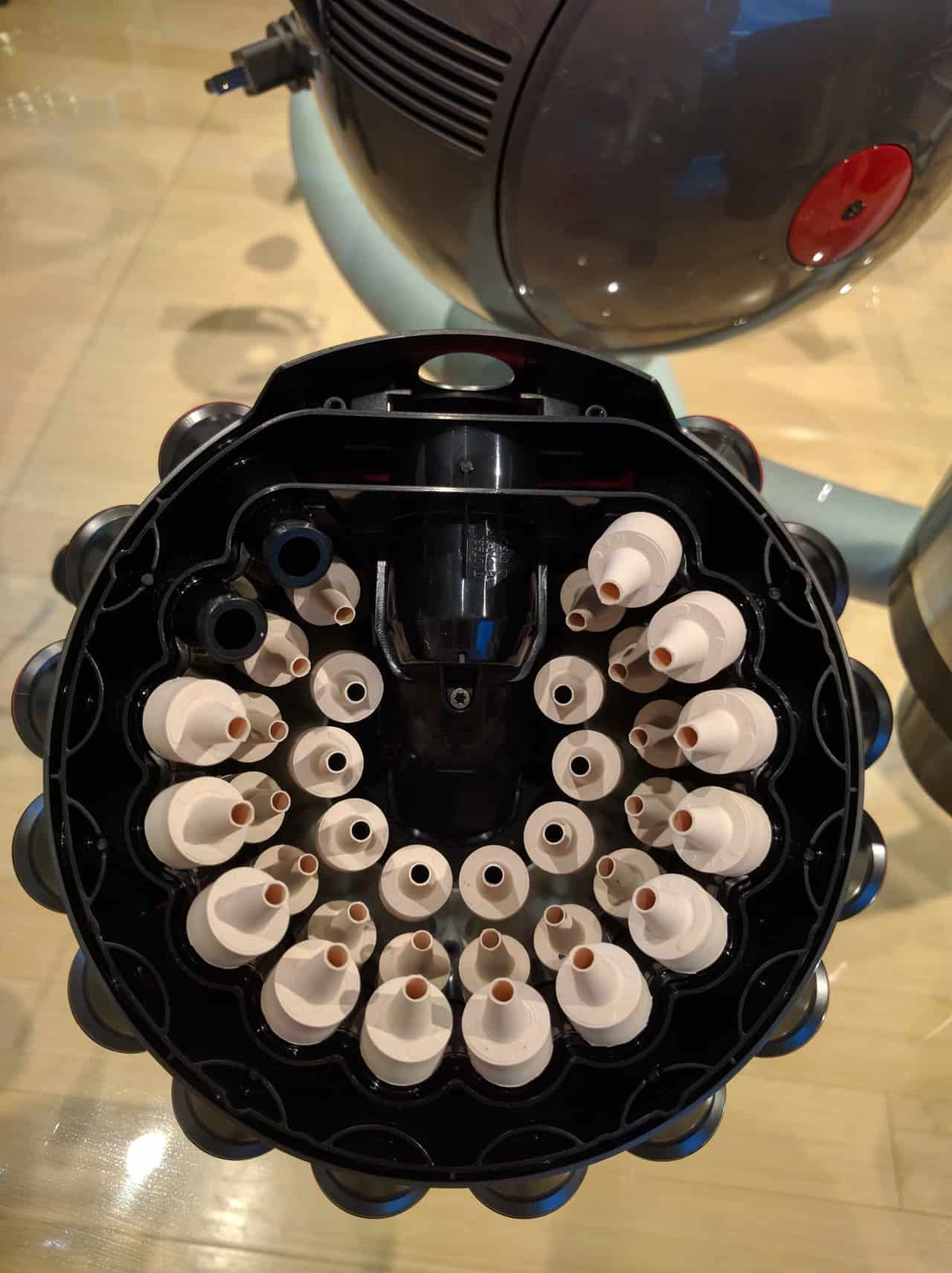 The reason this vacuum collects so much dust is the presence of 36 "Cinetic" tips (see image on the right), which are made out of rubber or rubber-like material. These tips vibrate as the vacuum cleaner is sucking in air, the tips' vibration catches microscopic dust particles, down to 0.3 micron size, leaving your carpets clean and dust free. These tips also help the filter from clogging, giving you even suction power throughout the life of the vacuum cleaner.
Another great addition to the Dyson Cinetic Big Ball is the "Hygienic dirt ejector", which is part of the dust bin, as you empty out the bin, a silicone collar slides down the shroud and scrapes off left-over dirt particles and hair, so you don't have to touch the dirt. With the V6+, over time I found I had to occasionally remove hair, using my hands, from the filter housing.
The Cinetic Big Ball also doesn't require you to wash the filter, and of course, there are no bags to replace.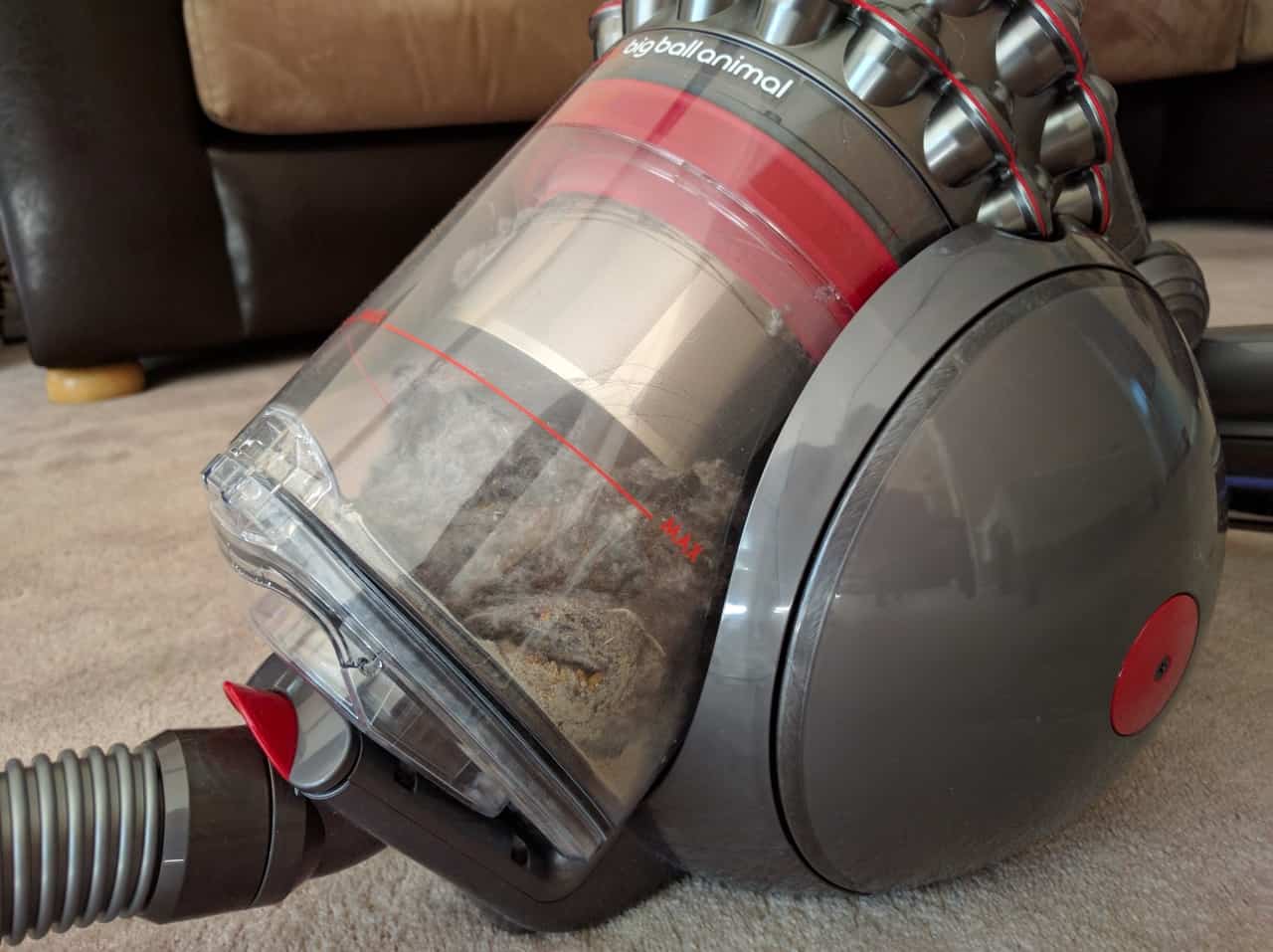 Below is a list of some the work that went into the creation of Cinetic technology:
The Dyson Cinetic Big Ball canister has been in development for more than 2.5 years.
55 design engineers produced more than 1,000 prototypes of the Dyson Cinetic Big Ball canister during the development phase.
1.8 tonnes of test dust was used during the development of Dyson Cinetic Big Ball machines. That's approximately the weight of two Mini Cooper cars.
Dyson Cinetic Big Ball machines covered approximately \ 16,000 meters during testing across 900 debris pickup tests.
The velocity of the air as it enters the cyclone pack is over 160 km/h. It's then accelerated to 290 km/h in the inner cyclones, generating over 100,000 of G-force to separate microscopic particles from the airflow.
To enable the hygienic dirt ejector to function without compromising the machine's dust separation performance, engineers used a chemically-etched stainless steel shroud beneath the cyclones. The holes in the shroud are 250 microns x 250 microns – that's one-eighth the size of a pin head.
The cable re-wind mechanism is tested for 6,400 cycles and employs metal centrifugal brakes to control the cable's re-entry, as well as ceramic bearings.
Over 20,000 hours of testing has been carried out on Dyson Cinetic™ science alone.

Overall Impressions
I'm extremely pleased with the performance of the Dyson Cinetic Big Ball vacuum cleaner. It delivers what it promises; it keeps your house very clean and it's very easy to use, easy to clean, and it comes in a compact size that doesn't take up too much closet space when not in use.
The Dyson Cinetic Big Ball Vacuum cleaner is priced at $799 in Canada. The box comes with quite a few accessories for cleaning stairs, animal hair, and overhead cleaning. Everything attaches very easily and taking accessories off is achieved by the push of small buttons. The vacuum also comes with a 5 year warranty. For more information on the Cinetic Big Ball and other products offered by Dyson, please visit dysoncanada.ca.