As an enthusiast of both ease and fashion, I find myself irresistibly attracted to the humble t-shirt. It may appear unassuming, but it serves as the cornerstone of any ensemble, promising limitless opportunities. Whether you're adorning it for an evening downtown or teaming it with denim for a laid-back day, unadorned t-shirts never fall short. The cherry on top? They're budget-friendly and perennially fashionable.
Let's delve into the numerous advantages of these wardrobe staples and why they're an essential inclusion for everyone's closet.
Key Takeaways
Versatility: Plain t-shirts are versatile and can be dressed up or down, making them a great foundation for any outfit.
Timelessness: Basic t-shirts never go out of style and can be worn for any occasion, making them a timeless wardrobe staple.
Chic and Minimalist: Plain t-shirts are essential for creating a minimalist and fashionable look, especially when paired with other stylish pieces.
Affordability: Plain t-shirts are an affordable way to enhance your wardrobe, allowing you to allocate more budget to other luxury items.
Table of Contents
From Casual to Classy: The Multifaceted Charm of T-Shirts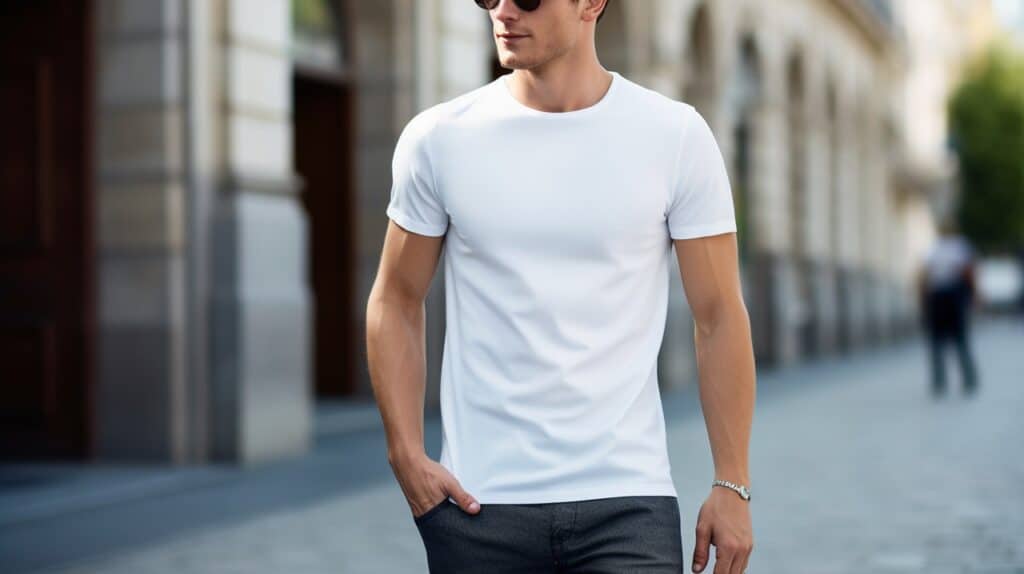 As someone deeply interested in style and fashion, I can confidently assert the unrivaled adaptability of t-shirts. The charm of t-shirts lies in their myriad of advantages, making them an essential piece in everyone's wardrobe. Their foremost attribute is their exceptional adaptability.
A t-shirt is a clothing item that graces everyone's wardrobe during their lives. From babies to kids to teens to adults, a tee is worn by all. It's a great, classic fashion statement that goes along with everything: jeans, trousers, shorts, formal pants – you name it. Whether you have a casual dinner party to go to or a fancy wedding – you can just pair it with something that goes with the theme and tone of the event.

https://xsuit.com/en-ca/blogs/news/5-reasons-why-a-top-quality-t-shirt-is-really-worth-it
T-shirts have the unique ability to transform from a casual staple with a pair of jeans to a classy ensemble with a skirt and heels. This chameleon-like nature allows them to blend seamlessly with your personal style. Their availability in a spectrum of colors enhances their appeal, and they can be stylishly layered with jackets or cardigans for a chic appearance.
Imagine the endless fashion combinations you can create with just this single piece of clothing. It gives you the freedom to experiment with your style, making every day a new fashion adventure. In essence, the versatility of t-shirts makes them an indispensable part of any wardrobe.
Enduring Trends: The Timeless Appeal of T-Shirts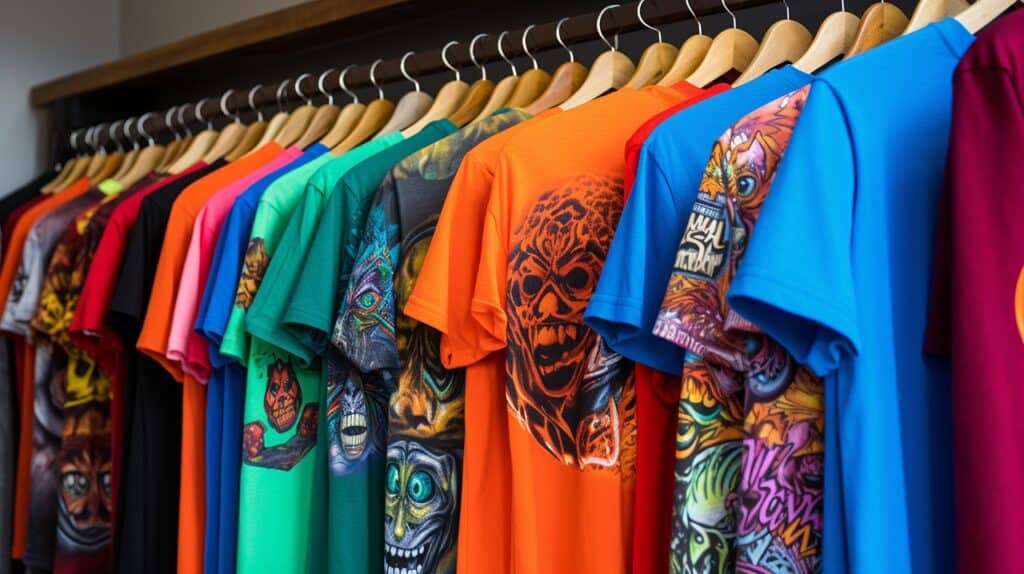 T-shirts are more than just a transient fashion statement; they're a testament to enduring style and comfort. Their adaptability and timeless charm have made them a vital wardrobe staple that transcends fleeting fashion trends. Let's explore the enduring allure of t-shirts:
Versatility Unleashed
The humble t-shirt, particularly in its plain variant, is a chameleon of style. It can adapt to any outfit, occasion, or preference. With a spectrum of colors and designs available, including classic pocket t-shirts, they offer boundless opportunities for personal expression.
Timeless Charm
The ubiquitous t-shirt has graced the wardrobes of style mavens like James Dean to Kim Kardashian, securing its status in the annals of fashion. Its ability to blend seamlessly with other apparel makes it a timeless component of conventional outfit ensembles.
Styling Made Simple
The effortless integration of plain t-shirts into any fashion repertoire underscores their indispensability. They're the secret ingredient for a sleek, minimalistic look. Whether adorned with accessories or showcased in their simplistic elegance, they exude a refined sophistication.
Embrace the Minimalist Chic Style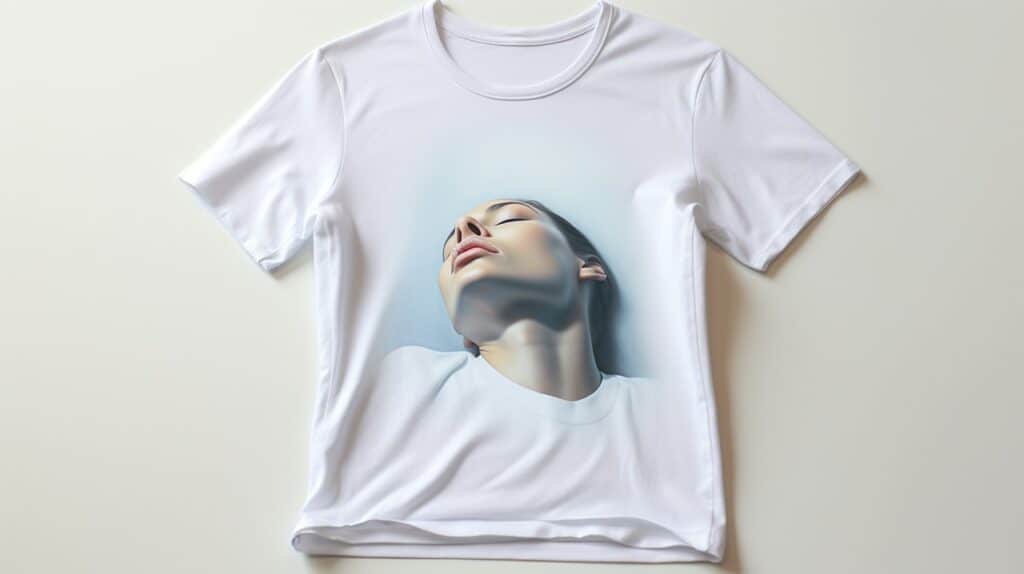 The minimalist chic style can be effortlessly attained with the timeless charm of plain t-shirts. The unadorned nature of a plain t-shirt offers the flexibility to pair it with a variety of styles, making it an essential piece in a minimalist wardrobe. Let's delve into this in more detail by exploring the table below:
| Minimalist Chic Outfit Ideas | Description | Example |
| --- | --- | --- |
| Monochromatic Look | Match a pristine white tee with white trousers and a white blazer for a polished and refined look. | White tee + White trousers + White blazer |
| Classic Denim Combo | Craft a classic outfit by teaming a plain black tee with high-waisted jeans and a leather jacket. | Black tee + High-waisted jeans + Leather jacket |
| Effortless Casual | Choose a relaxed and comfy outfit by donning a plain gray tee with joggers and sneakers. | Gray tee + Joggers + Sneakers |
| Chic Layering | Enhance a simple t-shirt by layering a long cardigan over it, teamed with skinny jeans and ankle boots. | Plain tee + Long cardigan + Skinny jeans + Ankle boots |
| Pop of Color | Infuse vibrancy to your outfit by pairing a plain colored shirt with neutral bottoms and accessories. | Colored tee + Neutral bottoms + Accessories |
By investing in high-quality plain t-shirts, you can seamlessly achieve a minimalist chic look while feeling comfortable and stylish.
Affordable and Quality Assured: The Case For Plain T-Shirts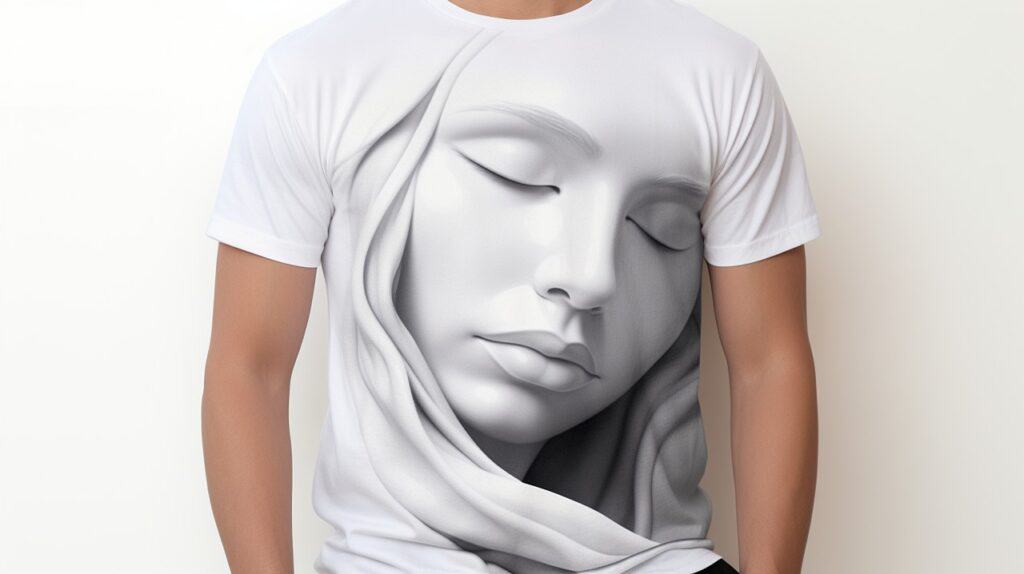 Plain t-shirts offer more than just a simple wardrobe staple. They bring a blend of cost-effectiveness, versatility, and enduring quality. Here's why plain t-shirts should be a go-to choice for your fashion needs:
'It's all about the Benjamins': Plain t-shirts aren't just affordable; they're a smart investment. Especially when bought in bulk, their price-per-wear is significantly lower. Major stores like Walmart often have great deals on plain-colored t-shirts. The key is to invest in high-quality pieces, which not only last longer but also look better with age.
'One Shirt, Countless Looks': The beauty of plain t-shirts lies in their adaptability. They can be mixed and matched with a broad range of bottoms, lending themselves to a host of different styles. Whether you're dressing up for a night out or dressing down for a casual day, a plain tee never falls out of place.
'Quality that Endures': High-grade plain t-shirts are crafted from robust materials that can endure regular wear and wash cycles. They maintain their shape, vibrancy, and softness even after countless washes. This makes them the ultimate go-to for a long-lasting white tee.
The affordability, adaptability, and lasting quality of plain t-shirts make them a superb choice. They offer remarkable value for money and are an essential element in creating a stylish yet budget-conscious wardrobe.
Comfort and Fabric Selections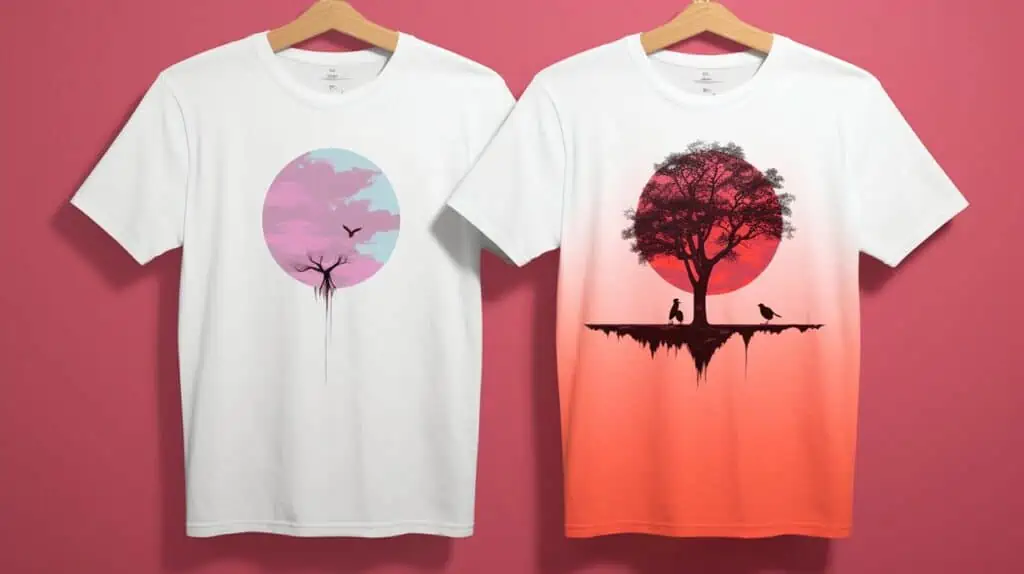 Diving into the world of t-shirts, one mustn't underestimate the influence of fabric on comfort and fit. The quality of your plain tee can be radically transformed by the fabric type. Prioritize high-quality tees crafted from skin-friendly, breathable materials such as cotton or cotton-poly blends. These fabrics not only provide a soft caress on your skin but also ensure breathability, which is a real game-changer in warm climates.
'Fit and Silhouette'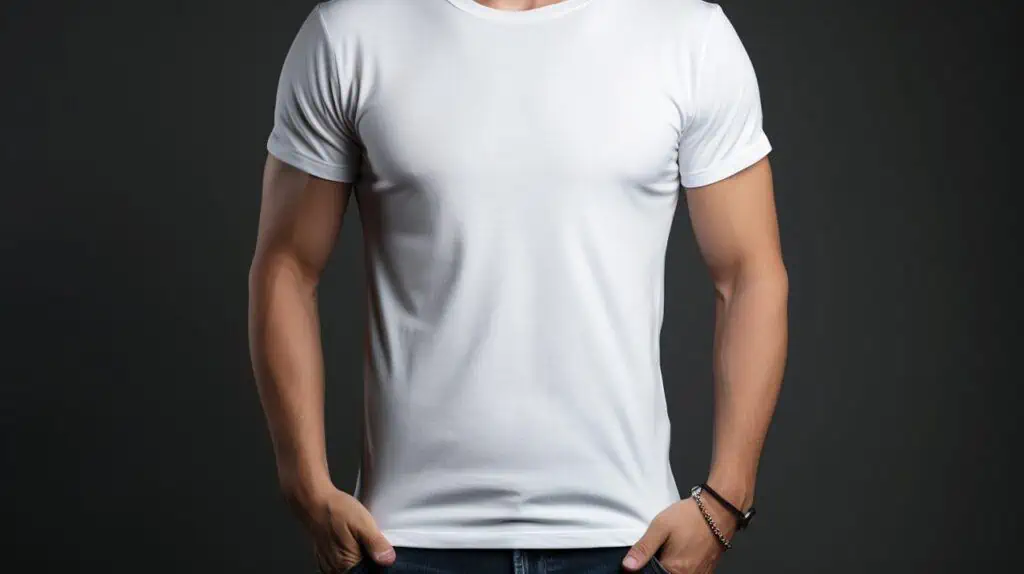 A well-fitted tee is another key element to consider. The right fit ensures a pleasing silhouette, adding to the overall comfort. So, whether your quest is to find the top-notch men's plain tees or the ultimate women's plain t-shirts, fabric choice is a crucial factor that can significantly enhance your wearing experience.
Frequently Asked Questions
How Do I Style a Plain T-Shirt for a Formal Event?
For a formal event, I would style a plain t-shirt by pairing it with high-waisted trousers or a tailored skirt. Adding a blazer or a statement necklace can elevate the look and make it more sophisticated.
What Are Some Tips for Maintaining the Color of My Plain T-Shirts?
To maintain the color of your plain t-shirts, wash them inside out in cold water, use a gentle detergent, and avoid drying them in direct sunlight. This helps preserve their vibrancy and keeps them looking fresh.
Are There Any Specific Fabrics I Should Look for in High-Quality Plain T-Shirts?
When looking for high-quality plain t-shirts, focus on fabrics like cotton or cotton-poly blends. These materials offer comfort and durability, ensuring your t-shirt lasts longer and maintains its appearance.
Can I Wear a Plain T-Shirt to the Office?
Yes, you can definitely wear a plain T-shirt to the office. It's a versatile and comfortable option that can be dressed up with the right accessories and paired with professional bottoms for a stylish and professional look.
How Can I Make My Plain T-Shirts More Fashionable Without Adding Accessories?
To make plain t-shirts more fashionable without accessories, I experiment with different styles and cuts that suit my body type. I choose high-quality tees that are comfortable, durable, and retain their shape and color after washing.