Alright, gents, get ready to dust off those khakis and slip into your finest leather boots because we're diving headfirst into a world of opulence and adventure. Namibia, the jewel of Southern Africa, beckons the daring souls among us to embark on an extravagant journey through its untamed landscapes. This isn't your average holiday either; this is a luxury voyage complete with top-tier accommodation and exclusive experiences that redefine the notion of a safari.
Let's take a closer look at everything you need to know before you start reaching for your passport…
Exploring the Best Places in Namibia on a Luxury Safari
Imagine yourself standing in the midst of the Namib Desert, staring at colossal red dunes that look like they were borrowed from a Martian postcard. This is Sossusvlei, a place you absolutely must visit on your Namibia luxury safari. These towering sand dunes are unlike any other, their deep red hues changing shades as the sun caresses them, creating a surreal and breathtaking landscape you'll never forget.
But that's just the beginning. Damaraland, with its enigmatic desert-adapted elephants and ancient rock formations, is a rugged wonderland where the timeless tales of the desert are etched in stone. Here, you'll witness nature's artistry in the form of geological wonders, from the eerie beauty of the Organ Pipes to the hauntingly enigmatic rock carvings of Twyfelfontein.
Etosha National Park, one of Africa's premier wildlife sanctuaries, is another 'must visit' on this trip of a lifetime. The enormous salt pan at its heart is a magnet for wildlife, making Etosha one of the most extraordinary places on Earth to observe both the sheer scale of nature and the intimate details of life in the wild.
Venturing onwards, if you're thinking of jetting off for more than a week, then pen in a visit to the Caprivi Strip. With its lush landscapes and network of rivers, it offers a verdant contrast to Namibia's more arid regions.
Finally, while you're at it, don't forget to swing by Swakopmund, the coastal adventure capital that serves as an adrenaline-fueled pit stop. This coastal town combines charm and a sense of adventure, offering everything from quad biking across the dunes to exhilarating skydiving excursions. And then there's Windhoek, the capital city, where modernity merges with colonial charm, and a burgeoning culinary scene awaits your exploration.
World-Class Lodges to Enhance Your Safari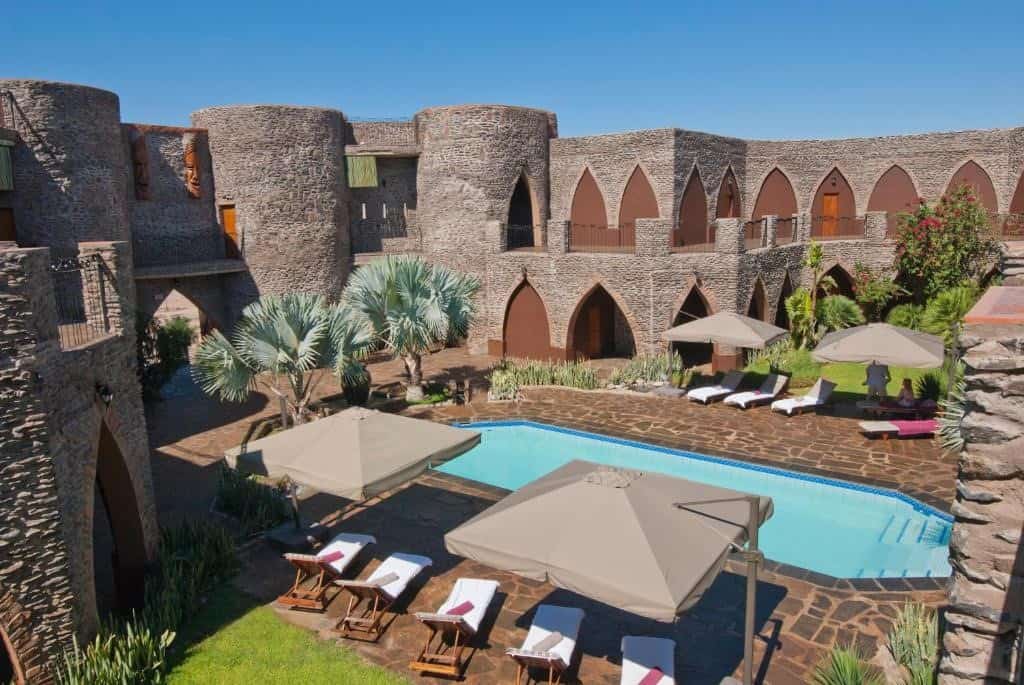 Luxury is woven into the very fabric of a Namibian safari, and this reputation isn't solely built on pristine wilderness or thrilling adventures—it's the premium accommodation that adds that extra layer of indulgence. Regardless of where your safari itinerary transports you, you'll never be far from a world-class lodge that boasts everything you need to experience the wild in style.
Amongst our favorite picks is Zannier Hotel Sonop, which offers an oasis of refinement amidst the rugged landscapes of the Namib Desert. With tented suites that masterfully blend classic safari charm with modern conveniences, you'll find yourself surrounded by understated elegance. Step out onto your private terrace and plunge into your own pool, all while being entranced by the sweeping desert panoramas that stretch out before you.
A luxury safari trip to Namibia is all about rejuvenating both the body and soul and Le Mirage Desert Spa & Lodge is another exceptional option: the place where luxury meets wellness. This striking lodge mimics a medieval fortress, providing a unique backdrop for your stay. The suites, adorned with tasteful furnishings, frame stunning desert vistas that are nothing short of awe-inspiring.
Ongava Lodge, located on the border of Etosha National Park, is another top luxe choice, bringing the wild to your doorstep without sacrificing an ounce of comfort. Exclusive suites, each with a private viewing deck, allow you to observe the incredible wildlife without ever having to leave your cocoon of opulence. The Ongava staff are also known for their incredible hospitality, and during your stay here, you can rest assured every single whim will be catered for.
Gourmet Cuisine
Culinary excellence forms an integral part of the luxury safari experience in Namibia. Many of the country's top-tier lodges are renowned for their world-class dining, where gourmet cuisine takes center stage. Expect to indulge in a fusion of international and local flavors, often featuring exquisite game meats that celebrate the nation's gastronomic diversity.
Furthermore, many of the premier lodges offer all-inclusive packages, allowing you to relish sumptuous meals and beverages around the clock. Another beer, please, equals not a problem!
Endless Luxury Activities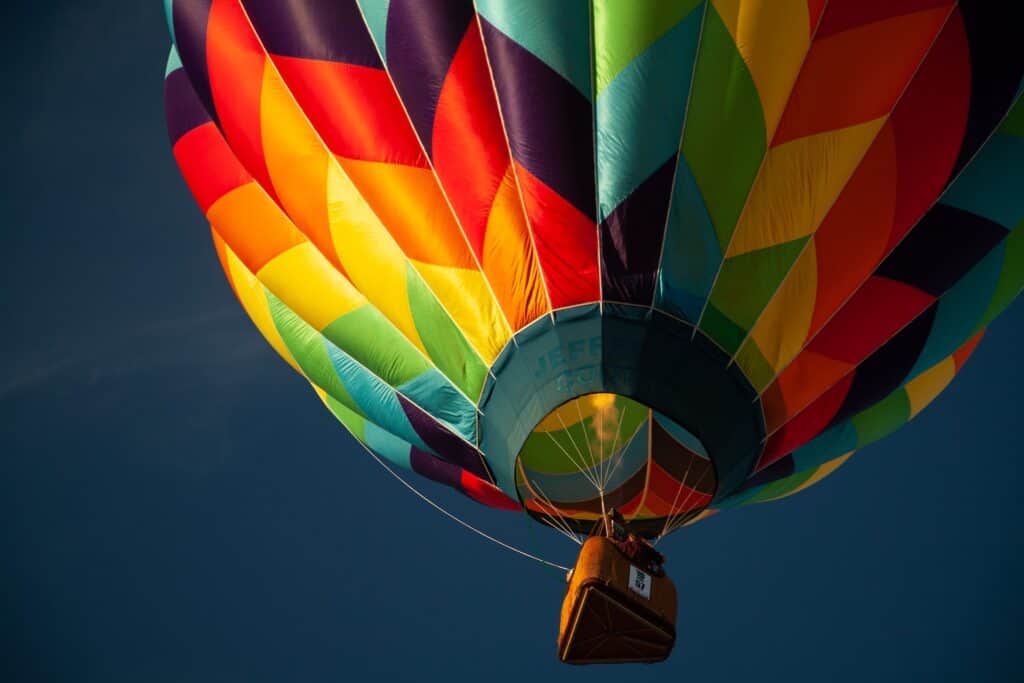 A luxury safari in Namibia isn't just about observing wildlife; it's about immersing yourself in a world of thrilling experiences that leave you awestruck. While wildlife encounters are undoubtedly a highlight, there's more in store for the discerning traveler seeking an extra dose of opulence.
Beyond traditional game drives, consider spending a day on a chartered fishing expedition along the coast, where you can reel in some of the ocean's most sought-after catches. Namibia's coastline also serves up spectacular marine safaris, including catamaran adventures that are like nothing you've ever seen before. Seals, dolphins, and the occasional whale can all be spotted amidst the backdrop of the stunning Atlantic Ocean.
And if the skies beckon and you feel like doing a James Bond impression, take to the air in a private aircraft for a scenic flight over Namibia's stunning landscapes. Whether you're soaring over the world-famous red dunes of the Namib Desert or witnessing the pristine beauty of the coast from above, a helicopter or hot air balloon ride offers a unique perspective on this extraordinary land.
Further, if you're seeking an adrenaline rush amidst Namibia's captivating landscapes, there are adventure activities that will get your heart pounding. Dune sandboarding is an exhilarating experience; feel the rush of excitement as you carve your way down the ever-shifting sea of sand. For those who prefer to explore on foot, Namibia offers a plethora of hiking trails, with the most famous being the Fish River Canyon hike, providing an unmatched opportunity to traverse rugged terrain and witness breathtaking vistas.
Finally, for those seeking relaxation, treat yourself to a rejuvenating spa day, where skilled therapists work their magic amid tranquil desert surroundings. Or embark on a cultural journey with private tours to indigenous communities, gaining insights into the rich heritage of Namibia's people.
Encountering Namibia's Remarkable Wildlife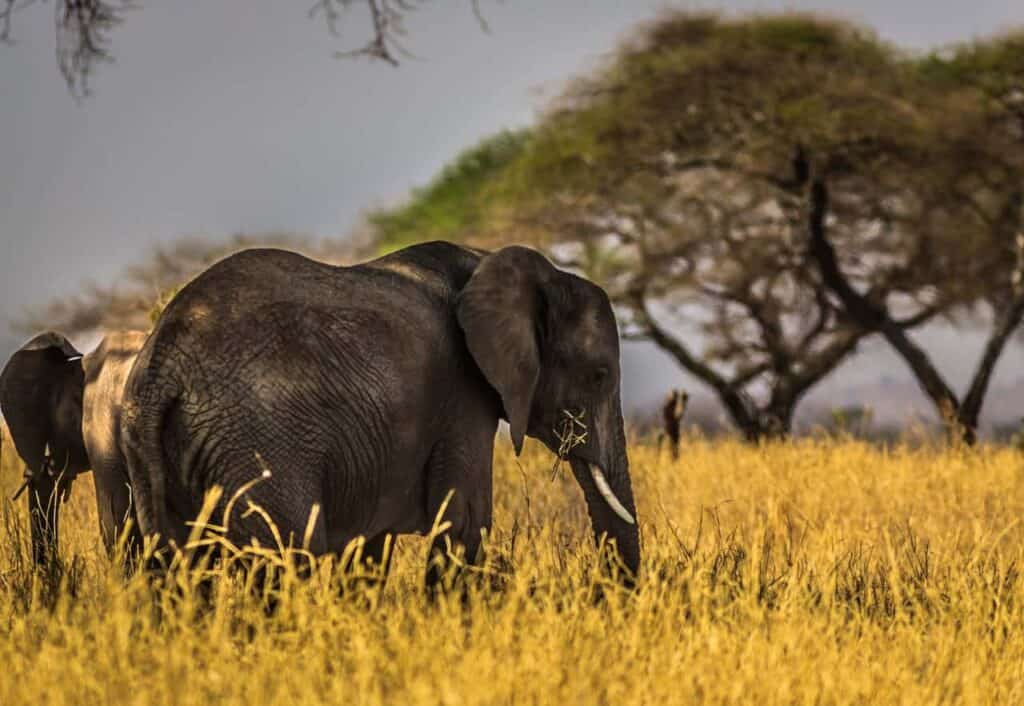 No safari adventure would truly be complete without getting up close and personal with the local inhabitants (and we're not talking about people!). Fortunately, Namibia doesn't disappoint, and this Southwest African nation ranks as one of the best destinations for viewing wildlife in all of Africa.
If you've heard of the famous The Big 5, you'll be ticking off the notches on your wild adventure belt. Lions, leopards, elephants, rhinos, and buffaloes all await.
If you venture to Etosha National Park, you can also catch a glimpse of the critically endangered black rhinos as well as a whole host of fascinating mammals and birds.
Further north in Namibia's remote regions like Damaraland, you'll also get the chance to spot incredible Desert-Adapted Elephants and witness how they thrive in the harsh desert environment.
Diverse Luxury Safari Experiences
When it comes to safari styles, you've got plenty of choices in Namibia. Popular safari types include self-drive adventures that allow you to explore at your own pace and guided tours. However, for that ultimate level of luxury, it's all about the fly-in safari. Imagine being transported like the super-rich in a private plane, reducing your travel time and ensuring you arrive in style at your chosen destinations. It's the only way to go if you're looking for that next-level safari experience.
Tips for an Exceptional Luxury Safari in Namibia
Let's wrap things up with some top insider tips for planning the dream luxury safari trip:
Packing Tips for Luxury Travellers: Pack light, breathable clothing suitable for both warm days and cooler evenings. Don't forget your camera and binoculars, and keep sun protection close at hand. You can find more packing tips here.
Best Time to Go: The dry season, from May to October, is your golden ticket. Wildlife congregates around water sources, making your game-viewing experience top-notch.
How to Book and When to Go: For a seamless experience, consider booking your luxury safari with a reputable luxury tour operator based in Namibia. Local knowledge and on-the-ground connections can make a world of difference. And don't procrastinate – the best lodges fill up faster than a cheetah on a sprint. Book in advance!