We all want to have a hint of mystery in our lives; through the ages, we've always been fascinated with the secret passageway and entrance. If we're not actually building these crafty passages into our homes, we're working them into our popular culture. Every super hero, villain, secret agent, or mysterious love interest seems to have a secret entrance hidden up their sleeve at some point or another. Often masquerading as a grand staircase finial, a shelf of imposing tomes, or a wax dripping wall sconce, stories and entertainment have worked through every iteration of the secret entrance… Or so we thought.
This clever homeowner has built a fully functional, remote locking secret entrance into the back of their house. And you seriously can't tell it's there. Hit the jump for some pretty mind blowing video.
Suburbia's Secret Entrance: the New Best Way to Escape When the Cops Break Up Your Party
With all the apocalypse talk and zombie lovin' that 2012 brought our way, having a concealed secret entrance seems like the perfect addition to any home as the new popular reno project for 2013. Plus, it's a lot more practical than trying to find a way to disguise an entire cave with vines a la Batman, or hoping that no one will notice a Victorian era suspiciously handle shaped coat rack in the middle of your modern minimalist decor. Outside of the myriad of uses (some less than savory) that I'm sure we can all dream up, this could actually be useful in a number of real world situations. So let us all pretend that just for a fleeting second we weren't all imagining smuggling out an illicit hookup in the middle of the night, and take a peek at how cool this thing is.
Now, if taking the time to share this little secret entrance project with the world wasn't cool enough, the creators have also shared the material list that they used. While I in no way encourage you to start cutting giant holes in your siding or becoming a light fearing recluse convinced that the gubmint is going to raid your home at any second, I think this would be absolutely ace to take a stab at building. Although, looking at the fact that I just recently posted about cutting holes in your drywall, perhaps I am subliminally trying to convince you to destroy your homes in an attempt to please me. IT IS I WHO YOU SHOULD FEAR.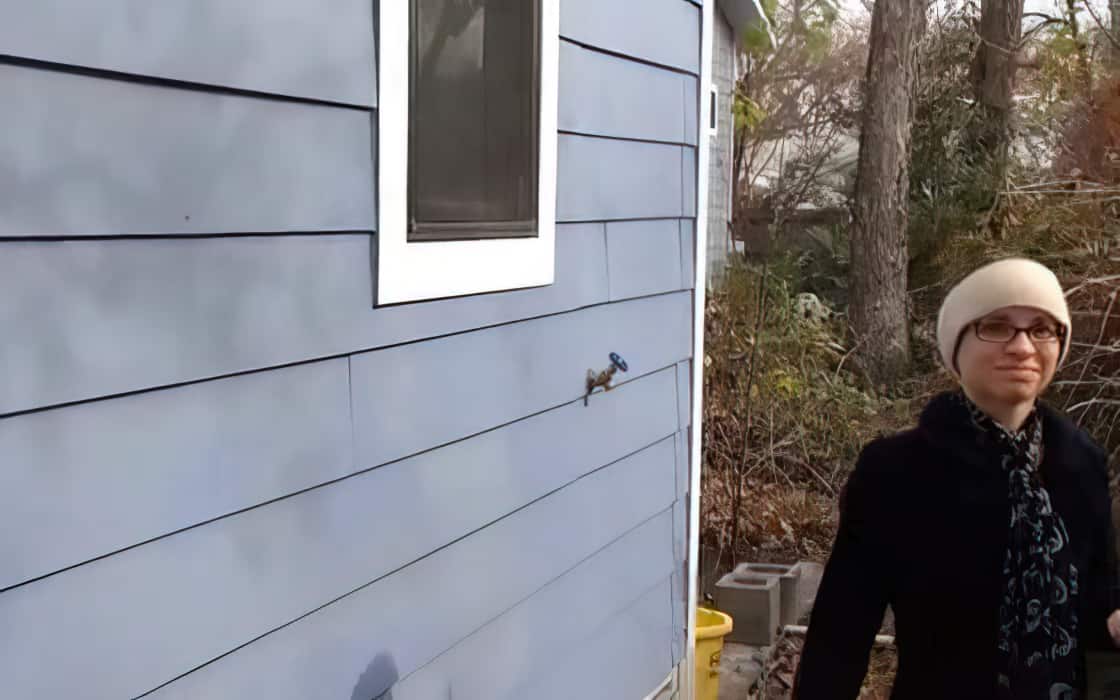 Materials used for exterior secret entrance:
Standard fiberglass exterior door.
Red cedar (won't rot, but lighter than pressure treated). Three 2x4s, ripped to 3″ to form a frame to offset the siding, mounted to the door using 3″ lag screws and fender washers (fender washers used to prevent the bolts from tearing through the fiberglass door).
HardiPlank siding.
Morning Industry Keypad and Remote Deadbolt – $90.
Ball Catch (holds the door shut without needing a turn-able doorknob) – $9.
Richelieu 1-1/2-in x 1-1/2-in Satin Nickel Surface Cabinet Hinge (two) – $4.
Hose bib (used as as the exterior door handle… no working plumbing connected).
 Interior doorknob is a dummy knob (used for pulling the door open but doesn't actually latch).
If any of you try this, shoot me an email. I'll head straight over, either to laugh at you when you hit a gas line (but then help you fix it, 'cause we're friends after all) or to take up permanent residence with my new coolest zombie apocalypse prepper bud.