As part of my Mexican adventure, I've secured some stays at some incredible resorts. Describing them doesn't do them justice. So I decided to do a sort of photo essay so you can see how great the Mexican tourism industry has been to me (I'm waiting for the other shoe to drop. I feel like I might have won some "make-a-wish" thing, but they are waiting until after the trip to give me my diagnosis). The best places I've stayed were near Playa del Carmen, a booming beach town that was a tiny fishing village not that long ago. It is located on Riviera Maya, which is the part of Mexico that sticks out into the Atlantic Ocean near Belize.
The first stop was one of Playa del Camen's resorts, Le Rêve Hotel & Spa, a beachfront boutique adult's only property located in the jungle about 45 minutes south of Cancun on Xcalacoco beach. The name is French-inspired, but the resort itself gathers its influences from Mexico and worldwide.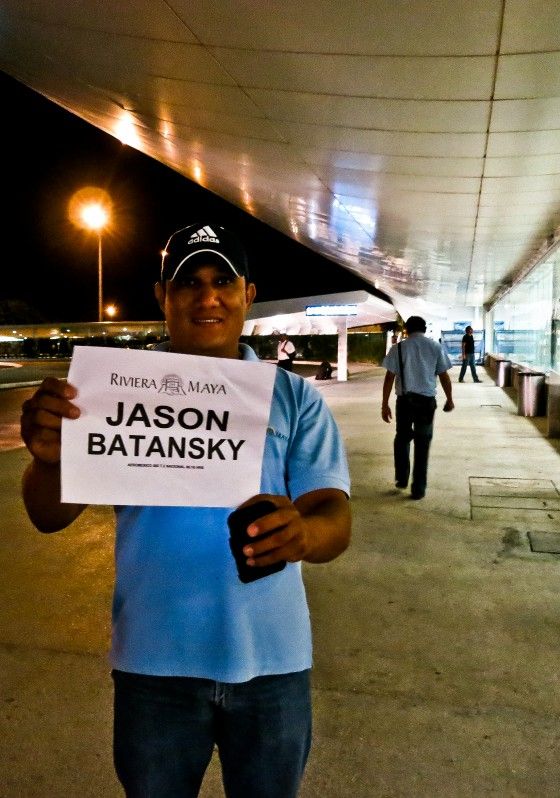 When I got off the plane, this gentleman greeted me.  I am an important enough person to have my own Guy-With-A-Sign-With-My-Name-On-It. I asked him if I could take the sign home and frame it, but apparently, they have rules against that. If someone wants to take it home, they aren't significant enough to warrant one.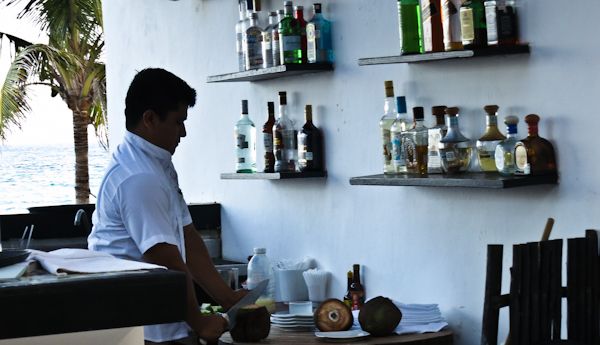 Why yes, that IS a whole coconut that guy is just slicing in half like a tomato.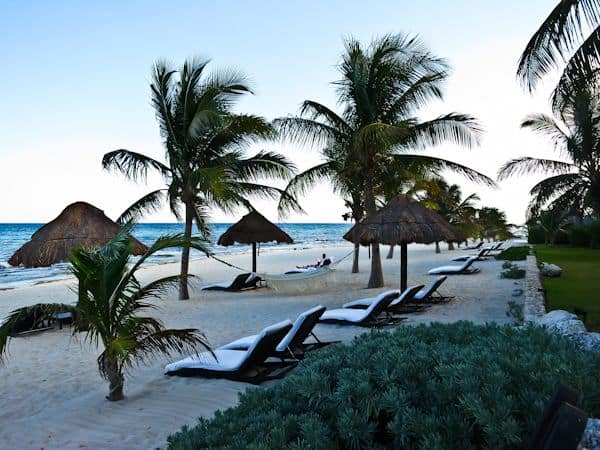 Remember those palm trees I mentioned up by the pool? Well, here they are again. Outside.
These are private hammocks. At least one of the Bungalows has private plunge pools with a beautiful ocean view. They also provide you with complimentary snorkeling gear that I never used. On the downside, the actual ocean directly in front of the hotel, while stunning, sits on a giant rock sans sand.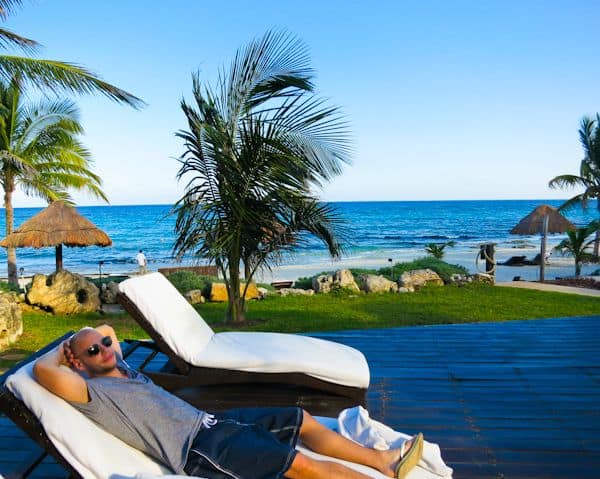 I kept an eye out to see if anyone was filming a Corona commercial. No such luck.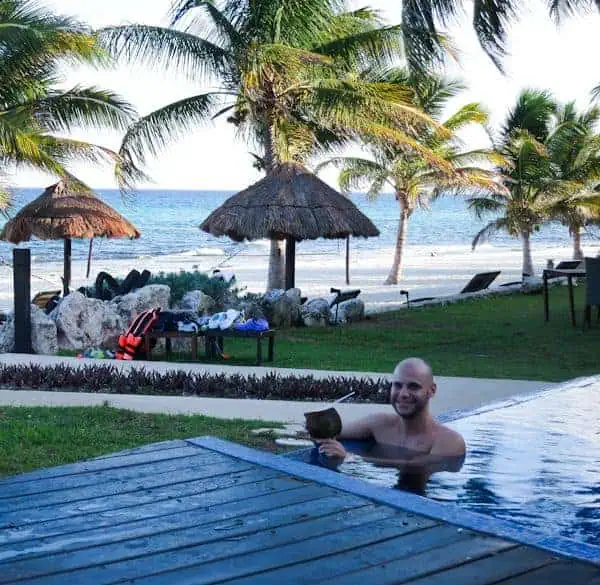 How many bodies of water do you need to have to make it an entire vacation? Two. The ocean and an outdoor pool. Three, if you include a coconut filled with booze.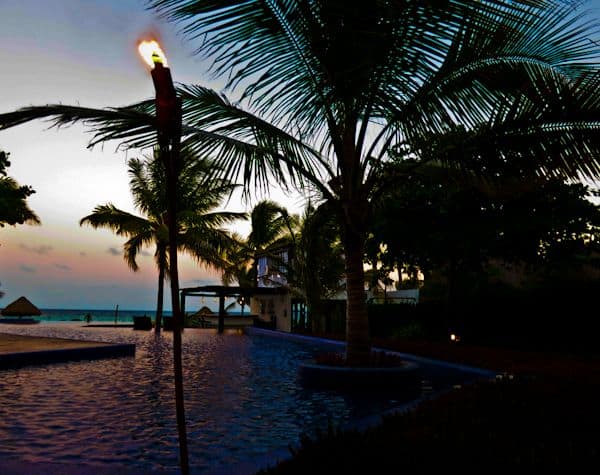 There were tiny canals that cut through the resort. It felt like Venice…except a thousand times better.
Le Rêve Hotel & Spa has one of the best restaurants in Playa del Carmen, Cancun and maybe the entire Riviera Maya. I have to believe that the ingredients are all delivered fresh daily. While there is a consistent Mexican and Italian menu, the specials frequently change according to what's fresh and in season, and they even have an amazing  bread and pastry chef to make fresh bread, muffins, pastries, and cookies every day.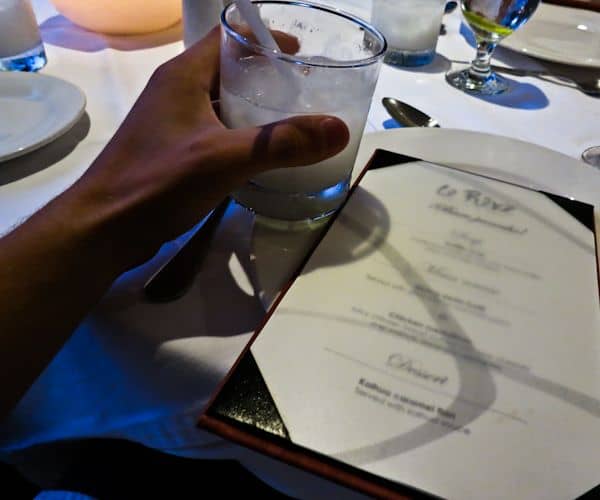 This menu looks blurry. It's not. It's just that it was so good that you get drunk by looking at it.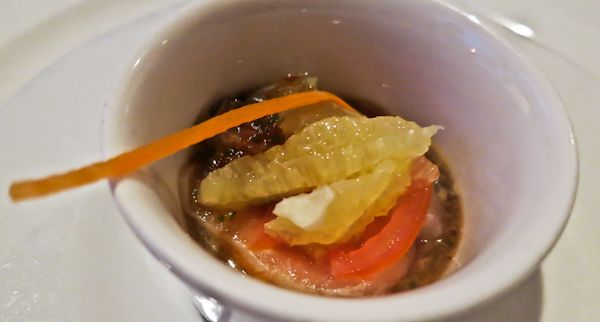 Here's some Ceviche, which is raw seafood marinated in citrus. The citrus cooks the fish. It's a great way to cook fish and not go anywhere near an oven.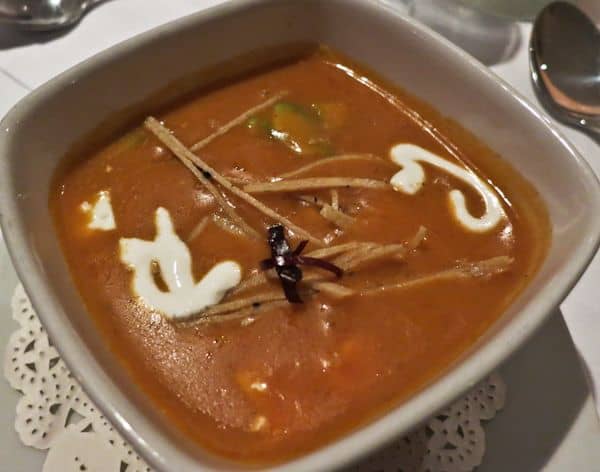 This is tortilla soup. It's a hell of a lot better than the kind in my college dining hall. I imagine this is because the tortillas are made on-site rather than exported from Mexico.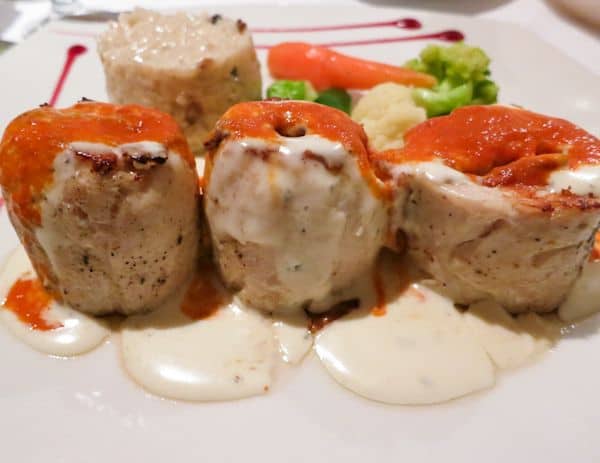 Chicken, stuffed with… cheesy heaven.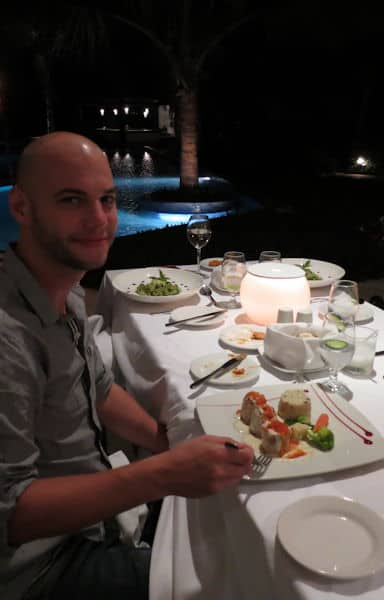 Just in case you thought I Googled "food" to get the pictures above.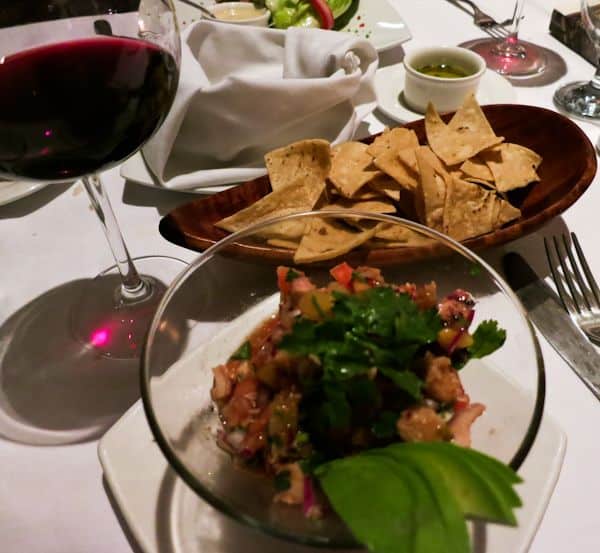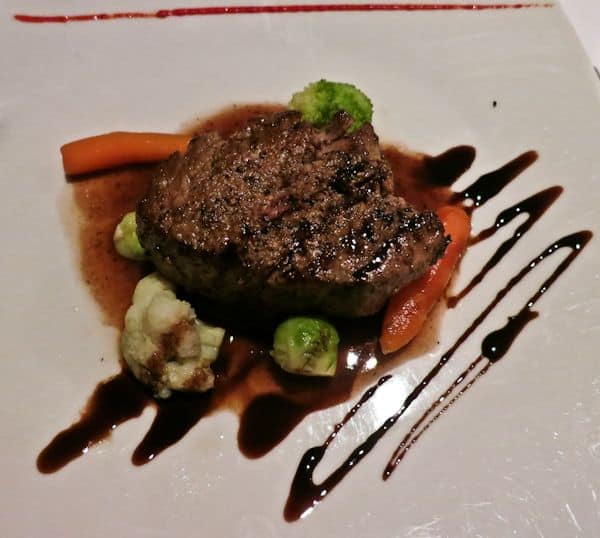 Some Filet Mignon.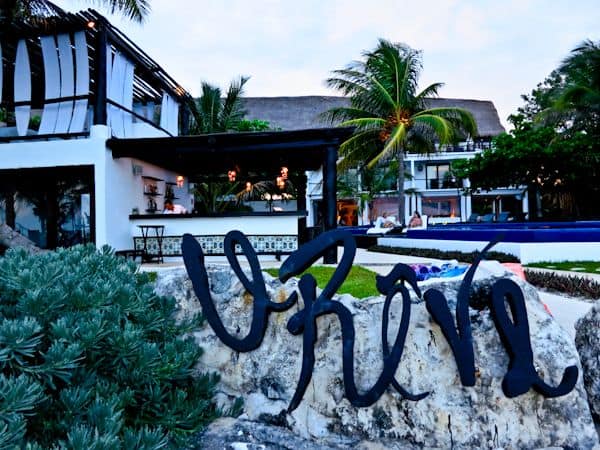 Amazingly enough, the rocks actually formed like that.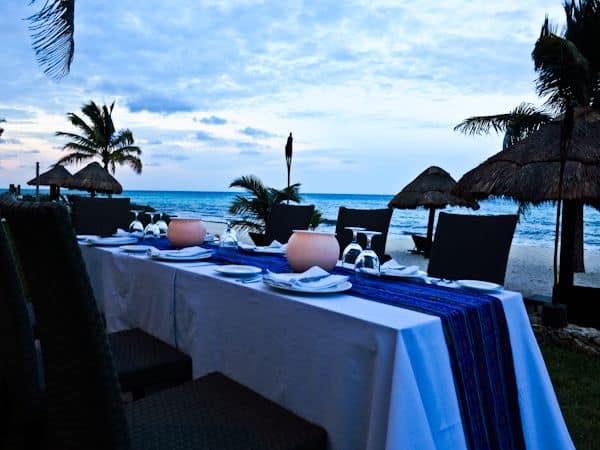 No hurricanes in sight. Safe to eat outside. During this special dinner, the chefs cooked us some Mexican grub while we ate just meters from the beach because eating directly on the beach is not as remarkable as it sounds. You know…sand flies, sand in your shoes, and first-world problems.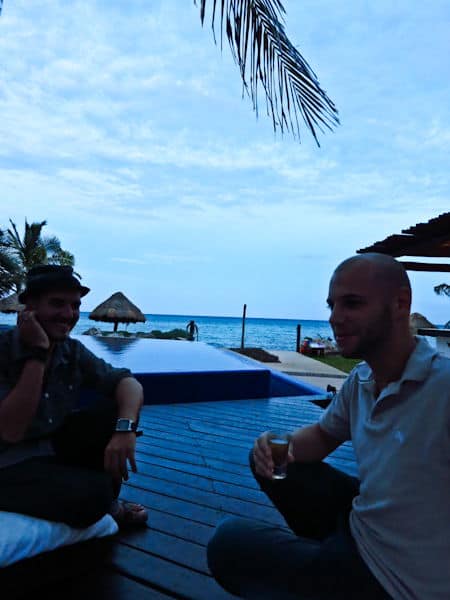 Enjoying some mescal with my new friend Alberto from Wild Junket. Mescal is an alcohol made from the maguey plant native to Mexico. Mescal is basically tequila's more handsome brother.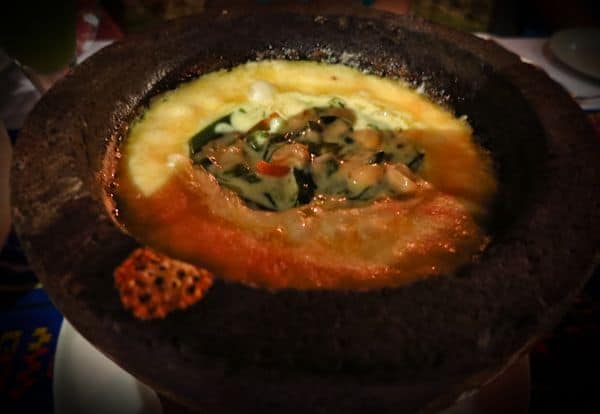 Here is some queso fundido. Which is Spanish for "Cheesy Fun." Sometimes the cook will mix vegetables in the cheese to make it appear less heart-attack-inducing.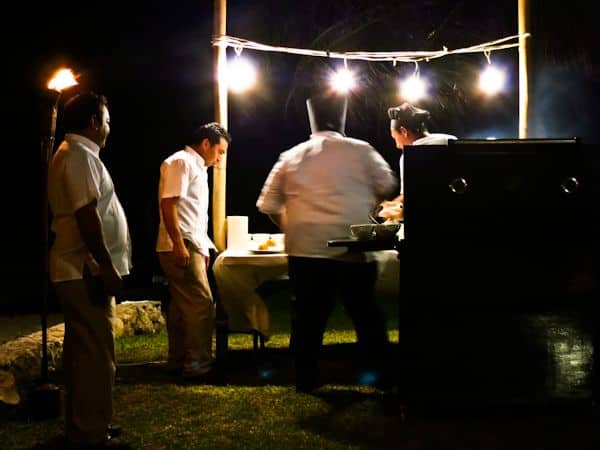 The lights are there, because make no mistake, these guys are performers.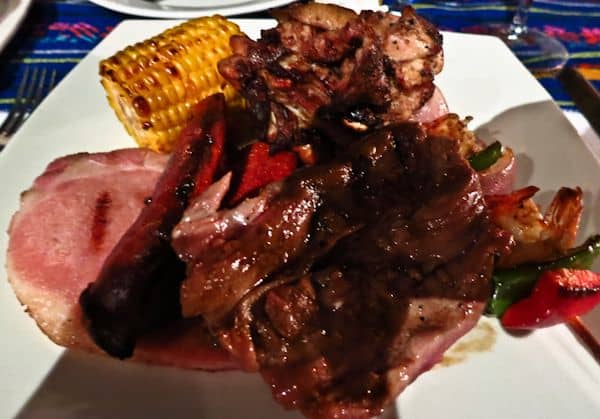 So many delicious kinds of meat. I think we call it a protein plate. Also some corn, because it's important to eat healthy.
Playa del Carmen resorts in Mexico are blowing up right now. And it is exploding with new and innovative resorts, like La Reve, which opened just over four years ago in 2008. With 78 yards of white-sand beach and turquoise blue waters, it is a perfect spot to relax, clear your head, and watch your troubles melt away. It's also a great place to use as a home base for countless activities, including snorkeling, scuba diving, and the ultimate beachfront break from pure relaxing golf. But what makes this region different than most is the Mayan ruins that can be found nestled throughout the landscape and hiding in jungle valleys. Remember, this is your last chance to see the Mayan ruins because their calendar ends soon, so you can't make appointments.
So if you want to have the Mexico resort experience while avoiding the cookie-cutter resorts and drunk college kids, head to Playa del Carmen and La Reve.