Mercedes-Benz has a lot of different SUV/CUVs available in Canada and the United States. These SUVs are a testament to consumers' insatiable appetite for these types of vehicles. These offerings range from the small GLA to the very large GLS and, of course, we can't forget the macho off-road machine called the G-Class. With the exception of the G-Wagen, the SUV names correspond to their car siblings (i.e., A-Class, C-Class, S-Class etc).
The middle of the range is the GLE, which is based on the E-Class. The GLE is offered as a regular SUV and a GLE Coupe. Last year I had the opportunity to review the GLE 63S Coupe, a car that thinks it's a supercar. Last week I had the opportunity to review the "tamer" version of the SUV, the 2022 Mercedes-Benz GLE 450 4MATIC Coupe.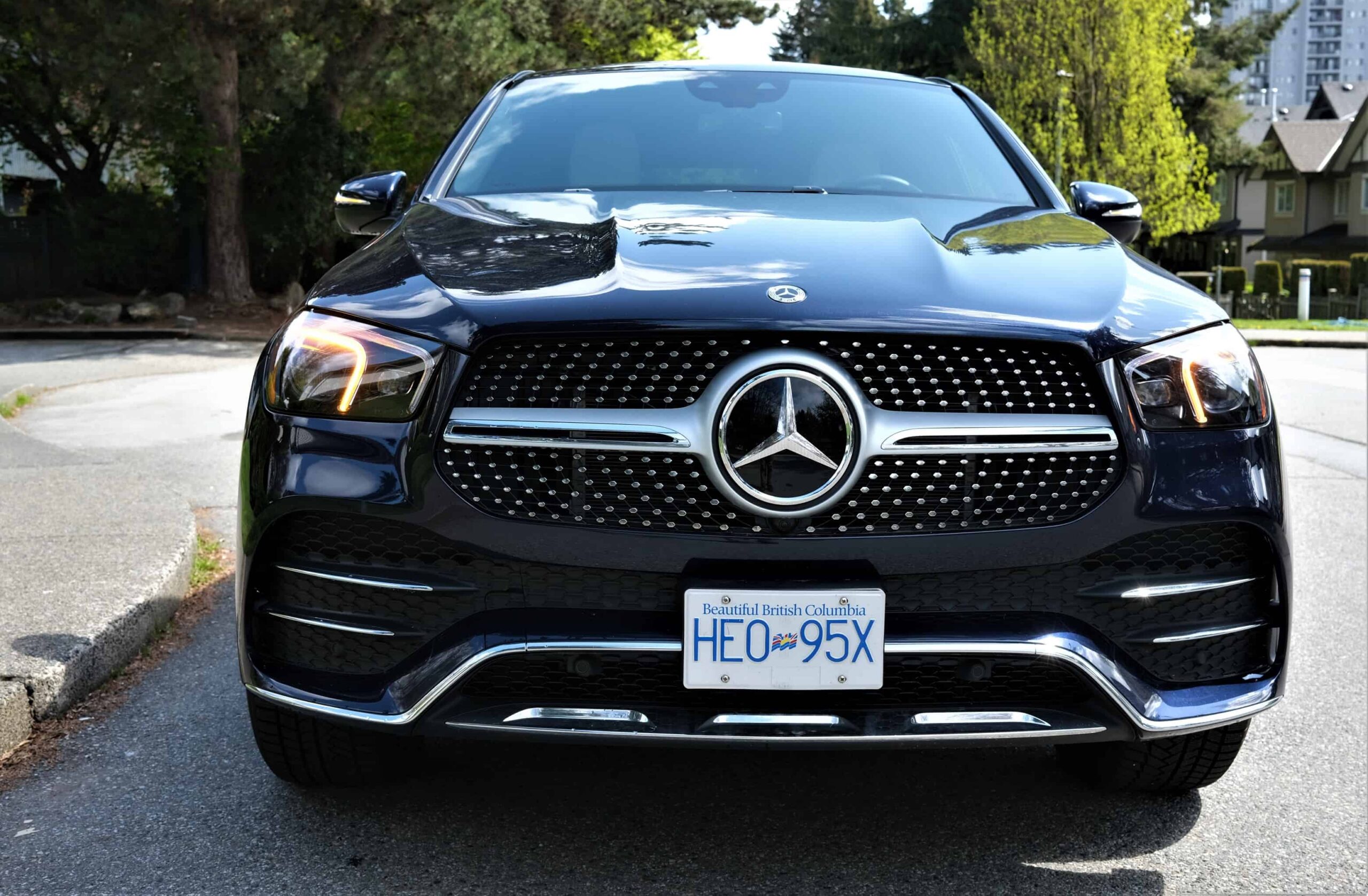 2022 Mercedes-Benz GLE Coupe Canadian Prices
Things have changed a bit since we last reviewed the GLE Coupe in 2021. Last year the GLE Coupe was only offered (at least when I was doing the review) as an AMG model, with two trims, GLE 53 and GLE 63S. This year, the only two trims are the GLE 450 4MATIC and GLE 53 4MATIC+ Coupe.
Prices for the 2022 Mercedes-Benz GLE 450 4MATIC Coupe start at $89,200 and AMG GLE 53 4MATIC+ Coupe at $99,900. These prices do not include the optional packages, which can add another $20,000 – $30,000 to the final price, and of course we can't forget about the dreaded taxes.
Our review car had a price tag of $96,700, it included the Technology Package, Premium Package, Intelligent Drive Package, and a couple of other small items. I'll discuss what these packages include towards the end of the article.
2022 Mercedes-Benz GLE Coupe Engines/Driving
The non-AMG GLE 450 Coupe is powered by a turbocharged 3.0-liter inline-6 engine, with mild hybrid system. The inline-6 produces 362 horsepower between 5,500 – 6,100 rpm and 369 pound-feet of torque between 1,600 – 4,500 rpm. Power is sent to all-four wheels via a 9G-TRONIC 9-speed automatic transmission. The 0 – 100 km/h (0 – 62 mph) sprint takes place in 5.7 seconds.
The AMG GLE 53 Coupe is also powered by a mild-hybrid turbocharged 3.0-liter inline-6 engine, but in this trim, it produces 429 horsepower at 6,100 rpm and 384 pound-feet of torque between 1,800 – 5,800 rpm. Power is sent to all four wheels via an AMG SPEEDSHIFT 9-speed automatic transmission. The 0 – 100 km sprint takes 5.3 seconds.
The GLE 450 is rated at 11.7/9.2 liters/100 km consumption in city/highway driving.
The GLE 450 Coupe may not be as powerful as the one we reviewed last year, it still offers more than enough power for everyday use in the city or on the highway. I think the GLE 63S was a bit too much of a car for just daily driving, but a car like that can be quite fun on the autobahn or equivalent highway with no speed limits. Of course, as car people, we always want more power, but let's be realistic, these are not some crazy supercars that need 600+ HP.
The low-end torque gets this large vehicle moving quite quickly off the line, the torque from the mild-hybrid system also helps in moving it. The GLE 450 is no slouch on the highway either, it passes slower vehicles without any effort and you can hit illegal speeds in the blink of an eye. The mild-hybrid system is a great addition; like with other Mercedes vehicles, the start/stop feature is so smooth, most of the times you don't even notice the engine turning off or on. Driving in Eco mode, the engine shuts off when you're coasting, helping save some fuel, which is great for driving around in the congested streets of Vancouver.
The suspension is decently sporty and is really comfortable for driving around town on rough roads and is extremely relaxing on longer highway trips. The brakes do a great job of stop this mid-size SUV.
Mercedes-Benz GLE Styling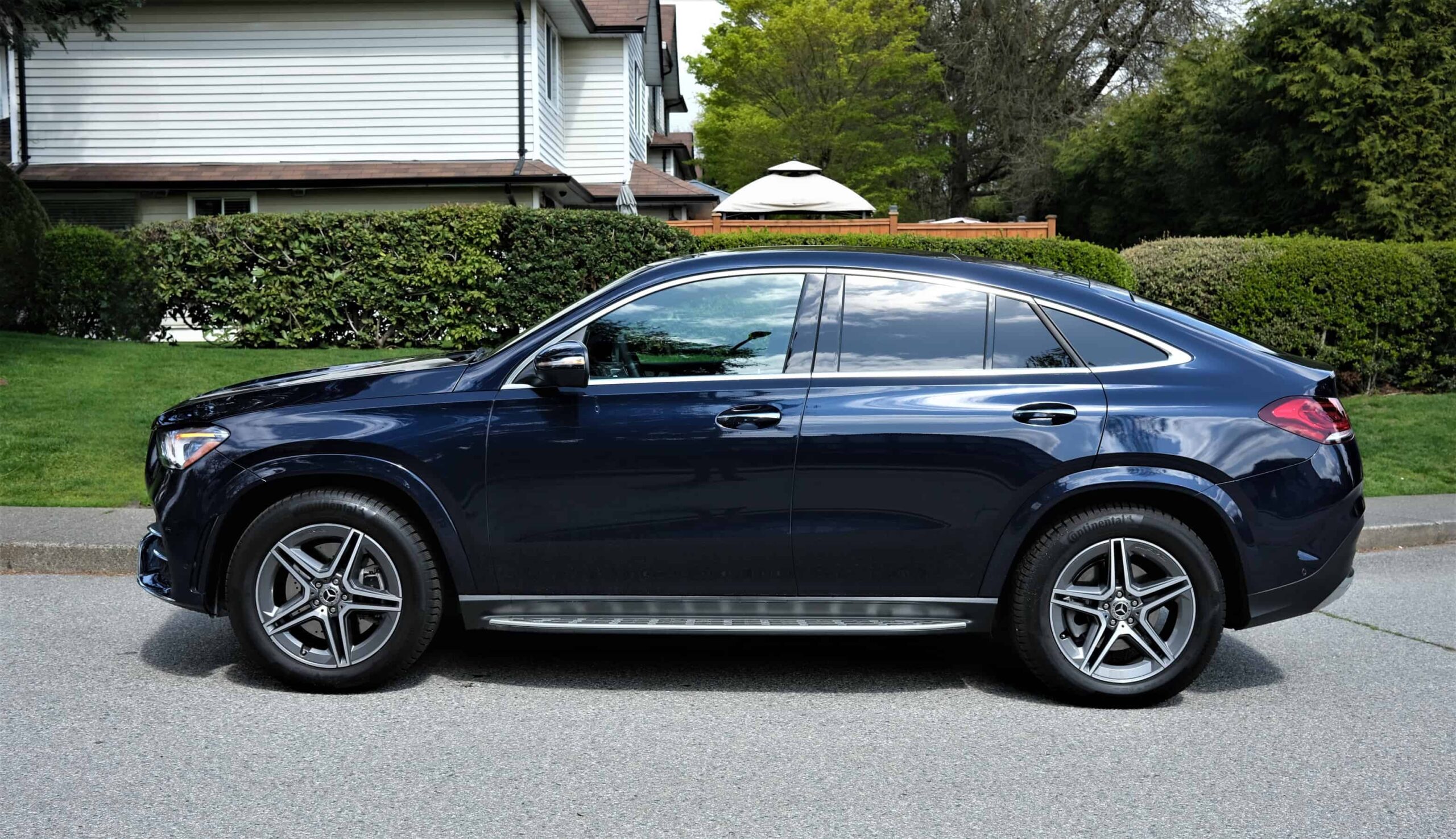 Taste in styling is subjective, some of the people I talked to liked the sporty styling of the GLE Coupe, while most of them weren't big fans of it. I would fall in the latter category; I'm not sold on these so-called 4-door coupe SUVs (not just this vehicle but every other SUV coupe is not my cup of tea).
On the other hand, the non-coupe GLE is quite attractive in my opinion. I really like the styling on that vehicle and I think it is one of the best-looking mid-size SUVs.
For my money, I'd go with the regular GLE over the GLE Coupe.
Mercedes-Benz GLE Coupe Interior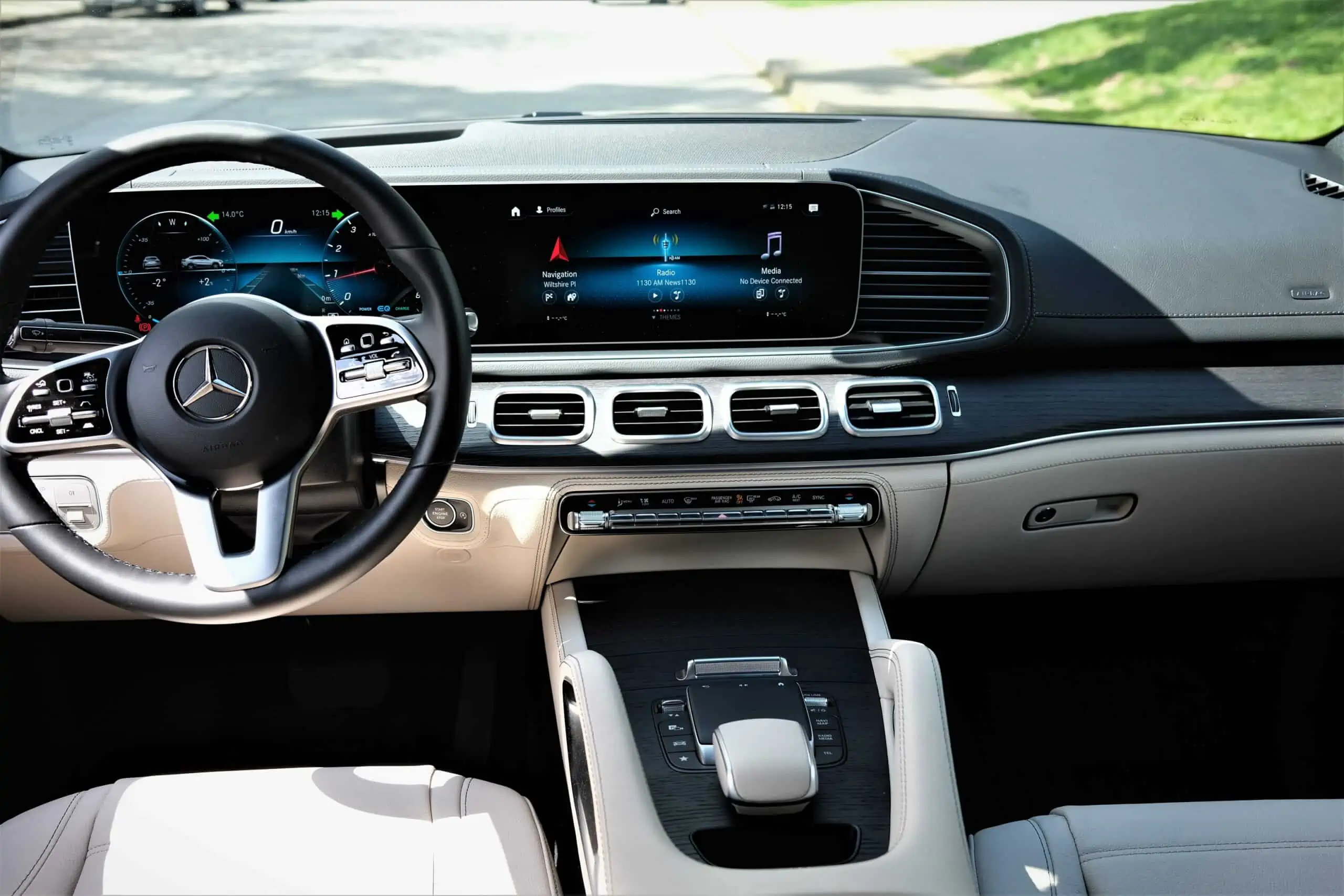 I am a fan of the interior on the GLE Coupe, in fact, I don't think I dislike a single Mercedes vehicle's interior. Mercedes-Benz has done a great job with their latest car/SUV interiors. The GLE's interior is a familiar looking place, because it shares it's styling with the E-Class sedan and it's quite similar to other vehicles in the Mercedes-Benz current lineup.
The interior on the GLE features the signature horizontally laid out screen that starts at the gauge cluster and ends where you'd normally find the infotainment screen. These screens are quite customizable, ranging from elegant to sporty and everything in between. The screen that replaces the gauge cluster is controlled via the small trackpads on the steering wheel, the main infotainment screen can be controlled via the small trackpad on the steering wheel, the trackpad on the center console, or by touching it like a standard touchscreen.
All these controls may seem overwhelming at first, but after using it for a few days, they become intuitive to use. The MBUX also comes with voice command, which is quite a good system and can understand a lot of different commands.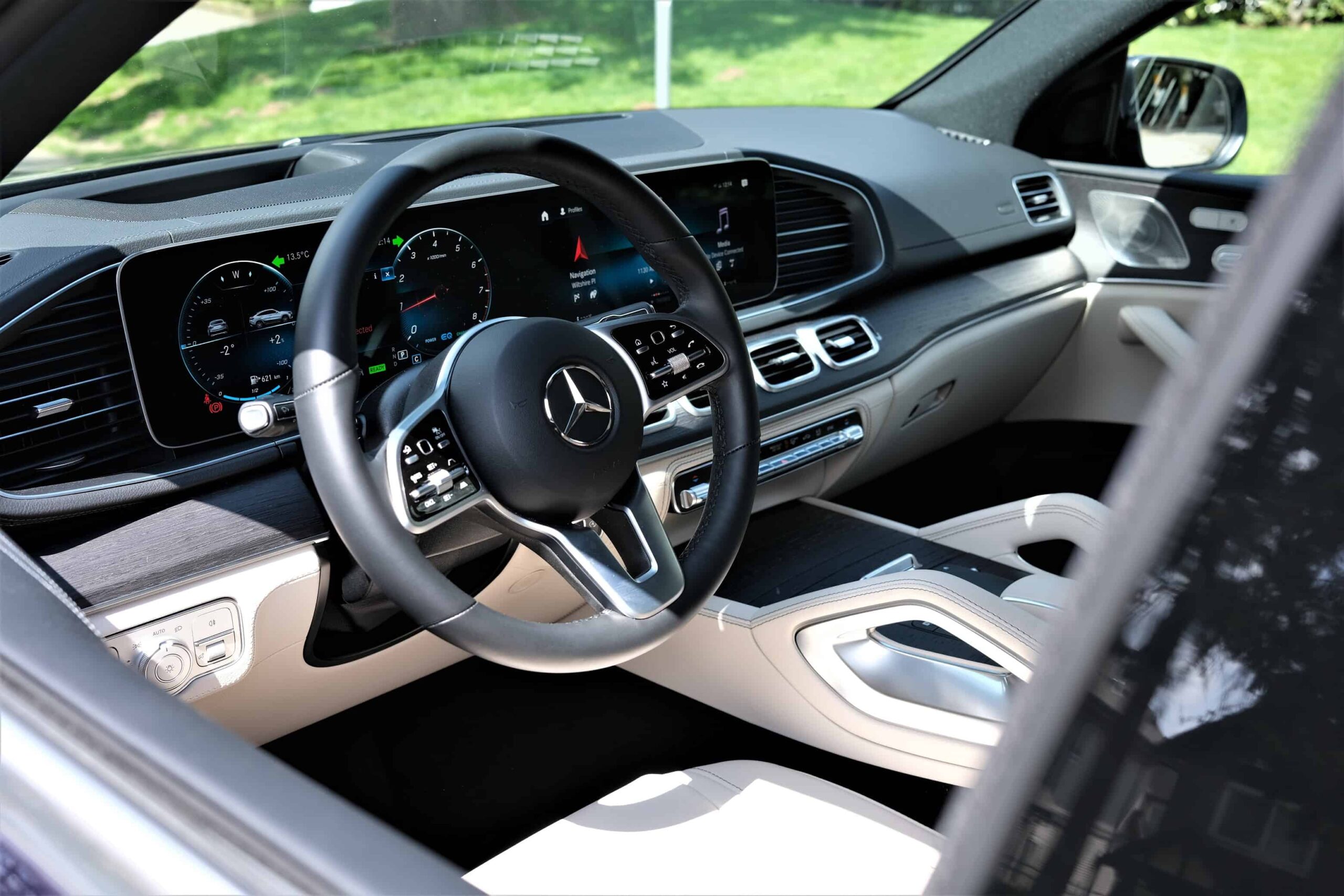 The interior is extremely comfortable, as you'd expect from a large Mercedes-Benz vehicle. The front seats are supportive and can be adjusted to fit just about any sized occupants. The rear seats are also comfortable and there's a lot of leg room; I was expecting head room to be at a premium due to the shape of the c-pillar and sloping roof line, but there was more than 3" of spare head room for my 5' 8" frame.
The 2022 AMG GLE 53 4MATIC+ Coupe is well equipped, but it can also be customized with additional packages which add tech, safety, and convenience features. Below are the additional packages that can be added to the GLE 53.
Edition 429 ($3,000)
AMG Night Package
22-inch AMG forged cross-spoke wheels, matte black (Edition 429)
Premium Package ($4,900)
Burmester Surround Sound System
Foot-activated tailgate release
KEYLESS-GO
Rapid heating feature for front seats
Heated front armrests and upper door panels
Heated 2nd-row seats
Climate Comfort front seats
360-camera
Active MULTIBEAM LED Lighting System
Adaptive High beam Assist
Exclusive Package ($2,400)
Multicontour front seats with massage feature
ENERGIZING Comfort
Air Balance System
Soft-close doors
MBUX Interior Assistant
Intelligent Drive Package ($3,000)
Active Distance Assist DISTRONIC
Active Steering Assist
Evasive Steering Assist
Active Brake Assist with Cross-Traffic Function
Active Emergency Stop Assist
Active Blind Spot Assist
Active Lane Keeping Assist
Active Lane Change Assist
PRE-SAFE PLUS
PRE-SAFE Impulse Side
Active Stop-and-Go Assist
Enhanced Stop-and-Go
Route-based Speed Adaptation
AMG Driver's Package ($1,900)
AMG Performance steering wheel in Nappa/DINAMICA
AMG Performance Exhaust System
21-inch AMG 5-twin-spoke wheels
Top speed increase
Final Thoughts
The Mercedes-Benz GLE 450 Coupe may not be to everyone's taste, but it is an option for those looking for the higher seating, decent off-road capabilities, and a sporty drive. The GLE Coupe does look different from the average SUV, so some people may find that an attractive quality. It is a great SUV with good driving dynamics. You don't necessarily need the powerful V8 like one found on last year's GLE 63 S, the inline-6 is more than capable of hauling this big SUV at high speeds.