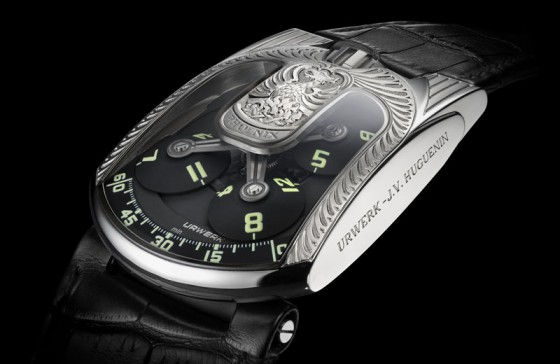 Swiss watchmakers Urwerk are known for making some of the most complex watches in the world (i.e. UR-110 Torpedo), for Only Watch 2011, they are bringing back the Urwerk UR-103 from the dead.  The watch was originally introduced in 2003 and there have been various versions of it produced over the years.  In 2010, the company announced the UR-103 will not be produced anymore.
The watch has been resurrected for the charity event, rising from the ashes like the Phoenix, and is a one-off.  Appropriately, a phoenix has been engraved on the watch case by engraver Jean-Vincent Huguenin, who has worked with various watchmakers in the past.
The engraving gives the UR-103 a new look and it looks pretty good, it should fetch a good price at the 2011 Only Watch event to raise money for DMD.  If you want to own the very last UR-103, head on over to Monaco in September, don't forget to bring your check book.
Click here for a listing of all of the watches from Only Watch 2011.
[Urwerk]