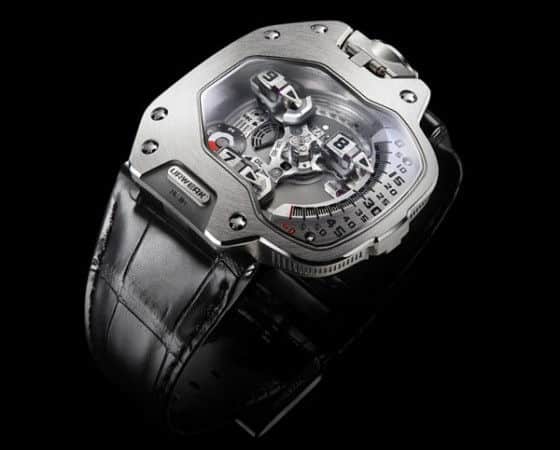 The saying "less is more" was thrown right out the window when the designers at Urwerk decided to design the UR-110 Torpedo watch.  The watch is one of the more complicated timepieces I've encountered in a while and is a stunning work of art.
The UR-110 features three hands, all three hands serve as the hour markers, rotating on their own axis (with hour numbers) as the hours turn.  The three hands are shaped like torpedoes, constantly rotate in a circular motion aiming at a metered scale with minutes marked on it from 0 to 60, in 5 minute increments.  If you don't understand what I'm talking about, watch the video below.  It is a very artistic video with music/actions that remind me of the movie "Inception", very cool indeed.
The Urwerk UR-110 torpedo watch is made out of Grade 5 titanium with a stainless steel bezel; it measures at a large 47mm x 51mm x 16mm and is water resistant to 30 meters.  The watch also comes with an "Oil Change" indicator on the watch face, I'm not sure if one needs to do regular oil changes on this watch every 5,000 miles or every three months.  No word on price yet.
[Source: Urwerk]