Last week we reviewed the fully-electric Kia EV6, which is an excellent electric vehicle. However, not everyone is ready to embrace a fully electric car, which could be due to many reasons like price, range (not really a problem with the EV6), and availability. Like I said in that review, Kia and Hyundai have a great lineup of fully electric vehicles, but they also have quite a few plug-in hybrids (PHEV).
Plug-in hybrids are a great transition into going fully electric, they're not quite fully electric and not quite fully gasoline. They use both propulsion systems based on the driving conditions. This week we had the opportunity to review a 2022 Kia Sorento PHEV SX, below are my thoughts on living with this plug-in hybrid for a week.
The 2022 Kia Sorento was introduced for the 2021 model year and is the 4th generation of this popular CUV. Kia offers three different versions of the Sorento, the versions include a gasoline only model, a hybrid model, and a plug-in hybrid.
2022 Kia Sorento Canadian Prices
The 2022 Kia Sorento LX+ has a starting price of $34,595 and the top-of-the-line Sorento SX has a price of $48,095 for the gasoline only versions. The Sorento HEV LX has a starting price of $36,695 and the top-of-the-line PHEV SX is priced at $54,995. Below is a list of prices for all the trims in all three drivetrains.
| | |
| --- | --- |
| Trim | Price |
| Sorento LX+ | $34,595 |
| Sorento LX Premium | $37,095 |
| Sorento X-Line | $40,095 |
| Sorento EX | $41,595 |
| Sorento EX+ | $44,595 |
| Sorento SX | $48,095 |
| Sorento HEV LX | $36,695 |
| Sorento HEV EX | $41,995 |
| Sorento PHEV EX | $44,995 |
| Sorento PHEV EX+ | $50,995 |
| Sorento PHEV SX | $54,995 |
List of Kia Sorento Canadian prices – all trims
Our review car had a sticker price of $57,195, which included $1,850 for Freight & PDI, $100 AC tax, $250 for the paint.
Thanks to changes in Canada's iZEV (Incentives for Zero-Emission Vehicles) program, starting April 25, 2022, the Kia Sorento PHEV qualifies for the full $5,000 federal rebate. Before it was only eligible for $2,500. The new rules are based on the claimed range instead of battery pack size. A plug-in hybrid must have an all-electric range of at least 50 kilometers to qualify for the full rebate, otherwise it gets a $2,500 rebate..
There are also provincial rebates in British Columbia and Quebec. In BC, the Sorento PHEV is eligible for an additional $1,500 rebate. For a combined federal and provincial rebate of $6,500 off the price, which is not bad.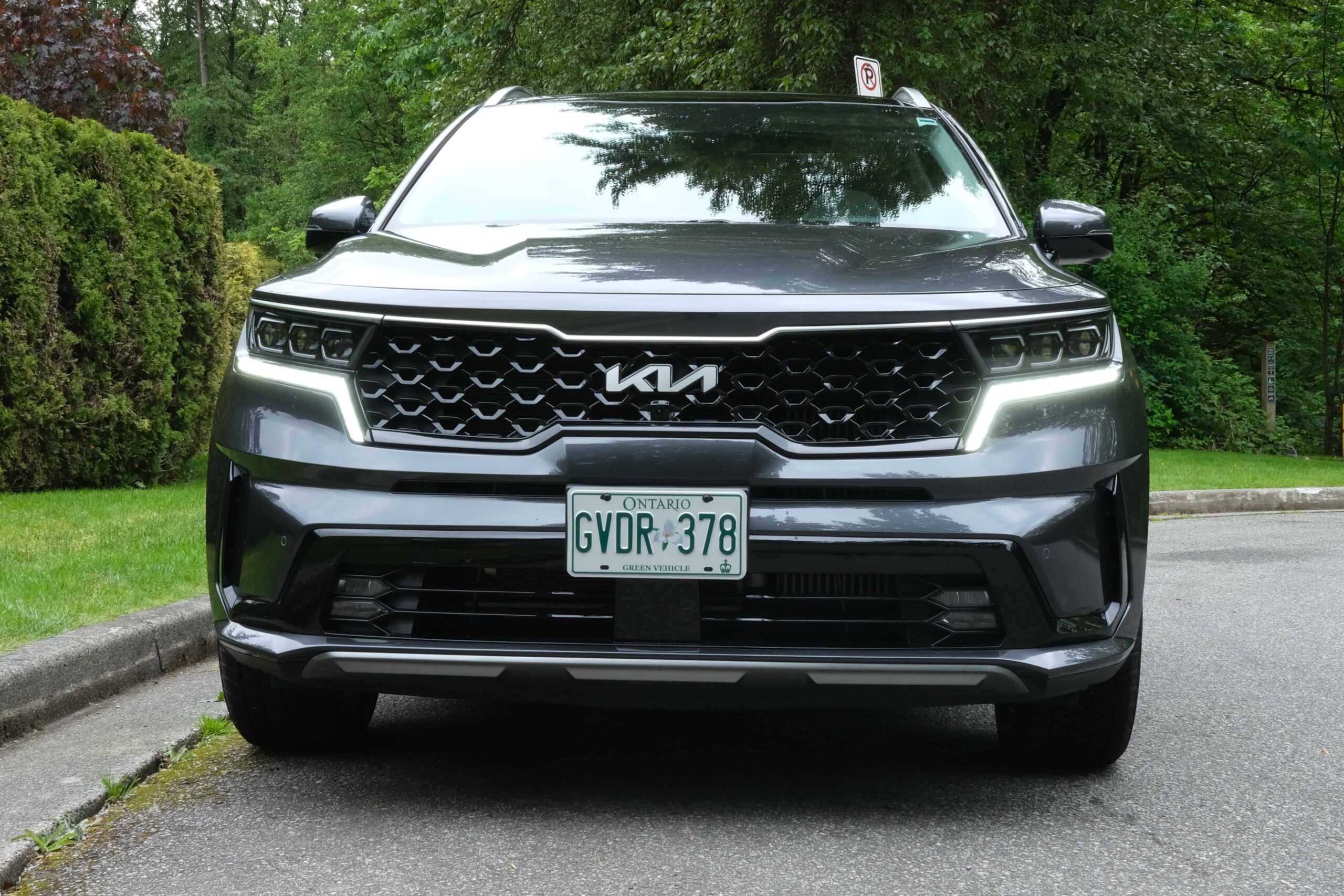 2022 Kia Sorento Engine/Motor & Driving
The gasoline-only Kia Sorento LX+ and LX Premium trims are powered by 2.5-liter 4-cylinder GDI engines, producing 191 horsepower at 6,100 rpm and 181 pound-feet of torque at 4,000 rpm. Power is sent to all four wheels via an 8-speed automatic transmission. This engine is rated at 10.1/9.2 L/100 km in city/highway driving.
The other three trims are powered by turbocharged 2.5-liter 4-cylinder engines, producing 281 horsepower at 5,800 rpm and 311 pound-feet of torque between 1,700 – 4,000 rpm. Power is sent to all four wheels via a wet-type 8-speed dual clutch transmission. This engine is rated at 10.9/8.7 L/100 km in city/highway driving.
The Sorento Hybrid and PHEV use the same GDI turbocharged 1.6-liter 4-cylinder engines. However, the two vehicles have different horsepower outputs because of the different electric motors and battery packs.
The Sorento Hybrid has net horsepower rating of 227 and net torque is 258 pound-feet. Power is sent to all four wheels via a 6-speed automatic transmission. The Sorento Hybrid is rated at 6.4/7.0 L/100 km in city/highway driving. The Sorento HEV comes with a 1.49 kWh lithium-ion polymer battery pack.
The Sorento PHEV's engine/motors produced 261 horsepower and 258 pound-feet of torque. The Sorento PHEV is rated at 2.8/3.2/4.5 L/100 km in city/highway/combined driving, with a combined consumption, in terms of Liters Equivalent, of 3.0 Le/100 km. The Sorento PHEV comes with a 13.8 kWH lithium-ion polymer battery pack and has an all-electric range of 51 kilometers.
The electric range will vary with driving conditions and most importantly ambient temperature. However, when I had the battery fully charged, it showed exactly 51 kilometers of range, in spring weather.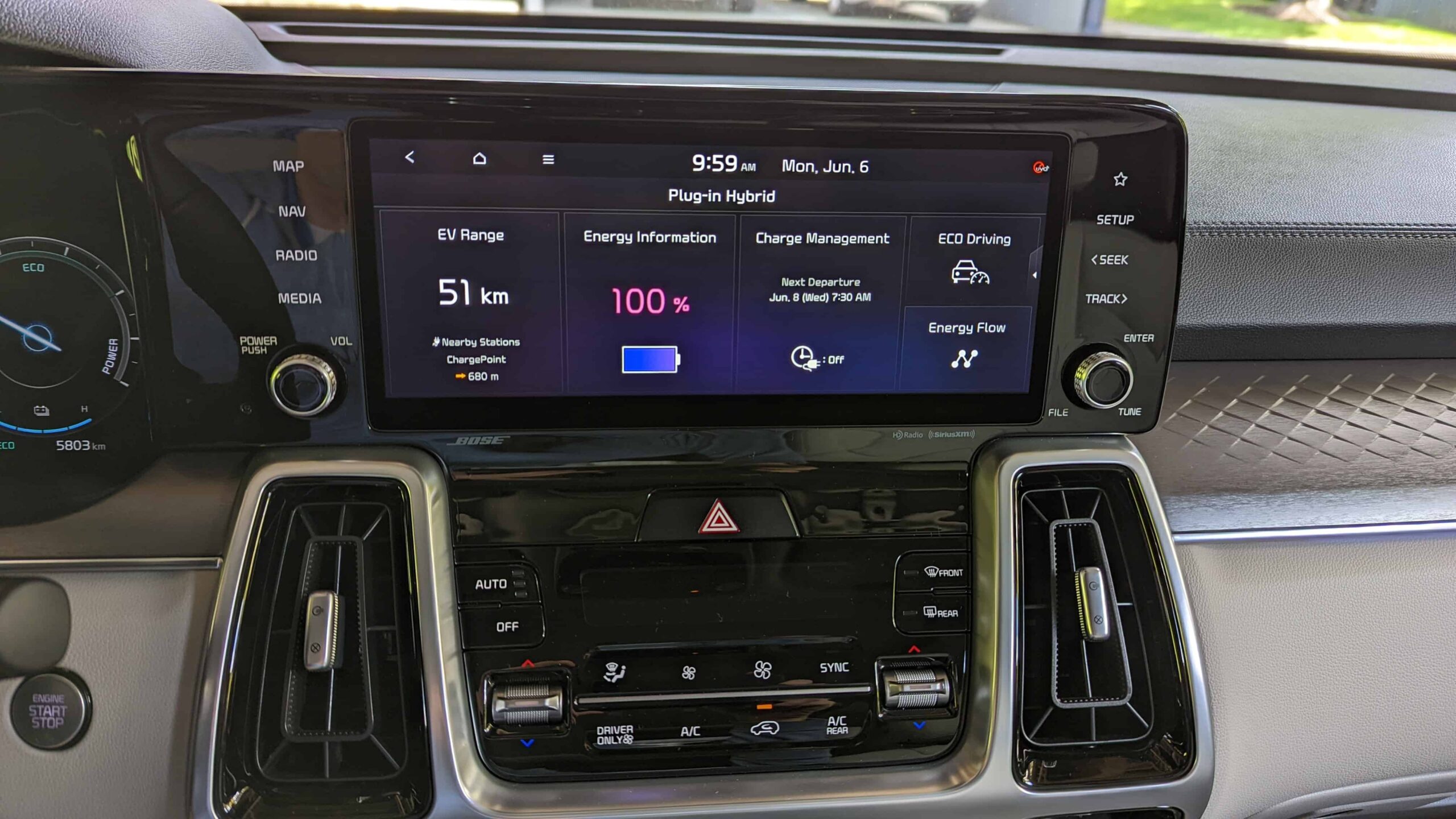 Driving the Kia Sorento PHEV feels like a normal hybrid vehicle, it tries to use the batteries as much as possible and avoids using the gasoline engine, as long as the batteries are charged. When the batteries are depleted, it uses the gasoline engine and shuts it off when you release the accelerator pedal and harvest energy back into the batteries, like a standard hybrid vehicle. I tried to keep the batteries fully charged so I wouldn't have to use gasoline, which is incredible expensive right now ($2.30/liter).
51 kilometers of range is more than enough for my daily driving needs, living in a big city does have some benefits. Most days I drive less than 20 kilometers and had plenty of time to charge the Sorento PHEV. However, in the winter time, the gasoline engine does come online even if the battery is fully charged, to assist with heating the cabin.
Having a fully charged battery doesn't mean you can't use the gasoline engine, putting your foot down quite hard will bring the gasoline engine online to help assist with acceleration, usually when you're passing on a highway or going up a steep hill. Putting it in Sport mode also turns on the gasoline engine, which also gets assistance from the electric motor. The Sorento PHEV is quite fast in the sport mode.
One great thing about the Sorento PHEV/HEV is that it uses a traditional automatic transmission instead of CVT. Hybrid vehicles are not known for being fun, add in a CVT and they're downright soul-sucking dreadful. With a traditional automatic transmission, you forget you're driving a hybrid and the drive is much more enjoyable; as enjoyable as a family CUV can be.
Argument against a PHEV
Pure-EV owners have argued about the need for a PHEV, rather than going fully electric. They say if your drive is short, where the battery range is enough for your daily driving, then you're wasting resources by hauling around a heavy transmission and a gasoline engine. My response to that is, if I only need a short electric range, then why do I need to haul around a 1,000+ pound battery pack (that gives me 400+ km range) in an EV? The beauty of a PHEV is the daily usage being covered by electricity and when you need to go farther, just use gasoline. You don't need to worry about available charging spots and waiting for the batteries to fill up. EV's will be the main mode of transportation in the near future, but currently the infrastructure isn't fully there, so PHEV makes sense during these transitionary times.
2022 Kia Sorento Styling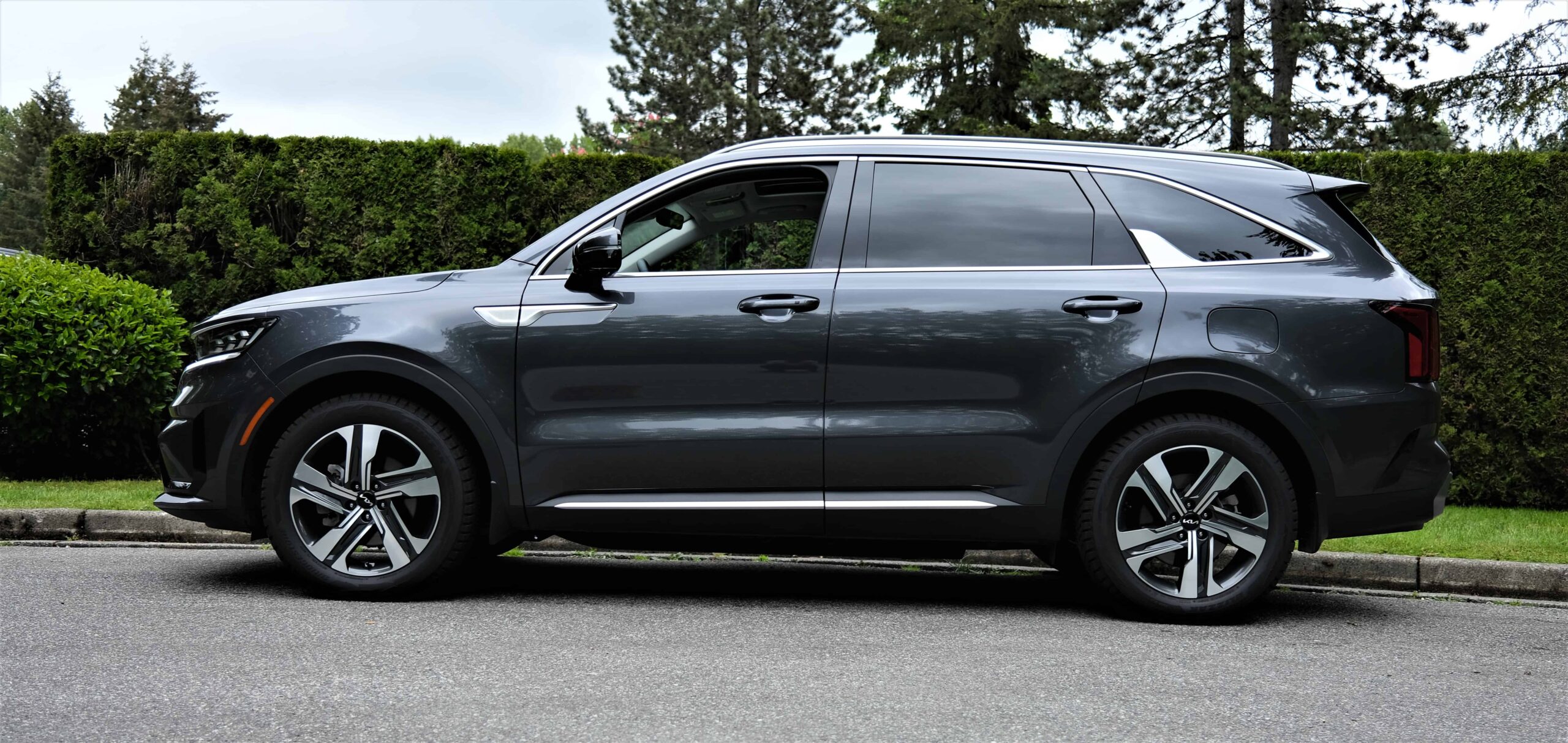 Looks are a subjective matter, but in my opinion the Kia Sorento has progressively gotten better every generation. The latest generation Sorento is more masculine than the previous generations and has a nice premium look to it. It has an aggressive front end and the rear end reminds me a bit of the Mustang Mach-E because of the twin taillights. The overall design is non-offensive and doesn't scream "look at me", which can be a good thing sometimes.
2022 Kia Sorento Interior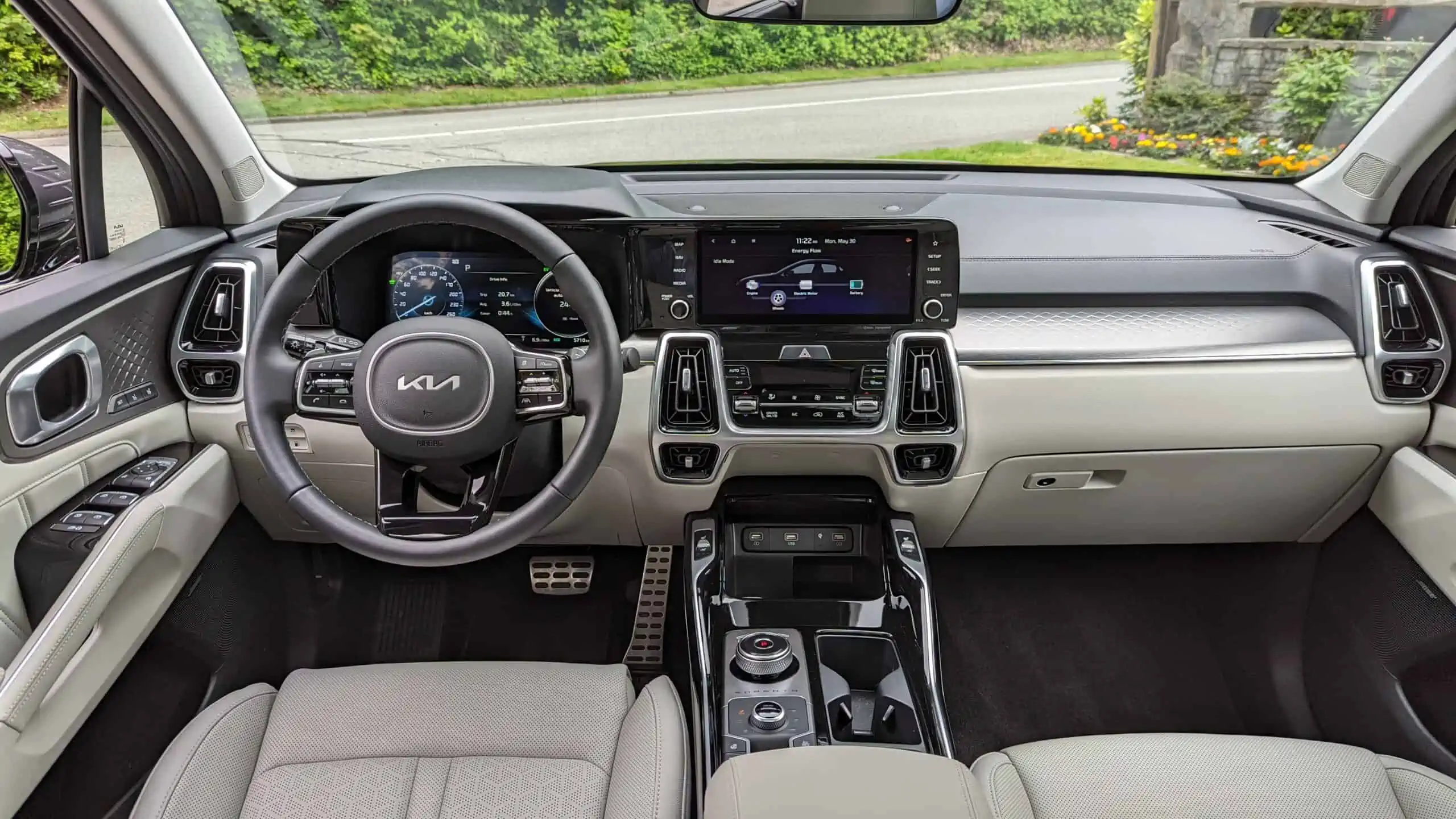 Nowadays, most carmakers seem to be going the minimalist route with their interiors, however, that's not the case with the Sorento's interior. The first thing you'll notice is the abundance of air vents in the front, with a total of 8 vents. I don't think I've ever seen a vehicle with this many vents just for the front two occupants. I actually didn't mind it though, but who knows how this interior design will age.
Other than the vents, the interior is a standard affair. Our review Sorento came with a 10.25" touchscreen, which is only available on the top two trims, while the lower three trims get an 8" screen. The 10.25" screen is quick to respond and has crisp modern looking graphics. Our review car also came with a 12.3" LCD/TFT instrument cluster, which is only available on the top trim.
Below the main infotainment screen is a separate area for the climate control system, which is great for people that don't want to go through multiple menus just to be able to adjust the cabin temperature or fan speed. Below this is a small storage area with USB plugs and a wireless charging pad, which is standard on all HEV/PHEV Sorentos.
The center console houses the heated/cooled front seat buttons, a rotary knob for the gear selector, a pair of cup holders, and driving mode selector. This section is also home to the parking brake and buttons for the heated steering wheel, camera, auto hold and few other features.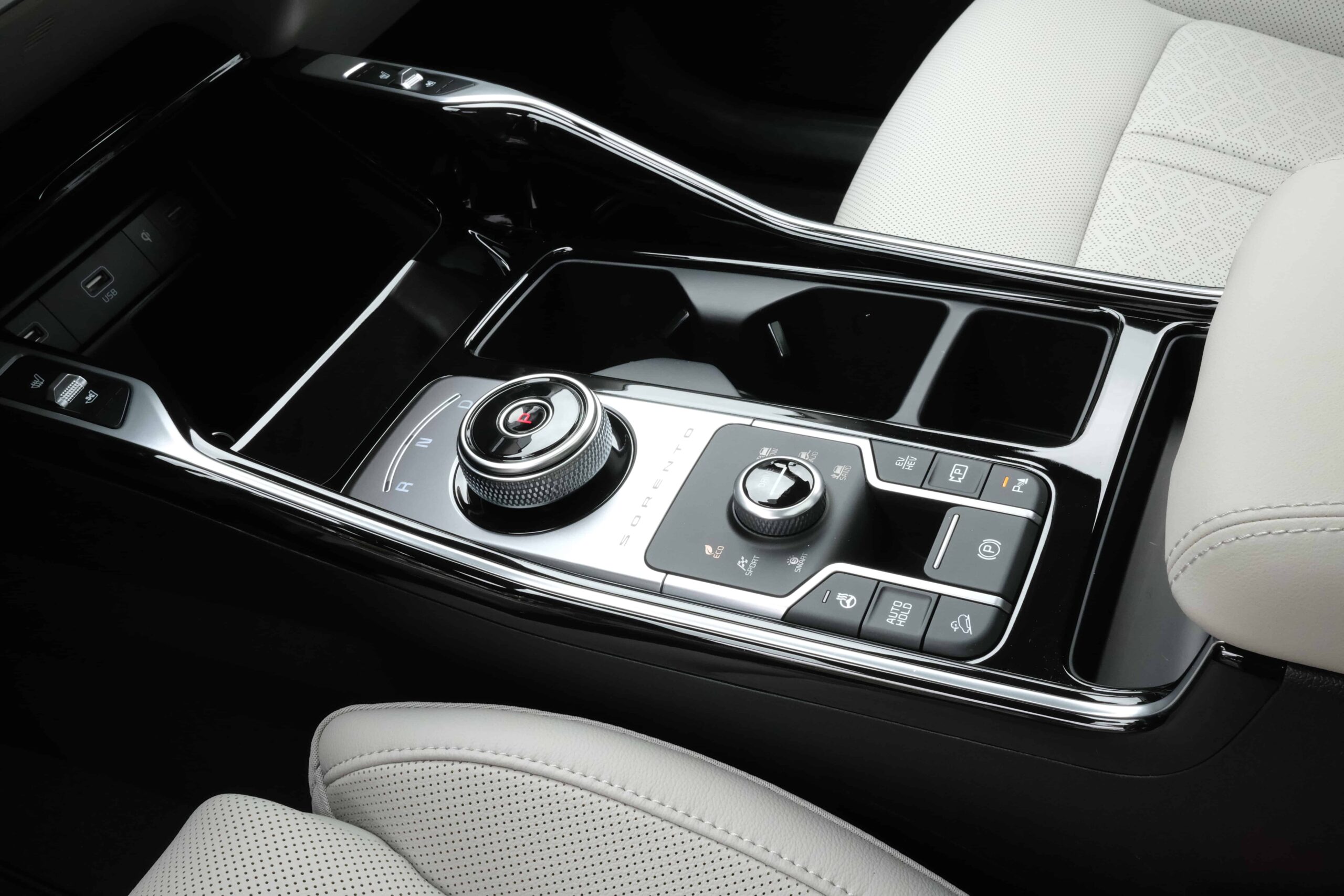 The interior uses a mix of hard and soft-touch materials, and is overall a pleasant looking space. The fit and finish is excellent and the materials feel high quality. The interior is quite roomy, I found there to be plenty of adjustments in the front seats. Our review car came with 2nd-row captain's chairs, which are comfortable to sit in and can be reclined and moved forward/backward. The Sorento comes with 3rd row seats, however, these seats are better left for small children or emergency situations. Sitting back there is awkward, as your knees sit quite high with almost no thigh support.
The interior is also quiet, I barely heard any wind noise. The only noise that was noticeable was the tire noise at highway speeds, our Sorento was still equipped with winter tires, which are known to be louder than all-season tires.
Our top trim came with a lot of safety, tech, and convenience equipment, below are some of the highlights of these features. Not all of the features are available on the lower trims, but even the lower trims are quite well equipped.
LED daytime running lights
LED positioning lights
LED high mount stop lamp
Panoramic sunroof
Automatic power folding sideview mirrors
Heated/cooled front seats
Heated steering wheel
Multi-directional power adjustable driver/passenger seats
4-way driver's seat lumbar support
2-way passenger seat lumbar support
Driver's seat memory function
Heated 2nd row seats
Integrated manual rear door sunshades
Leather seats
USB audio input and charging port
Bluetooth hands-free cell phone connectivity
Apple CarPlay and Android Auto
Wireless phone charger4
12V cabin power outlet
12V cargo area power outlet
Smart key with push-button start
Smart power liftgate
10.25″ multimedia interface with integrated navigation8
110V power inverter (household outlet)
Advanced smart cruise control (ASCC)
Highway Drive Assist (HDA)
LED interior lighting
Bose premium sound system10
12.3″ Supervision LCD/TFT instrument cluster
Heads-up display (HUD) system
Electronic stability control (ESC)
Hill-assist control (HAC)
Downhill brake control (DBC)
Tire Pressure Monitoring System (TPMS)
Lane Keep Assist System (LKA)
Lane Follow Assist (LFA)
Forward collision-avoidance assist (FCA)
Rear parking sensors
Rearview camera
Blind-spot Collision Avoidance Assist (BCA)1
Rear Cross-Traffic Collision Avoidance Assist (RCAA)
Front parking sensors
Advanced forward collision-avoidance assist with junction turning function
Blind-spot view monitor
Parking collision avoidance assist – reverse
Around view monitor (AVM)
Final Thoughts on the 2022 Kia Sorento PHEV
After spending a week with the 2022 Kia Sorento PHEV, I was left satisfied. It's a nice family hauler with lots of interior space, the Sorento is a good looking CUV, and it is quite luxurious especially in the top-of-the-line trim. Add in the fact that most people can drive around with barely needing to fuel up, the Sorento PHEV looks even more enticing. And I haven't even brought the price of gasoline into the equation yet, which is around $2.30/liter as of this writing, that's highway robbery in clear daylight.
So, if you're in the market for an alternative fuel vehicle, but are not fully ready to embrace going all-electric, then a Plug-In Hybrid is the way to go and the Sorento PHEV is an excellent choice.
2022 Kia Sorento PHEV Review Photo Gallery