If you work the kind of job that requires you to type on a keyboard all day, and if you've been using a computer for long enough, perhaps you'll share my fond memories of a time when keyboards made a clickity-clack noise as you typed. Since then, we've seen a dramatic change in the way that keyboards are designed and manufactured, and frankly, I hate it.
Where once keyboards used durable, mechanical key-switches – resulting in crisp, clean keystrokes, the vast majority of keyboards on the market today use mushy rubberized dome key-switches, which actually decrease typing speed. It's the type of thing where you'll switch and go "man, how did I survive using that old keyboard for so long?".
Get a mechanical keyboard, just do it. Here's why…
They make an incredibly satisfying clacking noise. Yes, I realize this is largely personal, and hardly objective, but I find the sound very… energizing. I feel like I'm getting more done, and in a sense that's actually true, because…
You can type much faster, and with better accuracy, on a mechanical keyboard. Rubberized dome switches are less sensitive, meaning you need to depress the keys further to register the key stroke. This becomes even more pronounced as the rubber membrane wears out. Mechanical key-switches don't have this problem.
Mechanical keyboards are, on average, a lot more sturdy. The components are noticeably more durable, and the keyboards I've tried – such as the Steelseries 6G V2 keyboard I'm using now – weigh many times what my old, crappy, rubber dome keyboard weighed. You could beat someone with this thing.
Whether you're a "journalist" like me, or simply someone who likes playing games and – in particular – first person shooters, investing in a mechanical keyboard is well worth the higher retail price-tag. The one major drawback with mechanical keyboards is that buying a new model is generally more expensive than a rubber membrane version of similar modernity. Much like with selvedge denim jeans of old, what once was inexpensive and even the norm, is now expensive and a niche. The quality dilemma rages on.
Keyswitch Comparison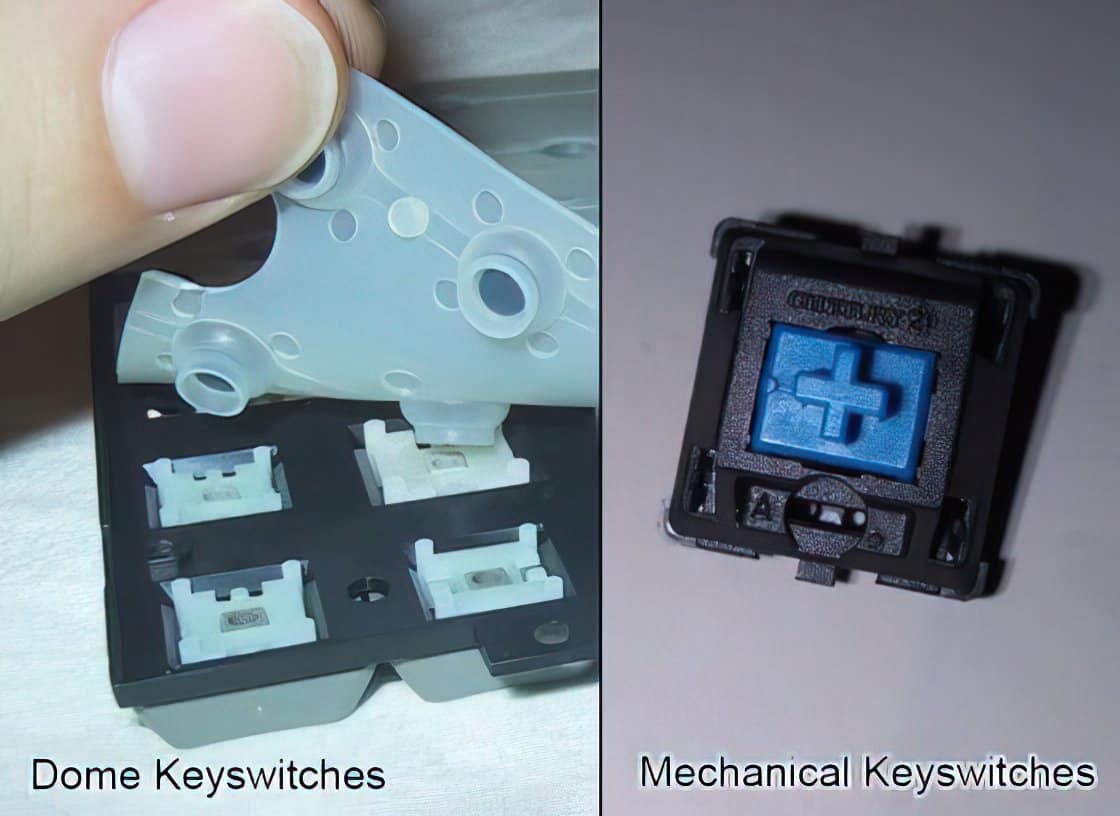 If you're looking for a more concrete comparison of the different types of keyboards available, I actually recommend having a look at this mechanical keyboard guide. It outlines far more technical details than I've gone over in this little rant of mine, and also describes the difference between the various "Cherry MX" switches that you'll see repeated so often when you start shopping around for a keyboard.
If you have any recommendations on mechanical keyboards, leave us a comment below – I would love to hear from you.