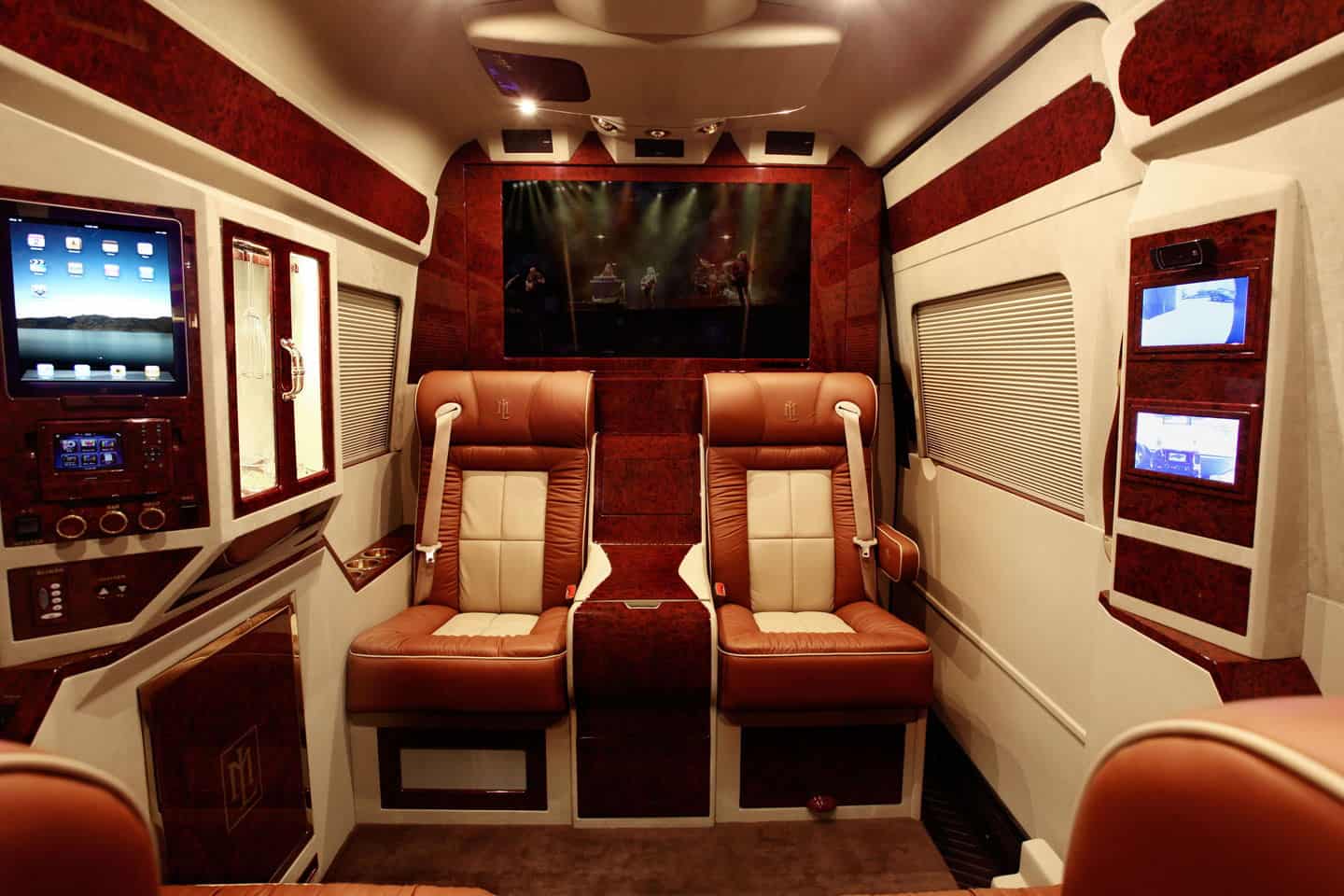 We've written about a few custom luxury vans that look like unassuming "plain 'ole" vans on the outside but are like private jets/luxury yachts on the inside (click here and here to see our previous posts).  We also wrote about the armored Toyota Sequoia done up by Lexani Motorcars, the same company brings us the ultra-luxurious bespoke Mercedes-Benz Sprinter L5-B coach van, and boy is it a doozy!
On the outside, this luxurious Sprinter van looks like any other Sprinter with the exception of fancy wheels (optional), you probably won't even give it a second look thinking it's just another delivery van.  And that's the point of this thing, staying inconspicuous, because one can never be too careful, especially if they're loaded.
The interior of the Lexani Motorcars' Sprinter van is a mix of a Rolls Royce, a private jet, and a luxurious yacht.  It's beautiful, featuring soft-touch materials throughout the cabin.  There is wood everywhere, leather seating and Alcantara surfaces, and even gold trim.  The list of options on this luxurious Sprinter van is pretty long and is not limited to what's show here.  Buyers can customize the list of items they want to put in their van, the sky is the limit.  The van shown here is priced at $292,000 and comes with the following items on the inside:
2 six-way power executive leather seats w/ heat & massage
2 executive leather seats
Luxury bar station
46" Samsung LED TV w/ 3D capability
Apple iPad docking station
TrackVision satellite TV
PlayStation 3 (Blu-ray player)
Logitech 1100 Touchscreen management system
Video conferencing
Front & rear security cameras with monitors
Bose home theater system with surround sound
Wi-Fi 4G network capability
Luxury ambient lighting
Custom window shades
Freezer/refrigerator
H/D A/C for passenger cabin
Gold-plated accents
Vehicle security/alarm system
Custom designed front cabin
Electronic front privacy partition
Lexani custom design power table with cabinet
2n HD Air conditioning system
Partition door and storage cabinet
Custom luxury finish accents in burl wood
Custom orthopedic mattress
1000-watt Alpine audio system
Intercom system
Suede lined headliner and cabin walls
Plush high quality carpeting
Did I mention the Sprinter van comes with a luxurious bedroom in the back?  The room has, what looks to be a queen sized bed, a big screen TV, iPad dock, lots of wood, and even a door.  I could've used a van like this in my college days.
Lexani Motorcars Tuned Mercedes-Benz Sprinter Van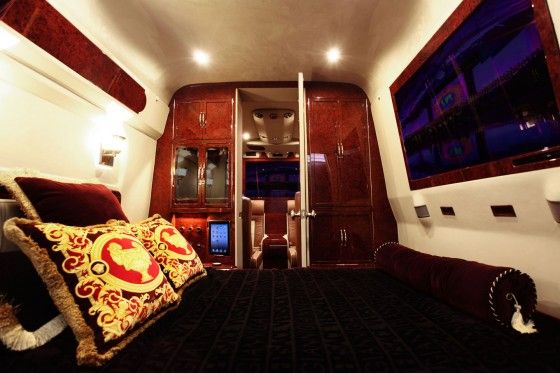 [Via: Lexani]