Mercedes-Benz had several vehicles to show off at the 2012 Beijing Auto Show and one of them is the Viano Vision Diamond offering luxurious appointments for business travelers or casual city driving with all the comforts one would ever want or need. This chauffeur vehicle is hard to miss with its two tone paint job, chrome, and gold all over the van.  Even the five-spoke wheels have the black and white theme.
The Viano Vision Diamond is handsome on the outside but we all know it's what's on the inside that counts. And Mercedes-Benz makes it count. For starters, passengers in the rear can play around with an innovative multimedia system which allows passengers to choose between a business setting or a more comforting ambiance for a more relaxing feel.
Some neat technologies incorporated in the Viano Vision Diamond would have to be in the windows and glass on the vehicle. Windows of the passenger compartment, rear window, and the glass partition between the driver and the passenger compartment, are all equipped with Magic Sky Control system. This system allows the passengers to change the interior lighting with a push of a button thanks to a liquid in the window that reacts to electric current.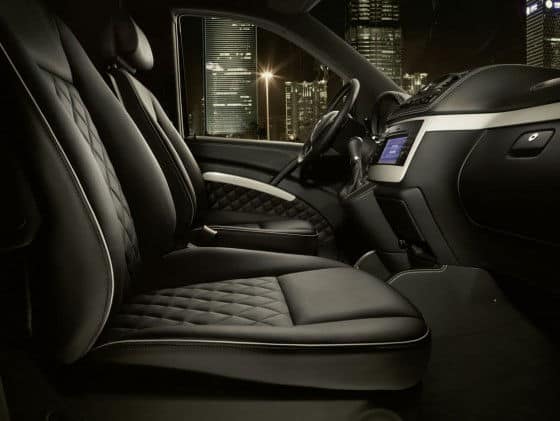 The black and white theme on the exterior also carries over to the interior. The driver's compartment is all black and the finest nappa leather is used for the seats, steering wheel, door paneling, instrument panel, gearshift, and the A and B-pillars. And in the rear, the passenger compartment is all white including ceiling, seats, seat belts, and carpeting.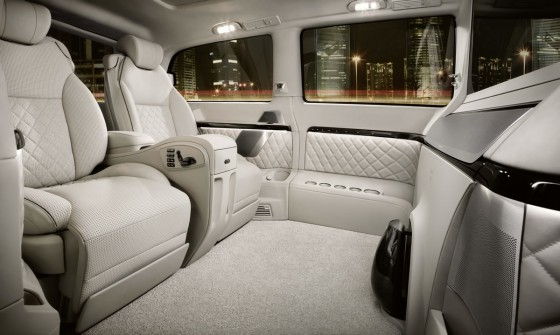 The two seats in the rear are fit for a king of kings. The seats are heated or cooled, has massage features, along with calf benches and footrests. With a push of a button, cup holders and champagne glass holders will appear between the two seats. In case extra champagne is needed for those long business trips, the side paneling features five bottle holders. And they don't call this the Vision Viano Diamond just for the hell of it. The interior trim has eight diamonds embedded in reference to the lucky Chinese number.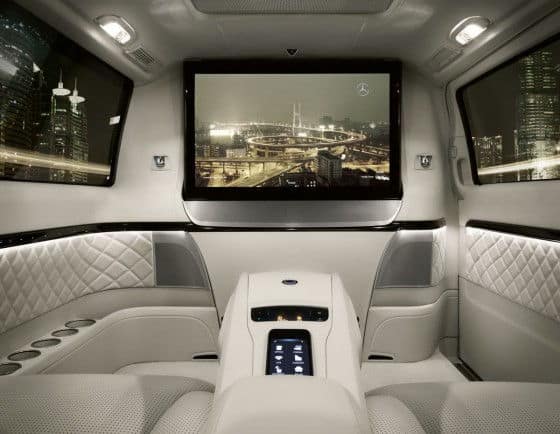 Other goodies found in the van include the high-end sound system, "BeoSound Viano", by Bang & Olufsen which can be controlled via the iPad or iPhone devices. The devices can also control the 40-inch TV which may be used for video conferences, surfing the web, or catching some chick flick. No word yet on how much the Mercedes Viano Vision Diamond will cost.