A while back, we wrote about the Kia Track'ster, a sportier version of the Kia Soul. The Kia Soul on its own is a pretty nice and unique looking urban vehicle and functions as a very practical ride. Although there have been no updates on the Kia Track'ster, the company has released images of the 2014 Kia Soul Red Zone Limited Edition which is said to be inspired by the Track'ster and limited to 2,000 units. Unlike the two-door Track'ster, the Kia Sould Red Zone remains a five-door model and is based on the Soul Plus.
But like the concept vehicle, this limited edition model features white exterior paint with red accents and a unique trim pieces for the interior. Besides the red accent trim on the outside, the Kia Soul Red Zone also features an "aggressively" styled aerodynamics package with a new front grille, front bumper, side skirts, and rear bumper. Of course it's no where near as aggressive or attractive as the Track'ster…and that's a shame.  See the photo below of the Track'ster and just look at how much sexier it is!
See, I told you it's sexier!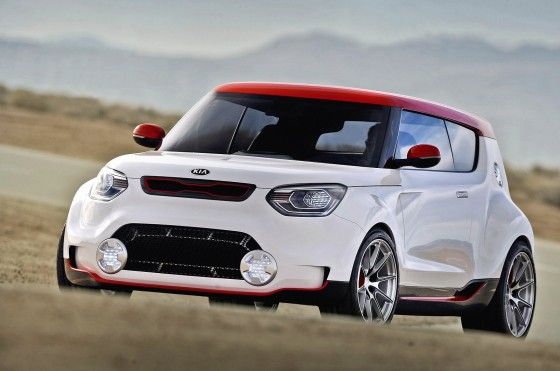 The Soul Red Zone will come equipped with 18-inch alloy wheels giving it a more aggressive stance over the stock model. The 2014 Soul Red Zone will feature the 2.0-liter direct injection gasoline engine pumping out 164 horsepower making it the most powerful Soul to date. As for the interior of the vehicle, this special edition will feature black cloth seats with red stitching. The steering wheel is wrapped in black leather for added comfort while the black carpeted floors also feature red accents and "sport inspired" pedals.
Other red accents on the interior include the shift knob and speaker and console trim pieces. The limited edition 2014 Kia Soul Red Zone is expected to hit showroom floors in the first quarter of 2014. I suppose the limited edition version is better than the standard model but Kia seriously needs to consider bringing the Track'ster to market.
2014 Kia Soul Red Zone