Korean automakers, Hyundai and Kia, have been on a roll lately with stylish, powerful, and affordable vehicles.  In 2011 Kia introduced the funky looking Soul urban vehicle which has been quite popular and now they've presented a two-door concept version at the Chicago Auto Show called the Kia Track'ster.
The Kia Track'ster (or as Jeremy Clarkson would call it "the Kia Track Apostrophe Ster") is a sporty version of the Soul with a lot more emphasis on "sport" over "practicality".  Although the Track'ster has 2 less doors than the Soul, its wheel base is an inch longer and it has five inch wider rear track.
The Track'ster is powered by a 2.0 liter turbocharged 4-cylinder engine that produces an impressive 250 horsepower, mated to a 6-speed short-throw manual transmission that sends those ponies to all four wheels.  With this much power and good looks, the Track'ster could be a hot seller if Kia produces it without making too many changes.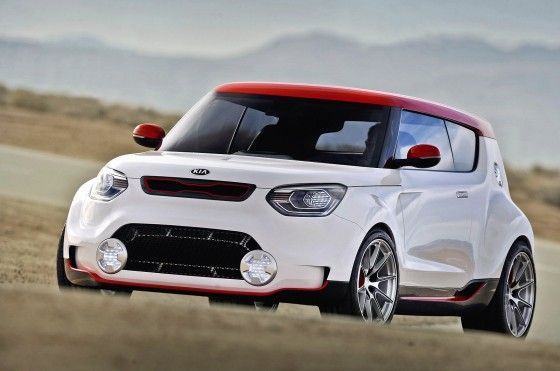 Looks-wise, the Track'ster is pretty easy on the eyes with an aggressive front and wide wheels arches.  The designers wanted the Track'ster to look tough, like a bulldog yet approachable.  They achieved that, in my opinion, it looks a lot more masculine than the Soul.  The design does remind me a bit of the Mini Cooper with its big front lights, black A-pillar, and the body painted in a different color than the roof.
The interior is pretty simple looking, something you'd find in a production vehicle rather than a concept car.  Behind the driver/passenger seats is a "fully integrated equipment tray", which is where you'd put your racing helmet, suit, gloves, and other equipment you'd bring to the racing track because after all this is the "Track'ster".
Let's hope Kia does go ahead with a production model of the Track'ster and hopefully they don't change the design too much and keep its price low enough so that the unfinished men can buy one.
Kia Track'ster Concept