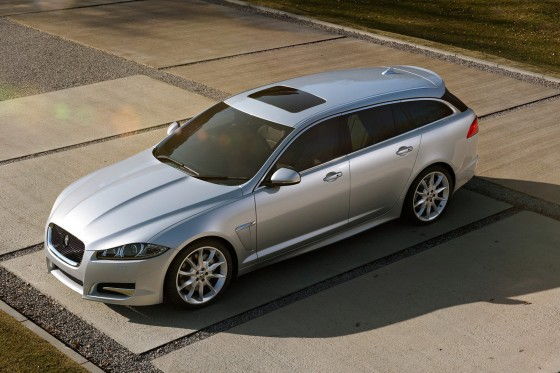 Last year I spent three days test driving and beating the hell out of the powerful Jaguar XFR sports sedan, I really enjoyed my time with the car.  One of the things I really like about the XF is its styling, it looks very different from the average European/Japanese sports sedan.  So when I heard Jaguar was making an XF station wagon, I was worried they'd ruin the design but I'm happy to report the XF Sportbrake looks pretty good.
The Jaguar XF Sportbrake will be unveiled at the Geneva Motor Show in a couple of weeks and is based on the XF sedan chassis.  The sedan and station wagon share the same wheelbase but the wagon is 5 mm longer.
The XF Sportbrake will be offered with two diesel engine choices, a 2.2 liter 4-cylinder and a 3.0 liter 6-cylinder; both will send power to the rear wheels via an 8-speed automatic transmission.  Based on the engine options, we can safely assume the XF Sportbrake won't make it to North America, but who knows what plans Jaguar has for this sleek looking car.  We do know there will be an XFR Sportbrake which will be powered by a supercharged V8 engine producing 510 horsepower.
Jaguar XF Sportbrake Pictures