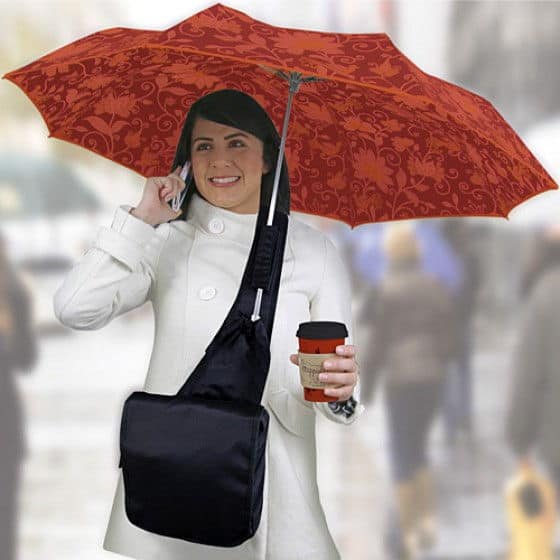 This thing here doesn't even come close to the "coolness" factor of the Unbreakable Umbrella. But I do love the idea of this and would love to own one if it didn't look so god damn ridiculous. Would any of you guys seriously be caught in public wearing this thing? If you said yes, good for you!
When you live in Vancouver, BC, having to deal with the rain 364 days a year is part of daily life. The worst part of course is getting your paperwork, purse, or man purse soaked even when under the cover of an umbrella. This is where the Umbrella Messenger Bag comes into play.
The bag is large enough to fit your water sensitive junk into (10" x 3 ½" x 12") and has extra pockets for cell phones as well as back pocket to store an umbrella. But the most important feature is the reserved spot to slide your umbrella into while you walking in the rain. Now you can have the protection an umbrella offers but hands-free. So enjoy your one-handed texting and morning coffee. The Umbrella Messenger Bag will set you back $25.