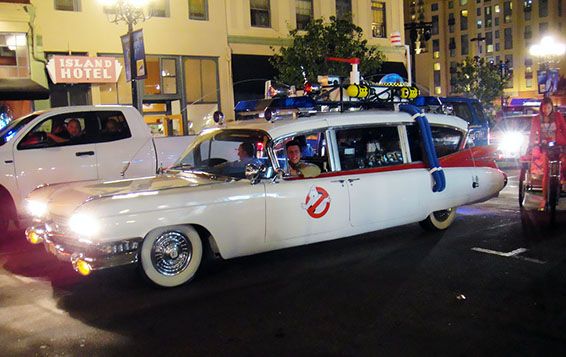 If you were a child of the 1980s, it's a pretty good bet that you know and love the classic Ghostbusters' Ecto-1 vehicle.
Based on a 1959 Cadillac professional chassis built by the Miller-Meteor company, the Ecto-1 is quite possibly the most iconic movie vehicles in existence. I would say it's second only to say, KITT from Knight Rider, which was a garbage show anyway. The trouble, is that the Ecto-1 had fallen into disrepair over the years from hard use. Parades, birthday parties, museum showings, and more, all wore the vehicle down to a shadow of its former glory. That is… until some game developers decided to step in and set things right.
Resurrecting the Classic Ghostbusters Car
There's something I want to tell you before we continue here. You see, I'm afraid I haven't been perfectly honest about something: I don't actually give two shits about most cars. I rarely drive, I favor public transportation, and I'm the last person on the Unfinished Man team to get excited about a vehicle, however… the Ecto-1 played a big role in my childhood play sessions, and this little mini-documentary about the Ecto-1 restoration is actually very interesting.
Play time is roughly 15 minutes, and I promise, you're going to learn a lot about the vehicle that you didn't know, and probably didn't care about either.
I'll say one thing for car enthusiasts, out of all enthusiasts, I would say they're some of the most… enthusiastic. When I see people dumping countless hours and their hard earned money into projects like this jet turbine powered Batmobile, well… color me impressed.
Granted, the people who cleaned up the Ghostbusters car were probably paid a pile of money to do the work, but still… it's impressive. I promise, I'll always strive to put that much effort into my articles here at Unfinished Man. Little known fact: I actually write everything while wearing a 3-piece suit… totally not while sitting in my underwear while glancing longingly out the window.
(Photos by Pop Culture Geek, ThePSOne)