HBO's Game of Thrones is one of the most popular TV shows and it'll probably top the list of most downloaded shows this year.  Everyone at Unfinished Man loves the show and we've written quite a few posts related to the show.  If you're a fan of the show and have money to burn, HBO is offering a life-sized replica of the infamous Iron Throne from the show, for a very affordable price of $30,000 plus $1,800 for shipping.
I say it's affordable because of the money (gold/silver coins) you'd be saving by not going to war and collecting all the swords from you enemies and then commissioning artisans to make a throne out of them; because according to the books, the Iron Throne was constructed by Aegon I Targaryen from a thousand swords of enemies who surrendered and it took 59 days to construct.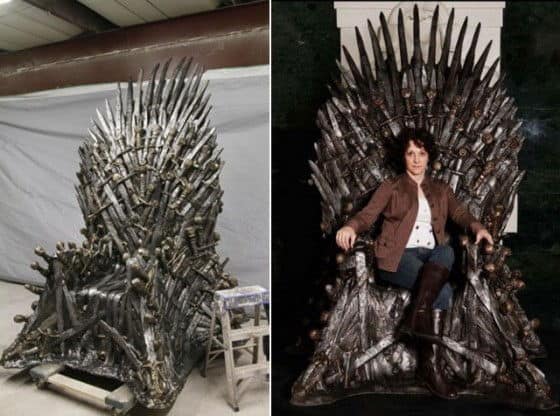 The Iron Throne is available at HBO Shop and is hand-made and hand-painted; instead of swords a magical material called fiberglass is used.  The throne measures 7' high, 5.5' wide, and 6' deep, it looks just as uncomfortable as the one in the TV show.
Whether you're a rich fan of the show or you want to feel like a Targaryen king or Joffrey, this Iron Throne is a must.  If you want to pretend to be Joffrey, you must act like a little bitch, order beheadings and, torture hoes.