If you're a music lover, then you know that nothing beats the experience of listening to your favorite songs with high-quality headphones. Today, I will look at the Focal Bathys premium wireless headphones, which I've been testing for the past few days.
These headphones are designed for people who want the best sound quality possible from their wireless headphones, and they're made by Focal, a French company well-known for its high-end audio products. I've had the pleasure of reviewing their Celestee and Stellia headphones, two fantastic pairs of high-end wired headphones.
But wireless is a whole other kettle of fish, so how do the Bathys fare?
What's the Deal With the Focal Bathys Wireless Headphones?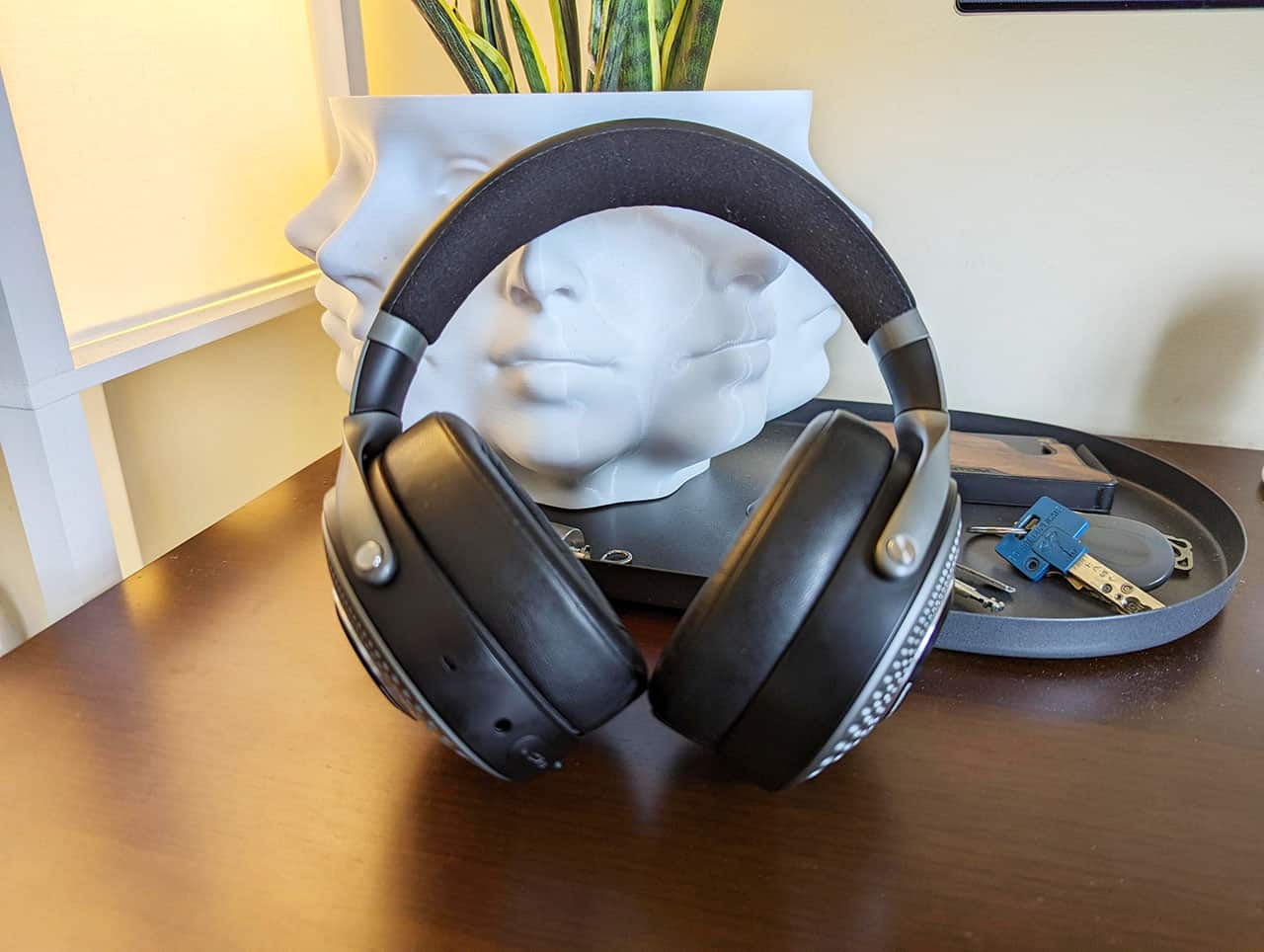 The big problem with wireless headphones is that they generally don't sound as good as wired headphones. This is because the Bluetooth codec used to transmit the audio from your phone to the headphones compresses the data, resulting in some quality loss.
There are a few ways around this problem. One is to use a higher-quality Bluetooth codec like aptX HD, which the Bathys headphones use. This gives you more fidelity than standard Bluetooth, but it's still not as good as wired. However, the Bathys' have a solution to this drawback, which I'll get to in a minute.
The other way to improve sound quality is to use active noise cancellation (ANC), which the Bathys headphones also have. ANC works by using microphones to listen to the noise around you and then creates a sound wave that cancels it. This is great for blocking out things like airplane engines or city noise, but it can also affect the sound quality of your music.
But the biggest problem is that wireless headphones frequently use low-quality drivers and cheap materials to keep costs down. This is why most wireless headphones don't sound as good as their wired counterparts. The Focal Bathys headphones are different because they use the same patented aluminum/magnesium "M"-dome speaker drivers as the company's high-end wired headphones, which means they should theoretically sound just as good.
So How Do the Focal Bathys Headphones Sound?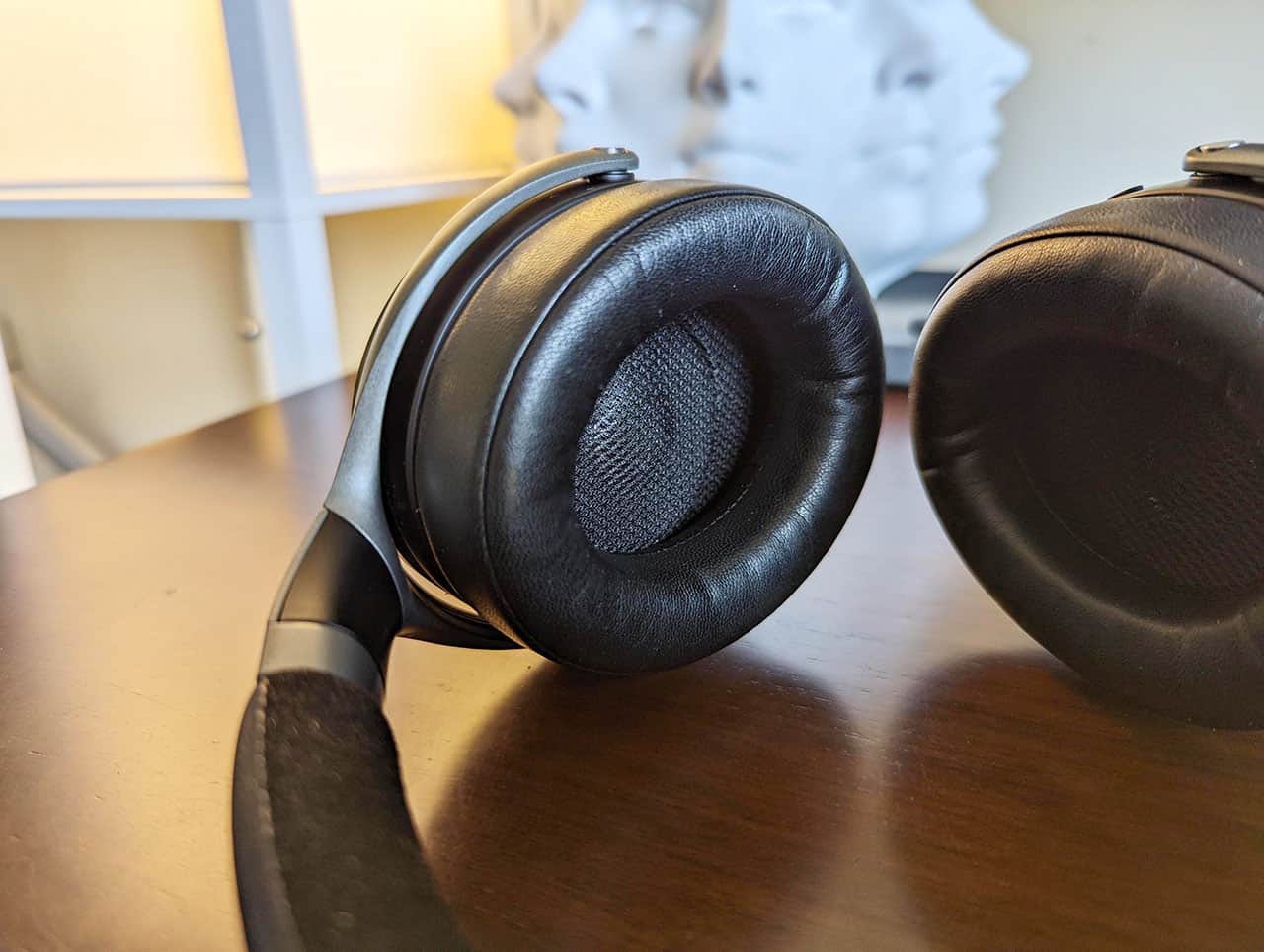 In a word: excellent. I was quite impressed with the sound quality of these headphones, especially considering they're wireless. They have a very neutral and well-balanced sound, with just a hint of bass boost that gives them a slightly warm character.
The highs are clear and detailed without harshness, the mids are smooth and natural, and the lows have good extension and impact. The soundstage is also surprisingly wide for a pair of closed-back headphones. Overall, these are some of the best-sounding wireless headphones I've ever heard.
Though I do use a wireless pair of bone-conduction headphones while I'm riding my bike or lifting weights, for general music listening, I much prefer wired headphones. But the Focal Bathys headphones have changed my mind about that. They sound so good that I sometimes forget I'm listening using wireless headphones.
The only downside is that they're expensive at $799 USD. Still, if you're looking for the best sound quality possible from a pair of wireless headphones, the Focal Bathys is definitely worth considering.
But as I say in all of my headphone reviews, sound quality is highly subjective, and the only way to truly know whether you like a pair or not is to test them yourselves. So if you get a chance, give the Focal Bathys a listen. I think you'll be impressed.
How Can You Make the Bathys Sound Even Better?
You can make them sound better by connecting your headphones directly to your iPhone or Android device using a USB-C cable and activating DAC Mode on the headphones. This disables the Bluetooth codec and uses the phone's built-in DAC (digital-to-analog converter) to transmit the audio signal, resulting in significantly better sound quality.
I tested this out using my Pixel 6 Pro, and the difference was immediately noticeable. The sound was fuller, richer, and more detailed. The soundstage also widened considerably, and the overall experience was much more immersive. I highly recommend trying out DAC Mode if you have a newer phone with a USB-C port (like the iPhone 11 or Galaxy S20).
And you can go a step further and tune the EQ settings of the Bathys headphones using the the Focal & Naim app. This is a great way to tailor the sound to your own personal preferences, and it's easy to do.
Let's Talk About Build Quality and Aesthetics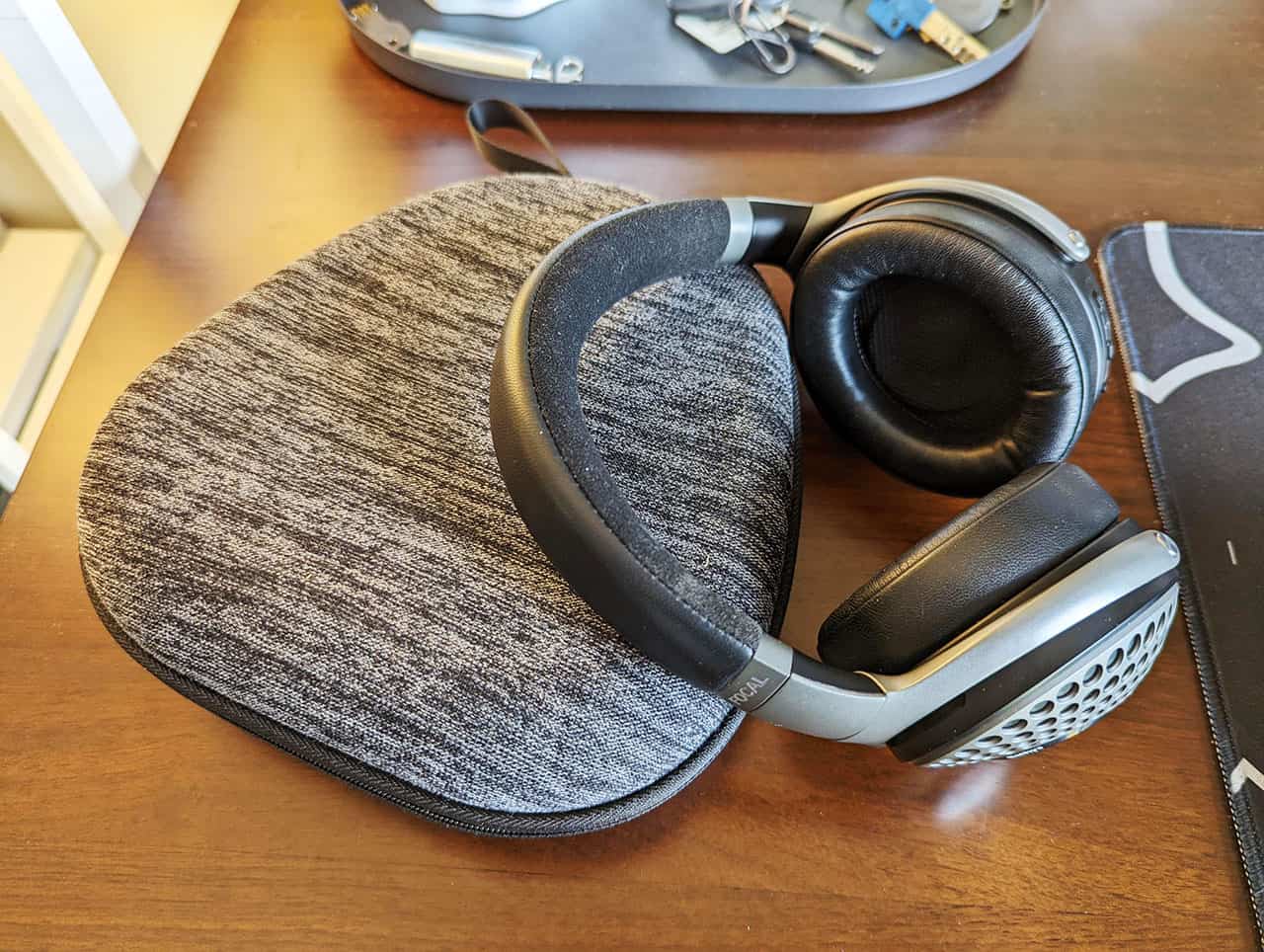 The Focal Bathys is a well-built and good-looking pair of headphones. They're made mostly of magnesium and aluminum and have a nice understated finish. One of my complaints about the Stellia headphones was that I found them slightly garish, which is not the case here. They look understated in all the right ways.
The headphones are adjustable to fit any head size and are very comfortable to wear for long periods. They're also relatively light at only 355g. The headband is adjustable and covered in soft leather, while the ear cups have a nice textured finish that's easy to grip.
The ear cups swivel and fold flat for easy storage, and a hard carrying case is included.
The headphones have a USB-C port for charging and a standard headphone jack in case you want to go wired. They also have Bluetooth with support for the aptX HD codec.
All the stuff you would expect from wireless headphones, but with the added bonus of being well-built, good-looking, and having the best sound quality of any wireless headphones I've ever used.
The Not-So-Boring Technical Specs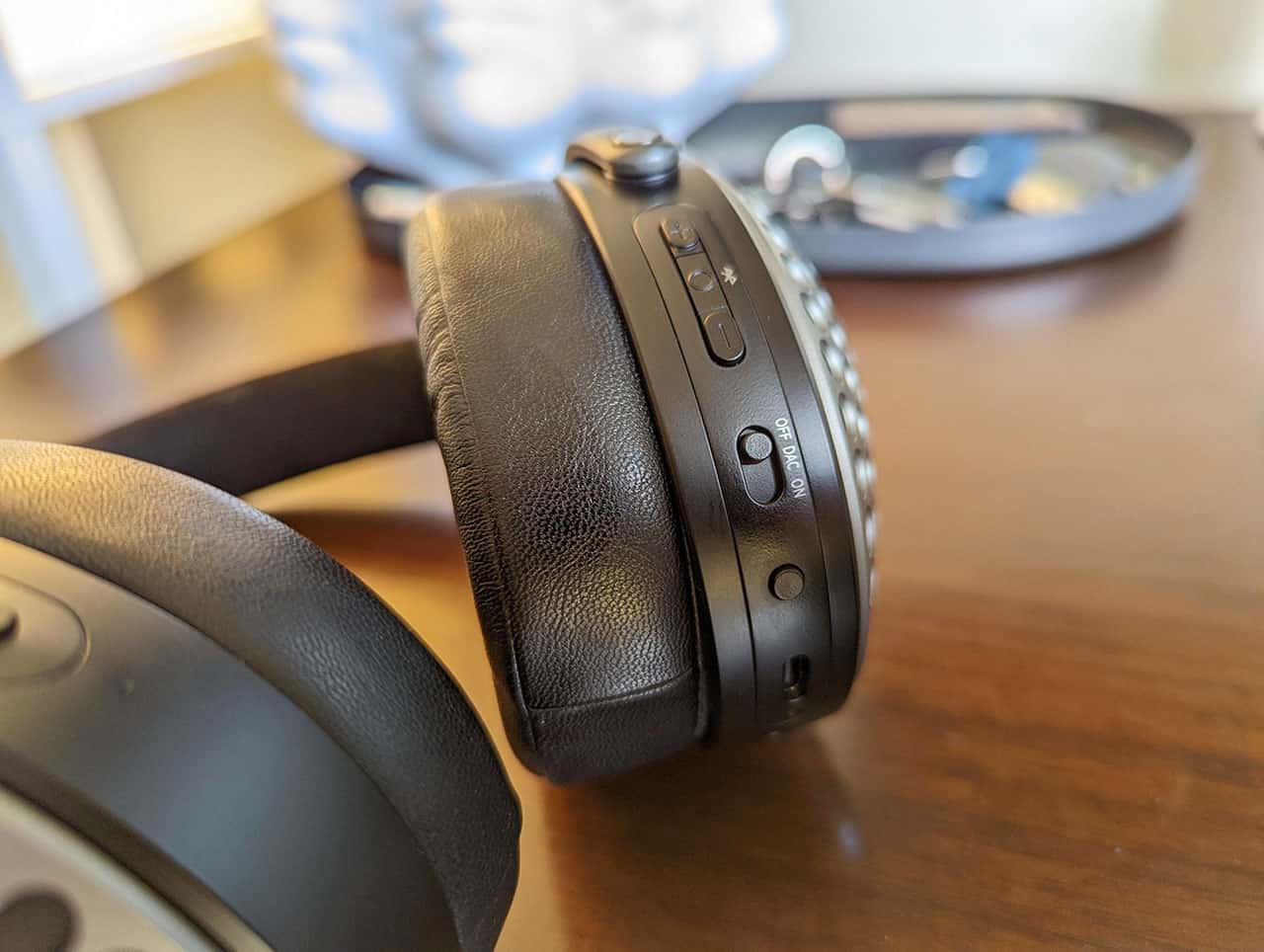 I've left the technical specs until last because I find them the least interesting part of any review. The frequency response and harmonic distortion rate are impressive, but they don't tell the whole story. As I said a moment ago, you'll just need to try a pair to truly appreciate how incredible these sound, not only for wireless headphones but headphones in general.
Bluetooth technology®: 5.1 Multipoint
Bluetooth range®: >15m
Bluetooth frequency range®: 2402MHz – 2480Mhz
Audio codecs: SBC, AAC, aptX™ Adaptive, aptX™
Battery life: 30 hours Bluetooth® Noise Cancelling, 35 hours Jack mode, 42 hours USB DAC
Voice assistants: Google Assistant, Amazon Alexa
Speaker drivers 15/8″: (40mm) Aluminium-Magnesium' M'-shaped dome, made in France
Frequency response: 15Hz to 22kHz
Harmonic distortion rate: <0.2% @1kHz
Microphones: 8
Weight: 0.77lb (350g)
Connections: Bluetooth® / Jack 3.5mm / USB-C®
But for those of you that get excited about technical spec sheets, I hope you enjoyed this little detour.
Who Should Buy the Focal Bathys?
The Focal Bathys are great headphones for anyone who wants the best possible sound quality from a wireless pair of headphones. They're also very comfortable and have a long battery life, making them ideal for travel. However, they are quite expensive at $799 USD, so they may not be suitable for everyone.
But if you've got disposable income and you're looking for a top-of-the-line pair of wireless headphones, the Focal Bathys should be on your radar. They're going to be a tough act to follow.