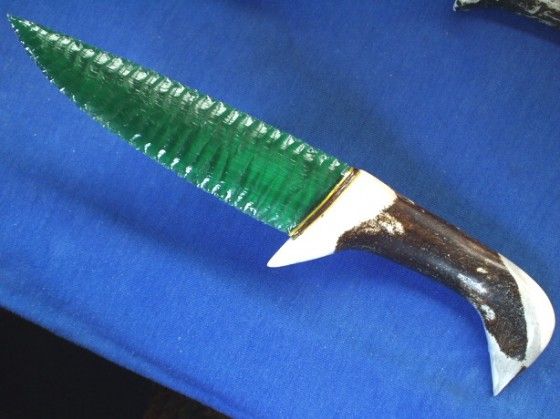 Since I was a young boy I've had a fascination with knives. Many would call it creepy, or at least a gigantic waste of money, but I always had a profound appreciation of the intricacies of the blade, and, in many cases, the high level of craftsmanship required to produce the type of fixed blades I so enjoyed collecting.
I'm older now, and though I no longer add new blades to my collection, my appreciation hasn't waned. In that spirit I present you with a knife like no other I've ever seen, a knife knapped out of… green fiber optic glass. Pretty weird, huh?
The blade costs a mere $165 and considering how unique it looks, I'm tempted to break my own rules and add just one more knife to my collection. The knife reminds me of the emerald dagger from Morrowind, but, you know… not blurry. This is definitely a blade that Dmitri "Raven" Ravinoff and Hiro Protagonist would appreciate.
You can purchase this knife through Mike Cook's website.