We like fans and have actually written about a number of them including the bladeless Dyson fans which we reviewed not long ago. For me personally, I like to have a fan running at night because I get quality sleep thanks to the "background noise" of the fan (but that's just me). And of course, I like the cooling effect a fan has on the room.
In the world of fans, the latest trend is to go bladeless. I don't know if Dyson was actually the first but they definitely made the idea very popular with their tower fans. And now, another company is offering the same bladeless technology, but for ceiling fans. I think it's about time the fan industry started to spice things up a bit, and that's why I would love to put together a exhale fan review to see if I'm actually a fan of this product.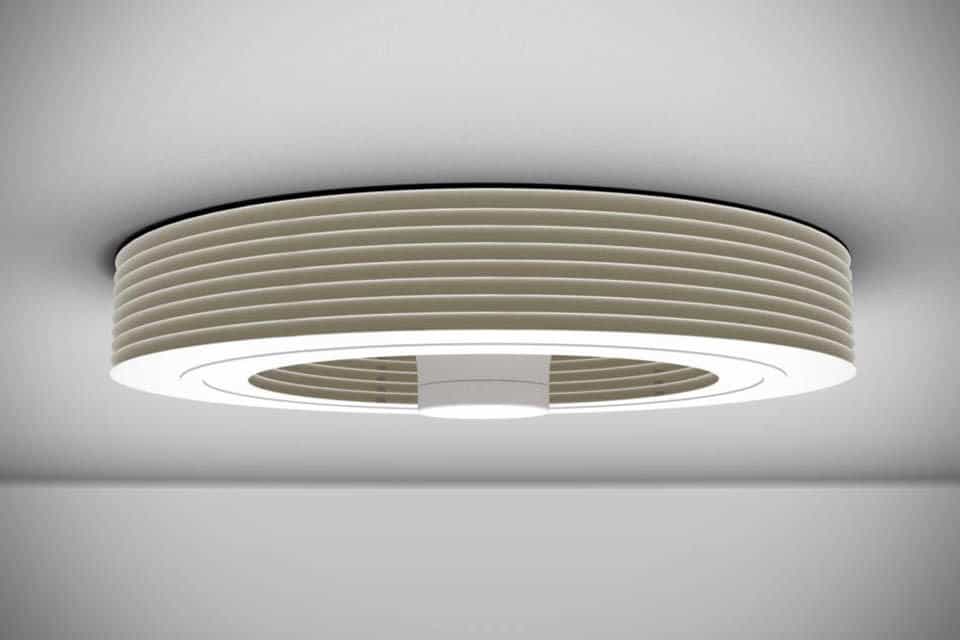 Unlike traditional blade ceiling fans which slice through the air, the Exhale ceiling fan pulls air in much like a vortex, and moves air horizontally in all directions 360 degrees as well as down at a 45 degree angle. The air moving around the room feels more natural, more like an outdoor breeze. The fan has a 34-inch diameter and features an efficient DC motor. As the Exhale fan runs, the air multiplies over time mixing the air efficiently and creating a stable temperature in the room. Check out the video below which demonstrates the vortex airflow created by the Exhale fan.
Exhale Bladeless Ceiling Fan – Vortex Airflow Demonstration With Smoke
Vortex Airflow Demonstration With Liquid
The company claims that the bladeless ceiling fan uses 50 to 80 percent less power than your standard ceiling fan. The fan also comes with a remote control which has six speed settings ranging from 80 RPM all the way to 300 RPM. The fan also has a built-in lighting control system.
The Exhale fan is currently in the pre-order phase and shipments will start going out in March/April of 2013. Prices for the Exhale Bladeless Ceiling Fans range between $500 and $600, depending on the color you choose.
If anyone has a contact at the company, I would love to put together a full exhale fan review for your viewing pleasure.